"Life Is Business and Business Is Life": The Big Shot with Bethenny and the Social Factory
Ryan David Briggs / University of texas at austin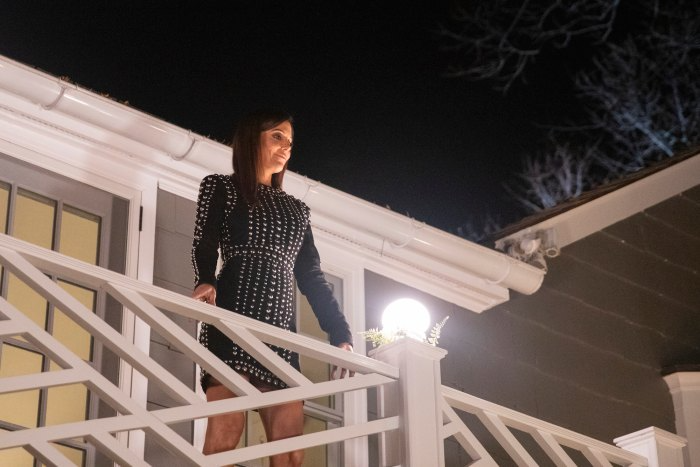 Bethenny Frankel introduces herself to the competitors of The Big Shot .
The Big Shot with Bethenny (2021) is a reality competition series in which contestants take part in an interview process lasting for two months, vying for a position in Bethenny Frankel's business empire. The show's official prize is the job of Vice President of Operations, a role Frankel (a former cast member of The Real Housewives of New York City) describes in the first episode as "a number two that can really carry the torch, that can go to the top with me. That person that can interface with clients, partners, know how to manage a staff, be a bad cop, hustle, have some vision, represent me, basically be me." In episode two, Frankel adds that "one of the parts of the job is knowing where I am." And later still, she says, "Effectively the job is supporting me. They have to be in my house with my daughter. You have to travel with them. It's like being in a relationship." Frankel's inability to clearly define the role of VP of Operations suggests her search is really for a do-it-all executive-level gofer, a Devil Wears Prada-esque assistant who can take on any task no matter how outlandish.
That Frankel stages a reality television competition to fill the role of glorified executive assistant is not unprecedented. The Big Shot has much in common with its job interview competition series predecessors, not least of which is executive producer Mark Burnett who spearheaded The Apprentice and its single-season spin-off The Apprentice: Martha Stewart (on which a then-unknown Bethenny Frankel competed and finished in second place). Each of these three series acts as a season-long promotion for a famous entrepreneur's brand. More importantly, each of the shows normalizes an interview process in which candidates must give inordinate amounts of time and labor for a chance at an ill-defined position.
The trailer for The Big Shot with Bethenny.
While the reality competition format is certainly a heightened version of the typical corporate job search, it is essential to understand these shows' functions within a larger post-Fordist economic and social structure that demands more and more of its laboring class while offering them less and less financial stability. Alison Hearn has used Autonomist Marxist theorizations of neoliberal capitalism in the late 20th and early 21st centuries to demonstrate how the proliferation of reality television series preempted and reflected shifting norms of labor in the 2000s and 2010s. Hearn describes how "reality television was a new and privileged site of production in the post-Fordist era, not only producing texts or ideologies but also working to model the monetization of 'being' and the production of subjectivity," and thus promoting and reiterating late capitalist modes of production and accumulation.[1]
For Autonomist Marxists, the post-Fordist economic and social landscapes are framed by the social factory, a concept that describes how work and the production of value extend further away from traditional spatio-temporal conceptions of the workplace. This leads to "value [being] diffusely generated from the sociality, communicative competencies, and lived experience of individuals."[2] Indeed, under the social factory, the production of value is largely inescapable for the individual worker as they are now constantly performing immaterial labor, work that encompasses cognitive and affective activity not traditionally conceived of as labor.[3]
By applying the concepts of the social factory and immaterial labor to an analysis of The Big Shot with Bethenny, it becomes clear that the reality television job interview subgenre is a cultural field on which evolving parameters and definitions of the real world job interview process are constructed, reflected, and propagated. In the 2000s, "reality television [became] a site of production for, both, ideologies about the new world of work and branded 'selves.'"[4] Likewise, The Big Shot teaches us much about what those looking for employment can expect in the early 2020s. This is particularly true for those searching for work at Millennial tech and lifestyle start-ups which often eschew the production of material goods and, instead, focus on the creation and maintenance of a strong brand identity which is used to target niches made up of specific audience and consumer demographics. Frankel's brand mirrors this exact macro-economic shift in her company's expansion from Skinnygirl food and beverage products to a larger lifestyle/philanthropic/media firm centered on Frankel herself as the valuable property. As Frankel tells her team of executives in The Big Shot's premiere, "We keep living in the Skinnygirl world, we need to live in the Bethenny world."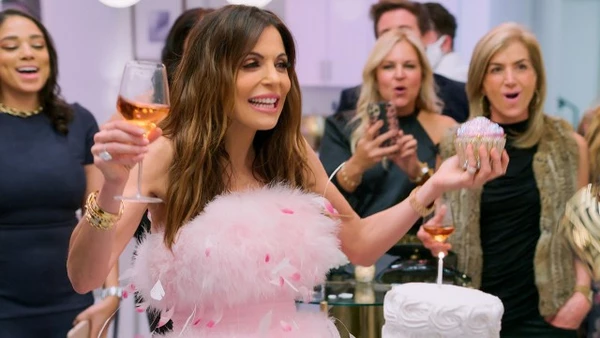 In the Bethenny world, interview assignments include throwing the CEO a birthday party.
The Bethenny world, as it is presented on The Big Shot, is an admittedly chaotic one. A world in which Frankel reigns supreme as a no-nonsense self-proclaimed "HBIC" (Head Bitch in Charge) who trusts her gut while simultaneously faltering when it comes to eliminating Big Shot competitors, at one point enlisting her ten-year-old daughter's advice for what she should do about a candidate. The chaos is, of course, highly produced. The candidates face relentless challenges made up of manufactured circumstances no VP of Operations at a large corporation would likely ever face. In one episode the candidates are shocked to find out that they will appear live on the Home Shopping Network mere minutes before they have to. In another, the candidates must produce and edit a minute-long promotional video for Frankel's philanthropic organization BStrong in just a few hours, a task that, in a real corporate setting, would never be completed in such a short time frame.
For Frankel—job interviewer, face of the Bethenny brand, and executive producer of The Big Shot—the benefits of these tasks are multiple. First, she can gauge how the candidates respond to high pressure situations. Second, Frankel and her companies are the recipients of uncompensated labor performed by the contestants. And finally, the frantic responses these tasks elicit from the competitors makes for exciting reality television. Only the third benefit is unique to unscripted TV, though. Interview processes for jobs in a range of sectors often require candidates to perform tasks for free, work that would normally be done by paid employees. "Interview assignments" are so ubiquitous, in fact, that the job search website Indeed published a "Do's and Don'ts" list in March 2021 in which it is suggested that creating an original 1000-word blog post for a potential employer is a reasonable request.
Now, "interview assignments" have existed for much longer than The Big Shot or even The Apprentice have. However, by constructing reality competition series that focus on the promotion of a brand under the guise of an interview process, networks and producers highlight a socio-economic reality under post-Fordist and neoliberal capitalism in which individual business owners and entrepreneurs can reasonably demand time and labor from workers who are not even employed by them. Indeed, we must recognize how the phenomenon of proliferating "interview assignments and tasks" (read: unpaid labor) is inherently connected to an economic system that relies more and more on freelancers, contract laborers, and side hustles. All of these forms of individualized labor constitute the so-called gig economy, an evolution of the global workforce that has serious negative implications for the potential organizing of laborers in the workplace in support of their own rights and against their exploitation by the capitalist class.
With all of this in mind, I found myself wondering, in May 2021, why I was watching The Big Shot in the first place. Certainly, my initial interest was piqued by the presence of Frankel herself, who I knew from The Real Housewives of New York City. But within minutes of The Big Shot's first episode I recognized—and was disturbed by—much of what I have written about here. Yet, I sat and watched all seven episodes of the competition series with unrelenting attention and enormous pleasure. And in the season's final moments, as Milokssy Resto—a hard worker who left a good job and her two children for two months to take part on the show—was announced as Frankel's new VP of Operations, I was excited for her. My joy for Resto paralleled the exhilaration I felt for a friend of mine who had just been offered a job with a start-up in Austin, an offer that came after a month-long process that included five separate interviews and an unpaid assignment, all of which took up nearly as much time and labor as a regular workday. And she wasn't the only one. Another friend of mine recently moved from a graphic design company to a lifestyle brand in New York, a process that cost him seven separate interviews with a revolving cast of executives, department heads, team members, and the CEO himself over the course of a month and a half. And stranger still, a graduate student colleague of mine recently went through five rounds of interviews for an entry-level internship at yet another Austin-based tech brand.
Cultural products like The Big Shot and other business and entrepreneurial related reality television series train us for the ambivalent feelings of qualified and hesitant joy that arise when we or our loved ones succeed under our exploitative economic system. To be excited for my friends meant negotiating with the fact that they had labored, uncompensated, through numerous tasks in order to secure themselves even more work. Just like the contestants on The Big Shot, each had toiled through a gauntlet in which they had to consistently perform competency for jobs their CVs clearly demonstrated they were qualified for. But I had to be glad for my friends. After all, they had successfully navigated arbitrarily complicated and prolonged interview processes, had earned temporary wage stability, and gained access to employment-dependent health insurance. What wasn't there to be happy about?
---
Image Credits:
Bethenny Frankel introducing herself to the competitors of The Big Shot.
The trailer for The Big Shot with Bethenny.
In the Bethenny world, interview assignments include throwing the CEO a birthday party.
References: