"Cinema is Here to Stay": Alamo Drafthouse and the Moviegoing Experience
Emily McTiernan / University of Texas at Austin
Moviegoers enjoy food and beverages at an Alamo Drafthouse theater.
Director Robert Rodriguez wants Alamo Drafthouse to "take over the world," Entertainment Weekly named it the #1 movie theater in America, and Wired called it the coolest movie theater in the world. A brand with passionate fans, what is it that makes Alamo Drafthouse so successful in the exhibition market?
Founded in 1997 by passionate movie-lovers Tim and Karrie League, Alamo Drafthouse combines first- and second-run programming with a dinner-and-a-movie model. The company has expanded into a national chain with a well-curated brand and a mission that has remained remarkably consistent since they started. From the beginning, Alamo Drafthouse has pioneered changes in the exhibition industry by unifying food, drink, and film to turn moviegoing into an experience above and beyond what's on the screen.
In a 2007 interview, Tim League said "there is an electric charge of reacting together with a crowd, all experiencing a great movie together that just can't be duplicated. Damn the naysayers! Cinema is here to stay" ("Questions for Tim League"). This statement has been proven true for Alamo Drafthouse, whose moviegoing model differentiates them in the exhibition market as a competitive option for anyone seeking a night out in an industry where traffic continues to decline. Customers are treating the movie theater as a catalyst for an experience beyond the film. Alamo Drafthouse's model is highly profitable by catering to these customers, fostering loyalty, and increasing customer spending, which has caught the attention of national exhibition chains. Offering food and alcohol has increased the company's revenue by encouraging the customers coming through the door to spend more. Alamo Drafthouse is also known for their innovative programming they call "Signature Series" that offers unique moviegoing experiences in the form of food and film pairings, sing-alongs, and second-run programming. Their programming experiences have increased brand awareness and customer loyalty by positioning Alamo Drafthouse as the best choice for moviegoers, both for serious film fans and those simply looking for a night out.
In 1994, Tim and Karrie League opened the Tejon Theater in Bakersfield, California. Although the Tejon was a blip on the radar in the exhibition market, it established what would become the blueprint for Alamo Drafthouse: second-run film screenings paired with interactive events. After closing the Tejon in 1996, the Leagues opened Alamo Drafthouse in Austin in May 1997. Here they introduced in-theater dining and alcohol into their business plan, and by the next year, first-run films were incorporated into their programming. Alamo Drafthouse was one of the first movie theaters to sell alcohol, leading the way for other exhibitors to follow in the coming years. In 1997, only 14 theaters served alcohol either in the lobby or in-theater. By 2005, the number expanded to 270.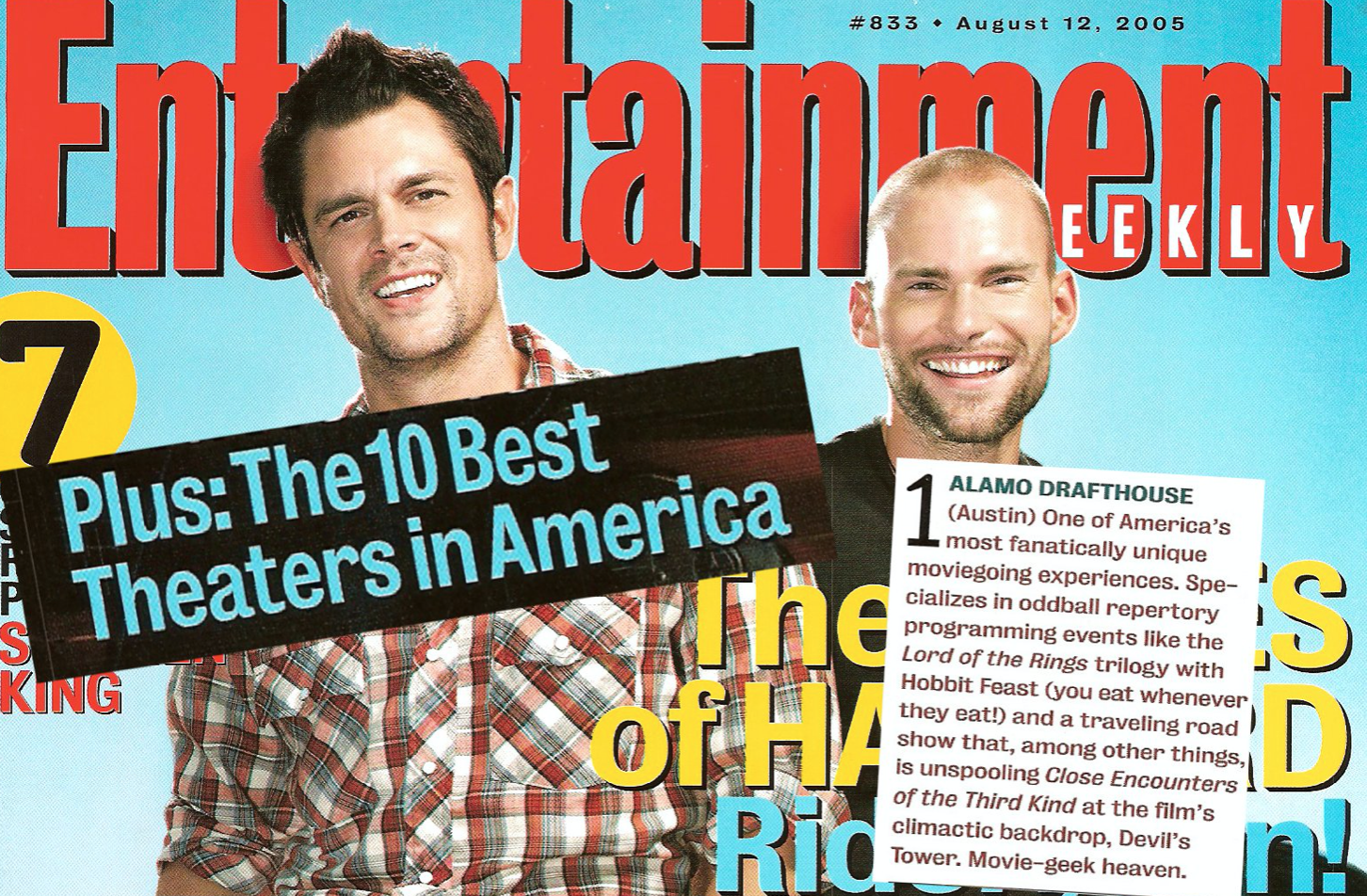 Entertainment Weekly's 2005 designation of Alamo Drafthouse as the #1 movie theater in America.
Alamo Drafthouse's unique moviegoing model caught the attention of popular, business, and trade press in the early 2000s before amenities like food and alcohol became widely incorporated into the exhibition industry. In one of their first major features, a 2004 The Wall Street Journal article presented the company as one of a few exhibitors at the time offering in-theater dining. Entertainment Weekly's designation as the #1 movie theater in America put the company in the spotlight for their "fanatically unique moviegoing experiences." Several articles in Variety from 2006 to 2008 cited Alamo Drafthouse as an innovator of the dinner-and-a-movie model and an influence on larger chains' moves toward an enhanced moviegoing experience (Mohr, Debruge, Saperstein).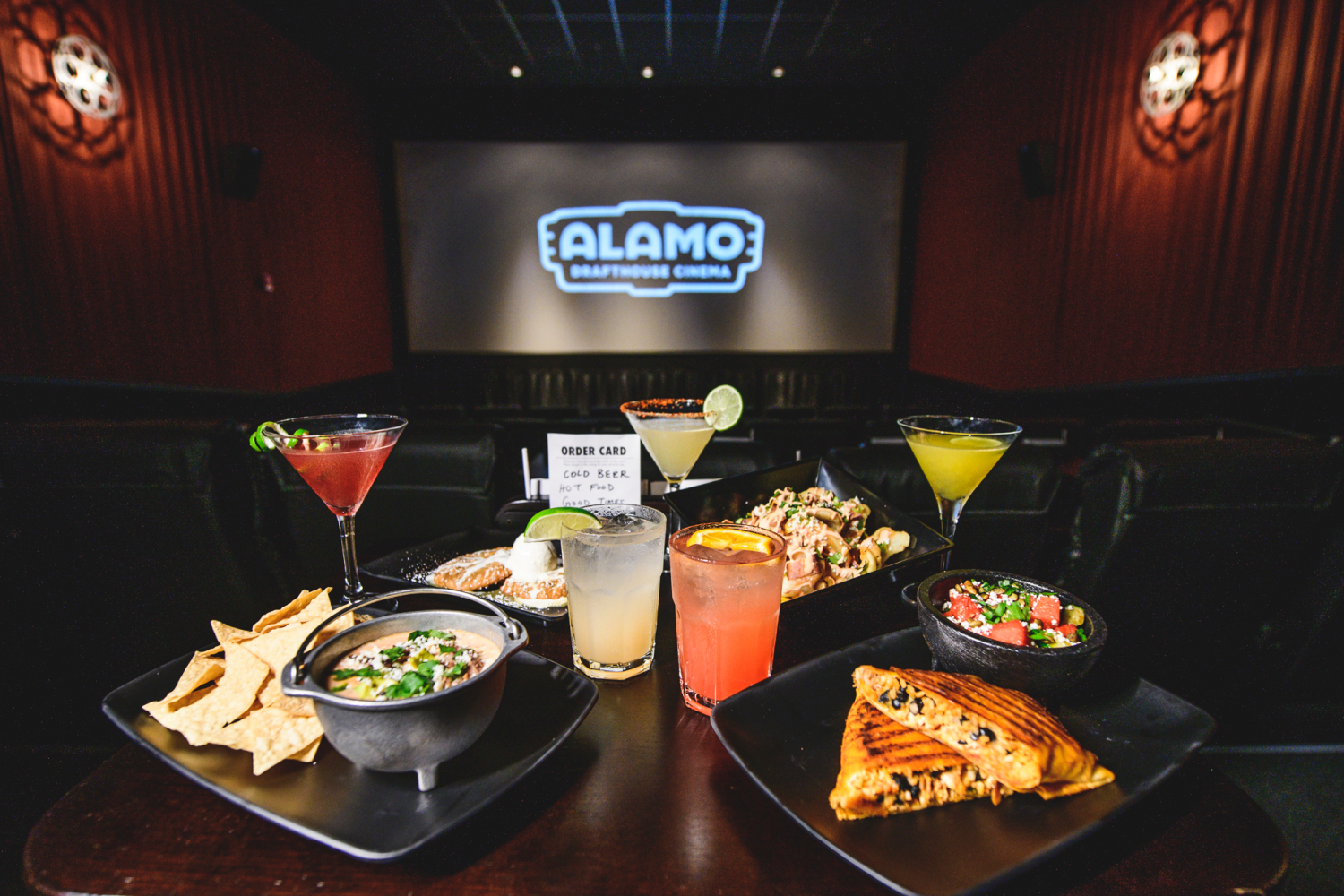 In-theater dining lets moviegoers combine dinner, drinks, and a movie.
Alamo Drafthouse's model that seamlessly integrates food and film into the moviegoing experience is beneficial to customers and the company's bottom line. A Variety article defined Alamo Drafthouse as "more restaurant than moviehouse" for good reason. In 2015, Tim League said that he saw dinner, comedy clubs and shows as Alamo's competition over streaming or home entertainment. The financials support this strategy: Alamo Drafthouse had the three highest-volume restaurants in Austin in 2012. With fewer customers, higher ticket prices, and shrinking release windows, concessions are one of the only ways a theater can secure a fixed income. In 2007, Alamo Drafthouse reported profits upwards of $12 per person compared to only a few dollars for traditional theaters, and the company achieved revenues $400 higher per movie screen than AMC and over $500 higher than Regal Cinemas (Ankeny 33). However, successfully implementing this model is not operationally simple. Chris Hoegemeyer, a franchisee who ran Alamo Drafthouse's largest theater in 2007 with 1,100 seats, compared the in-theater dining model to running a really high-volume restaurant, making it difficult for competitors to participate.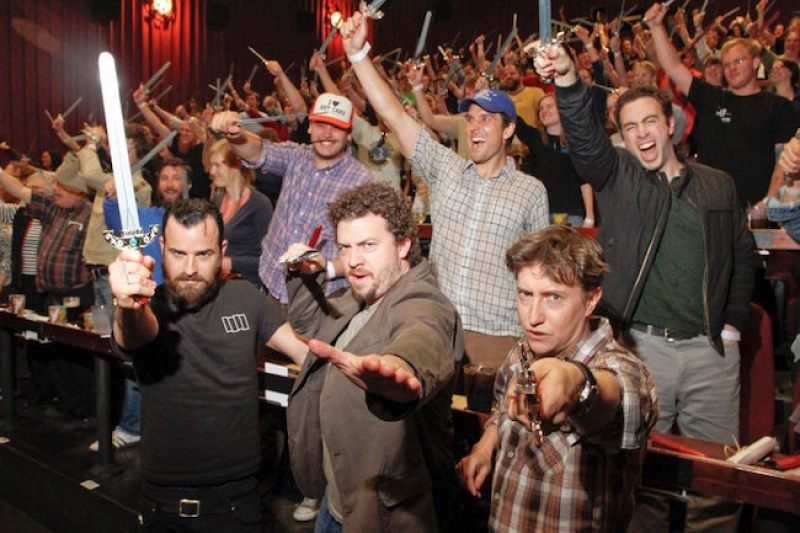 Premieres with celebrity appearances and props are an example of Signature Series' enhanced moviegoing experience.
Although the press often focused on restaurant operations as the key to Alamo Drafthouse's success, Signature Series have played an important role in defining Alamo Drafthouse's position in the market and cultivating customer loyalty. Signature Series have changed little since the chain began. Alamo Drafthouse started without any first-run rentals due to costs, relying on combining cult programming and events, including wine tastings for Sideways and guest appearances from Quentin Tarantino. Even as locations began to include first-run programming, the theater was known as a place for unique moviegoing experiences. Some Signature Series have been well-known since Alamo Drafthouse started, namely second-run events like sing-alongs, midnight movies, live comedies, celebrity appearances, and food and film pairings. Variety described Alamo Drafthouse as "transforming every screening into the equivalent of a fledgling 'Rocky Horror Picture Show' event." Signature Series programming has developed Alamo Drafthouse as the place for movie lovers, keeping the theater chain at the forefront of customers' minds as the best destination to see every film. As of 2012, 90% of Alamo Drafthouse's ticket sales were generated from first-run releases. As a branding tool, Signature Series help Alamo Drafthouse gain recognition and customer loyalty that benefits their most important revenue streams. Although first-run programming is the revenue driver for Alamo Drafthouse, these special events drive awareness and loyalty to their brand and persuade audiences to go to Alamo Drafthouse over another theater, restaurant, or comedy show.
In 2013, large, first-run chains including AMC Theatres began prioritizing in-theater dining and alcohol — sixteen years after Alamo Drafthouse. As theater traffic continued to decline, large chains became interested in enhancing the moviegoing experience for the same reasons Alamo Drafthouse saw success: to cultivate brand loyalty and increase customer spending. AMC attributed their new experience-focused strategy to an industry-wide shift away from an quantity-focused business model after nine decades, with the goal to maximize the economic potential of each customer visit through concepts like in-theater dining and bars ("AR 2013" 4). Given steadily decreasing admissions and significantly increasing ticket prices, it was necessary for theaters to shift their moviegoing strategy to attract and retain the frequent moviegoer segment. From 2005 to 2016, the box office increased 30%, driven by increasing ticket prices, as admissions decreased 4% over the same time period. In 2016, frequent moviegoers (once a month or more) made up 48% of tickets sold. The financial success of Alamo Drafthouse's moviegoing model is clear: the company made $77.5 million in 2014, +45% year over year, and $150 million in 2015, +94% year over year (Ruggless, Gillette).
Alamo Drafthouse has become an established national chain and cultivated a meaningful brand identity through their incorporation of food, drink, film, and events into every part of the moviegoing experience. Alamo Drafthouse filed for Chapter 11 bankruptcy in March 2021 as the entire exhibition industry struggled during the COVID-19 pandemic. However, the chain was able to emerge in June, and announced plans to open five new theaters after completing its sale to Altamont Capital Partners, a company that has backed Alamo Drafthouse since 2018. Audiences now have more ways to watch films than ever before, as the pandemic caused studios to shrink the theatrical window or skip the theater all together. League's assertion that cinema is here to stay is being tested now more than ever, but Alamo Drafthouse's emphasis on the moviegoing experience positions the chain for success as customers look not only to return to the movies but enjoy a night out.
---
Image Credits:
References:
Alamo Drafthouse. http://www.drafthouse.com. Internet Archive. https://web.archive.org/web/19970331003404/https://drafthouse.com/.
AMC Entertainment Inc. Annual Report 2013, 31 December 2013. Mergent Online.
Ankeny, Jason. "Alamo Drafthouse Strikes Gold by Redefining the Cinema Experience." NBC News, 19 October 2012, https://www.nbcnews.com/id/wbna49474929.
Ankeny, Jason. "The Next Picture Show." Entrepreneur, vol. 40, no. 9, Sept. 2012, pp. 26–36.
Blair, Iain. "CinemaCon Shows Moviegoing Is Getting Luxurious for Whole Family." Variety, 23 April 2015, https://variety.com/2015/film/spotlight/moviegoing-gets-luxurious-for-whole-family-1201471451/.
Dawn, Randee. "Movie houses get creative." Variety, 2 June 2012, https://variety.com/2012/film/box-office/movie-houses-get-creative-1118054907/.
Debruge, Peter. "Alamo chain serves fans with appetites." Variety, 16 March 2007, https://variety.com/2007/film/markets-festivals/alamo-chain-serves-fans-with-appetites-1117961341.
De Lisser, Eleena. "Rock 'n' Roll Hits the Multiplex." The Wall Street Journal, 25 March 2004, https://www.wsj.com/articles/SB108017097271764790.
Gillette, Felix. "Remember the Alamo." Bloomberg Businessweek, no. 4464, Feb. 2016, pp. 71–73.
Hancock, David. "Location, Location, Location: Cinema uses a wide array of tools to build a premium experience." Film Journal International, 8 April 2016, http://fj.webedia.us/features/location-location-location-cinema-uses-wide-array-tools-build-premium-experience.
League, Tim. "From the Founder." Alamo Drafthouse. https://drafthouse.com/austin/about/from-the-founder. Accessed 7 December 2020.
Mohr, Ian. "Exhibs fish for auds with lures." Variety, 2 April 2006, https://variety.com/2006/film/news/exhibs-fish-for-auds-with-lures-1117940770.
"Questions for Tim League." Film Journal International, vol. 110, no. 12, Dec. 2007, p. 34.
Rubin, Rebecca. "Alamo Drafthouse Emerges From Bankruptcy, Plans to Open Five New Theaters." Variety, 1 June 2021, https://variety.com/2021/film/news/alamo-drafthouse-bankruptcy-end-1234985368/.
Ruggless, Ron. "Alamo Drafthouse Cinema." Nation's Restaurant News, vol. 49, no. 11, Aug. 2015, p. 24.
Saperstein, Pat. "Exhibitors get into upscale business." Variety, 7 March 2008, https://variety.com/2008/film/markets-festivals/exhibitors-get-into-upscale-business-1117981993/.
"Theatrical Market Statistics 2016." Motion Picture Association of America. https://www.motionpictures.org/wp-content/uploads/2017/03/MPAA-Theatrical-Market-Statistics-2016_Final.pdf.
Valby, Karen. "The Alamo Drafthouse Revolution." Entertainment Weekly, 9 August 2013, https://ew.com/article/2013/08/09/alamo-drafthouse-revolution/.
Weber, Bruce. "Liked the movie, loved the megaplex." The New York Times, 17 August 2005, https://www.nytimes.com/2005/08/17/movies/liked-the-movie-loved-the-megaplex.html.