Rebooting Whiteness, Complicating Latinidad: The Struggles of Latinx TV Remakes
Crystal Camargo / Northwestern University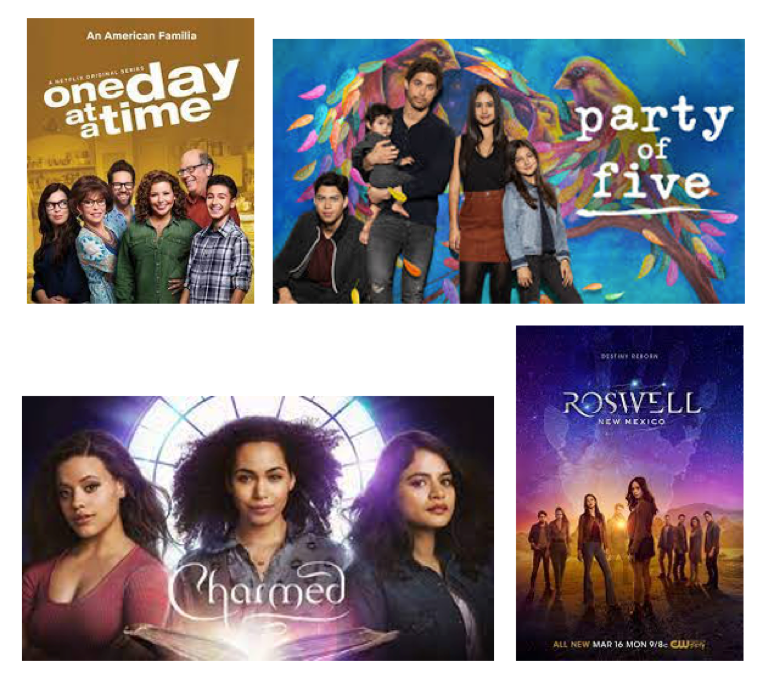 Recent Latinx TV Reboots: One Day at a Time (Netflix, 2017–2019 and Pop, 2020), Party of Five (Freeform, 2019–2020), Charmed (CW, 2018—), and Roswell, New Mexico (CW, 2019—). (author's composite of screengrabs)
Whether they take the form of remakes, spin-offs, or "re-imaginings," we can notably see an increase in Latinx representation in the last decade in television reboots. Latinx reboots often share their name and copyright with an older television property but re-envision its narrative. For example, various U.S. TV networks have taken inspiration and loosely adapted narratives from Latin American and Spanish telenovelas, producing series like Ugly Betty (ABC, 2006–2010), Devious Maids (ABC, 2013–2016), Jane the Virgin (CW 2014–2019), Queen of the South (USA, 2016–2021) and Grand Hotel (ABC, 2019). Additionally, in the last five years, we've seen a resurgence of nostalgic 1970s to 2000s TV reboots that once featured all-white American characters that now center Latinx characters and families, including One Day at a Time (Netflix, 2017–2019 and Pop 2020), Charmed (CW 2018—), Roswell, New Mexico (CW, 2019—), and Party of Five (Freeform, 2019–2020).
Latinx reboots provide us with a rich source of material to understand the status of Latinx representation in this new era of televisual nostalgia and cultural recycling. Hollywood film and TV industries have a long history of investing in sequels, spin-offs, adaptations, remakes, and reboots; cultural recycling is not new per se. However, replacing Latin American or white American families and contexts with Latinx characters, plots, and stories is a relatively recent phenomenon. We must ask ourselves, what are the implications of constructing Latinidad using "old" texts that are either Latin American telenovelas or white American TV series? Scholars such as Isabel Molina Guzmán (2010), Juan Pinón (2011, 2017), Julian Paul Smith (2020), and others have examined the production dynamics, narratives, and promotional efforts in Latinx adaptations with origins in Latin American telenovelas. Notably, Ugly Betty has inspired multiple studies. In contrast, little scholarship thus far has examined reboots of white nostalgic TV shows that now feature Latinx characters and storylines. This piece will focus solely on the latter to understand how Latinx reboots and their representation are constructed and complicated by their white American "original" texts.
To interrogate how the legacy of white "original" texts fracture and complicate Latinx representation in reboots, I examine the production dynamics in Charmed and the economics of viewership in One Day at a Time. To do so, I build on the work of scholars such as Mary Beltrán (2015, 2016, 2017) Angharad Valdivia (2010, 2013, 2021), Isabel Molina Guzman (2010, 2018), and Diana Leon-Boys (2019, 2021), who have documented ongoing debates over Latinx representation on television. As these scholars note, Latinx representation on television is a site of permanent contestation, one constantly evolving in relation to changes in social and political contexts, authorship, and TV genres (e.g., sitcoms and Disney TV), formats, and platforms. Following this line of scholarship, I argue that Latinx reboots enter and maintain a contested entanglement with the "original" white television series. Via production, promotional material, and viewership, an implicit form of whiteness continues to assert itself in these texts, reproducing the precarity of Latinx representations on television.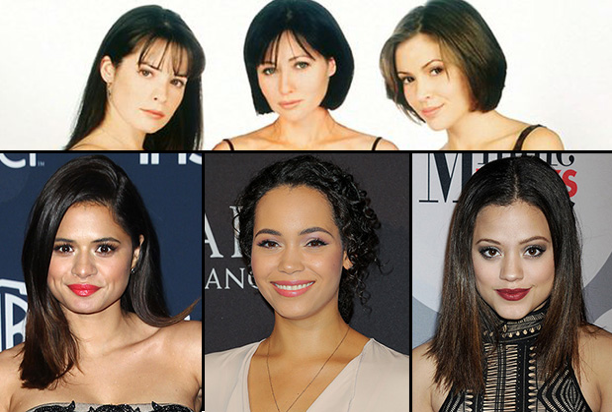 Charmed original cast on top (Holly Marie Combs, Shannen Doherty, and Alyssa Milano) and reboot cast (Melonie Diaz, Madeleine Mantock, and Sarah Jeffery) on the bottom.
The television industry relies on the nostalgia of the original series in the promotion of remakes and reboots. The branding of the reboot asks viewers to reach backward to engage with the cultural memory and nostalgia of the original. However, this nostalgia can create tension between the reboot and the original property, particularly if actors from the original show and their fans feel as though not enough time has passed between the end of the original and the premiere of the reboot. In the case of the original Charmed, which ran from 1998 to 2006, some of the cast (including Alyssa Milano, Holly Marie Combs, Shannen Doherty, and Rose McGowan) expressed disdain that their contributions to the property were not respected when the Latinx reboot was announced in 2018. Milano tweeted that the reboot was happening too soon after the original, Combs took the new series as a sign that the studio thought that the original actors were too old for their roles, and Doherty did not like that the 2018 Charmed was labeled as a "feminist" reboot, suggesting that the original was not feminist already. Fans have mirrored the original casts' feelings of the reboot. To maintain the anonymity and privacy of Charmed fans, here is a summary of a few tweets. One Twitter user expressed frustrations that the reboot did not pick up where the series left off with the original female cast and storyline, questioning the ethics of TV reboots in today's televisual landscape. Another fan angrily tweeted that the Charmed brand does not need a gimmicky diversity reboot to be considered empowering or feminist. For both of these fans, and for many others, the original Charmed was already meaningful, empowering, and feminist. While this backlash did not directly discuss the new cultural background of the trio witches, the browner, queer cast of characters was immediately placed in a precarious position, even before the series aired.
#Twitter is responding to the revelation that the #Charmed reboot isn't what it seems, branded as a #Latina cast by media outlets, #NYCC showed that wasn't the case. Here is @OhMyMithrandir's breakdown of the issues. https://t.co/hD8BciXVoP pic.twitter.com/aFEWadsK0N

— But Why Tho? (@ButWhyThoPC) October 10, 2018
The ButWhyTho? podcast's announcement of a Charmed reboot-themed episode, from October 2018
Additionally, the Charmed reboot has been criticized for the lack of Latinx cultural specificity in its narrative from new Latinx viewers. For example, a number of Latinx fans tweeted that the reboot missed the opportunity to include the rich history of Brujería (witchcraft) found in Latin American and Latinx cultures. Reboots often borrow similar worldbuilding or the diegesis from the original series; the Latina reboot uses the same Celtic Wicca traditions of the original property. Viewers argued that the show's Western witchcraft mythology contributed to a whitewashing of the new Latinx property. Another Twitter user also points to the whitewashing of the new Charmed series. They argue that the reboot is not empowering since seeing brown faces in the series is not enough. This user also mentions that white people in 2018 might think this form of representation is inclusive, possibly referring to the three white female writer-producers behind the reboot. In the case of this Latinx reboot, the new Charmed cannot escape the legacy and backlash of the original cast and fans, nor can it truly entice new Latinx fans due to a lack of cultural specificity.
In addition to backlash from the original cast, fans, and new viewers, Latinx representation is compromised by the economics of TV reboots. The financial implications of sharing a name and copyright with an older television property deeply affect the rebooted series. For example, according to a Hollywood Reporter article about the economics of TV's revivals and reboots, Netflix is said to have "overpaid" for its Latinx remake of Norman Lear's One Day at a Time, reimagined with a Cuban American family. Although Netflix has not revealed how much it spent to acquire the 1970s classic sitcom remake, we can assume that rebooting a TV property—one attached to prolific TV writer-producer Norman Lear—is a costly expense. The hefty financial cost of acquiring a shared name may be one reason why the new version was axed first from Netflix and later from Pop TV. Both companies cited low viewership as their reasoning for canceling the Latinx family sitcom. Party of Five, a remake of a 1990's drama with an immigration and deportation twist, was also axed after one season due to low viewership.
We've made the very difficult decision not to renew One Day At A Time for a fourth season. The choice did not come easily — we spent several weeks trying to find a way to make another season work but in the end simply not enough people watched to justify another season.

— Netflix (@netflix) March 14, 2019
Netflix's One Day at a Time's cancellation announcement on Twitter
In contrast, since its canceling of One Day at a Time, Netflix has aired and renewed Gentefied (2020—) and Mr. Iglesias (2019—) for the second and third seasons; these are both original series, not reboots, that center Latinx characters and storylines. The potential success of Netflix's Latinx originals, like all Netflix productions, is somewhat ambiguous as their streaming viewership information is private. Still, the renewal of these series allows us to speculate that they may cost less than the One Day at a Time reboot and perhaps do not require the same robust viewership to keep them on the streaming platform.
In this piece, I have explored how the current TV phenomenon of Latinx reboots is a contested and fraught site for Latinx representation. Far from simply sharing a name with a former white series, we can begin to understand how whiteness injects itself into the cultural terrain of the Latinx reboots. In the case of Charmed, the Latinx reboot found itself in the middle of a backlash between the "original" cast and nostalgic fans while simultaneously missing the opportunity for Latinx cultural specificity. Similarly, despite empowering kinds of representation in One Day a Time, which helps to normalize Latina single moms and queer Latinx teenagers, or Party of Five, which explores family separation and deportation in the narrative, the relationship between the financial cost of rebooting a series and its relatively low viewership threaten the longevity of Latinx representation in these series. Although we see an increase in Latinx representation in this era of reboots, this phenomenon creates a contested Latinx representation that is constructed in relation to the white properties of its original. The increased pre-production pressure, viewership demands, and financial limitations together reproduce the precarity of Latinidad on contemporary television, threatening the diversity and longevity of Latinx representation on the small screen. 
---
Image Credits:
References:
Beltrán, Mary. Latina/o Stars in U.S. Eyes: The Making and Meanings of Film & TV Stardom. Urbana-Champaign: University of Illinois Press.

—."Reflections on the New Diversity in Television." Flow, Vol. 21, Issue 5 (March 2015). Flow is an online academic journal of television and media studies. http://flowtv.org/2015/03/new-diversity-in-television/

—. "Latina/os On TV!: A Proud (and Ongoing) Struggle Over Representation and Authorship." In The Routledge Companion to Latina/o Popular Culture, pp. 39-49. Routledge, 2016.

Beltrán, Mary and Vittoria Rodriguez. "From the Bronze Screen to the Computer Screen: Latina/o Web Series and Independent Production." In The Routledge Companion to Latina/o Media, edited by Maria Elena Cepeda and Dolores Inés Casillas. New York: Routledge, 2016. 156-170.

Cohen, Anne. "Why Netfilx's One Day At A Time Is More Than A 'Latino Reboot'" Refinery29, January 6, 2017. https://www.refinery29.com/en-us/2017/01/134726/one-day-at-a-time-netflix-remake-latino-family

Leon-Boys, Diana. A Latina Captain: Decentering Latinidad through Audience Constructions in Dexter. In Latina/o/x Communication Studies: Theories, Methods, and Practice. Maryland: Lexington Books.

Leon-Boys, Diana, and Angharad N. Valdivia. "The location of US Latinidad: Stuck in the Middle, Disney, and the in-between ethnicity." Journal of Children and Media 15, no. 2 (2021): 218-232.

Molina-Guzmán, Isabel. Dangerous curves: Latina bodies in the media. Vol. 5. NYU Press, 2010.

—. Latinas and Latinos on TV: Colorblind Comedy in the Post-racial Network Era. University of Arizona Press, 2018.
O'Connell, Mikey. "The New Economics of TV's Reboot Craze," Hollywood Reporter, February 21, 2008. https://www.hollywoodreporter.com/movies/movie-features/new-economics-tvs-reboot-craze-1086797/

Piñón, Juan. "Ugly Betty and the emergence of the latina/o producers as cultural translators." Communication Theory 21, no. 4 (2011): 392-412.

—. "Jane the Virgin." ReVista (Cambridge) 17, no.1 (2017):23.
Smith, Paul Julian. Television Drama in Spain and Latin America: Genre and Format Translation. University of London, 2020.

Valdviva, Angharad. Latino/as in the media. Vol. 6. Polity, 2010.

—. "Latinas on television and film: Exploring the limits and possibilities of inclusion." In The Routledge Companion to Media & Gender, pp. 597-606. Routledge, 2013.