Selenidad 2.0: Dispatches from the Digital Sphere
María Elena Cepeda / Williams College
Selena performing "Disco Medley" live at the Houston, TX Astrodome on February 26, 1995.
As a specialist in Latina/x Feminist Media Studies, I regularly find myself discussing Selena with students, many of whom, like me, are long-time fans of La Santa Selena. One of the singular joys of teaching about Selenidad – the contraction of "Selena" and "Latinidad" that Deborah Paredez offers as a language for helping us to articulate the "dynamic and vibrant afterlife of the Latina superstar" (2009, xii) and her lasting impact on notions of contemporary Latina/o/x identity – is of observing Latina/o/x students, many of whom are working-class, queer and/or female, engage with this iconic footage of Selena at the Houston Astrodome. At the height of her powers and mere weeks away from her tragic death, the luminous Selena in this clip never fails to introduce a palpable burst of energy into the classroom – even including, astoundingly, over Zoom – that leaves me a bit short of breath.
As always, watching Selena gives me piel de gallina (literally: chicken skin; otherwise known in English as goosebumps). The back of my neck prickles in unison. A recent class session is no exception; in the midst of peak Selena performance reverie, I spy a young Latina student in the bottom right-hand corner of the screen take Selena in, wide-eyed. Her mouth is stretched into a wide grin and she is nodding with enthusiasm. I realize that I have witnessed a powerful moment of media identification for a young Chicana who is probably not often used to seeing others like herself onscreen. In our conversation that follows she is enthusiastic, eager to share her thoughts about Selena. It is clear that she has devoted a good deal of time to reflecting upon the parallels between her own life and that of Selena, and to carefully analyzing existing media representations of the Latina superstar.
I share this anecdote as a means of underscoring just how the life and ongoing memorialization of Selena Quintanilla Pérez (1971-1995) remains deeply relevant to that of one young Chicana in a virtual college classroom in 2021 as well as Latinas/os/xs everywhere, if the myriad celebrations and publications marking Selena's fiftieth birthday this past April 16 are any indication. Selena's life resonates across generations, and continues to inform individual as well as collective understandings of gendered Latinidad ("Latina/o/x-ness") and hybrid identity 26 years after her death. In fact, we might think of more recent media examples of her memorialization such as the podcasts, memes, and fan videos, among other formats, as types of Selenidad 2.0, or the practice of (re)remembering grounded in the editing, re-mixing, and rapid circulation of popular Selena digital texts. As both producers as well as consumers of Selena-centered media, the fans whose lives have been forever altered by their contact with Selena (including María Elena García, host and creator of the popular WBUR Boston/Futuro Studios podcast Anything for Selena), offer their own digital takes on Selena's cultural importance.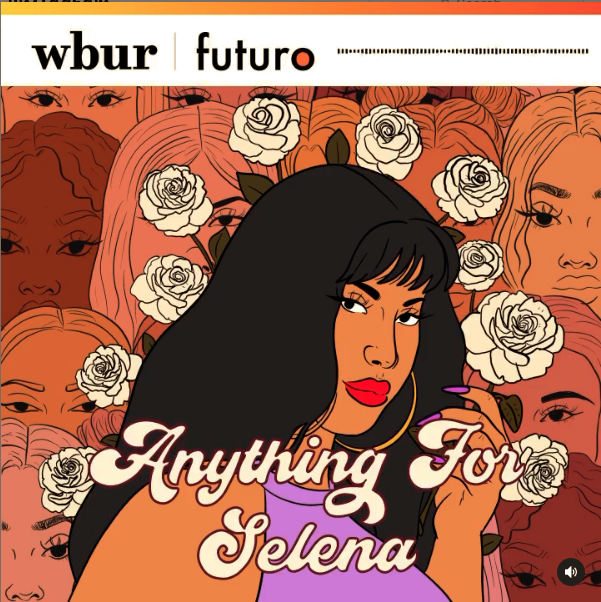 "Anything For Selena" podcast promotional poster
As Paredez observes in her recent National Public Radio piece on preserving Selena's legacy, Latinas and queer communities have consistently been the most stalwart and inventive guardians of Selena's legacy. Indeed, late 2020 and early 2021 have been marked by the introduction of two major new media vehicles chronicling Selena's life and impacts: the television show Selena: The Series (Part I was released in December 2020; Part II is slated for release on May 4), as well as the aforementioned Anything for Selena (released in January 2021). While both the Netflix series and the podcast are Latina/o/x-produced – a relevant point to which I'll return – I would argue that it is Anything for Selena's host and creator María Elena García's multi-layered examination of the singer's ongoing significance, and not the television series, that continues the tradition of Latina and queer guardianship that Paredez cites. I take the time to make this distinction because it has critical ramifications for the ways in which Selena is remembered across successive generations, and specifically on the potential for future Latina/x feminist/transgressive readings of Selena.
Anything for Selena is a joint production of WBUR Boston (the local NPR affiliate) and Futuro Studios. Futuro Studies was established in 2020 as the creative programming division of Futuro Media Group, the entity that houses the long-running Latino USA. Veteran Latina journalist and host of Latino USA María Hinojosa founded Futuro Media Group in 2010 as an independent, non-profit venue for safeguarding and exercising ownership over Latino USA and its production, which had experienced various institutional arrangements since the program's launch in the early 1990s. Such production-level information offers a sense of the lengths that even well established Latina/o/x content creators must go in order to secure space and support for nuanced, well informed Latina/o/x media representations.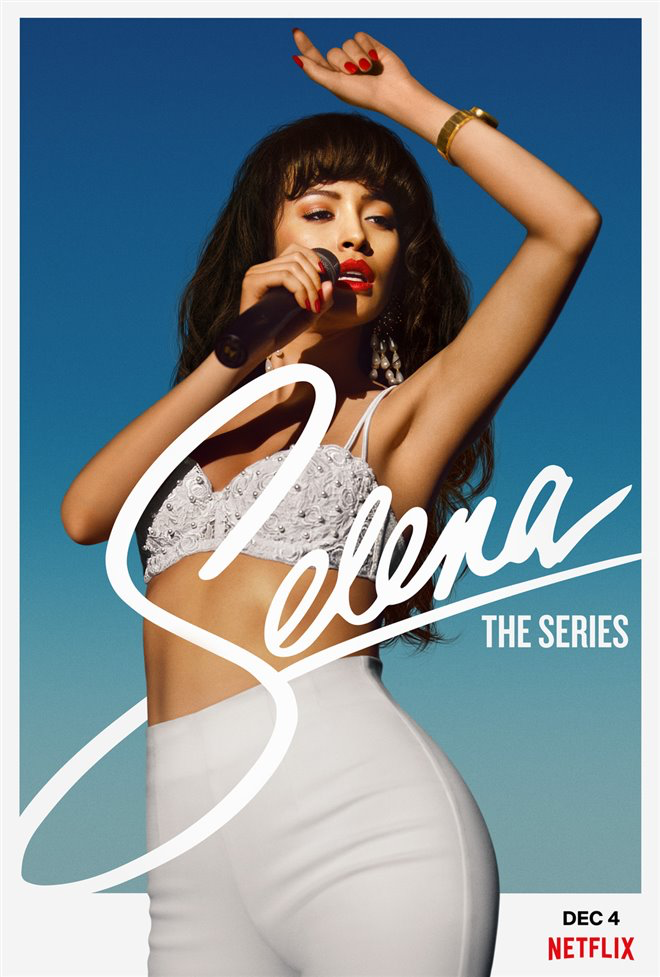 Netflix's "Selena: The Series" promotional poster
Much like María Elena García's podcast, Selena: The Series is a Latina/o/x-centered production. Produced by Los Angeles-based Campanaro Productions, a Latina/o/x television and digital content company, the series deserves credit for its clear commitment to hiring Latina/o/x talent both onscreen as well as behind the scenes. However, as Angharad Valdivia reminds us in her work on gendered Latinidad in mainstream media (2020, 117-162), it is a bit utopian to expect that all that is required for a full, rich media portrayal of the complexities of Latina/o/x life is Latina/o/x talent involved in the production. Selena: The Series reminds us of this caveat, as well as the stakes at play in the struggles over competing media representations of Selena's legacy.
Both Selena: The Series and Anything for Selena enjoyed the blessings and participation of Selena's family, some of whom (specifically, Selena's older sister Suzette and their father Abraham) participate in the podcast and/or television series (Suzette is an executive producer of the Netflix production). This is not a minor point, as the family's participation is an indicator that they had a good degree of faith in the media project and its narration of Selena's life. The Quintanilla family has always been very active curators of Selena's memory, a process with which her father in particular has been associated.
Its title aside, the Netflix series is perhaps best described as a narrative of Selena's life told from the perspective of her father Abraham (the family band's manager), her older brother A.B. (who was instrumental in writing the musical arrangements for the band as well as played the bass guitar), and to a lesser extent that of sister Suzette, who played the drums. Heavy on details regarding the years of effort and sacrifice that it took for Selena y los Dinos and later simply Selena to achieve success, Selena: The Series constitutes a distinctly masculinist re-framing of the other primary mainstream Selena narrative to which fans have been exposed, the 1997 Selena bio-pic directed by Gregory Nava and starring Jennifer Lopez. In the series, Abraham and A.B. are presented as the driving forces behind the Quintanilla family's success. The sole, fleeting moments of feminist possibility within the series are contained within the close-knit relationship between sisters Suzette and Selena, which is presented as an empowering source of mutual support for both women. Moreover, in comparison with Lopez's film portrayal, the television Selena, played by Christian Serratos, lacks energy and charisma; her involvement and input in her musical career almost an afterthought, beyond her concerns for her onstage costumes and hair. While I would not assert that in comparison Nava's biopic is a feminist media text per se – although current fans of the film have attached new, transgressive meanings to clips and memes recycled from the movie (see as follows) – I would certainly argue that it foregrounds a more agentive, well-rounded characterization of the Latina icon that allows much more space for readings against the grain.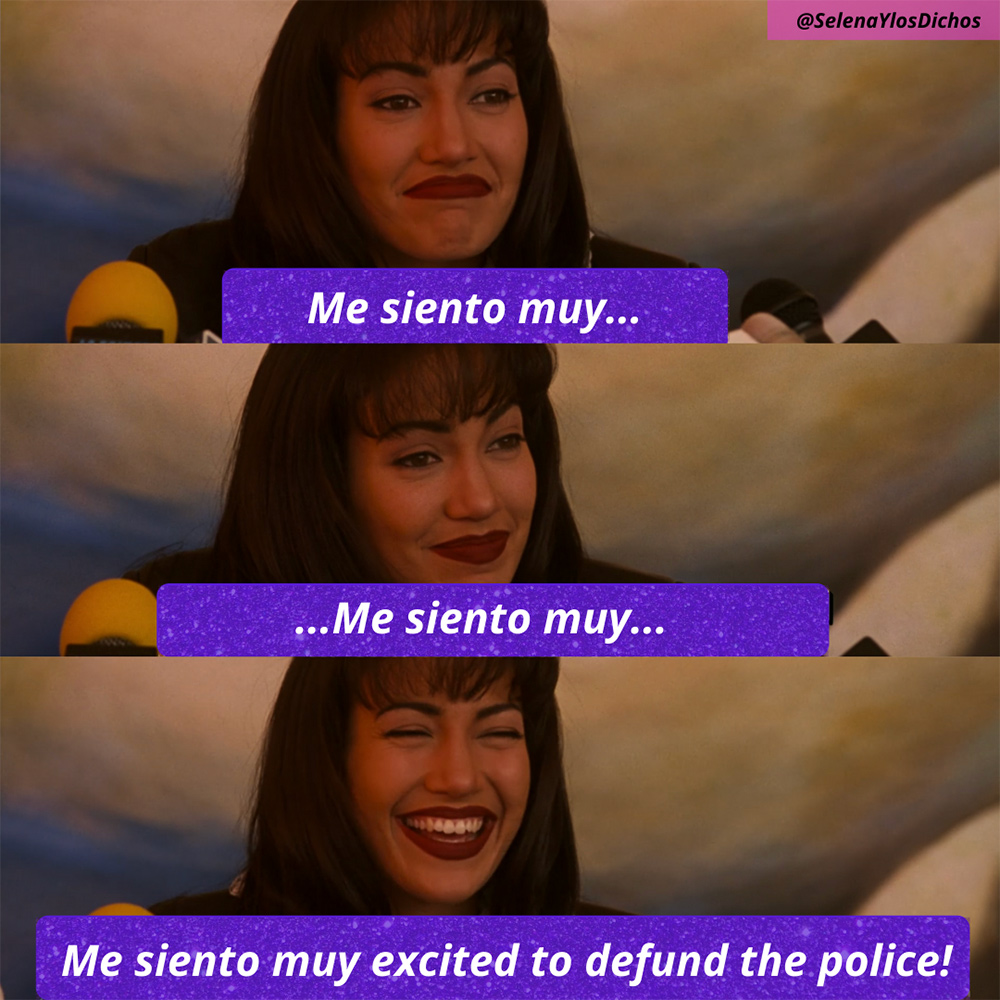 A popular recent meme re-purposes Selena's famous "Me siento muy…excited" utterance in support of criminal justice measures. This example of Selenidad 2.0 highlights the ways in which the 1997 film has often been deployed by fans as a primary text for memorializing the star, and the manner in which Selena's image continues to be recycled and imbued with new meanings by fans.
For those in search of a highly informed, richly textured media analysis of Selena, María Elena García's podcast Anything for Selena constitutes a master class in Selenidad. While García repeatedly describes the podcast as a program "about belonging" – and that it is – I would also categorize it equally as broadly as a love letter to all hybrid subjects, or all of us (including so many Latinas/os/xs) who live on metaphorical and/or physical borders, who straddle the social, cultural, physical, and affective gaps between acá (here) and allá (there). Covering the terrain from body politics to racial politics to language politics, in Anything for Selena García examines the media-based memory industries attached to the Tejana superstar. Using her own personal chronicles of growing up on the US-Mexican border and struggles with hybrid identity as fertile ground for analyzing the significance of Selena and her legacy, García deftly demonstrates the importance of Selenidad in the lives of Latinas/os/xs everywhere. The Selena of García's podcast is multi-dimensional; she speaks directly to us from the digital archives. It is a Selena who makes mistakes. A Selena who has opinions. A Selena who is contradictory. A Selena with ambitions and dreams. A complex individual worthy of careful representation, in other words, and the podcast's skillful storytelling supports this aim. In the process, we are presented with a fine-grained, thoughtful discussion of gendered Latinidad in the midst of the 1990s, a contradictory era marked by renewed anti-Latina/o/x sentiment existing alongside a superficially celebratory Latin music and media boom.
Indeed, García offers us a Selena who is strikingly human. In an era marked by so much Latina/o/x death and pain – from the camps on the border to the ravages of COVID to the continued police killings – this insistence on Latina/o/x humanity may be the most transgressive expression of Selenidad 2.0 of all.
---
Image Credits:
References:
Paredez, Deborah. 2009. Selenidad: Selena, Latinos, and the Performance of Memory. Durham: Duke University Press.
Valdivia, Angharad. 2020. The Gender of Latinidad: Uses and Abuses of Hybridity. Hoboken, NJ: Wiley Blackwell.