White Complexity, White Complicity, and New Stereotype in Booksmart
Jackson Wright / University of Texas at Austin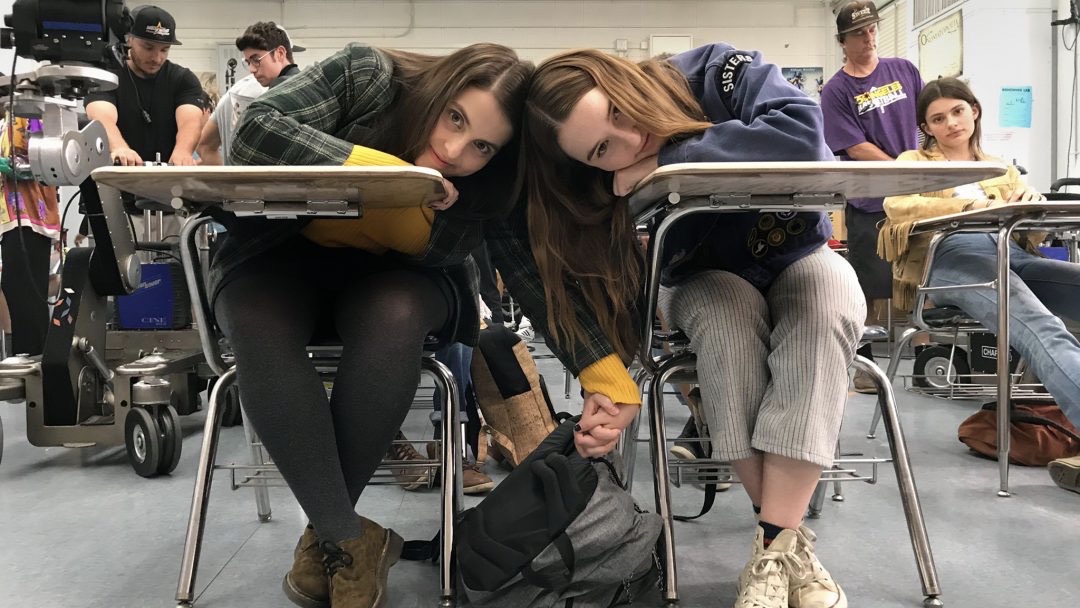 Molly and Amy, played by Beanie Feldstein and Kaitlyn Devers, were praised in their atypical portrayals of young women in high school comedies.
Booksmart (Wilde, 2019) was the little indie film that could, that didn't. Overwhelmed in a summer of record-breaking blockbusters, this high school comedy flailed at the box office. In lieu of financial success, the film received praise for its ability to uplift young white women, both in the film and in audience reception. Director Wilde stated that one of her goals with the film was to represent young women while "no longer [being] put in a box of superficial obsession with boys, or assimilation to pop culture."[1] With this prioritization of young female voices and female friendships, one thing that becomes clear is that there is also an implicit prioritization of whiteness. Where Molly and Amy—the film's protagonists—gain landmark representation, the film still relies on ethnic stereotypes and tropes to sideline and objectify its nonwhite supporting characters. This limiting of nonwhite characters is ultimately in service of an ideology that is complicit with white superiority where simplistic nonwhite characters contrast the intricate and multivalent nature of white persons that are portrayed in Booksmart.
Booksmart was often lauded for its representation of its young female characters in spite of its poor box-office performance. W Magazine called the film "refreshing and funny, and with a nuanced friendship between two young women at the forefront."[2] Rolling Stone's Peter Travers noted that "Wilde's film is less obsessed with sex than with female friendship in all its complexities and contradictions."[3] Using some of the same language, The Globe and Mail identifies the protagonists' complexity as the film's greatest strength: "they contain multitudes, as the film privileges their hearts and minds, delving deep into their contradictions and complexities in a way the makers of Porky's never dared with their characters."[4] These reviews focus almost exclusively on the gender of the characters while never revealing the hierarchy of complexity that is present in Booksmart: only the white characters can be at the forefront or can have the privilege of becoming complex. Even the supporting characters that are namechecked for being allowed non-stereotypical, or at least surprising, portrayals are white—Jared, Hope, Triple-A, George, with some mentions of Black gay drama student Alan. These reviews typify the unsaid yet overwhelming sense that only white characters truly matter in Booksmart, unless they are stereotyped.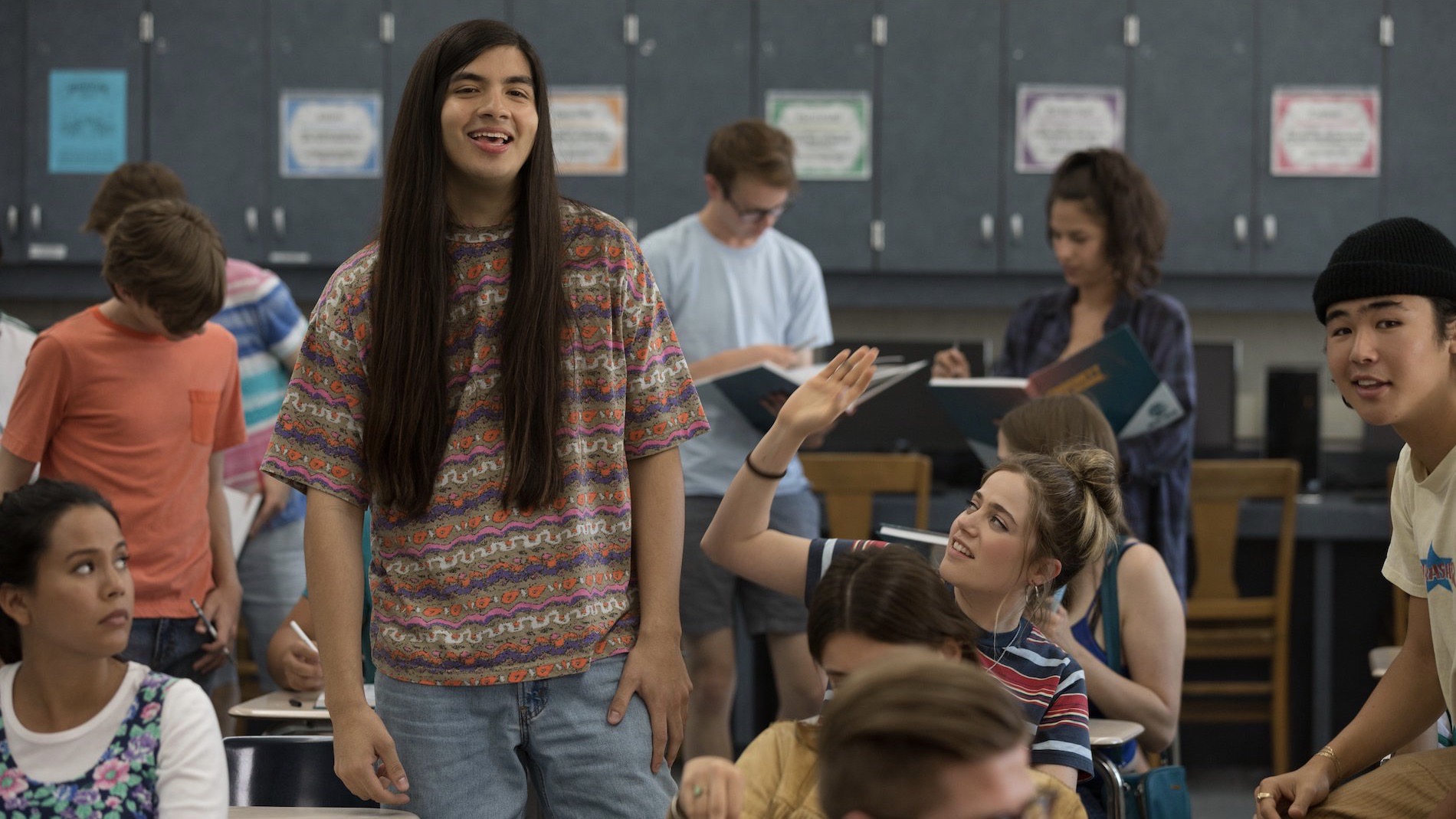 Theo, played by Eduardo Franco, toes the line between trope, anti-stereotype, and just plain clueless.
Theo, a 20-year-old Mexican-American high school student, provides an extremely potent example of Booksmart's use of racial tropes. His status as recurring comedic relief can make him a 2019 equivalent to the "Latino male buffoon." Originally theorized by Charles Ramírez-Berg, the Latino male buffoon is marked by "the very characteristics that separate him from Hollywood's vision of the WASP American mainstream." (71-72).[5] In this case, these characteristics are primarily Theo's racialized attire, hair, and language. Much like Cheech and Chong, default images for the Latino-stoner trope, Theo is laidback and has a very clear nonwhite use of grammar and slang. The film attempts to acknowledge this stereotype. Theo declares early in the film that he is not going to college, with the caveat that he is actually going to work for Google straight out of high school. Despite this lip service to his accomplishments and academic/career success, Theo is still relegated to his stereotype status, complete with stoner-esque humor and an aversion to higher education. This additional layer to Theo's stereotype—the intelligent yet still simple-minded minority—is not new in high school comedies (e.g., Pedro in Hess's 2004 Napoleon Dynamite). Theo is also the only character in the film to explicitly mention his race, pondering whether Miss Fine—his romantic interest in the film—has ever "made love with a Mexican." The tying of Latino sexuality and race has a long history, a stereotype that is defined again by Ramírez-Berg as the Latin Lover. While Theo's overall character is a male buffoon, he purposefully digs into a larger history of "Latino" male stars that includes invocations of exoticism, racialized eroticism, and elements of foreign exploration and otherness. Theo becomes a mess of various types of stereotypes because Booksmart wants to convey him as a stereotype, unravel that stereotype, yet continually racialize and marginalize him so that he cannot be taken seriously as a true character, just a recurring gag.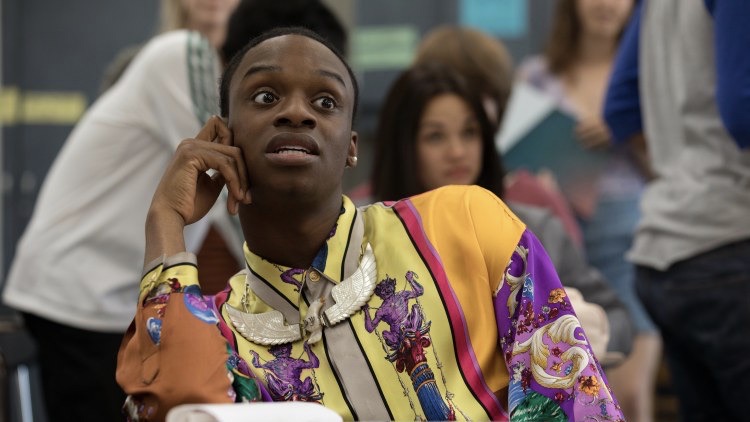 Alan, played by Austin Crute, was a highlight in reviews.
While Theo is perhaps the most overtly racialized and stereotyped in the film, another character stands out as being particularly troped—Alan, the gay black drama student. He falls into the broad category of black and gay men who are typified by loud and exaggerated behavior, often needing to be controlled or policed. Although Alan—and his partner George—exhibit fine tastes and put on ornate and complex dinner parties, Alan himself is still privy to stereotype in a way George, who is white, is not. The intersecting tropes of a loud, fussy, and uncontrollable black man—take Chris Tucker in The Fifth Element (Besson, 1997) or Kevin Hart in the new Jumanji (Kasdan, 2017 and 2019) films—and a dramatic gay man—any number of comedies with gay supporting characters—forces Alan into a box of stereotypes he cannot escape. This inability to escape is all the more apparent because his partner George is the de facto decision-maker of their relationship, is allowed more lines in the film, and is allowed to be a frequent presence in the film, showing up at the film's climactic party without Alan. Where George is allowed to more fully interact with main characters Molly and Amy, Alan is mostly limited to only interacting with George. Actor Austin Crute, portraying Alan, originally auditioned for the role of Jared, who ended up becoming a nerdy rich kid and potential love interest for Molly.[6] However, Crute was given the much smaller role of Alan, eliminating the possibility of creating a new type of Black character for high school comedies and adding Alan to the long-list of loudmouthed, uncontrollable gay Black characters.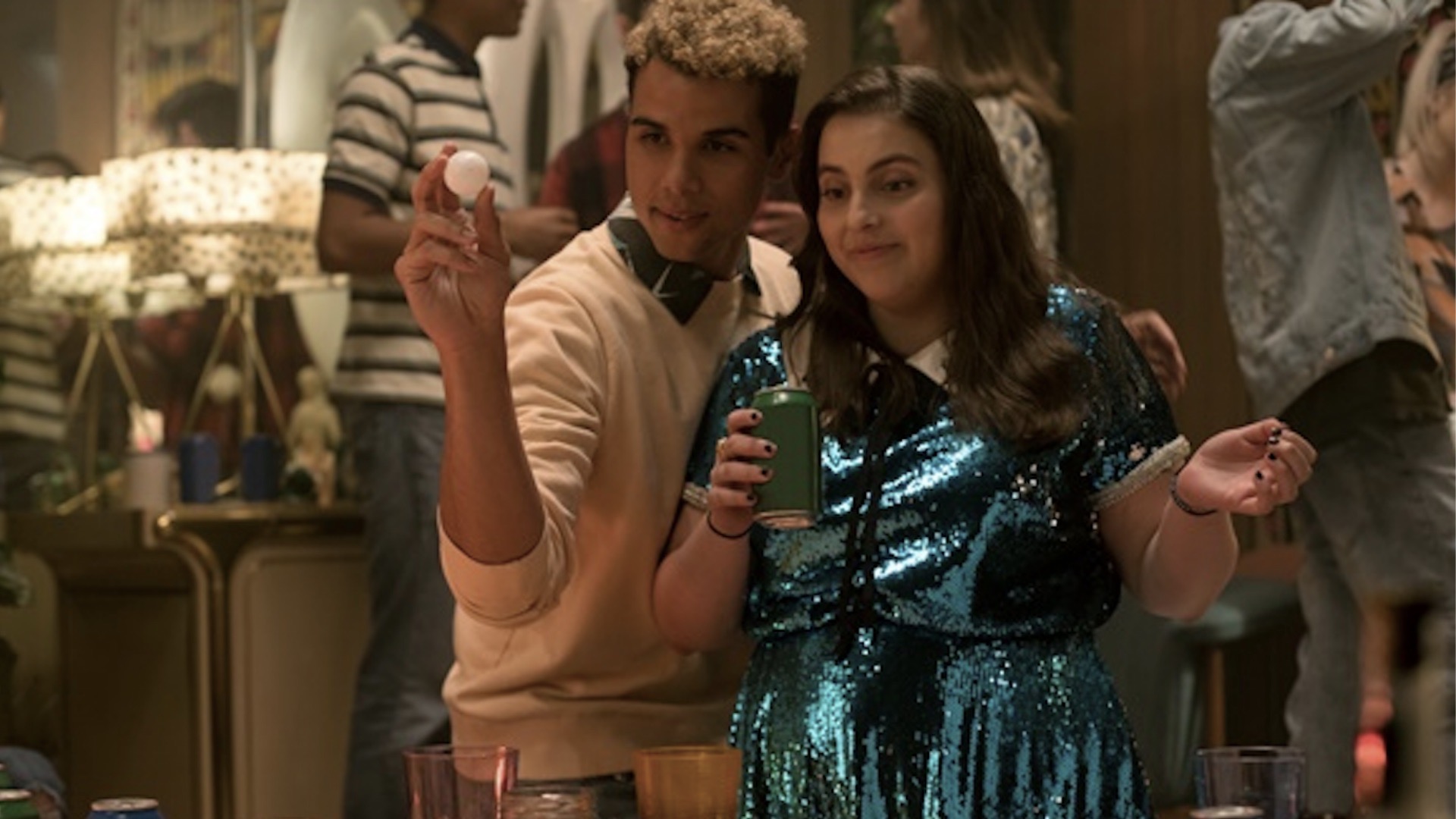 Nick, played by Mason Gooding, is one of many nonwhite romantic leads in recent high school films.
Nick, played by Mason Gooding (son of Cuba Gooding, Jr.), typifies yet another recently popular high school trope: nonwhite romantic interests for white leads. Booksmart joins recent high school comedies—notably The Edge of Seventeen (Fremon Craig, 2016) and Love, Simon (Berlanti, 2017)—in creating this white/nonwhite dynamic, indicating that the lead white protagonist has no issues with race and forcing their romantic complications to come from personality issues alone. While yet another noble pursuit, there remains the sense that fully nonwhite relationships are either unrealistic, too unexpected, or not even an option for mainstream high school comedies. Nick himself is unable to express any virtues or values as a character beyond being attractive and popular. This trope is, of course, a play on the vapid high school jock, yet with this film's stated purpose being unraveling those stereotypes, it comes across as unfair to not let Nick stand on his own, especially for a character so central to our main character's motivations. Nick's introduction in the film accompanies Triple-A's introduction; both of these characters are known for being promiscuous and popular. Yet, only Triple-A is allowed further development while Nick is not a presence in the film after he is seen making out with another girl. In fact, Triple-A consoles Molly (i.e., one white woman interacting with another white woman) after she feels betrayed, or at least led-on, by Nick.
Ultimately, the discourse surrounding Booksmart should be as complex as its white characters. The film should dutifully be acknowledged for its progressive politics and its positionality as part of a new wave of films that treat young women as more than just sexual objects. And not all victories must be victories for all—meaning not all films must include dynamic representations for all parties involved. However, what this analysis argues is not that all characters deserved equal representation, but rather that Booksmart refuses to acknowledge the privileging of white characters and so cannot be heralded as a unanimous success. A lack of both complex nonwhite characters and women of color who are the same age as the protagonists point to the fact that Booksmart was a white victory, and that with only white victories, there follows white superiority.
---
Image Credits:
References: