Over*Flow: It's a F***ing Lockdown: The Branding Responses of the UK's Public Service Broadcasters
Melissa Morton / University of Edinburgh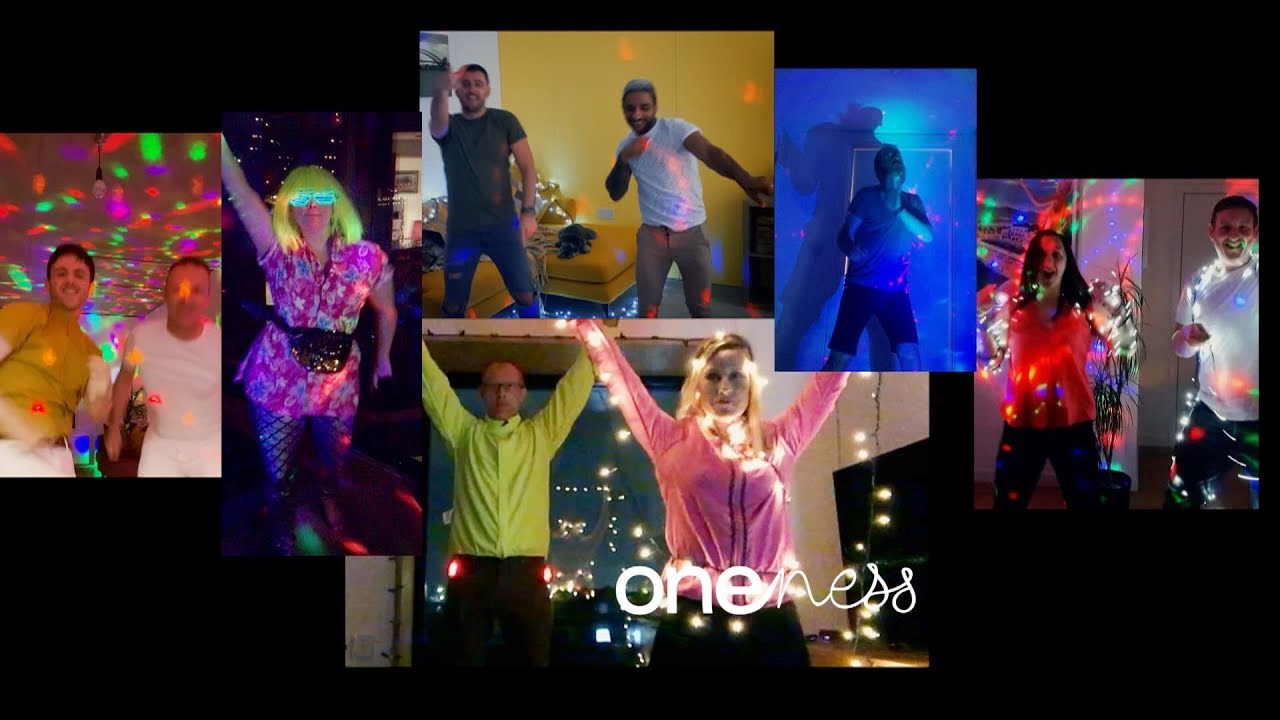 BBC One's "Oneness" Campaign showcases audiences' social distancing activities.
Over the past two months, the UK's population—the vast majority at home under lockdown—have increasingly been relying on television for trustworthy news and escapist entertainment. During a time of social isolation, television has become crucial for our sense of connection with the outside world and with each other. Despite the increasingly crowded television landscape with an expanding array of online platforms—Amazon Prime, Netflix and Disney+, to mention a few—many viewers are looking to trusted public service channels (BBC, ITV, Channel 4 and Channel 5) to be "informed, educated and entertained" during a period of crisis. At the start of the lockdown, 64 percent of people were watching more live TV than before the pandemic.[1] In response, the UK's public service broadcasters adapted their branding communications to reflect the drastic transformation of their viewers' daily lives. Audiences have felt an increased need for connection and inspiration; accordingly, the promotions created by the UK's main public service broadcasters particularly focus on themes of connection, laughter, and community.
On-screen branding, consisting of the "bits in-between" the programs such as station identifications, trailers, and promos, provide the UK's broadcasters with an opportunity to articulate a distinct brand identity and the roles the broadcasters hope to play for audience members imagined as a diverse national community. The recent on-screen branding provides an interesting commentary on changing societal perceptions of the role of national broadcasters during a global crisis. Viewership data suggests a "swing towards trusted and meaningful media channels and brands," including a reliance on the BBC as "the most trustworthy source of information." What might increased dependence and trust mean for our relationship with public service broadcasters in the future?
BBC: Cups of Tea and Dua Lipa
At the end of March, BBC Creative produced a promotion for the BBC iPlayer which encourages people to stay at home by featuring excerpts from archival BBC comedies. These include Malcolm Tucker (Peter Capaldi) and his iconic "It's a f***ing lockdown" meltdown from the The Thick of It (2005) and Miranda Hart's vegetable orchestra from Miranda (2009).
BBC Creative's promotions use excerpts from archival BBC comedies to encourage Brits to stay home.
BBC One, meanwhile, has recently introduced new on-screen branding featuring multiple videos captured on smartphones, including cups of tea and an "isolation disco." Many argue that these changes have been long overdue; throughout late March and April, BBC One had continued to use a series of station idents named "Oneness," which showcase groups of people across the country engaging in activities ranging from dog-walking and swimming to Bhangra dancing and aerobics. Some disgruntled viewers expressed their confusion that the channel has continued to use these idents at a time when social distancing measures, including maintaining a two-meter distance from others, have been declared mandatory. In replacing the previous "Oneness" idents with home-videos, BBC One has maintained its core values of "unity and togetherness," while reflecting its viewers' current socially distanced realities.[2]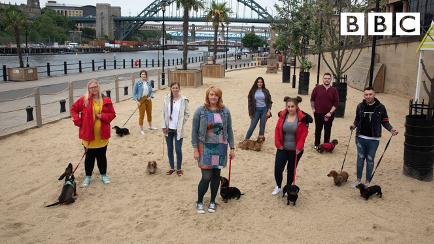 Non-social distancing BBC One brand ident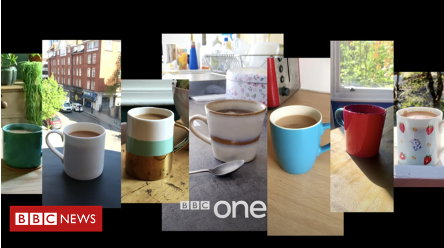 Safer at home BBC One brand ident
BBC One has transitioned from showing pre-social distancing brand indents to home videos of Brits staying at home.
BBC News 24, meanwhile has encouraged its viewers to experiment with its music theme composed in 1999 by David Lowe. One influencer, Rachel Leary, propelled a BBC News dance craze when her version went "viral" on social media platform TikTok. Dressed as a DJ in shades and headphones, Leary dramatically turns "dials" and presses "buttons" on a makeshift turntable and mixer made of aerosols and cleaning products. Another remix trend was led by Owain Wyn Evans, now known as "the drumming weatherman," of BBC North West Tonight. As part of "Owain's Big House Band," viewers recorded and submitted variations of the BBC News theme, ranging from trumpets, banjos, and tap dancing. Lastly, Glaswegian musician Ben Howell created a remix of the News theme with Dua Lipa's "Hallucinate," which, after going viral on Twitter, was showcased in a BBC News interview, the headline reading: "New News theme meme: Latest mash of corporate theme is musical smash."
Musician Ben Howell's BBC News Theme remixed with pop star Dua Lipa's "Hallucinate."
The increased involvement of young people in "remixing" the theme is a promising sign for the BBC after Ofcom raised concerns last year that the BBC was "losing a generation of viewers." The Havas Covid Media report showed that the BBC was the most trustworthy source of information on Covid-19, particularly among 18-24 year olds. Moreover, these younger viewers are not only relying on the BBC as a source of news but actively and irreverently engaging with it through remixes and viral dance crazes.
Channel 4: Buttocks and Personalities
Channel 4 also introduced new on-screen branding, adapting its irreverent and creative brand values and claiming to "innovate and take bold creative risks." Bumpers between shows feature the channel's stars accompanied by peaceful birdsong, including John Snow ironing a tie and Katherine Ryan painting a glamorous self-portrait. In a longer promotion, Matt Berry theatrically addresses the nation, accompanied by heroic trumpet fanfare, cymbal crashes, and harp glissandi, as images of wiggling buttocks are superimposed onto a spinning globe. Berry asks us:
Britain: When was the last time you did something that really mattered with your arse?… We need your buttocks—clench together on the sofa: stay at home; save lives.
UK's Channel 4 encourages Brits to stay home through cheeky ads.
ITV: Outsourcing Graphic Design to the Nation's Schoolchildren
ITV's approach has centred on user-generated content, aspiring to create a sense of a community among its viewers. On Monday, April 6th, ITV introduced "ITV Kids Create," enabling children to re-design the on-screen logo; parents can post their children's designs on Twitter for the chance to have them shown on TV. ITV also re-introduced its "Get Britain Talking" campaign, which allows viewers to share a message with the nation on Twitter, spearheaded by the channel's spokespeople, Ant and Dec.
ITV's "crowdsourced" branding approaches accords with the BBC's, exemplified by the BBC One idents and their decidedly "home-made" aesthetic. In sum, the branding approaches by BBC, ITV, and Channel 4 display an attempt to connect and interact with viewers, the emphasis on user-generated content and light-hearted comedy providing a sorely needed sense of connection, inspiration, and fun.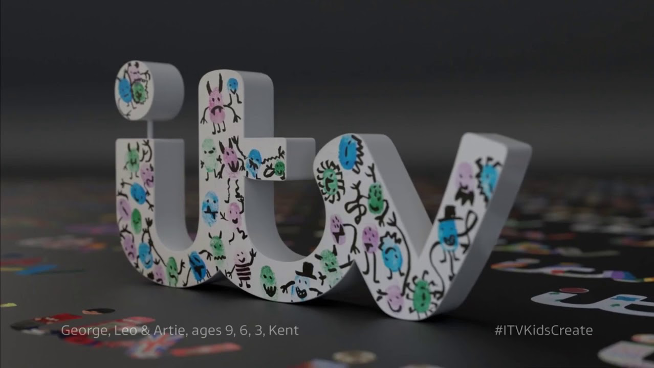 ITV's "Kids Create" campaign encourages children to redesign the channel's on-screen logo.
What Does this Mean for Public Service Broadcasting?
Initially, when the BBC was established by Royal Charter in 1927, its public service remit was conceived in terms of General-Director John Reith's paternalistic definition of broadcasters as the nation's "moral and cultural leaders":
It is occasionally indicated to us that we are apparently setting out to give the public what we think they need—and not what they want—but few know what they want and very few what they need.[3]
Now, nearly one-hundred years later, consumers have an overwhelming array of terrestrial, satellite, digital, and online channels to choose from, and can access content from anywhere in the world. The BBC is funded by a license fee—roughly £150 per year to be paid by every household receiving broadcasts. Although ITV, Channel 4, S4C, and Channel 5 are commercially funded through advertisers, these broadcasters also have to fulfill certain public service obligations in their programming. Throughout the changes in the media landscape, beginning with the introduction of commercial competition with the establishment of Channel 4 in 1982, the BBC has been transformed. Dispensing with the implicitly elitist aim to elevate the tastes of the masses, the BBC had to be more in tune with the needs and wants of its diverse target audience and formulate its television and radio stations as distinct brands. In particular, the on-screen branding designed by BBC, ITV, and Channel 4 during the Covid-19 crisis demonstrates a marked effort to form a connection with their individual audience members as well as evoking a sense of community, evident in Matt Berry's address to the nation ("Britain: we need your buttocks"), and the attempts by ITV and BBC to encourage user-generated content.
The brand responses raise questions about the role of public service broadcasting today, particularly that of the BBC. Since its inception, the BBC has increasingly had to justify its existence to those who consider the license fee as "unnecessary, elitist and anticompetitive."[4] Perhaps the BBC's most precarious time was under Margaret Thatcher, who was strongly in favour of scrapping the license fee and replacing it with advertising. Although the BBC managed to maintain its public funding model, the debate has continued. As recently as February, Dominic Cummings controversially suggested that the government could scrap the license fee and replace it with a subscription model when the Charter comes up for renewal in December 2027.
However, increased viewership numbers and surveys carried out by the Havas Media Report suggest that the UK's population largely trusts public service broadcasters in a time of crisis, not just for accurate news but also for irreverent escapism and laughter. There is still a long way to go until the BBC's charter renewal in 2027. Will the BBC maintain its current status as the "most trustworthy source of information" and stay relevant among younger viewers? As broadcasters and their audiences both attempt to adapt to a "new normal," the nature of the longer-term impact on public attitudes and government policy towards public service broadcasting is not yet clear.
---
Image Credits:
References: