Minimum Viable Cinema (Criticism)
Alexandra Juhasz / Brooklyn College, CUNY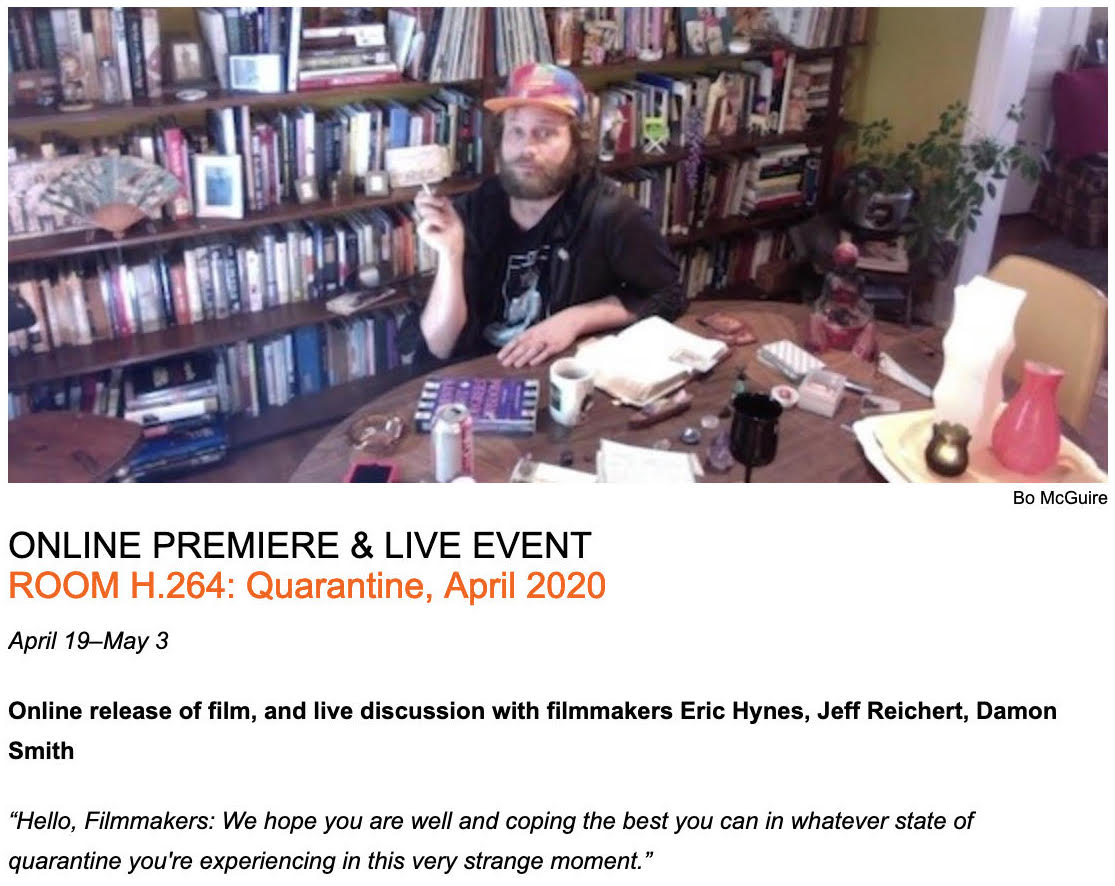 ROOM H.264: Quarantine, April 2020 was sponsored by the Museum of the Moving Image.
"Is cinema becoming a dead language — an art form which is already in decline?" (Wim Wenders, Room 666, 1982; Eric Hynes, Jeff Reichert, and Damon Smith, ROOM H.264, 2020)
On April 20, 2020, I was an "audience member" in ROOM H.264: Quarantine, April 2020, an Online Premier & Live Event sponsored by the Museum of the Moving Image. The "film" was cobbled together by way of Skype by its "filmmakers." Given the constrictions of COVID 19, the three "directors" had generously invented a workaround to the already stripped-bare cinematic method that had organized three of their previous films. Their "interviewees" would answer the question above, in a new "cinematic" language: speaking alone in a room and into a 10-minute Skype screen. The responses were edited into their fourth "film" in the series, which premiered on Vimeo.
They call the project a "21st-century update on Wim Wenders' feature-length documentary Room 666 … [where] filmmakers attending the Cannes Film Festival in 1982" also answer a single question related to the future of cinema. In CoronaWorld (CW, as opposed to BCW, Before CoronaWorld, as defined by my journalist boyfriend in his daily Plague Journal), the three artist/critics quickly modified their 21st-century process—BCW—to muster a bit of deserved attention for more than 20 international filmmakers, many of whom had lost film premiers to CW.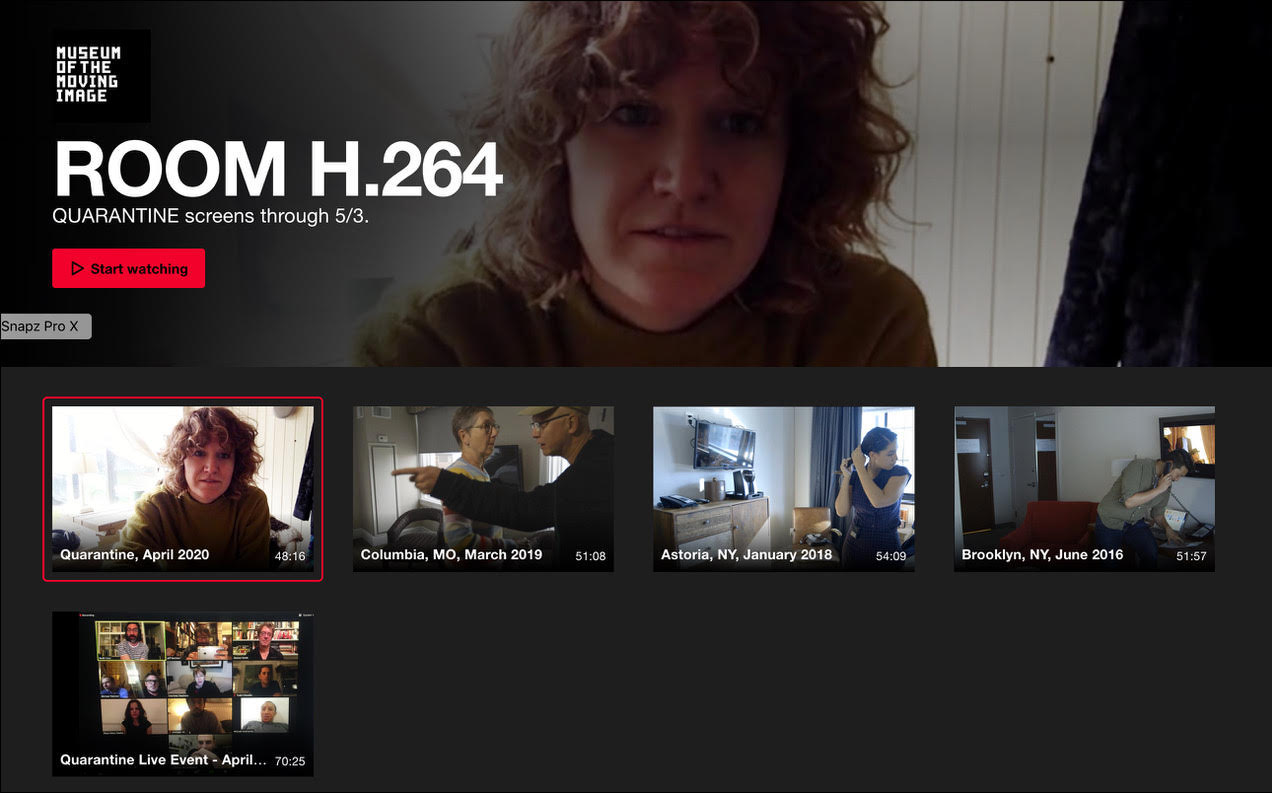 ROOM H.264: Quarantine, April 2020 and previous ROOM H.264 films are available on a dedicated Vimeo page.
A little on all my scare quotes, and the word generously, will set stage for my final (fast) reveal. Oh, plus an observation on "(fast)." For, this piece of "cinema" "criticism" will see none of my usual rigor, attention, or even humor because that seems hard to muster. (I wrote a more energetic critique of Wenders in 2011, "Men Shooting Films in Caves," to which in other circumstances I might have referred.) In CW, for the "critic," the "interviewees," and "film" "directors," time, energy, motivation have become absurd, unanchored, and unmeasurable. So I won't wax on about how dusty, stubborn filmmakers are at long last being forced to become YouTubers; or how beautifully these "filmmakers" resist this putsch even so. I write this (fast) because my colleague Carol Vernallis asked me to. The effort at once enervates and enlivens. I'm happy to help. Be human. Last night I lay in bed and watched many respected "filmmakers" do pretty much the same: engage in a gutted form of and about a beloved enterprise; do what we can even so. Scare quotes everywhere because the once recognizable motivations, flourishes, roles, systems, technologies, and industries of cinema (albeit already in decline, again and again) are perverted, illegible, and reinvented in CW, to which so many of the "interviewees" and the "film" itself spoke. And this is all movingly, even hopefully, generous: each and every act of "cinema" in a moment of erasure.
The reveal.
On March 28, 2020, the FemTechNet collective published a white paper, Feminist Pedagogy in a Time of Coronavirus Pandemic. Working fast ourselves because we were motivated by or own fears that the roles, technologies, and industries of our beloved—teaching—were becoming a dead language, we offered insight from years of collective feminist work BCW. Our first 3:
We encourage "minimum viable courses." By this we do not mean less; it's an opportunity to rethink what a class is and could be. For now, simpler is better (see Dr. Feng-Mei Heberer on scaling down teaching at NYU Cinema Studies in CW).
Migrating a class into domestic space changes all interactions.
Foster skepticism about techno-solutionism and the visibility of corporations who are promising a new normal.
In this, my own short piece of Minimum Viable Cinema Criticism, I do my best, tipping my hat to those who are also engaging newly from our domestic spaces while staying skeptical and generous about and with the forms and tools at our disposal.
---
Image Credits:
ROOM H.264: Quarantine, April 2020 was sponsored by the Museum of the Moving Image. (author's screengrab)
ROOM H.264: Quarantine, April 2020 and previous ROOM H.264 films are available on a dedicated Vimeo page. (author's screengrab)