Mr. Sandler Goes to Netflix
Danielle Williams / Georgia Gwinnett College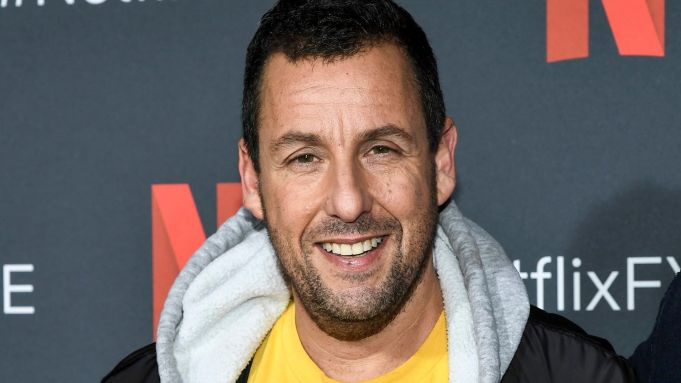 Adam Sandler at FYC Event For Netflix's 'Adam Sandler: 100% Fresh'
At the end of 2019, Netflix released a list of the ten most popular shows and movies that started streaming at the beginning of the year. The list included highly promoted programming including The Umbrella Academy (#9), The Witcher (#6), Martin Scorsese's The Irishman (#5), and the third season of Stranger Things (#2).[1] The top spot went to the Adam Sandler film Murder Mystery (Kyle Newacheck, 2019). While Netflix did not provide exact numbers for their top ten list, the company did provide insight into how it was created. For inclusion, Netflix measured how many subscribers watched the first two minutes of each show during the first month of the program's release. While Netflix's method of data collection and lack of providing transparency in doing so for movies and series may be problematic, the company's relationship with Sandler is not. Troy Dreier states "Netflix doesn't use data for creative decisions; it uses data to match content with viewers."[2] The end results are definitive; Netflix subscribers watch Adam Sandler movies.
Murder Mystery is the fifth Sandler film for Netflix. Sandler became part of the Netflix family in 2014 when he signed a four picture deal worth $250M. The deal was surprising because Sandler's box office success had diminished in previous years. Although his films Grown Ups (Dennis Dugan, 2010) and Grown Ups 2 (Dennis Dugan, 2013) were box office hits grossing $271 and $246M worldwide, his other films during this time were not as successful. That's My Boy (Sean Anders, 2012) lost $42.5M and Pixels (Chris Columbus, 2015) made Sony a profit of $10M.[3] Yet these numbers were not a deterrent for Netflix. According to Ted Sarandos, Netflix's chief content officer, Netflix subscribers have been fans of Sandler for quite some time: "Very uniquely, he stands out for his global appeal to Netflix subscribers. Even movies that were soft in the U.S. [theatrically] outperformed dramatically on Netflix in the U.S. and around the world."[4] Pixels is an example; it made $78M domestically and $166M internationally. Sarandos relates that Sandler's films do well in Latin America, Germany, and the United Kingdom. The decision to create a long-term partnership with Sandler has so far proven to be an astute one as Netflix continues to expand globally. Currently Netflix has 157M global subscribers; only 67M of those subscribers are in the United States.[5]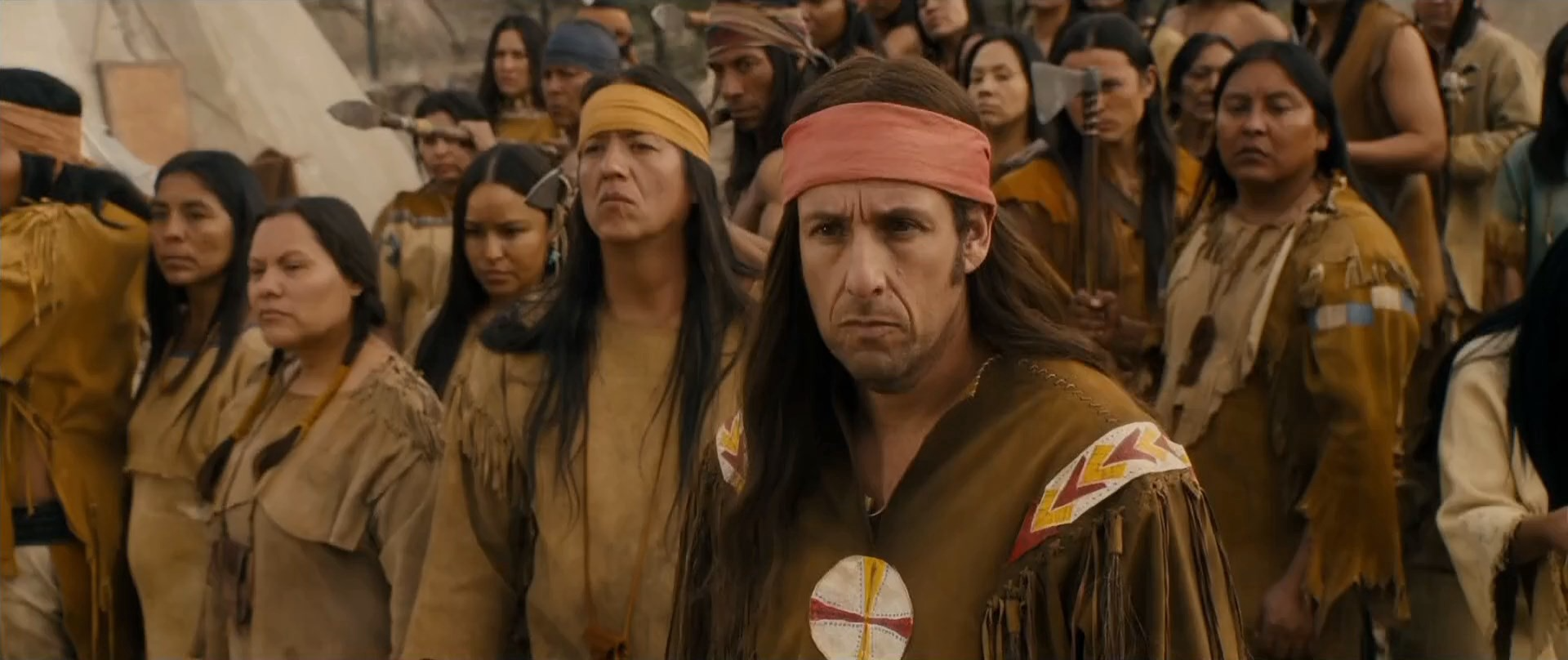 Adam Sandler in The Ridiculous 6
Sandler has cultivated a core fan base over time and his films for Netflix are designed with them in mind. His first film, The Ridiculous 6 (Frank Coraci, 2015), is a western spoof. While it was not critically acclaimed, the movie performed well for Netflix, becoming its most viewed film during the first month after its release.[6] The Ridiculous 6, as well as its successors, The Do Over (Steven Brill, 2016) and Sandy Wexler (Steven Brill, 2017) are standard Sandler comedies in which Sandler plays a lovable, flawed leading man along with familiar co-stars and cameos from the "Sandlerverse," such as David Spade, Rob Schneider, Nick Swardson, Steve Buscemi, Kevin Nealon, Jon Lovitz, Kevin James, John Tuturro and Chris Rock. In 2017, Netflix revealed that since the release of The Ridiculous 6 in December 2015, Netflix subscribers have watched more than 500 million hours of Sandler movies.[7] Although Netflix did not provide any information about the initial films included in the partnership deal, they obviously performed well enough for Netflix to extend a second, four-movie, deal with Sandler. His fourth film, The Week Of (Robert Smigel, 2018) reunited Sandler and Chris Rock as parents and future in-laws dealing with the stress of their children's upcoming marriage. For his fifth film, Murder Mystery, Sandler reunited with his longtime friend and Just Go With It (Dennis Dugan, 2011) co-star Jennifer Aniston.
Netflix released Murder Mystery on June 14, 2019. Four days later, the company shared via its Twitter account that the film had broken previous viewing records with 30.9M households watching it during the first three days of release.[8] For this data sample, Netflix counted households that finished watching (or tuning into) at least 70% of the film. The success of Murder Mystery in breaking a three-day release record as well as being Netflix's most watched title of 2019 is not a surprise. As stated, Sandler is one of Netflix's biggest stars. It was also undoubtedly a boon to the film that Aniston co-starred in NBC's Friends (1994-2004), which experienced an impressive resurgence via streaming.[9] Nielsen claimed that Friends was the second most streamed TV show in Netflix's library. Netflix had experienced such a success with the series that they reportedly paid WarnerMedia $100M to extend the series after its initial contract. Friends ended its run on Netflix on December 30, 2019 and will be part of the HBO Max launch in May 2020. Friends also has international appeal. In January 2019, the BBC reported that the series was popular among teenagers in the United Kingdom.[10] The Sandler-Aniston collaboration appeals to existing Netflix subscribers as well as new ones as the company continues its global expansion.
Sandler's films assist Netflix in becoming a transnational broadcaster.[11] The deal also helps Sandler in maintaining creative control of his works. Sandler co-wrote The Ridiculous 6, Sandy Wexler, and The Week Of. In addition to starring in and producing multiple films for Netflix, Sandler's production company, Happy Madison, has made two additional films for Netflix: Father of the Year (Tyler Spindel, 2018) and the upcoming The Wrong Missy (Tyler Spindel, 2020). Both films star David Spade.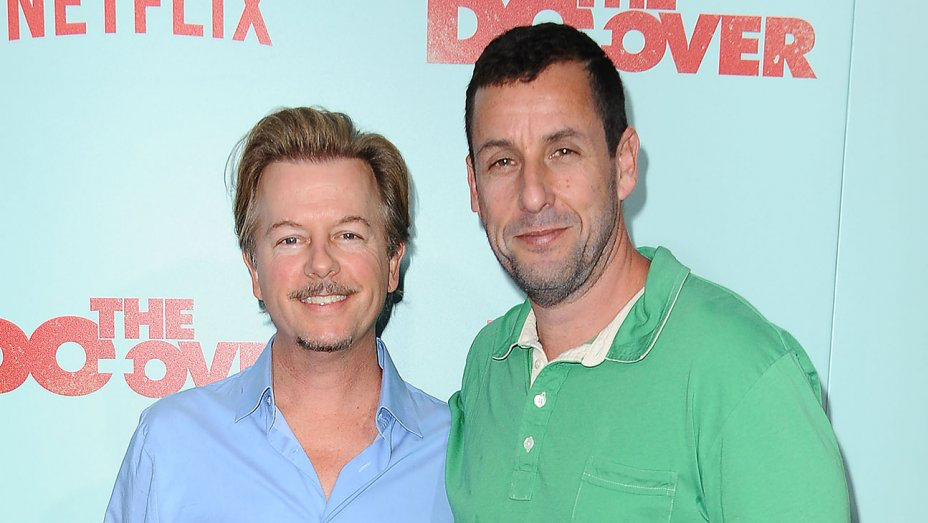 Adam Sandler and David Spade at the premiere of The Do-Over
While Sandler's films provide mass global appeal for Netflix, they also provide Sandler a creative outlet that is cushioned from box office numbers and critics. Until Netflix says otherwise, Sandler can keep making comedies his way. Sandler's films are their own formulaic niche full of gags and cameos. For example, Sandy Wexler is Sandler's version of a romantic comedy. While Wexler (Sandler), the bumbling and offensive goofball with a heart of gold falls in love with beautiful and talented Courtney (Jennifer Hudson), Sandler-staple Nick Swardson is there to provide the slapstick humor as a daredevil stuntman whose stunts go horribly wrong every time.
Sandler's upcoming Netflix project, Hubie Halloween (Steven Brill, 2020), reunites Sandler with favorites Kevin James, Steve Buscemi, Rob Schneider, Colin Quinn, and Julie Bowen. Sandler plays "'Hubie Dubois," a well-meaning but widely mocked Halloween obsessive from Salem, Massachusetts. After a presumably wacky series of events lands Hubie in the midst of a murder mystery, it's up to him to save Halloween."[12] The description fits into the Sandler formula. A loveable, blemished fellow gets into a difficult situation; hilarity ensues and all is well in the end. While Bowen (best known for her role as Claire in the hit television series, Modern Family) does not have the international appeal of Jennifer Aniston, the film will surely appeal to Sandler's loyal fanbase. Hubie Halloween marks the first time Bowen and Sandler have worked together cinematically since Happy Gilmore (Dennis Dugan, 1996). This reunion plus the film's holiday theme and star-studded cameos appear to be a lock for the movie to break streaming records for Netflix.
And if it doesn't, Sandler will not be out of work; he still has two movies left with Netflix. Moreover, Netflix might not be Sandler's forever home as the streaming business continues to increase and diversify. Sandler could easily move to one of Netflix's streaming competitors as the need for original content continues to increase. Regardless, it appears that as long as Adam Sandler is in the movie-making business, there will be an audience to support his seemingly never-ending string of projects.
---
Image Credits:
Adam Sandler at FYC Event For Netflix's 'Adam Sandler: 100% Fresh'
References: