From Crazy Rich Asians to Netflix: The "Rebirth" of Romantic Comedies, pt. 2
Katherine E. Morrissey / San Francisco State University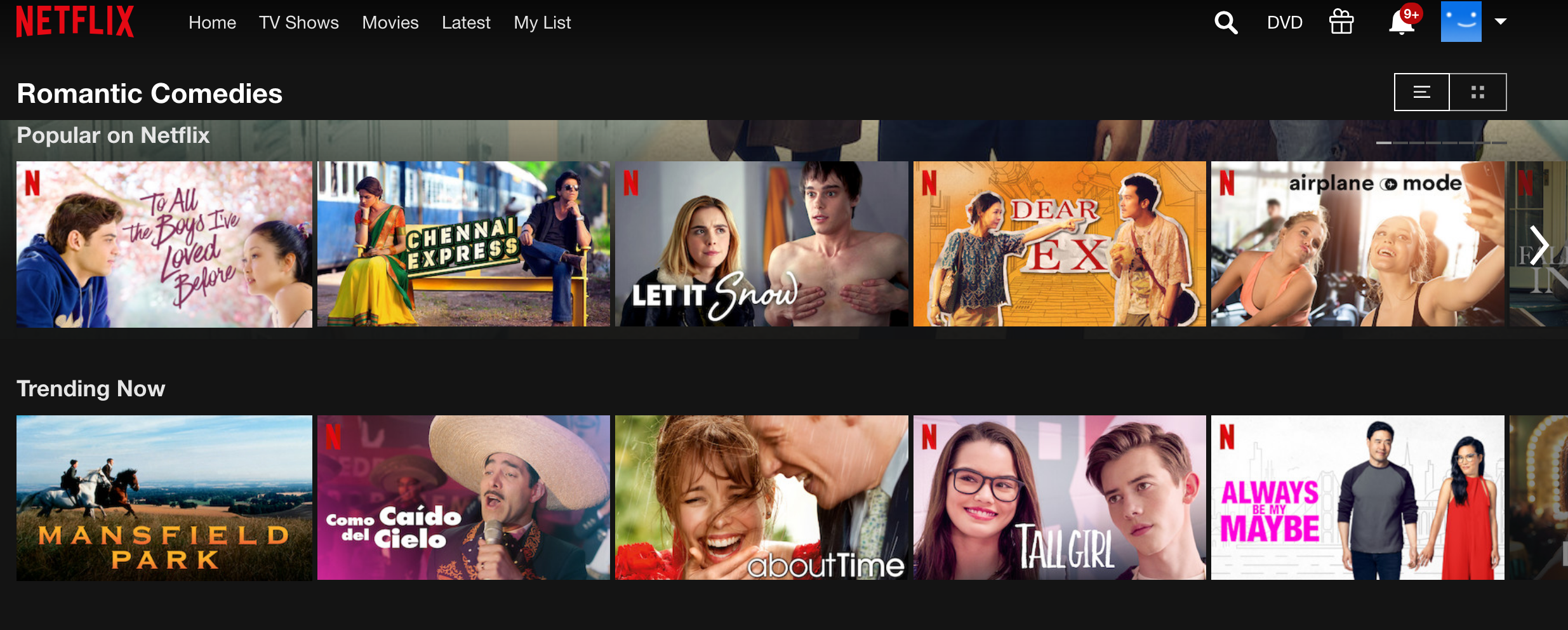 Screenshot of the Romantic Comedy category on Netflix
Author's Note: This column is the second in a three part series about the supposed death and rebirth of romantic comedy film. In this series, I am tracing the romantic comedy's shift from medium-budget Hollywood staple into a digital streaming genre.
In 2018, the media conversation about romantic comedies shifted. That summer, one Thrillist headline declared, "The Rom-Com Returns: How 'Crazy Rich Asians' and Netflix Revived a Beloved Movie Genre" (Zuckerman). In August 2018, Warner Bros.' Crazy Rich Asians (Chu, 2018) was number one at the domestic box office for three weeks ("Crazy Rich Asians"). An adaptation of a 2013 Kevin Kwan novel, the film grossed $174.5 million at the domestic box office ("Crazy Rich Asians"). That same week, Netflix released their To All the Boys I've Loved Before (Johnson, 2018), an adaptation of a 2014 Jenny Han novel. While exact numbers on Netflix content are hard to come by, the company reports the film is "one of our most viewed original films ever with strong repeat viewing" (Netflix).
Both of these films feature Asian-American heroines, an important step away from the rom-com's traditionally white protagonists. However, both films are clearly aligned with the more conservative neo-traditional approach I discussed in my previous column. More than anything else, these films intrigue me because of how and where they were successful. Crazy Rich Asians did well domestically but disappointed overseas. To All the Boys was a success on Netflix, not in movie theaters. Crazy Rich Asians and To All the Boys indicate two new distribution strategies rom-com creators are experimenting with: rom-com as global media franchise and rom-com as a digital streaming genre. These films remind us of the genre's ongoing struggles: Efforts to decouple romance from its white heterosexual defaults and efforts to construct romantic comedy films which work as global products with long-term digital lives.
Crazy Rich Asians
Crazy Rich Asians struggled overseas, earning $64 million at the international box office ("Crazy Rich Asians"). This is significant given the initial bidding war surrounding the project. In a Hollywood Reporter interview, book author Kevin Kwan explains the project was seen as an opportunity to reach the Chinese market (Sun and Ford). As the first book in a trilogy, the story also had potential as a larger franchise. However, when the film eventually made to China it did terribly there, earning only $1.6 million ("Crazy Rich Asians"). Numerous reasons have been cited for this: The film's Chinese premiere was delayed until late November. There was a disconnect between the film's pan-Asian cast and the story's Singaporean characters. Finally, the film celebrated the "crazy rich" during a time when the Chinese economy was slowing (McGregor). These are just some of the reasons why the film may not have done well in China. Ultimately, however, the film's struggles overseas raises questions about the viability of romantic comedies in Hollywood given the current focus on film franchises that promise international box office success.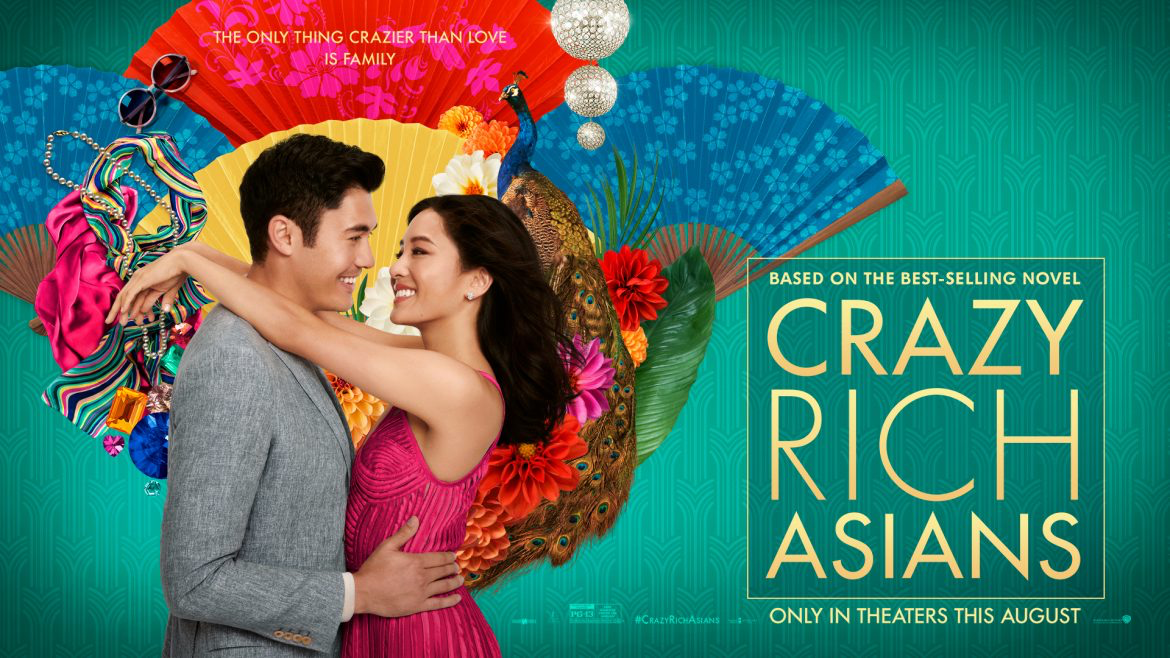 Crazy Rich Asians (Chu, 2018)
Don't get me wrong, Crazy Rich Asians did important work in the North American market, disproving the tired industry claim that a film with a predominantly Asian cast won't sell. However, Crazy Rich Asians was a test, it was an experiment in selling a rom-com across a range of global markets. In that sense, the experiment failed.
To All the Boys I've Loved Before
Netflix reports To All the Boys was one of their "most viewed original films ever" (Netflix). A sequel, P.S. I Love You (Fimognari, 2020), will be released in February 2020 and a third film is anticipated (Takeuchi). Netflix launched To All the Boys as part of their "summer of love" campaign (Andrews; Feldman; Fern et al.; Grady). This set of roughly 11 different films included Set it Up (2018) directed by Claire Scanlon, Catching Feelings (2018), a South African romantic comedy written and directed by Kagiso Lediga, and the Chinese romantic drama Us and Them (2018) directed by Rene Liu. These films featured celebrities well-known to American audiences (for example, Taye Diggs and Lucy Lui in Set it Up), but also included less familiar international actors and directors. The overall mix of stories encompassed conventional romantic comedies, serious romantic dramas, and films like Like Father (Miller, 2018) which focus more on the relationship between a woman and her estranged father.
One of the most interesting features of To All the Boys is the larger range of Netflix content it's a part of. Rather than relying on one individual film to draw viewers into theaters, Netflix relies on a database populated with many different films to attract many different subscribers from around the world. Since 2018, the number of romantic comedies on Netflix has continued to proliferate. However, when you consider the mix of titles included in summer of love or look at the mix of films included in Netflix's romantic comedy category, it is clear that Netflix constructs and understands genre taxonomies differently than media scholars might. When the Netflix database loads its list of romantic comedies, international boundaries and time periods are ignored. Here, strict adherence to the "meet, lose, get" plotline is not required.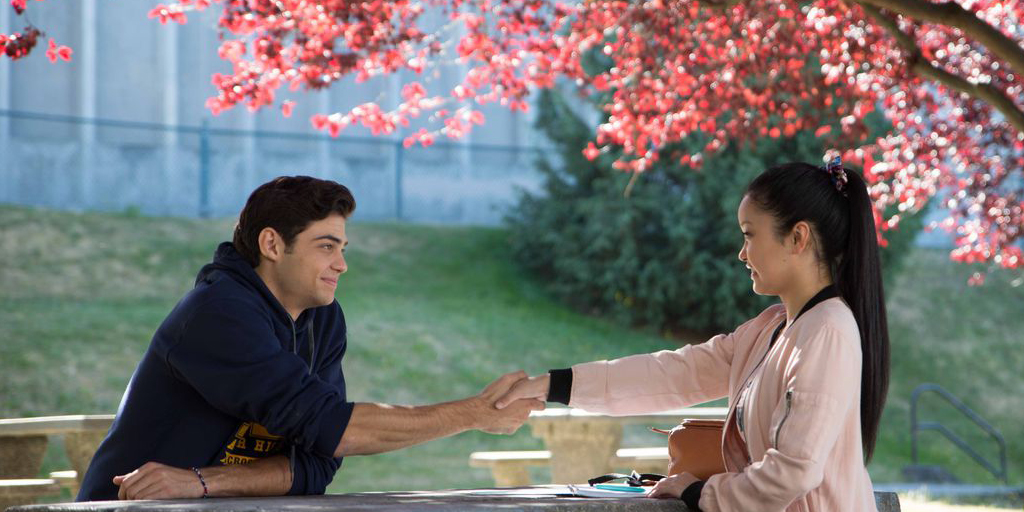 To All The Boys I've Loved Before (Johnson, 2018)
One of genre's traditional cultural functions has been to mediate cultural tensions. Popular genres air social grievances, then work to resolve these frictions and lead their characters towards compromise. Traditionally, this cultural conversation happened en masse as large audiences engaged with individual stories. Crazy Rich Asians and To All the Boys represent two ways contemporary media enters a broader cultural conversation. The Netflix version of romantic comedy, as a malleable category that can be personalized to mean many things to many people, is the version of romantic comedy that fits more cleanly within emerging media distribution and consumption patterns.
I'd love to point to the version of romance on Netflix and say, "Look! We're diversifying romance!" However, it's important to be careful here. To All the Boys represents another experiment with selling romantic comedy. It's part of Netflix's efforts to make its content feel personalized, to market itself in a range of different countries, and to offer the illusion of endless choice and variety. In actuality, Netflix has a limited set of products to offer its subscribers. Part of the genius of Netflix is the way the interface is designed to offer a seemingly infinite array of products while also appearing tailor-made for each individual customer.
Media industry demands for globally market-safe franchises signal long-term problems for the romantic comedy in movie theaters. However, the success of To All the Boys suggests an important move for romantic comedy, one away from movie theaters and onto smaller screens. In my next column, I will discuss another recent rebirth of romantic comedy: the rom-com film retold as a streaming series. Specifically, Hulu's 2019 adaptation of Four Weddings and a Funeral (2019–).
---
Image Credits:
The Romantic Comedy category on Netflix. (author's screenshot)
Crazy Rich Asians (Chu, 2018)
To All The Boys I've Loved Before (Johnson, 2018)
References:
Andrews, Jared. "What Netflix's 'Summer of Love' Does Right." Vox Magazine, 29 Aug. 2018, https://www.voxmagazine.com/arts/what-netflix-s-summer-of-love-does-right/article_b068be4a-aa26-11e8-9f14-f329abf8193a.html.
"Crazy Rich Asians." Box Office Mojo, https://www.boxofficemojo.com/title/tt3104988/?ref_=bo_se_r_1. Accessed 25 Jan. 2020.
Feldman, Dana. "It's The Summer Of Love: Netflix Releases 6 New Original RomComs." Forbes, 20 June 2018, https://www.forbes.com/sites/danafeldman/2018/06/20/its-the-summer-of-love-netflix-releases-6-new-original-romcoms/.
Fern, Marriska, et al. "Netflix's Summer of Love Movies to Binge-Watch." Tribute.Ca, https://www.tribute.ca/news/netflixs-summer-of-love-movies-to-binge-watch/2018/07/12/. Accessed 5 July 2019.
Grady, Constance. "Netflix Bet on the Long-Ignored Romantic Comedy This Summer. It Paid Off." Vox, 17 Oct. 2018, https://www.vox.com/culture/2018/10/17/17989242/netflix-rom-com-summer-to-all-the-boys-ive-loved-before-set-it-up.
McGregor, Tom. "Commentary: Why Crazy Rich Asians Was the Last Movie China Wanted to Watch." CNA, 7 Dec. 2018, https://www.channelnewsasia.com/news/commentary/why-movie-crazy-rich-asians-flopped-in-china-dismal-showing-11004954.
Netflix. October 16, 2018 Shareholder Letter. https://s22.q4cdn.com/959853165/files/doc_financials/quarterly_reports/2018/q3/FINAL-Q3-18-Shareholder-Letter.pdf. Accessed 10 July 2019.
Sun, Rebecca, and Rebecca Ford. "The Stakes Are High for 'Crazy Rich Asians' — And That's the Point." The Hollywood Reporter, 1 Aug. 2018, https://www.hollywoodreporter.com/features/crazy-rich-asians-how-asian-rom-happened-netflix-1130965.
Takeuchi, Craig. "To All the Boys I've Loved Before 3 to Start Shooting in Vancouver in July." The Georgia Straight, 24 June 2019, https://www.straight.com/movies/1258756/all-boys-ive-loved-3-start-shooting-vancouver-july.
Zuckerman, Esther. "The Rom-Com Returns: How 'Crazy Rich Asians' and Netflix Revived a Beloved Movie Genre." Thrillist, 23 Aug. 2018, https://www.thrillist.com/entertainment/nation/rom-coms-return-netflix-romantic-comedies.