Advocating on Behalf of Independent Musicians: Copyright Reform and Corporate Consolidation
Brian Fauteux / University of Alberta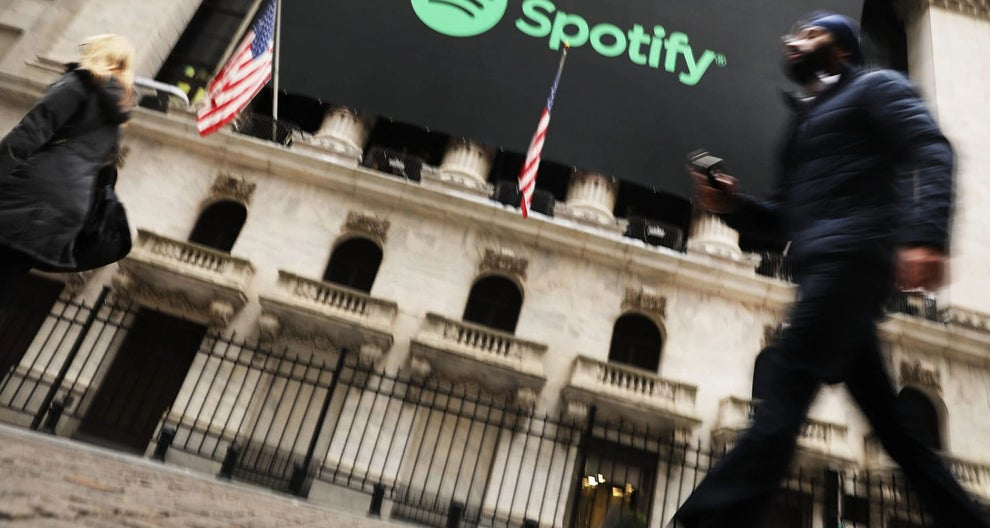 People walk by the New York Stock Exchange (NYSE) on the morning that the music streaming service Spotify begins trading shares at the NYSE on April 3, 2018 in New York City.
Corporate streaming music services have brought forth few benefits for independent musicians. Meagre payouts, limited catalogues, and predictable algorithms combine to reward a shrinking number of bestselling popstars. Despite these issues, streaming services are often characterized by narratives of progress and superiority (infinite choices, new avenues of "discovery," low prices).
This narrative routinely makes its way into popular writing on streaming music. A recent Pitchfork column about the fusion of indie and pop in the 2010s describes streaming music listening as "detached, fully and finally, from the Earth. Recorded music simply materializes around us whenever we need it." This recalls the concept of remediation, made evident by these popular assessments of our digital-musical-ecosystem whereby new media are "presenting themselves as refashioned and improved versions of other media" (Bolter and Grusin 1999, pp. 14-15). In a more blunt and messianic expression, Spotify is "the savior" of the music business.
In this introductory column (the first of three on issues of equity in the streaming music industry), I describe the process of participating in Canada's copyright review process. In September of last year, Brianne Selman (University of Winnipeg) and I appeared before The Standing Committee on Canadian Heritage: Remuneration Models for Artists and Creative Industries on behalf of The Cultural Capital Project, a collaborative research project that investigates issues of fair payment for creators (which also includes Andrew deWaard, UCSD). The purpose of our appearance, and subsequent written brief, was to argue that in an industry characterized by market consolidation, an imbalance of power between creators and big businesses is one of the largest factors that prevents fair remuneration for artists.
Members of the Cultural Capital Project, Brianne Selman and the author, speak to the Standing Committee on Canadian Heritage during the hearing "Reumneration Models for Artists in Creative Industries." More info at cultcap.org.
Canadian musicians are at the mercy of non-Canadian media and tech companies. In 2015, Billboard reported that Universal, Sony, and Warner control roughly 86% of the North American recording and publishing market. LiveNation and AEG monopolize the live concert and ticketing business; SiriusXM dictates the satellite radio market and has purchased Pandora; and the digital streaming media sector has come to be dominated by Apple, Google, Amazon, Netflix, and Spotify. Further, the top 1% of artists account for 77% of recorded music income (Thompson 2014), and radio playlists and Billboard charts are dominated by just a handful of the record industry's biggest superstars (Craven McGinty 2018).
In light of these trends, our submission advanced recommendations that sought to rethink copyright and the role of the public domain in the Canadian music industries. A few of these recommendations include: an increase of public funding dedicated to independent artists; to recognize that user rights and the creative commons have value for Canadian creativity and that these should be protected; and to consider automatic rights reversions as a way to mitigate the ill effects of copyright term extensions. At this time, Canada had signed on to the USMCA, which includes a copyright term extension from 50 years after the author's death to 70 years, an extension that industry representatives were collectively in favor of.
More specifically, we suggest that the federal government should prioritize relationships with provincial and municipal governments, particularly when it comes to policies and initiatives that fund and support live music venues, small record labels, do-it-yourself and artist-run spaces, and campus and community radio stations. Our submission argues that a more thorough consideration of public domain principles in our thinking around the digital music industries and copyright/cultural policies is essential if we are to take issues of equity and sustainability in the music industries seriously. This is an issue made all the more pertinent as conservative provincial governments in Canada have been slashing funding to their investment to arts and culture. In Ontario, funding for the Ontario Music Fund was reduced from $15 million to $7 million by the province's Progressive Conservative government budget. More recently in Alberta, a budget rife with cuts to essential public services projects that over 50% of the province's Arts and Creative Industries budget will be gone by the year 2023.
With respect to rights reversions, we argue that copyright term extensions do not hold up to scrutiny in cultural economic theory (Giblin 2018) and that most of the commercial value of a sound recording is extracted in the first 10 years; so a 70 years after death term provides no real additional incentive for creators (Gowers Review of Intellectual Property 2018, p. 52). To mitigate the ill effects of the term extension we encourage a careful consideration of automatic rights reversions, with rights reverting back to authors after a period of no greater than 25 years. This echoes other arguments that have been put forth, including Bryan Adams (yes, that Bryan Adams) advocating for rights reversions with the ability of creators to reclaim ownership of creations 25 years after they have been given away (see also Rebecca Giblin's Conversation post on Adams's appearance). This recommendation offers some balance to the historically imbalanced relationship between artists and record labels, where creators are often pressured to sign away their rights for life.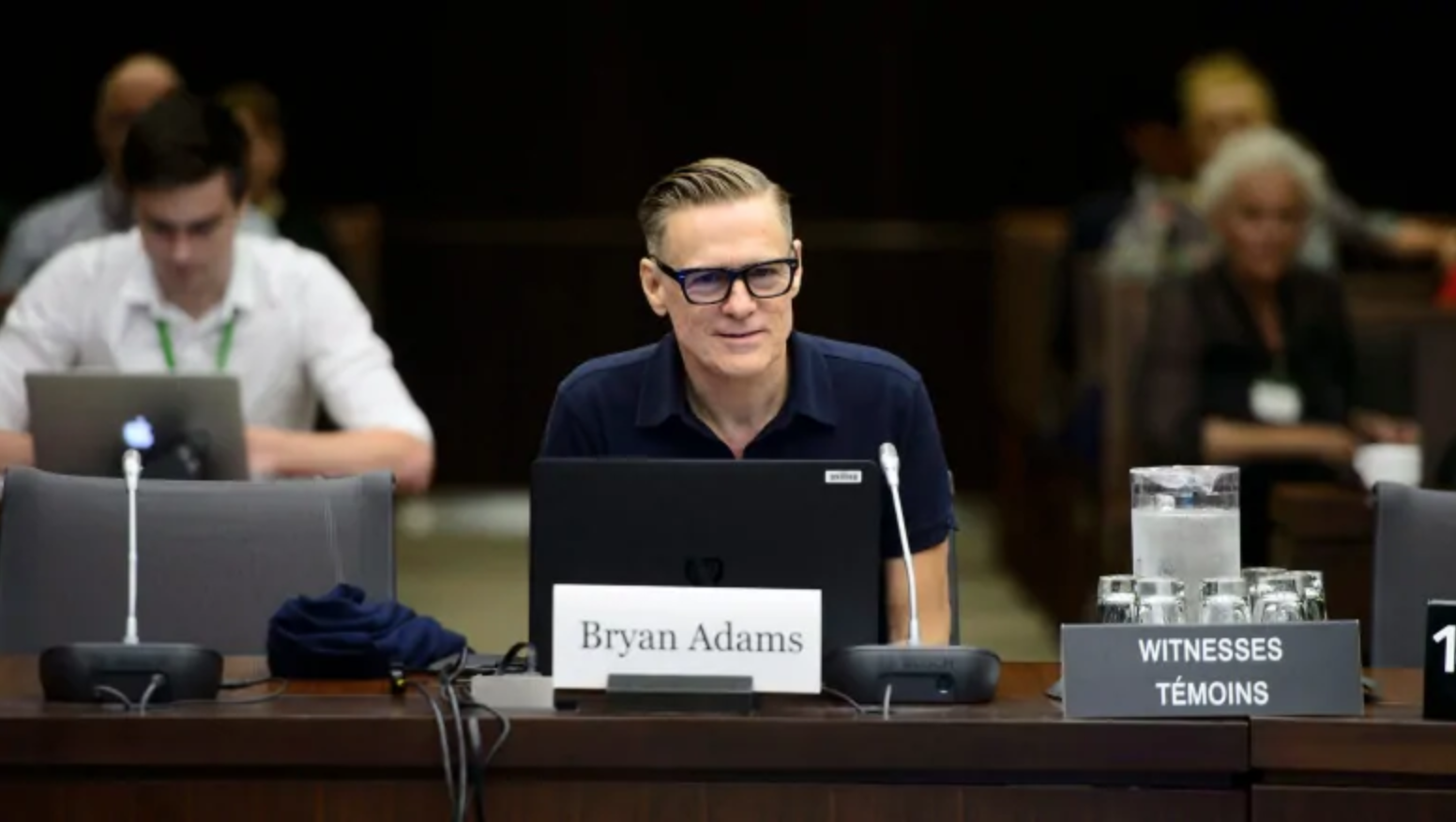 Canadian rock star Bryan Adams appears as a witness at a Standing Committee on Canadian Heritage in Ottawa on Tuesday, Sept. 18, 2018.
Reflecting on this process, it felt as though our ideas were heard and that the Committee was in support of initiatives to improve the livelihoods of Canadian musicians. However, the report published by the Committee that followed the meetings and briefs, "Shifting Paradigms," advanced a status quo narrative of continued copyright protection that was pushed by industry representatives.
Music industry representatives and lobbyists were collectively in favor of extending the copyright term (these can be read in our summaries of their briefs and presentations). On a positive note, the report did make recommendations that urge tech companies and streaming companies to support the work of Canadian creators, but there is very little in the way of tangible policy suggestions that provide an indication that these corporations will comply. Much of this discussion fell within an emphasis on the "Value Gap" in Canada's music industries.
Music Canada, a non-profit "trade association that promotes and protects the value of music and advocates on behalf of its creators," defines the Value Gap as "the result of the marked disparity between the value returned to those artists creating and developing artistic content, and the online sources and telecommunications corporations who benefit greatly from the distribution of said content" (Bambrick 2019). Further, "Shifting Paradigms" did indicate support for an artist protection provision (in its Recommendation 14) and this is one area in which our submission and brief is represented. However, we recommended a Copyright Act amendment that would make a rights reversion automatic, so it will remain to be seen how this recommendation is applied. We are concerned that if the rights reversion is not properly enforced, the situation will be one in which artist contracts are restructured to avoid this protection provision.
Just as there are issues with concentration in the telecommunications and broadcasting industry, as the "Value Gap" report indicates, the same can be said for the record industry (Music Canada lists its three members as the Canadian subsidiaries of the Big 3 record labels: Sony Music Entertainment Canada Inc., Universal Music Canada Inc., and Warner Music Canada Co.). More substantial copyright reform would advance a digital-musical ecosystem that provides fair compensation to artists and acknowledges listening norms and practices of everyday users.
Streaming music services are now the dominant music providers in Canada as in much of the world, and at the same time, the record industry's increasing concentration has meant the continued persistence of a power dynamic that marginalizes independent musicians. Our hope is that our research may help to protect a vibrant and diverse Canadian music industry and that more space can be occupied by artists and non-industry representatives in the policy-making process as well as in the reporting on issues of equity in the music industries.
Notes: "The Cultural Capital Project: Digital Stewardship and Sustainable Monetization for Canadian Independent Musicians" is a SSHRC-funded research project led by Brian Fauteux, Brianne Selman, and Andrew deWaard, with research assistance from Dan Colussi, Anna Dundas-Richter, and William Northlich.
Media Credits:
People walk by the New York Stock Exchange (NYSE) on the morning that the music streaming service Spotify begins trading shares at the NYSE on April 3, 2018 in New York City.
Members of the Cultural Capital Project, Brianne Selman and the author, speak to the Standing Committee on Canadian Heritage during the hearing "Remuneration Models for Artists in Creative Industries." More info at cultcap.org.
References:
Bambrick, H. (2019). Foreward. Closing the value gap: How to fix safe harbours and save the creative middle class. Music Canada. Retrieved from https://musiccanada.com/wp-content/uploads/2019/06/Closing-the-Value-Gap-Music-Canada-2019.pdf
Bolter, J., & Grusin, R. (1999). Remediation: Understanding new media. Cambridge, MA: The MIT Press.
Giblin, R. (2018). A new copyright bargain? Reclaiming lost culture and getting authors paid. Columbia Journal of Law & the Arts, 41, 369-411.
Gowers Review of Intellectual Property. (2006). December. Retrieved from https://assets.publishing.service.gov.uk/government/uploads/system/uploads/attachment_data/file/228849/0118404830.pdf
Craven McGinty, J. (2018). Superstars are hogging Billboard's Hot 100. The Wall Street Journal. 14 December. Retrieved from https://www.wsj.com/articles/superstars-are-hogging-billboards-hot-100-11544788801
Thompson, D. (2014). The Shazam effect. The Atlantic. December. Retrieved from https://www.theatlantic.com/magazine/archive/2014/12/the-shazam-effect/382237/