Strangers: Using the Small Screen to Expose Mainlandization
Andrew Gilmore / Colorado State University
The revealing look at mainlandization in Amazon's Strangers (2018- ).
Set in Hong Kong, Strangers (titled White Dragon when the series appeared on Amazon Prime in early 2019) tells the story of British university lecturer Jonah Mulray. Without divulging too much of the plot, upon hearing that his wife, Megan, has been killed in a car crash in Hong Kong, Mulray travels to the city to repatriate her body. Arriving in Hong Kong, Mulray makes two shocking discoveries. Shock one: Mulray is not Megan's only husband. Shock two: his wife's death may not have been an accident.
After the airing of the first two episodes of the eight-part crime drama, Guardian features writer Sam Wollaston's jocular three star review of the series focused on its plot holes and how the story compared to his own life in London. While Wollaston found Strangers to be "intriguing," he didn't feel that it stood "up to too much scrutiny." I beg to differ.
Set against the backdrop of a shady police force, corrupt politicians, Western journalists attempting to uncover the truth, and teenage Hong Kongers intent on showing their distain for the city's "democratic" process, Strangers' plot of murder and betrayal turns into a story of whodunit and, importantly, why did they do it.
In light of its narrative, like Wollaston, I find Strangers to be an intriguing piece of television. As somebody who studies Hong Kong, however, a closer examination of the series reveals more. Strangers is a fascinating media text that attempts to expose the mainlandization of Hong Kong to a global audience.[1] In short, I argue that Wollaston failed to join the dots and look behind Strangers' basic plot.
On the eve of Hong Kong's 1997 return to Chinese rule, Britain's then-prime minister, John Major, promised Hong Kongers that, despite the city's impending return to the Communist Party of China (CPC), the city would "never walk alone." The CPC had other ideas. Whether commenting on Hong Kong's 2014 Umbrella Revolution, the city's current Hard Hat Revolution, China's territorial control of the South China Sea, or its use of Uighur Muslim "re-education camps," nations, including Britain and the U.S., have fallen foul of the CPC's curt warnings that they have no place "meddling" in China's domestic affairs.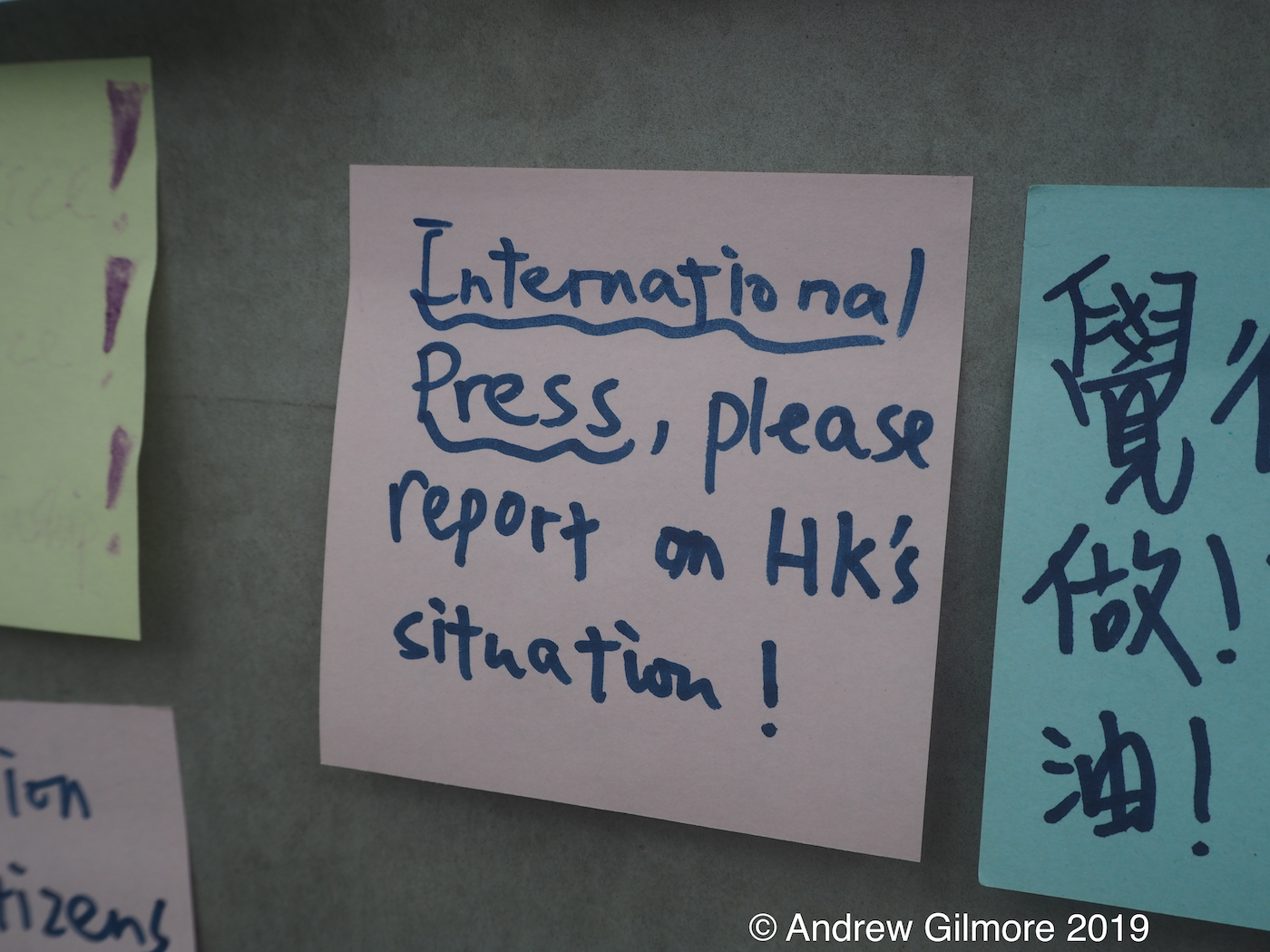 Hong Kong protesters plead for international assistance during the 2019 protests.
Returning to Hong Kong, over the past two decades, the concerns of British officials have been continuously rebuked by the CPC. While British politicians have repeatedly suggested that "Hong Kong's high degree of autonomy is under increasing pressure," the CPC has been quick to emphasize that, since Hong Kong was returned to Chinese rule, "Britain has no power to intervene" in the city's internal affairs.
In light of being warned not to comment on the events in Hong Kong, how else can the plight of Hong Kongers be communicated to a mass global audience? Perhaps, through the commission of a TV crime series set in the city. Behind its surface plotline, Strangers is littered with references to the mainlandization of Hong Kong that Wollaston may have missed.
Depictions of Mainlandization
A major facet of the perceived mainlandization of Hong Kong—and the catalyst that led to the outbreak of the 2014 Umbrella Revolution, as well as the recent and ongoing Hard Hat Revolution—is the CPC's insistence on choosing candidates for the role of the city's chief executive. In Wollaston's review of Strangers, he draws attention to the character Xiaodong Xo, "a property developer" that Hong Kong students "do not approve of." As a clear representation of Hong Kong's former Chief Executive CY Leung, however, Wollaston's dismissal of Xo's character is an oversight.
Throughout his time in office, Leung—himself a former real estate consultant—was plagued by controversy and accusations of shady business dealings, illicit wealth, and deep CPC roots, all of which draw Leung closer to the character of Xo. In Strangers, the company headed by Xo plans to build luxury apartments on a site that is intended for affordable housing. This element of Strangers' narrative is not randomly placed. Instead, it highlights another facet of mainlandization: A lack of affordable housing available to average Hong Kongers.
As Hong Kong's property market continues to be a popular place for "rich mainlanders… to park their money," the city has spent the last decade as the world's least affordable place to live. With Hong Kong's median property price over 20 times that of median household income, as a direct result of mainlandization, large swathes of Hong Kongers can simply no longer afford to reside in their own city. In extreme cases, Hong Kongers are reduced to residing in "wire mesh cages" and "coffin homes" that are too small for inhabitants to fully stretch out their legs.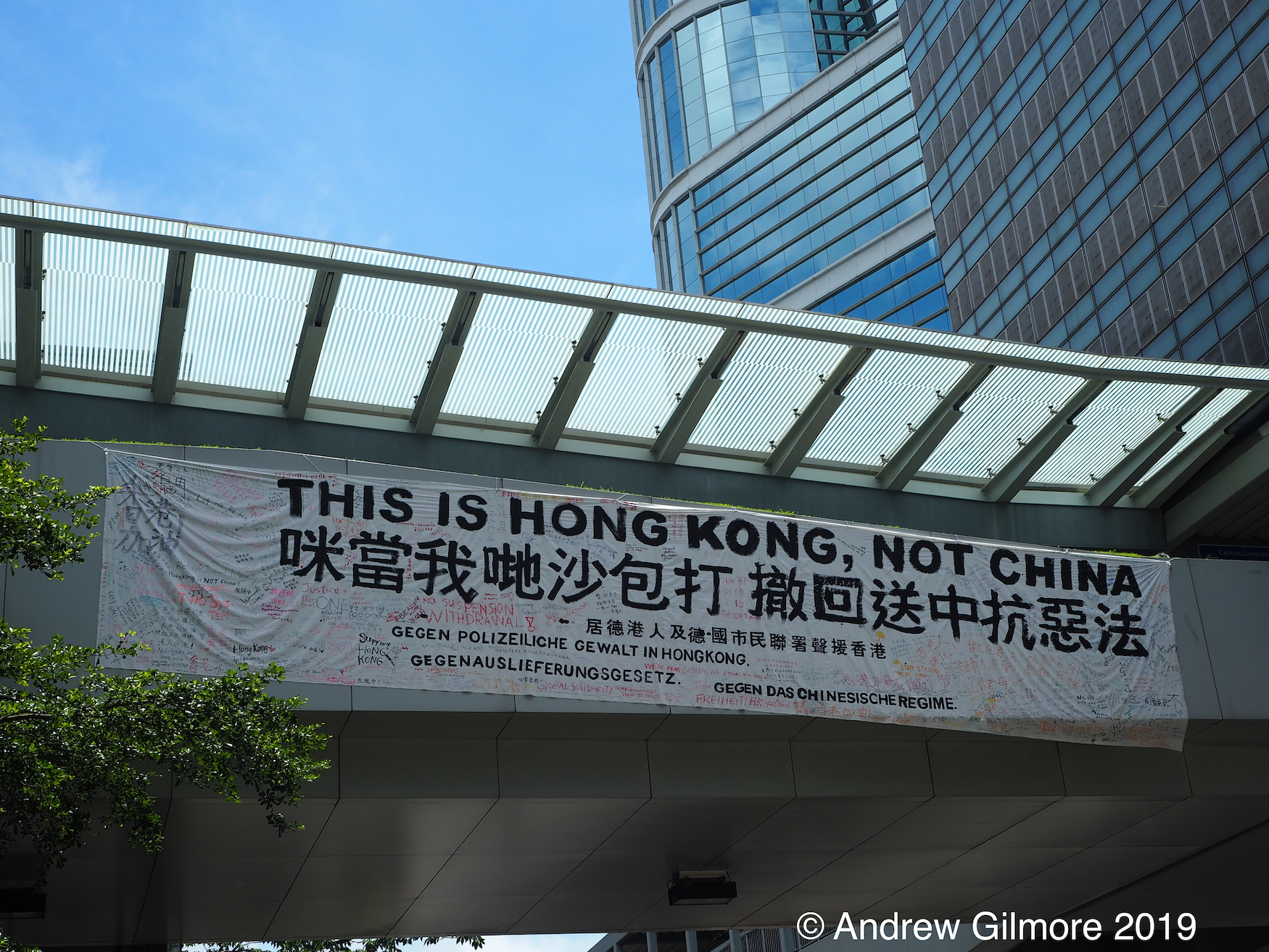 This is Hong Kong, not China.
As documented cases of police and judicial corruption—often attributed to mainlandization—increase in Hong Kong, Strangers' narrative that includes a body missing from a morgue, unauthorized cremations, the doctoring of police evidence, and police protection of a known murderer communicates further facets of mainlandization. In the midst of all this drama, however, Strangers narrates the story of mainlandization in a thoughtful way that is often lacking in media texts that depict Asian culture.
Identity and Representation to (Re)Raise Awareness
While recent movies such as Ghost in the Shell (Sanders, 2017) and Crazy Rich Asians (Chu, 2018) have been accused of whitewashing, stereotyping, misrepresentation, and flawed depictions of Asian culture, Strangers impresses by casting a number of local, Hong Kong actors. Moreover, the use of Cantonese—Hong Kong's language that is being slowly eroded as a result of mainlandization—adds another important and, perhaps, overlooked element to the plot. Strangers, then, showcases issues in Hong Kong and, vitally, does so by providing a platform for Hong Kongers to tell their own stories about mainlandization.
While I argue that Wollaston failed to join the dots in his reading of Strangers, this isn't really part of his job. He watched the series for what it is: a fun, suspenseful, and, at times, far-fetched crime drama. A closer reading, however, reveals that commissioned TV drama's such as Strangers can lead the way in providing a slightly more accurate portrays of Asian culture and, at the same time, shine a light on authoritarian regimes that continue to exert their influence over minorities.
Reviewing Strangers for online magazine Bustle, Jack O'Keeffe writes that the series isn't based on a true story. While the surface plot may or may not be true, the overarching themes that play out in the background of Strangers are based on a very true story: the mainlandization of Hong Kong.
With almost half a decade passing since the outbreak of the Umbrella Revolution and the global press coverage that it attracted, until this summer, the plight of Hong Kongers was a fleeting moment that had been forgotten by many. When waiting to get my hair cut earlier this this year (before the recent spate of Hong Kong protests), a man sat next to me struck up a conversation about what I studied. "Oh yeah," he responded. "The yellow umbrella protest! I'd forgot about that!" A few days later, I was in an Uber and my driver posed the same question. "So, Hong Kong got what it wanted, yeah? They won?" People need reminding about Hong Kong's fight for democracy, but communication channels need to be chosen wisely.
When writing about the media and politics, communication technology scholar Manuel Castells states that politics has become a "tragicomedy motivated by greed, backstage maneuvers, betrayals, and, often, sex and violence."[2] Castells could be describing the plot of Strangers. Indeed, for Castells, politics is "increasingly indistinguishable from TV scripts."[3] The issues faced by Hong Kongers, though, are not fiction; they continue to be very real. In an age when the CPC ties the hands of "meddling" politicians and journalists, Strangers can aid in ensuring that the situation in Hong Kong does not fade from public memory and discourse.
As has been witnessed over the past few months, Hong Kong's fight continues, as does the battle faced by politicians and print journalists who seek to communicate concerns about the CPC's handling of its disputed territories. As I write this, on-street protests have been taking place in Hong Kong for the last 15 weeks and they show no sign of abating. Moreover, protests in Hong Kong are more violent than ever. However, when the protesters leave the streets, either through fatigue or military force, the issues faced by Hong Kongers must remain in the public realm. To this end, a TV series commissioned by the UK's biggest commercial broadcaster that (re)draws attention—however implicitly—to Hong Kong can only be a boon to the city as it continues to feel the "heavy hand" of the CPC.
"Glory to Hong Kong": the city's 2019 protest anthem.
---
Image Credits:
Hong Kong protesters plead for international assistance during the 2019 protests. ©Andrew Gilmore, 2019
This is Hong Kong, not China. © Andrew Gilmore, 2019
References:
Since Hong Kong was handed back to China in July 1997, the citizens of Hong Kong have increasing felt the effects of the mainlandization of their city. To be more specific, in a now-deleted post (possibly providing more evidence of mainlandization), Cheong defines mainlandization as "the erosion of freedom, plurality, tolerance, and rule of law." David Gruber, meanwhile, characterizes the term as "the encroaching influence" of mainland China. I define mainlandization, simply, as the erosion of human rights in Hong Kong. For more information, see David R. Gruber, "A Beijing Wolf in Hong Kong: Lufsig and Imagining Communities of Political Resistance to Chinese Unification," in Imagining China: Rhetorics of Nationalism in an Age of Globalization, Edited by Stephen J. Hartnett, Lisa, B. Keranen, and Donovan Conley, 371-394. East Lansing, MI: Michigan State University Press, 2017. [↩]
Manuel Castells, "Materials for an Exploratory Theory of the Network Society," British Journal of Sociology 51, no. 1 (2000): 13. [↩]
Castells, 13. [↩]