The Sound of Queer Masculinity in Dorian Electra's Flamboyant
Paxton Haven / University of Texas at Austin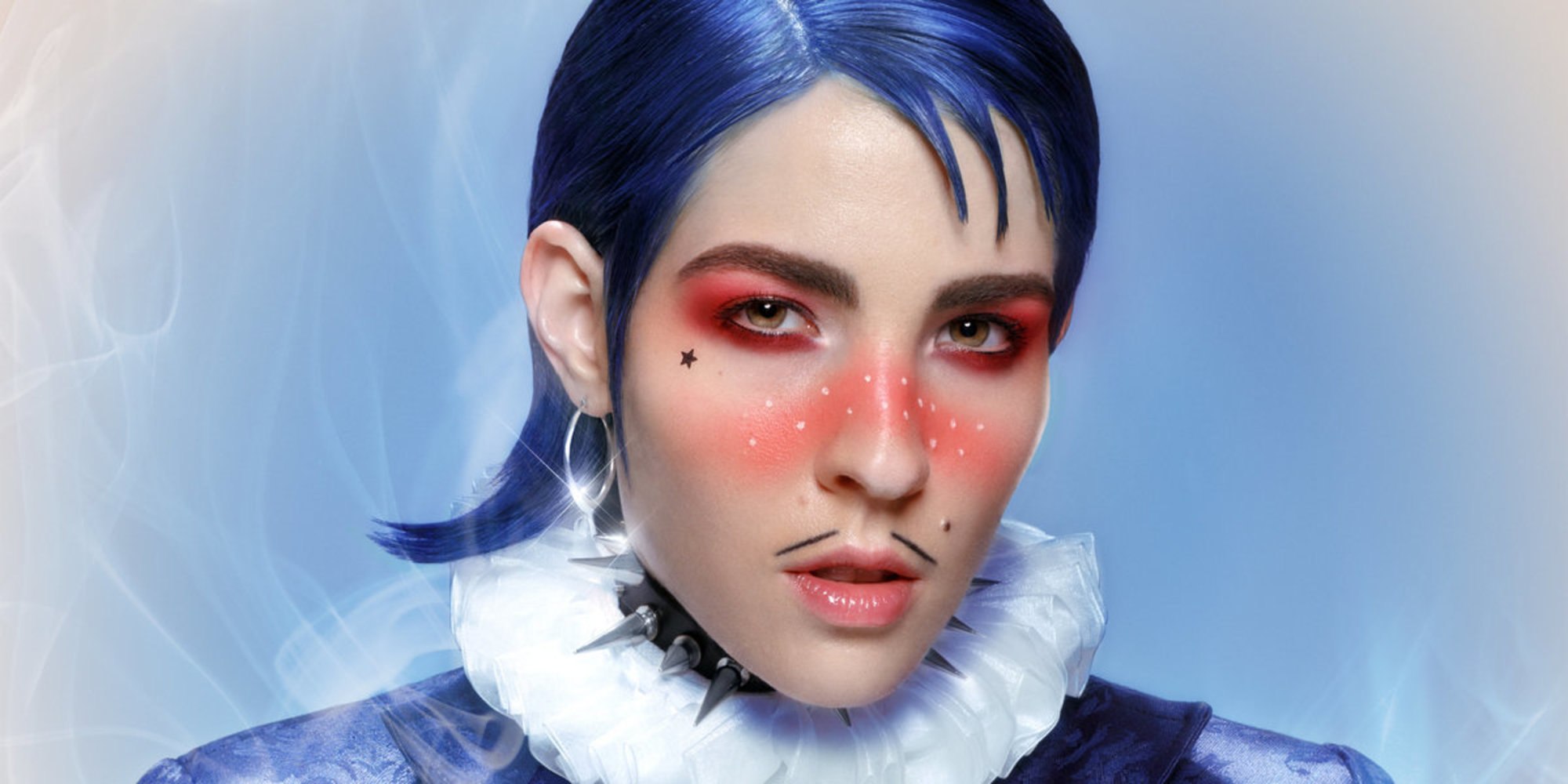 Partial Album Cover of Dorian Electra's Flamboyant
Last week, "unapologetically outrageous" and "whimsically self-aware" underground Pop sensation Dorian Electra released their debut album Flamboyant (2019). [1] Electra's music first gained mainstream visibility during their time at women's lifestyle publication Refinery29, where their quippy music videos covered topics such as the history of vibrators, a musical ode to the clitoris, and the dark past of high heels. These videos exhibit Electra's dynamic mix of humor, intellect, and discursive gender performance that would soon establish their signature satirical appropriation and subversive deconstruction of masculine archetypes such as the Wall Street businessman ("Career Boy"), the sugar daddy ("Daddy Like"), the cowboy ("Jackpot"), and the parade of bikers, boxers, and knights in "Man to Man" (see below).
Music video for Dorian Electra's "Man to Man"
Assigned female at birth, the gender-fluid and non-binary musical artist told The Guardian's Ben Beaumont-Thomas, "I'm not a woman dressing as a man, it's so much more complex than that." [2] Whereas the visual and lyrical complexity of Dorian Electra's work is thoroughly covered by music publications such as Billboard and Dazed, I want to explore the way Electra's electro-pop sonic aesthetic and vocal distortion operates as the discursive backbone of which their visual and lyrical axes of performance rely. In doing so, I draw a trajectory of Electra's contemporary work to transgressive artists of the past who use the affordances of their respective genres to articulate a queered masculinity through vocal performance.
To understand the role of vocal distortion within listening practices and sonic experiences of Electra's music, I turn to the discipline of sound studies. In his article, "Glitch/Failure: Constructing a Queer Politics of Listening," Andrew Brooks works "to 'queer' the field of sound studies" through an analysis of glitch artists [3] and glitch musicians [4]. [5] Brooks conceptualizes a glitch as "both an error and intrusion into a system" which foregrounds the failure of technologies and its systems; an artistic practice that "highlight[s] the limits of media technologies and the productivity of aberration, malfunction and error." [6] It is through this foregrounded failure of the glitch in which Brooks draws theoretical parallels to queer theory's "reclaimed failure as a site of resistance to normative modes of existence." [7] Or, for the purpose of my analysis of Electra, normative modes of gendered vocal performance.
It is not my objective to align Dorian Electra's work with glitch artists or to draw overly simplistic trajectories of glitch's recent popularization in mainstream pop music, but to employ glitch as "a theoretical framework for understanding how disruption, deviation and disorder are productive in [musical] systems." [8] I argue that Dorian Electra's technological vocal modulation is a form of glitch aesthetic that disrupts, breaks, and transforms the high and low pitches of voice that often accompany normative signals of feminine and masculine vocal tones.
In glitching, or queering, the voice through technological intervention, Dorian forces the listener to consider the "experience as one that is mediated by technology and the environment." [9] Electra therefore exposes the artifice of their voice as funneled through process of technology, metaphorically signaling the artifice of gender and conventional understandings of gendered vocal performance. As Brooks points out, this disruption is inherently queer and produces a queer listening practice which "highlights the contextual nature of the listening event … [or] a tuning into the sound of the [gendered] relations" of voice. [10]
On "Emasculate Me" (see below), Dorian Electra confronts the inescapable expectations and the subsequently damaging byproducts of hyper-masculinity with these lyrics:
Too much man for my own good
Need to Kill my own manhood
Lend me a knife, tonight
To cut me down to size and to help me realize that the
Man that is inside is a demon that needs to be exorcised [11]
Music video for Dorian Electra's "Emasculate Me"
Reconciling their love of masculine characters and the complicated feelings of power and strength experienced in their performance of masculinity, Dorian often mediates on their own internalized misogyny. [12] This song articulates the dynamic cycles of pleasure and pain that define the perpetually ongoing process of gender identification. The vocalization of the repeated phrase "emasculate me" within the song alternates readings; at once a pleasurable domination of self-identity and gender expression, at other times anguish over the confines and privileges of masculine presentation.
Following a typical pop song structure, Electra and their team of producers use the bridge (1:16-1:38) to provide a sonic deviation from the two verses and multiple repetitions of the chorus. This bridge is unique, however, in the hyper-autotuned distortion of Electra's voice as the song reaches its climax. As Dorian begs to be free from the inevitable cycles of pleasure and pain felt by the enforced repetition of gender performance, to be momentarily emasculated (1:34), the frequency produced by the electronic distortion of Electra's voice leaves the listener with no recognizable categories of human pitch of which to classify the vocal tone and subsequent auditory signals of masculinity and femininity. This vocal glitch, or failure of this distorted frequency to adhere to the listener's normative expectations of gendered vocal pitch and tone, simultaneously emphasizes the artifice of gender performativity as well as the very real emotional implications of gender performance.
Dorian Electra's playful fluctuation of masculine and feminine vocality is a part of a long history of musical artists who employ vocal innovation to inform their queerly gendered performances of masculinity. In "Queer Voices and Musical Genders," Jack Halberstam writes about blues singer Big Mama Thornton and disco diva Sylvester to "forge an alternative genealogy of music" not determined by genre or time, but by similar articulations of queer masculinity through vocal performance. [13] In constructing this genealogy of very different performances of queer masculinities, Halberstam centralizes analysis through the way these artists' voices operate within the tonal expectations and musical stylings of their respective genres. Framed as counterpoints, Halberstam argues while "Thornton turned [blues] songs of loss and disaffection into the location for gender reinvention, Sylvester reveled in the opportunities that disco afforded to occupy the feminine role of diva while queering gay masculinities." [14] In a similarly subcultural way, the technological affordances of auto-tune and the networked community of queer artists within Dorian Electra's subgenre of electro-pop provides the musical space to explore different forms of queer vocalization.
Through this framing of genre and queer voice, Halberstam connects these contrasting performances of queered masculinity "within a network of lost legacies." [15] Often times subcultural music artists are dismissed due to structural inequalities or discriminatory hierarchies of taste and quality. In connecting Electra's work to this trajectory of queerly gendered performance I want to reiterate the weight of their discursive presence within contemporary pop music culture, while also honoring the previous struggles and successes of those who paved the way.
Dorian Electra's vocal distortion, or glitch of voice, presents not a new phenomenon of queer vocalization, but illustrates one of the ways that technology continues to alter these musical practices and modes of performance. Just as technology evolves, so do society's understandings and expectations of gender performance. Whether it be Thornton's defiant butch blues, Sylvester's discursively feminine falsetto, or Electra's flamboyant transgression of pitch and tone, subcultural queer artists of all genres continue to push the normative boundaries of gender and performance of culture writ large through popular music.
Here is Dorian Electra's latest music video for the title track of their album Flamboyant just for fun!
Image Credits:
1. Rendered Album Cover by Paper Magazine of Dorian Electra's Flamboyant
Please feel free to comment.