Not a Cross-Over Act: The Pop Stardom of Camila Cabello
Nathan Rossi / University of Texas at Austin
Camila Cabello and Shawn Mendes' recent duet "Señorita" has been inescapable all summer.
In summer 2019, Cuban-Mexican American pop star Camila Cabello has released two collaborations that have relied on tropical imagery. [1] The stronger of the two releases is "Señorita" with Shawn Mendes, which tells the story of a passionate summer fling in Miami. She also joined Ed Sheeran and Cardi B on his track "South of the Border," in which Sheeran (in white male gaze mode) sings of lusting after the "caramel thighs" of a Latina lover in a locale outside of Buenos Aires. Cabello's embrace of cliché Latinidad signifiers act as a performance of what Myra Mendible has called "unambiguous self-tropicalization," or the binding of a Latina femininity to an exotic otherness that can result in "imbuing Latinidad with a fixed set of traits, values, and images." [2] However, as Mendible notes, self-tropicalization can potentially be subversive. Indeed, Cabello's use of tropical imagery can be seen as a strategic tactic to differentiate herself in the pop landscape, while also enabling her to build a platform to politically embrace her Latina and immigrant identity in a particularly heated moment of anti-immigrant sentiment in the U.S.
Cabello's debut single "Crying in the Club," co-written by Sia, [3] was released in April 2017. The single underperformed and failed to match the success of her initial collaborations as a solo artist. Cabello's next two singles were released simultaneously on August 3, 2017: "OMG" featuring Quavo and "Havana" featuring Young Thug. Each distinctive in sound, the release acted as an A/B test, leaving fans and potential new listeners to choose which version of Cabello they liked best. Critics were quick to point out the differences in the tracks. Billboard thought the later radiated a "Latin flare," MTV UK noted the "sultry Latin" influence of "Havana," and Idolator went so far as to name it the stand out track of the two thanks to its "sultry Cuban rhythms." Based on streaming counts, "OMG" debuted higher on the charts, only to be quickly outpaced by "Havana." Cabello has noted in interviews, she had to fight for her record label to release the song after they initially wanted to push trap inspired "OMG" as her next single after the failure of "Crying in the Club."
"Havana" became Cabello's breakout single as a lead artist.
"Havana" relies on what producer Frank Dukes describes as a "seesawing, Latin-inspired piano loop" that he created after Cabello stressed the importance of bringing her Cuban-American identity into the music. The resulting single, worked on by 10 songwriters, is simple, yet catchy. Other than the use of the word "malo" and the theme of Cabello being in love with a man from East Atlanta, while her heart is in Havana, the song relies on the singer's charismatic vocal performance, rather than any deep lyrical insights to Cubana, Latina or immigrant identity. As songwriter Ali Tamposi has suggested, after the loop had been constructed the songwriting team wrote the chorus quickly and used East Atlanta as a counter destination simply because it rhymed with Havana and opened an obvious opportunity to invite a guest rapper onto the track.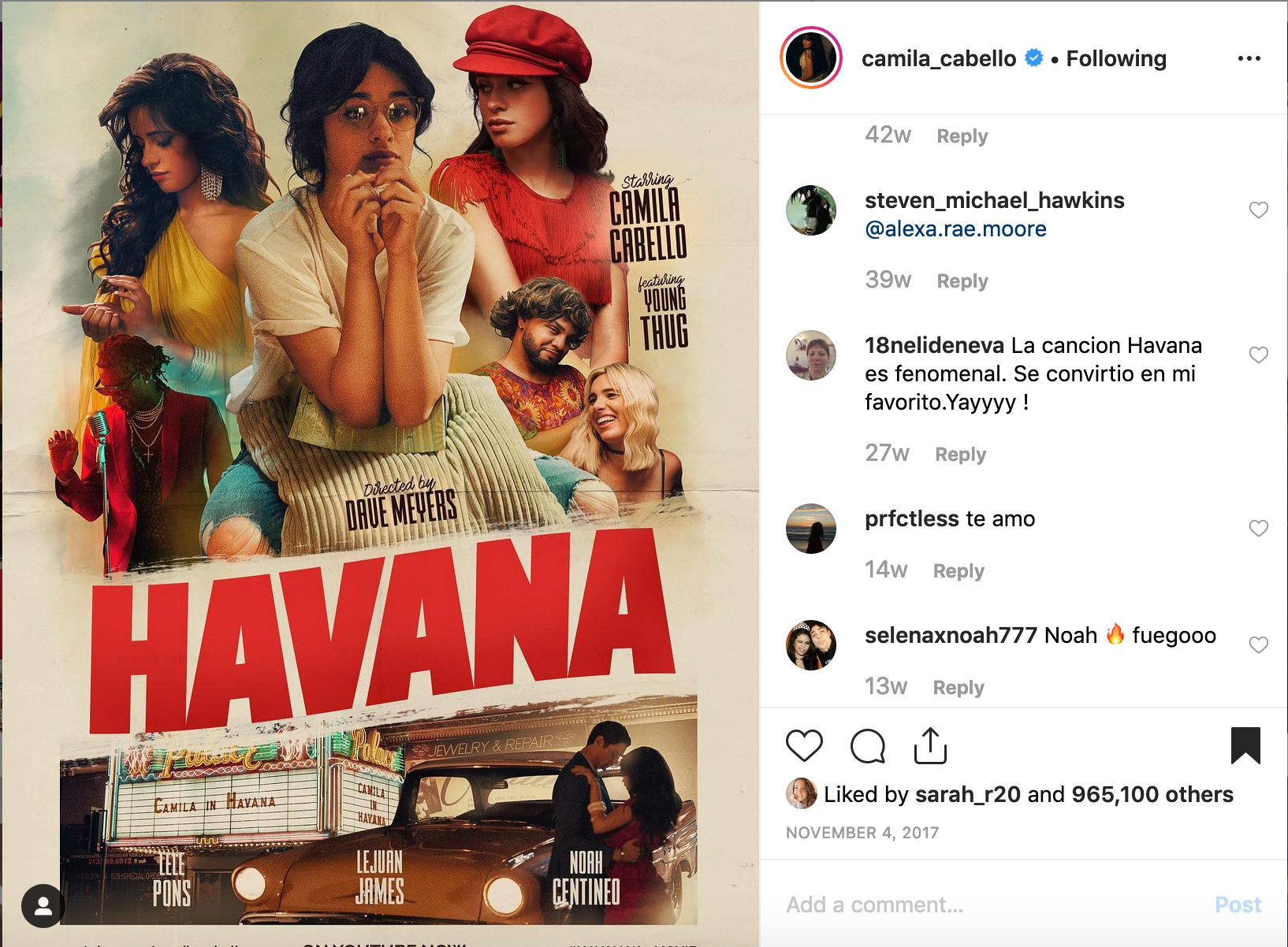 Camila Cabello previews "Havana the Movie" on her Instagram feed.
The packaging of "Havana" from its countdown to being released, to the debut of its music video, presented as "Havana the Movie," combined the imagery of the Good Neighbor Policy era of apolitical classical Hollywood films set in Latin America with the tropes of a telenovela. In other words, they presented the audience with familiar signifiers of Latinidad. Put another way, while "Havana" might invoke specific romanticized images of the Cuban capital, the music video also uses more general imagery of Latinidad to make the song and visuals more accessible to a larger audience. Either way, Cabello's producers, management team, and friends have suggested the performance and packaging of the song lend authenticity to her Latina identity.
So far peaking at #2 on the Billboard Hot 100, "Señorita" similarly capitalizes on the use of vague tropicalism in its lyrics and video. Mendes sings about his instant attraction to a Latina love interest whom he dances with under a "tequila sunrise" in Miami, with its "hot air from summer rain." The song's more important allure, however, may be how it fuels rumors of a relationship between the young pop stars. Indeed, Cabello's verse and the duo's chemistry in the music video suggest that the two are dating in real life. Consequently, like "Havana," her latest single presents a Latinidad that exudes tropical signifiers as the background to a sensual romance.
Cabello's commercial Latinidad might signal to some an example of how media industries package safe non-threatening panethnic Latina images to U.S. and international audiences, but it also signals a greater acceptance of Latinas in the U.S. pop music landscape. Although Cabello has what Arlene Dávila has described as the Latin Look most desired by media executives: dark hair, dark eyes, olive skin, and European facial features, [4] one of the most significant qualities of her rise to stardom is that, unlike the generation of Latinx and Latin American stars in the late 1990s and early 2000s that scholars Mary Beltrán and María Elena Cepeda have chronicled and that had their success measured by their ability to "cross-over" to the U.S. market [5], Cabello has never been marketed as a cross-over act and has, instead, been embraced as a U.S. Latina pop star. Further, unlike the generation of pop singers before her, like Mexican American stars Selena Gomez and Demi Lovato who have historically refrained from centering their Latin roots, Cabello has always embraced her Cuban-Mexican heritage. Indeed, the chart success of "Havana" and "Señorita" suggests that audiences and fans have welcomed her performance of Latinidad.
While part of this is due to the fact that Cabello was a known entity before her solo career as a member of girl group, Fifth Harmony, her success as a solo star was never guaranteed. It did, however, open up different ways for the media to characterize Cabello's success. Cover stories and newspaper articles have most commonly characterized the release of "Havana" and her subsequent debut album Camila, as Cabello "finding her voice," "creating herself," and becoming pop's latest "breakthrough." If Fifth Harmony was manufactured pop, Cabello the solo artist is authentic and real. While part of the authenticity narrative centered Cabello's Latina identity, it also centered her story as uniquely American.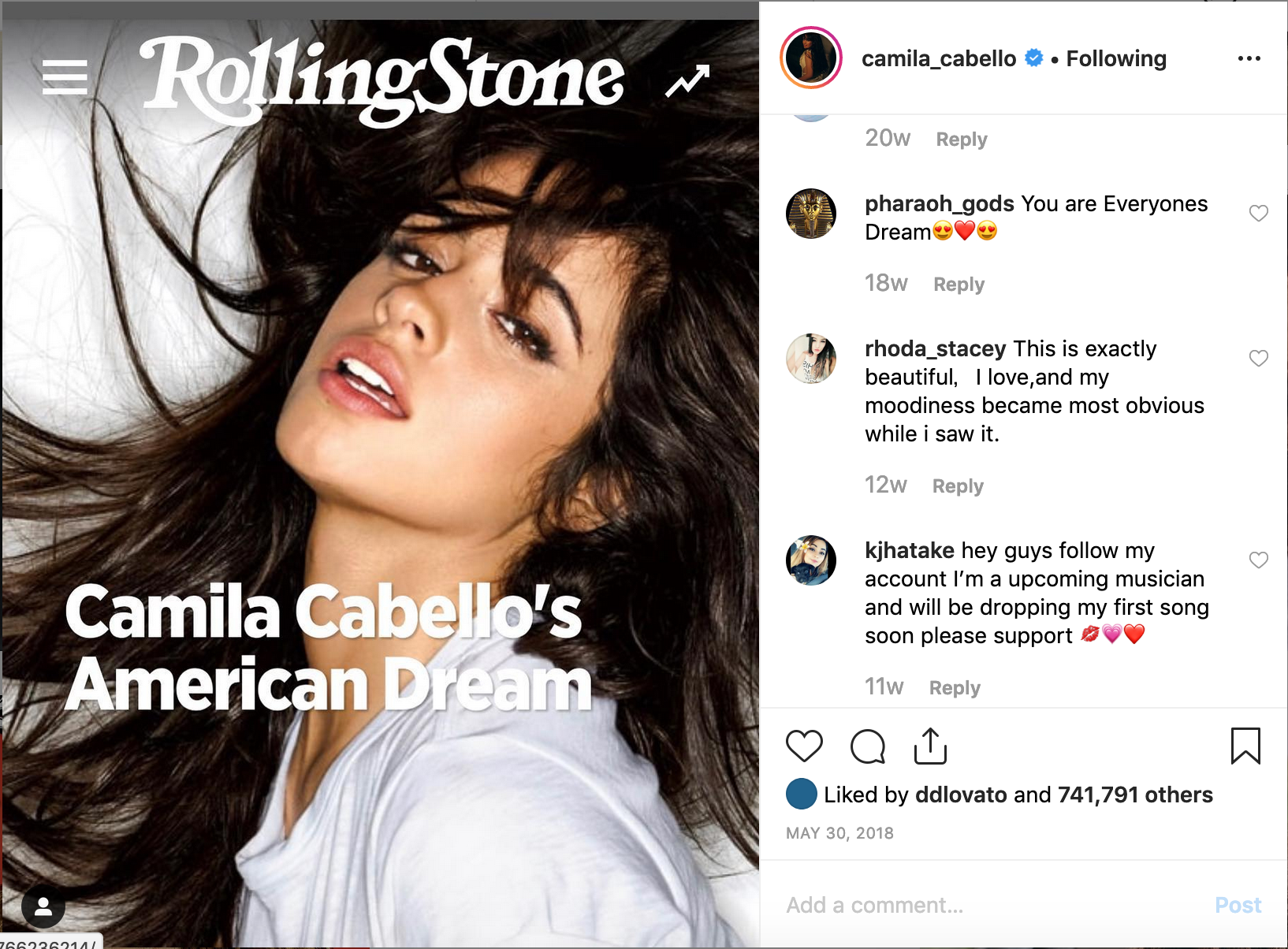 Camila Cabello shares her Rolling Stone Cover Story on Instagram.
A June 2018 feature story in Rolling Stone titled "Camila Cabello's American Dream" is indicative of how the star and mainstream press have constructed her narrative as a rags to riches story of how hard work pays off. Profiles such as these emphasize her family's immigrant and working-class background and allude to dominant understandings of Latinx cultural values, such as deep family ties and a strong work ethic. While these narrative elements can be constituted as what Dávila has called "Latino Spin," or the circulation and production of sanitized images of Latinx immigrants as an apolitical unthreatening body [6], I argue that Cabello's narrative begins to contest the image of the depoliticized immigrant. In particular, Cabello has acknowledged the past mixed-status of her family and the effect it had on her upbringing. In her interview with Rolling Stone and an earlier post on POPSUGAR Latina, Cabello is open about how her father physically risked his life crossing the Rio Grande to be with her and her mother in their new home of Miami. On the one hand, this narrative helps normalize the lived experiences of Latinx immigrants in a political climate shaped by nativist sentiment. On the other hand, aside from her occasional social media post or the dedication of her "Havana" video to the Dreamers, Cabello's pop star text is still most heavily shaped by her performance of a safe familiar Latinidad, rather than a radical or even political identity.
Still early in her career and currently recording her sophomore album, it will be interesting to see how Cabello continues to balance the demands of the music industry's need to create globally consumable images of Latinidad with the vulnerability she has already demonstrated as a pop artist, Latina, and immigrant.
Image Credits:
1. Camila Cabello previews "Havana the Movie" on her Instagram feed.
2. Camila Cabello shares her Rolling Stone Cover Story on Instagram.
Please feel free to comment.