John Wick and The Pleasures of Keanu
Taylor Peterson / University of Texas at Austin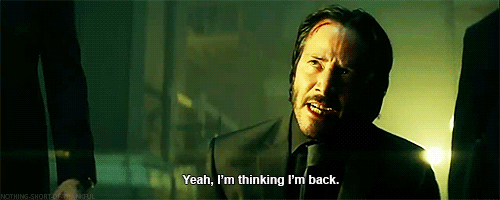 John Wick asserting that he IS back.
A few months ago, when I was visiting my family, my brother and I sat down to watch John Wick (Chad Stahelski and David Leitch, 2014). My brother had been raving about the movie for a while, and I finally acquiesced. After the infamous murder of John's puppy, my brother turned to me and excitedly said, "And THAT's the plot of the movie!" I then sat more or less bemusedly through the remaining 80 minutes, agreeing that this was, in fact, a pretty good action movie.
Over the next few months, I inexplicably became more excited about the upcoming John Wick: Chapter 3 – Parabellum (Chad Stahelski, 2019), which released in mid-May. At some point — and I really don't know when — I decided I was obsessed. I watched The Matrix (Wachowskis, 1999) for the first time, in class; I saw My Own Private Idaho (Gus Van Sant, 1991) and Point Break (Kathryn Bigelow, 1991) at repertory screenings in Austin. I caught up on John Wick: Chapter 2 (Chad Stahelski, 2017) before going to see Chapter 3 in theaters. I immediately watched Constantine (Francis Lawrence, 2005) once I arrived home from seeing Chapter 3. I revisited Something's Gotta Give (Nancy Meyers, 2003) and snapped up copies of Speed (Jan de Bont, 1994) and Much Ado About Nothing (Kenneth Branagh, 1993) at Half Price Books.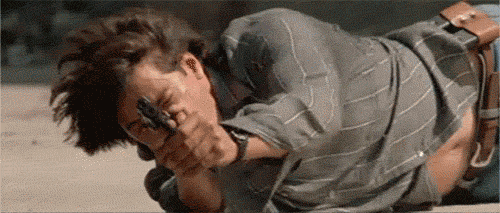 Iconic shot of Keanu expressing his angst in Point Break.
This level of excitement/obsession is not wholly unusual for me, but unlike an obsession with a single movie which is my historic trend, becoming a super fan of an actor unleashed a world of possibilities. And with someone like Reeves, who has an extensive, thirty-plus year filmography to work through, I had basically picked up a new hobby.
My obsession is also obviously not isolated to me. Anyone who has been online in the past few months has surely seen any number of memes, tweets, photos, or full-on articles about Reeves. I heard about the first-ever KeanuCon film festival in Glasgow from film writer Iana Murray on Twitter, and read her article she wrote about her experiences at the festival in GQ, and a friend alerted me about Keanu-Thon at Boston's Coolidge Corner Theatre. I now find myself following a number of Keanu fan pages on Instagram (@ke_re_stan is my favorite). I encountered the work of Angelica Jade Bastién, who appears to be the preeminent Keanu internet scholar. In her piece on the persistence/continuation of Keanu's star power over thirty years, she writes:
What has allowed him to remain a star, 30 years later, is a blend of virility, vulnerability, and an aura of mystery, hearkening to a bygone era of stardom that contradicts the current moment, which requires stars to seem endlessly accessible; his sheer joy for the medium that makes him a cinematic sensualist; his racial dimensions as a star; and his gimlet-eyed understanding of the female gaze. [1]
I find this statement to succinctly sum up what I find so intriguing about this actor. A nice aspect of my newfound hobby is that there is already plenty of infrastructure to support my fandom. I can pick and choose what movies I want to watch; I have, again, decades worth of films to work through, which means I won't exhaust outlets for my fandom for a while.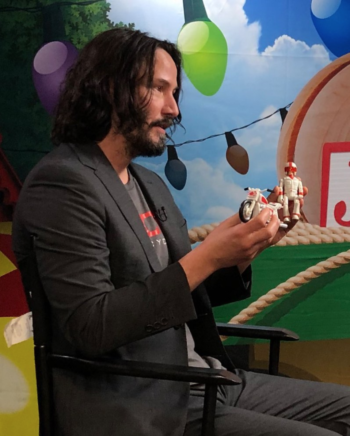 Photo of Keanu holding a Duke Caboom figurine, his character in Toy Story 4.
In this article I would like to further expand upon the je ne sais quoi about Keanu (it doesn't feel right to use the formality of "Reeves") that has made him seemingly suddenly so popular (again). Since my fandom is so tied to the John Wick movies, and I think that they clearly have helped put Keanu back in the zeitgeist, the franchise will be my jumping off point. How does a film about a murderous assassin spark the delight and desire of countless fans in a man whose defining characteristics as a star are his goofiness and vulnerability?
There is plentiful recent coverage on Keanu's star image; besides Bastién's work, Naomi Fry neatly distilled the Keanu internet phenomenon, including links to various recent Keanu articles and profiles. Fry proclaims that, "No matter what role he plays, he is always himself." [2] Fry posits Keanu as a salve to our difficult times, the "otherworldly" figure that fascinates and delights us, helping us briefly forget about more terrible things. Take his cameo in the recent Netflix film Always Be My Maybe (Nahnatchka Khan, 2019), where he plays a heightened version of "himself":
Keanu's iconic surprise entrance in Always Be My Maybe.
Murray suggests in her incredible ranking of every single Keanu film that the cameo "is so memorable and hilarious because it toys with our perception of who the actor is—wholesome and pure, but totally unknowable." [3] Though unlike Always Be My Maybe or other notable Keanu films such as Speed, Something's Gotta Give, or Much Ado About Nothing, the John Wick films are far from light-hearted.
The John Wick series begins by establishing the fact that Wick left the life of a highly successful assassin behind to marry a woman named Helen, who then died of some unnamed illness. She arranges to have a puppy sent to John once she's gone, reminding him that he needs something to love in order to stay alive. When Russian mobsters break into his house, kill his dog, and steal his car, Wick starts on a rampage that sets into motion the next two films.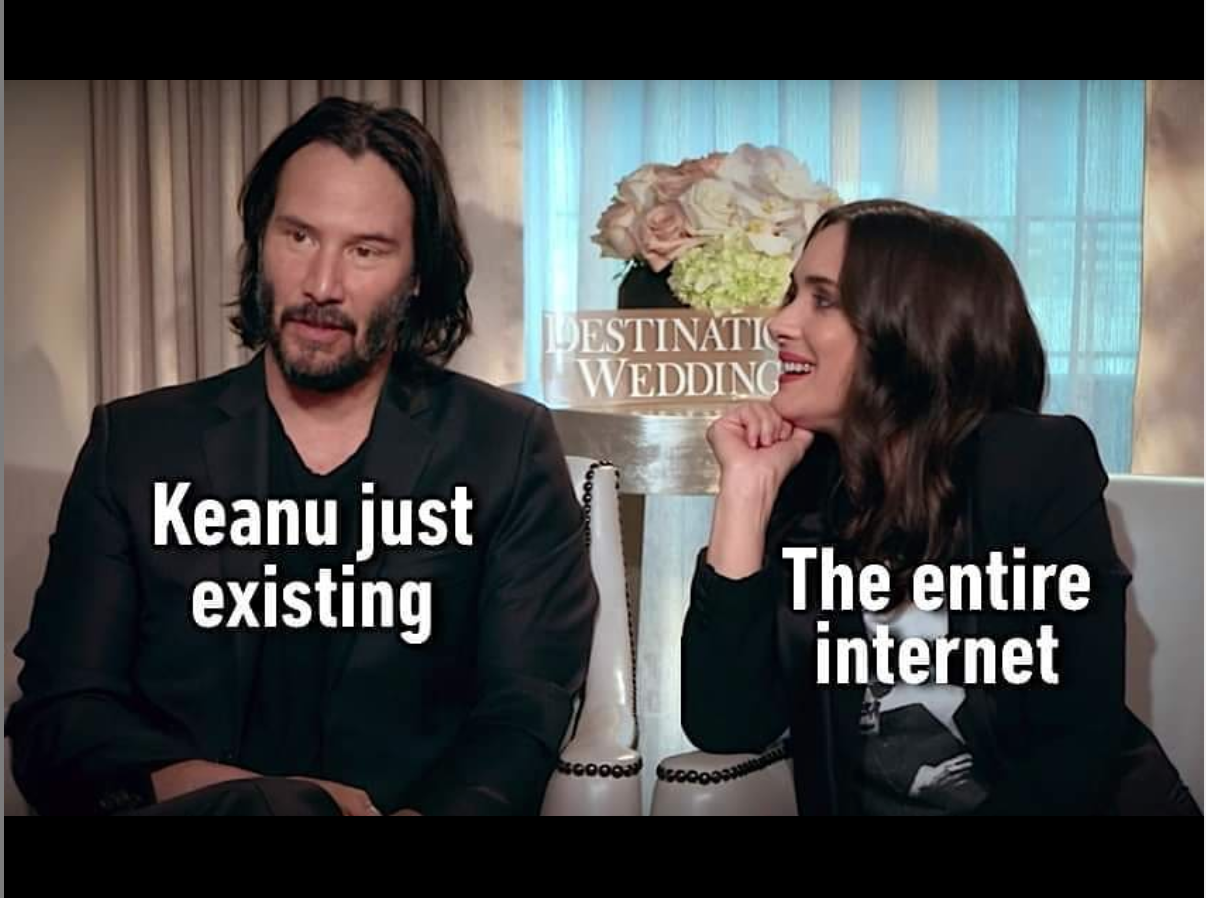 A meme featuring Destination Wedding (Victor Levin, 2018) co-stars Winona Ryder and Keanu.
I think that the success of the franchise and subsequent recurring obsession with Keanu can be attributed to two very basic factors: the movies are actually quite good, and Keanu is quite good in them. With further research into the press surrounding the films, I isolated a few more specific factors. I am attempting to identify the things that make me like this film in order to speak to the wider popularity of these films. I narrowed these reasons down to the films' efficiency, the direction, and Keanu's presence.
The films operate almost only with the most essential actions, dialogue, and sequences. There are hardly any quips or (cheesy) throwaway lines that come up so often in other action movies. The film is aware of its own ridiculousness — such as the fact that the catalyzing event for a three-movie-long murderous rampage is the death of a puppy [4] — and it's nice to watch an action film that does not fester in its self-seriousness.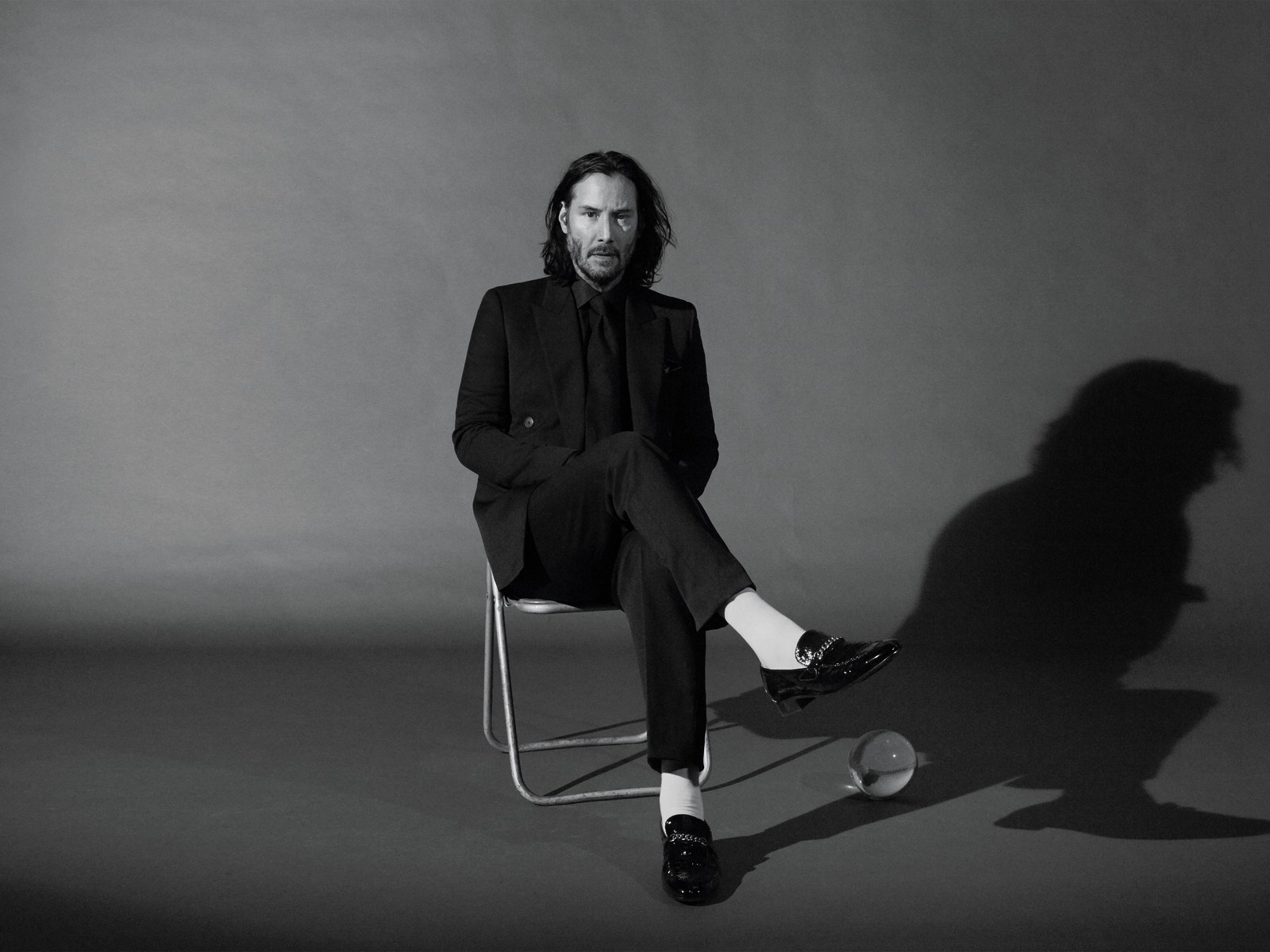 A recent photo shoot of Keanu that accompanied his GQ cover story.
Being in on the joke — and being aware of the work that went into making the movie — can be part of the enjoyment. For the release of Chapter 2, Bastién explores the strengths of Keanu as an action star by drawing comparisons to kung-fu and gun-fu movies. She points out that in Chapter 2 we see "wider shots, longer takes, unfussy editing. This give the action room to breathe and amps up the tension." [5] This made me realize that that claustrophobic feeling — where it's so hard to see what's happening and you can't figure out where to look — is one of the things I dislike about many action movies. The Wick films eschew this and give us a full view of the action.
Relatedly, Keanu's training and performance are quite remarkable. My copy of Chapter 2 includes a mini-documentary about the training for the film, and though of course these people are all being interviewed for a special feature on the home release, the trainers, stunt coordinators, and stunt performers all seem to genuinely praise Keanu's commitment to the training. [6] This commitment and performance are important parts of my enjoyment of the films. This was brought to my attention, again, by my brother, who directed me to these clips on YouTube of Keanu training that took my breath away:
Keanu's firearms training for John Wick: Chapter 3 – Parabellum.
And besides this stunning physicality, there is the star presence of Keanu himself. Murray quotes Megan Mitchell, one of the co-founders of KeanuCon — "he's an actor that has got an innate likability about him. There's a connection there. Even with some of his sillier films like Constantine or Man of Tai Chi (Keanu Reeves, 2013), you know he's having fun, so the audience is having fun." [7]. Bastién muses that, "What makes Reeves different from other action stars is this vulnerable, open relationship with the camera — it adds a throughline of loneliness that shapes all his greatest action-movie characters." [8] His star persona shines through to his characters — like Fry said, "he is always himself" [9]. As I watch these movies, it's impossible for me to watch them without identifying Keanu and delighting in his presence. The fact that the John Wick movies are so well-done makes this an easier task, and the fact that his filmography is as extensive as it is means that I have no shortage of good movies to dig into. Isolating fandom as a factor for enjoyment in a film is hardly a novel idea, but in this case, it seems to be the key factor at play for this actor in these movies.
If you're now like, "wow, Taylor, I love Keanu," then, you're welcome, and here's a photo set for you to look at.
Image Credits:
1. John Wick is back
2. Keanu in Point Break
3. Keanu with Duke Caboom
4. Keanu and Winona Ryder meme
5. Keanu in GQ
Please feel free to comment.