The Cancellation of Swamp Thing and the Precarity of DC Universe
Rusty Hatchell / University of Texas at Austin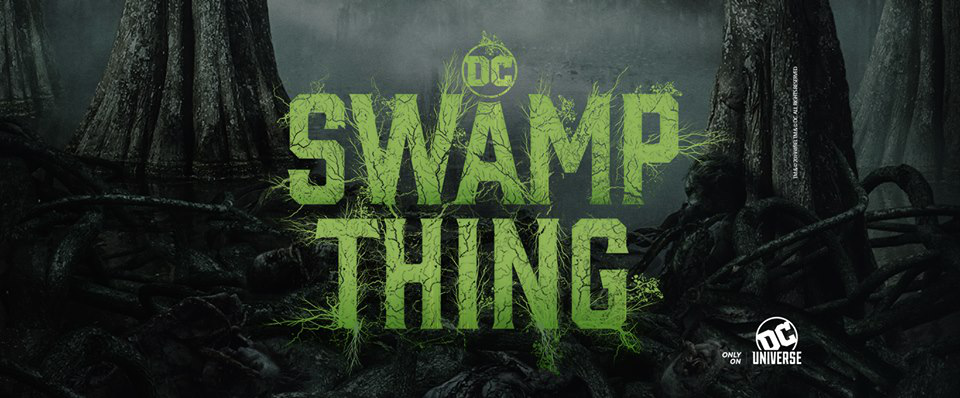 Swamp Thing, a DC Universe original series
On May 31, 2019, Swamp Thing premiered on the DC Universe streaming service. A week later, shortly before the release of the second episode, the series was cancelled. To date, neither DC Universe nor its parent company, WarnerMedia, have cited any particular reason for the show's demise, although an official post on the streaming service's Watchtower forums—the official space dedicated to DC Universe's updates and news items—states that they are "not in a position to answer" the questions of why at this time. As can be expected with vague or incomplete media industrial news, theories regarding the cancellation soon spread across social media and fan networks.
One particular theory that gained mild traction pointed to a potential clerical error and a misunderstanding in the tax rebates Warner Bros. would receive from the state of North Carolina where the series filmed. However, Guy Gaster, director of the North Carolina film office, later confirmed that the budget discussions between his office and Warner Bros. "had nothing to do with Swamp Thing's cancellation."
Additionally, the show was reported to be suffering from creative differences between various heads of DC Entertainment and WarnerMedia, the latter of which formed as a reorganized conglomerate after the completion of an $85 billion acquisition of Time Warner by telecom giant, AT&T. For reference, the completion of the WarnerMedia deal in June 2018 occurred a month after DC Universe had given a script-to-series order for Swamp Thing, marking the series as one of the last to be ordered and announced for production under pre-AT&T Time Warner. One evidential sign that the series was suffering from creative differences occurred mid-production in April 2019, with WarnerMedia reducing the planned thirteen episode season down to ten episodes and abruptly halting production of the series, much to the shock of the cast and crew of the series.
Despite the varied yet possibly related theories on what led to the demise of Swamp Thing, fans have begun to worry that the cancellation news is pointing to a precarity of sorts for the streaming service dedicated to all things DC Comics and DC Entertainment. Shortly after the WarnerMedia deal was finalized, plans to develop and launch a major streaming service to compete against streaming giant Netflix as well as rival development plans for streaming services from Apple (to launch late 2019), Disney (to launch late 2019), and Comcast's NBCUniversal (to launch early 2020) were announced. Additionally, in the year since WarnerMedia was finalized as a new parent company, smaller and niche streaming services under the WarnerMedia umbrella of companies—including Filmstruck, Super Deluxe, and Drama Fever—have been discontinued. This is part of Warner's new strategy to consolidate "resources from sub-scale D2C efforts, fallow library content, and technology reuse." [1]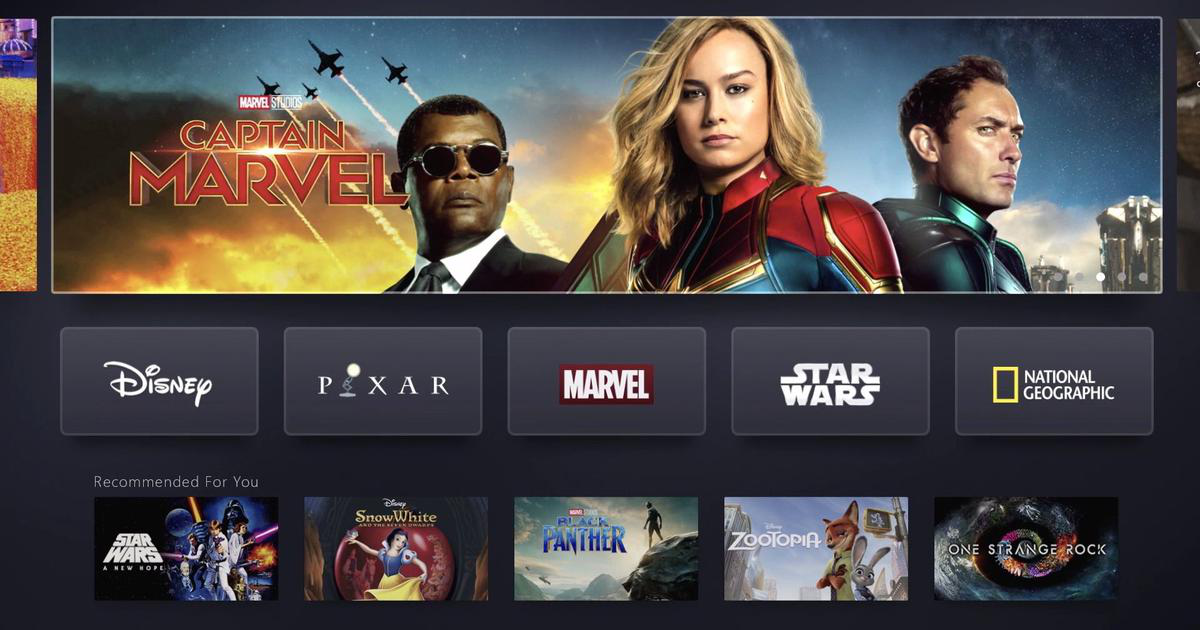 Disney+, announced earlier this year, will position Marvel as one of the service's five main content hubs
Thus, many comic and superhero media fans may find that their go-to space for DC-branded content might be doomed before it can find its footing. Indeed, DC Universe has not been without their own missteps since the service was first announced in April 2017. Imagined as a central digital hub for all entertainment related to DC, including live-action television and film, animated television and film, as well as the comics and graphic novels that inspired such content, DC Universe currently still does not offer any content from DC's two most profitable and most-visible media franchises—the DCEU franchise of feature-length films and the television franchise of DC properties airing on the CW network (colloquially referred to as the "Arrowverse" in reference to the franchise's flagship series, Arrow). DC Universe's plans to "supplement the lack" was to develop original programming to help lure fans to the service. Yet, the service launched without any original content readily available; DC Universe's first original title, Titans (a live-action retelling of the Teen Titans run of comics as well as the popular Teen Titans animated program and subsequent films), released its first episode over a month after the service launched in September 2018. Nearly a year after the launch of the service, there are only three live-action series for viewers to watch, with a fourth (Stargirl) scheduled to debut in early 2020.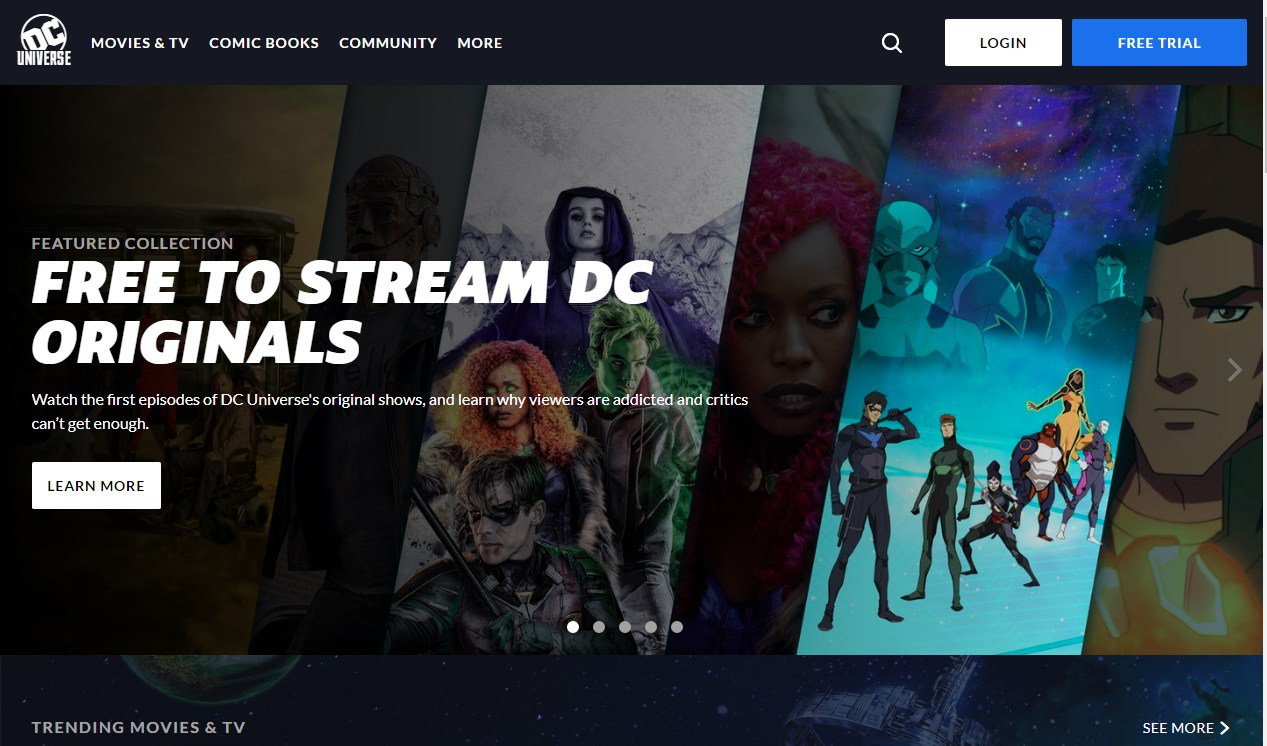 DC Universe offers viewers original content as well as a variety of television programs and feature-length films from its DC Entertainment library
Even as comic book and superhero properties have become highly lucrative for the contemporary media industries, superhero television has become interwoven into the tangled web of industrial strategies employed by many of the major media conglomerates, particularly Walt Disney's Marvel brand and WarnerMedia's DC brand. The precarity of the DC Universe service calls into question the ways media scholars have tried to understand the post-network era of television, a periodization made popular through Amanda Lotz's The Television Will Be Revolutionized. While Lotz considers the shift of control from the networks to the viewers who "now increasingly select what, when, and where to view from abundant options," [2] it might help to also note the ways in which networks—through their reorganized media conglomerates—are attempting to regain control in the distribution of their respective libraries, especially as the media industry enters what has been has been commonly noted as the "streaming wars."
Assessing that media scholars "should consider this a period of transition for the medium," Mike Van Esler notes that "greater emphasis and attention can be placed on the role that major media conglomerates play in developing, funding, and legitimizing new forms of television distribution, in addition to co-opting disruptive technologies and business models and at the same time hindering others." [3] While the streaming ecology of the early 2010s was quickly dominated by Netflix, the announcement of corporate strategies over recent months have forecasted a pending wave of conglomerate domination in streaming media. Subsidiaries and independent media companies are either bought and dissolved (in the case of Machinima) or repurposed to fit the (re)organization and (re)prioritization of parent companies (in the case of Turner Broadcasting).
In the case of DC Universe, only time will tell how WarnerMedia fits the streaming service and its productions within its larger goal of launching their still-unnamed streaming service. While DC's rival, Marvel Entertainment, has been announced as one of five major content hubs for Disney+, it's unclear to what extent WarnerMedia's streaming service will include DC branded entertainment. So far, WarnerMedia's plans have shifted from a three-tier system that would allow users to pay for specific types of content (notably categorized by form rather than brand) to one that would cost $16-17 a month (notably more than any other existing or planned streaming service) and would include HBO and Cinemax content as the central element of the bundle as well as recently-released DCEU films, such as the 2018 Warner Bros./DC film, Aquaman.
As Disney, Apple, NBCUniversal, and WarnerMedia continue to develop their streaming services for launches in late 2019 and early 2020, it is clear to see that there will be major casualties in this new period of the streaming wars. Media scholars should continue to keep their eyes on what is still a transitory period for streaming, moving from the niche and subsidiary-oriented strategies to the broad and aggressive pushes by tech giants and media conglomerates themselves. The demise of Swamp Thing suggests that we as media scholars should be cautious in simplistic and reductive logics and analyses—in this case, the sustainability and profitability of comic and superhero properties for major media companies, particularly when DC's industrial struggles are perpetually placed in conversation with Marvel's economic successes. Rather, we should continue to view contemporary superhero television as an ephemeral moment in the transition toward a new era of conglomerate-controlled streaming media.
Image Credits:
1. Swamp Thing, a DC Universe original series
2. Disney+, announced earlier this year, will position Marvel as one of the service's five main content hubs
3. DC Universe offers viewers original content as well as a variety of television programs and feature-length films from its DC Entertainment library
John Connelly, "WarnerMedia to Launch Direct to Consumer Streaming Service in Late 2019," Variety, Oct. 10, 2018, https://variety.com/2018/biz/news/warnermedia-direct-to-consumer-streaming-service-john-stankey-1202975598/. [↩]
Amanda Lotz, The Television Will Be Revolutionized, 2nd edition (New York City, New York University Press, 2014), 15. [↩]
Mike Van Esler, "Not Yet the Post-TV Era: Network and MVPD Adaptation to Emergent Distribution Technologies," Media and Communication 4, no. 3 (2016): 132-33. [↩]