Stream Heat: Netflix, Broadway Theatre, and Industrial Convergence
Peter C. Kunze / Eckerd College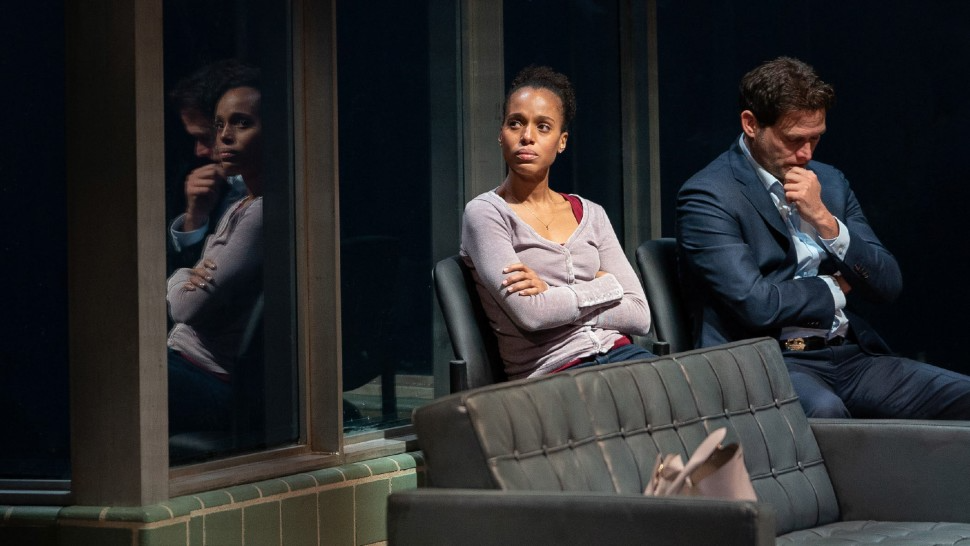 Kerry Washington and Steven Pasquale star in American Son on Broadway.
This past January, Netflix announced it would film Christopher Demos-Brown's play American Son following its Broadway run. Kerry Washington, the production's star, described the Netflix project as a "movie-play hybrid event." [1] More recently, producer Ryan Murphy revealed his Netflix deal would include adaptations of the Broadway musical The Prom and the 2018 revival of Mart Crawley's The Boys in the Band that Murphy co-produced and that featured a star-studded cast including Matt Bomer, Robin De Jesús, Jim Parsons, and Andrew Rannells. (Whether these films would be shot in a theatre or a studio remains unclear.) Nevertheless, these projects demonstrate the streaming service's ongoing flirtation with Broadway theatre, which previously included filmed-on-stage versions of the Nick Kroll-John Mulaney show, Oh, Hello; a Bruce Springsteen concert from his 14-month residency at the Walter Kerr Theatre; and John Leguizamo's one-man show, Latin History for Morons.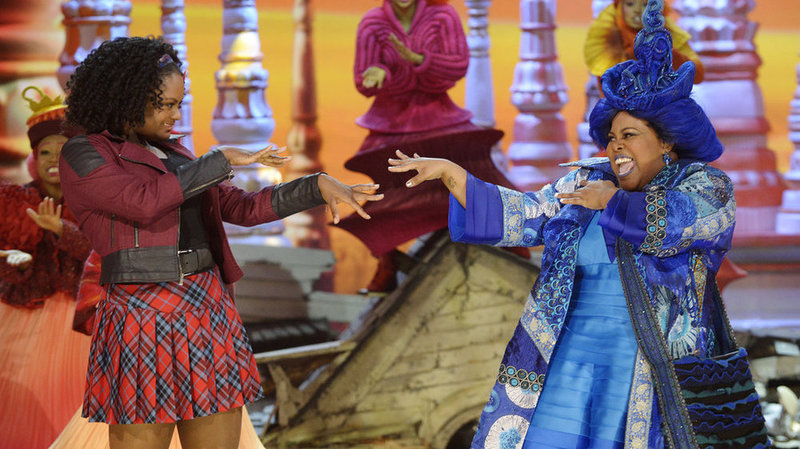 The Wiz Live! on NBC, starring Shanice Williams and Amber Riley.
To be fair, the venture into filming live theatre seems a natural extension of Netflix's success with stand-up comedy specials, which depend on similar modes of production. The streaming service's interest also continues the media industries' longstanding strategy of poaching content and talent from the live entertainment industries. In her work on Broadway musicals and television, Kelly Kessler points to various reasons historically and more recently for television's attraction to Broadway theatre. When television production largely originated from New York, Broadway provided highly skilled actors and dramatists prepared to work in the emerging medium. [2] More recently, musical episodes and live TV musicals capitalize on their status as event television, and viewers tune in to see it first, catch amusing errors, or participate in conversations on social media. [3] Today, Broadway provides streaming services the opportunity to film and distribute already packaged and produced shows while diversifying their offerings.
While we cannot assume the Broadway audience and the Netflix, Hulu, and/or Amazon Prime audience(s) are exactly the same, all of them heavily depend on a middle-class consumers base for their survival and expansion. The average Broadway customer, for example, has a household income exceeding $200,000 and annually attends five shows, where the average ticket price usually exceeds $100 each. [4] Variety reported last year that the planned Netflix price increases scared away customers with lower incomes, which suggests the middle class remains their primary demographic. [5] Only PBS provides broadcast viewers with regular access to the performing arts, so filmed theatre represents an opportunity to tap into that network's demographic. It attracts or satisfies subscribers who seek out this form of middlebrow entertainment. And filming Broadway shows allows streaming services to avoid supporting development costs to purchase a fairly polished product.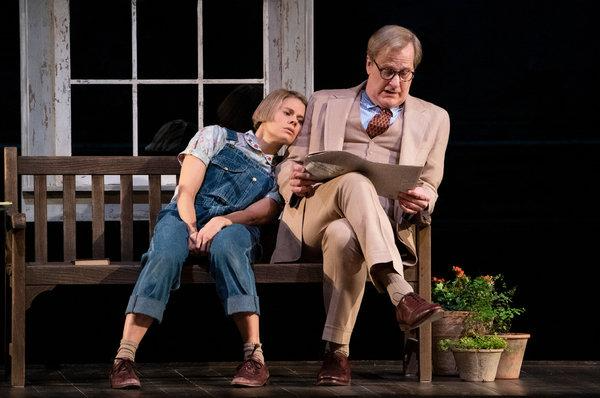 Despite top ticket prices of $497, Aaron Sorkin's stage adaptation of To Kill a Mockingbird took six months to recoup its investment.
Most interestingly, streaming services have been more attracted to the straight play than the musical. Broadway obviously works in a fundamentally different way than film and television, and musicals have been almost consistently popular there while musicals' esteem on the big screen has wavered over time. Producing Broadway theatre remains a notoriously risky endeavor, and the majority of shows never recuperate their investments while on Broadway. For example, Aaron Sorkin's stage adaptation of To Kill a Mockingbird opened to rave reviews and high demand in December 2018, but it only recovered its capitalization in late April 2019. Straight plays are much cheaper to produce than musicals, as seen by the fact that the Broadway version of Newsies—the most modestly staged of Disney musicals—still took 41 weeks to recover its investment. Kyle Meikle rightly observes that musical adaptations exploit special effects and special affects to maximize their commercial appeal, leading to higher costs and (hopefully) higher payoffs. [6] Most Broadway shows (especially musicals) make their money either on the road, through licenses to amateur and regional theatre companies, or by selling the movie rights. American Son and similar plays provide a rich opportunity to streaming services because they do not have enough name recognition for a national tour or major motion picture without a major star at the helm, but the star power of Kerry Washington makes a filmed stage version a desirable acquisition for a streaming services like NetFlix, Amazon Prime, or the theatre-focused BroadwayHD.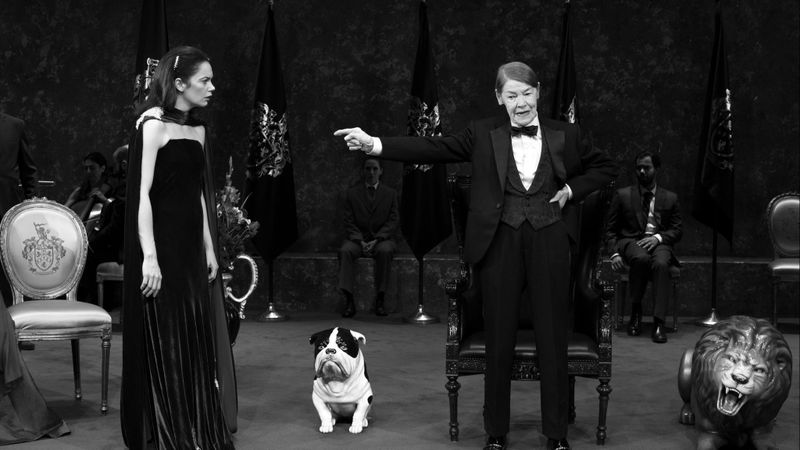 Ruth Wilson and Glenda Jackson star in a limited-run revival of King Lear.
Burn This, Tracy Letts and Annette Bening in Arthur Miller's All My Sons, or Glenda Jackson as the title character in Shakespeare's King Lear, to maximize appeal with a familiar stage property. Brand new plays almost always need film, television, or stage stars to attract financial backers as well as committed and casual theatregoers. Lucas Hnath's Hillary and Clinton with Laurie Metcalfe and John Lithgow is a good recent example. Since these stars often cannot commit an entire year (or the energy) to take the show on the road around the country, streaming services offer an easy payday for the creative team, a record of the performances and production, and an advertisement for the magic of live theatre (in a negotiated form, of course). As Elisabeth Vincentelli noted, "theater is distinguished by the uniqueness of the moment, [but] sometimes you just want to rewind that moment as soon as it's over." [7]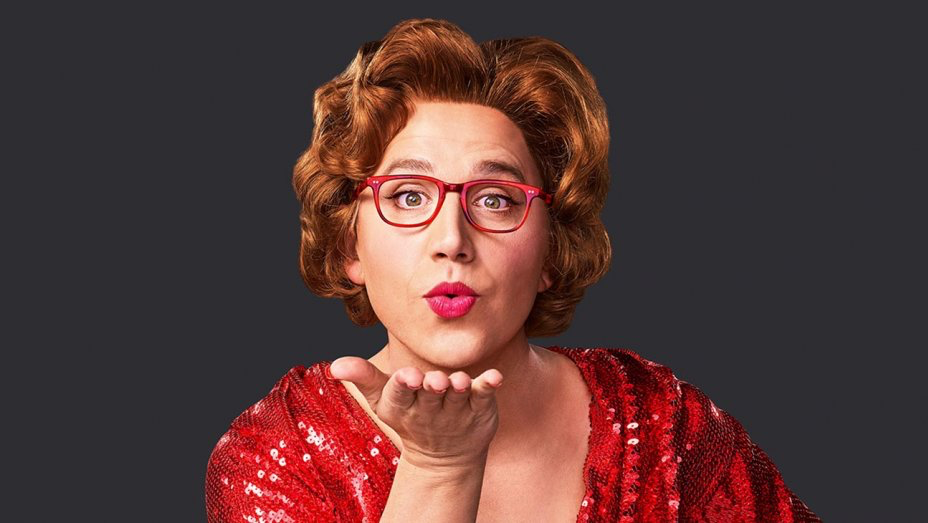 Santino Fontana stars in the 2019 Broadway musical Tootsie, based on the 1982 film.
For years now, Broadway critics and fans alike have lamented the theatre's dependence on Hollywood properties. [8] In the last year alone, musical adaptations of Beetlejuice, King Kong, and Tootsie have made their way to the Great White Way, while stage versions of Mean Girls and Waitress continue to draw audiences. Disney Theatrical, which prefers to run three shows at a time, dominates the box office with The Lion King (in its 21st year), Aladdin (in its 5th), and Frozen (in its 2nd). Sony and Comcast maintain theatrical investments on Broadway via Columbia Live Stage and Universal Theatrical Group, respectively. Of course, the move of Hollywood properties to the stage dates to at least as far back as when Cole Porter adapted Billy Wilder's Ninotchka into the 1955 musical Silk Stockings. Most of the Broadway shows from the Golden Age (arguably Oklahoma! in 1943 until the 1960s) were based on plays, short stories, novels, even memoirs. Musicalizing Hollywood films reflects the culture industries' familiar risk management strategy of using pre-sold properties to guarantee audiences, at least at the outset. [9] The dependence on Hollywood films may be less a matter of creative bankruptcy than a reflection of how movies have surpassed literature as the most popular storytelling medium. Television, on the other hand, remains a largely untapped resource for Broadway. As entertainment conglomerates acquire or revitalize properties, we might expect stage adaptations of musical series such as Glee, Smash, and Crazy Ex-Girlfriend or even shows that occasionally draw upon musical theatre conventions like The Simpsons, South Park, and Family Guy.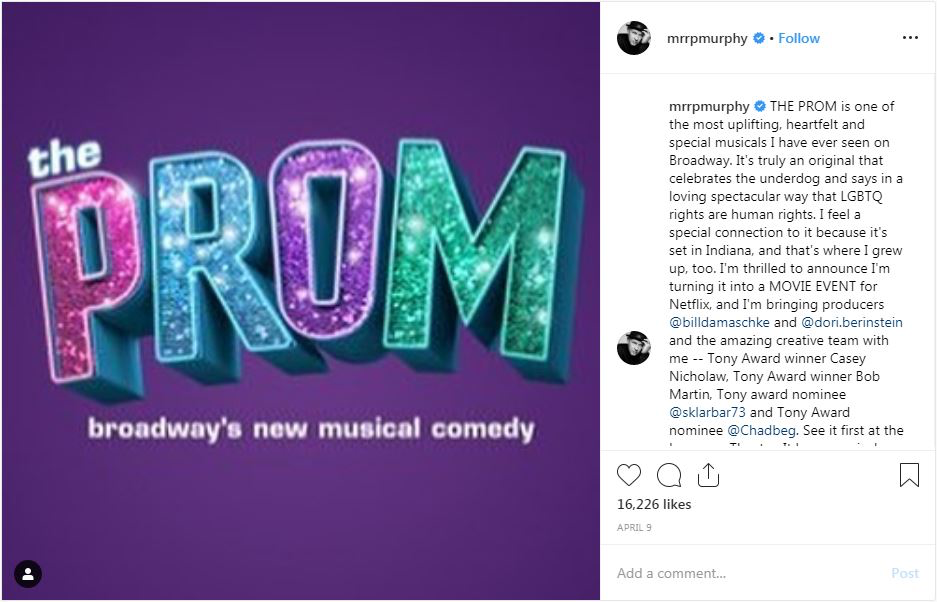 As part of his Netflix deal, Ryan Murphy announced an adaptation of the Broadway musical, The Prom.
But one also should note the representational politics behind these popular shows, both on and off the stage. Despite signs of improving diversity in recent years through the alternative casting practices of Hamilton, Harry Potter and the Cursed Child, and Frozen, productions by, about, and starring white people comprise the bulk of Broadway theatre. The projects Ryan Murphy will produce—The Prom and The Boys in the Band—explore queer characters and themes, but still feature predominantly white casts. (In fairness, Murphy also produces Pose, a show that has promoted the talent of trans people of color.) The responsibility here rests on the industry collectively rather than one producer exclusively. Broadway, of course, is only one piece of the New York theatre scene. Off-Broadway (theatres for 100-499 audience members) and Off-Off Broadway (theatres for less than 99 audience members) often offer more diverse casts and creative teams as well as more challenging subject matter, but these productions often do not receive the buzz or possess the mainstream marketability to garner streaming services' attention.
Despite the increasing excitement and promise between Broadway and the traditional media, scholars have paid limited attention to this revitalized relationship, though the tide is changing. For example, Broadway in the Box: Television's Lasting Love Affair with the Musical, Kelly Kessler's history of Broadway musicals and television, is forthcoming from Oxford University Press. Erica Moulton has written an illuminating series of articles for Playback that explore the formal conventions behind filmed theatre, including the Ivo van Hove adaptation of Paddy Chayefsky's Network and the Spike Lee-directed film of the Antoinette Nwandu play Pass Over that Amazon Prime curiously distributed with minimal promotion. Recent SCMS presentations by Laura Felschow, Britta Hanson, and Jamie Hook represent a new generation of scholarship. Even Francis Ford Coppola has published a book championing a new medium he calls live cinema—"conceived as cinema and yet not losing the thrill of a living performance" [10]—that draws from filmic and theatrical modes of production and exhibition.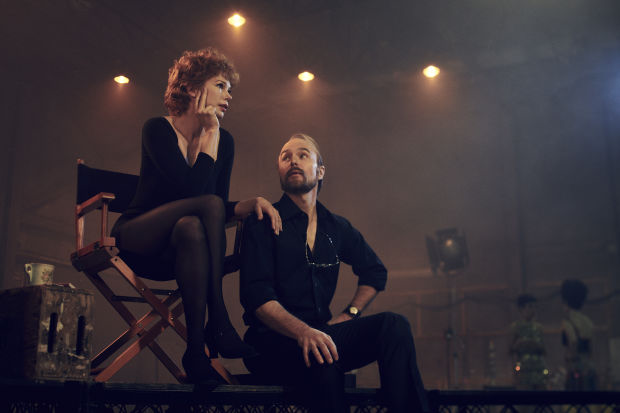 Broadway talent Thomas Kail and Steven Levenson co-created the FX miniseries, Fosse/Verdon.
The interdependence, even rivalry, between the film and theater industries date back to earliest days of Hollywood. Radio, television, and streaming extended and complicated these lifelines, and this interindustrial network of labor, narratives, and technologies remains as important now as it was when these respective media emerged. Tom Hooper is directing a film version of Cats after years of failed attempts by others, Steven Spielberg and Tony Kushner are adapting West Side Story, and Disney has recruited Broadway talent Lin-Manuel Miranda, Justin Paul, and Benj Pasek for the remakes of its animated classics. On television, Hamilton director Thomas Kail and Dear Evan Hansen book writer Steven Levenson co-created Fosse/Verdon, the miniseries examining the turbulent creative and romantic relationship between director/choreographer Bob Fosse and dancer Gwen Verdon, while an upcoming Lifetime movie about country music legends Loretta Lynn and Patsy Cline is led by Broadway stars Jessie Mueller and Megan Hilty. These projects reveal the ongoing marketability of Broadway projects, the profit potential the film and television industries have found in appealing to theatre fans, and the movement of Broadway talent around the culture industries. Indeed theatre and live entertainment remain vital contributors to the operation and livelihood of what we insist on calling "media conglomerates."
Image Credits:
1. Playbill
2. NPR
3. The New York Times
4. The Los Angeles Times
5. The Hollywood Reporter
6. Author's Screenshot.
7. The Wall Street Journal
Please feel free to comment.