Media Historiography Projects: One Librarian's Hacks
Nedda H. Ahmed / Georgia State University / College of the Arts Librarian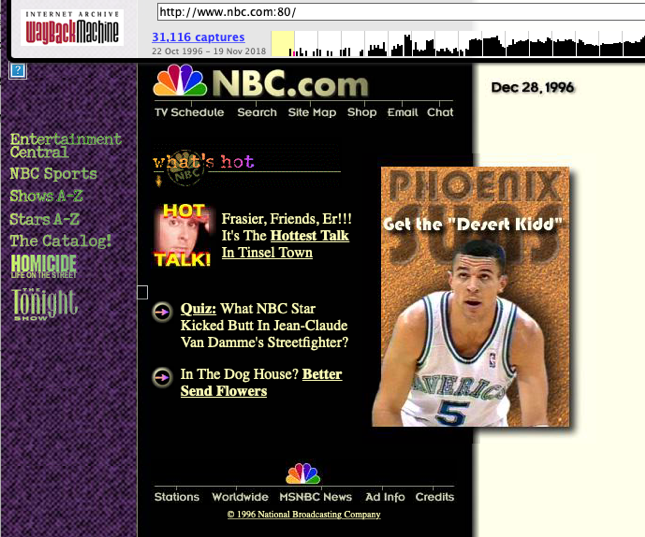 So many '90s feels. NBC.com December 28, 1996 via the Wayback Machine.
Media historiography is a mandatory course in many film and media studies graduate programs. In these courses, professors typically ask students to engage with historical sources on a rigorous level, requiring deep dives into primary source collections, manuscripts, and microfilm. Here at Georgia State, our Archives & Special Collections are full of amazing primary resources in a wide variety of collecting areas, but we don't have a plethora of media-specific collections that you'd find at, say, UT's Harry Ransom Center or UCLA's Film & Television Archives.
It's neither possible nor practical for our grad students to travel to archives outside the Atlanta area within the timeframe of a single semester… So what's a librarian to do?
Over the years that I've been working with this class, I've collected a bunch of weird and wonderful things that, in the right context and with a little bit of creative thinking, can kickstart exciting historical research projects. In the rest of this column I'll share some of what I've gathered because:
1. Perhaps you'll find something useful here for your own class/research paper/syllabus
2. Some of these things are too amazing to keep to myself
3. I'm a librarian, and sharing is basically my entire reason for existence
4. I love listicles
5. I want more weird and wonderful things, so please share your hacks in the comments
Hack #1: Media History Digital Library
OK, unless you live under a rock, you've already heard about MHDL. "GET TO THE WEIRD STUFF, NEDDA" I hear you thinking. But I have to include MHDL because no list of primary source film/media resources is complete without it. Also, Eric Hoyt (et al.) is doing such great work that MHDL deserves all the free publicity it can get. A few years ago, ProQuest came out with Entertainment Industry Magazine Archive, a similar-but-not-quite-the-same subscription-based product. For a detailed comparison between MHDL and EIMA, check out my pal James Steffen's review over on Media Industries Journal.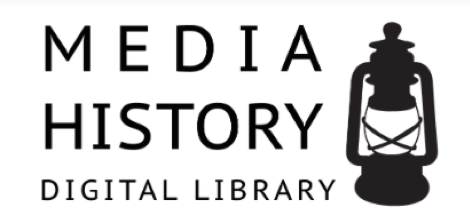 Media History Digital Library
Hack #2: Local Newspapers
I have to give local newspapers a shout-out because they tend to get overlooked in favor of national showbiz-type publications. Regardless of how big or small your institution is, you're likely to have access to an extensive run of the main city paper, whether online or on microfilm (Yes, microfilm still exists and it's important and you should use it). Maybe you'll have to visit your local public library to access the paper's full run, but that's still heaps easier than getting a travel grant to fly to some distant archive. There's also something incredibly comforting about seeing people in the past freak out about whatever new thing was on the horizon, threatening to take over their lives.

If you can explain how TV works better than this, let me know.[1]
Off the top of my head, I can think of at least three research papers that could be generated by historical local newspaper research:

• Idea 1: Using TV listings and lineups, how did local broadcasters fill their airtime? What was the locally-produced content like?
• Idea 2: Using movie theater listings and advertisements, how were films marketed to the local population? If you have access to multiple papers, can you draw any comparisons between the way films were marketed to the different cities' populations?
• Idea 3: Pick any technological advance that happened in the 20th century. When did it come to your town, and how was it discussed in the newspaper? [2]

Hack #3: Historical Catalog Websites
Specifically, these: Wishbook Web and Radio Shack Catalogs. Oh Internet, how I love thee. That someone—or a group of someones—cares enough to collect, scan, and post online decades' worth of these catalogs is pretty amazing. Wishbook Web is a compilation of the holiday catalogs from several major department stores, such as Sears, JC Penney, and FAO Schwarz. For kids in the pre-web era, getting the holiday catalog and obsessively marking the pages of the toys you wanted was the build-up to Christmas/Hanukkah/Kwanzaa; in short, it was a major deal. These catalogs are an ideal resource for anyone wanting to study film/TV licensing deals with toy manufacturers or the rise of home video game systems, to throw out just a couple of ideas.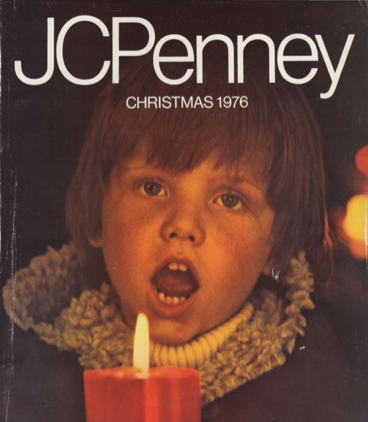 "Merry Christmas I'll haunt your dreamsssss"
Radio Shack Catalogs is, as the name implies, a digitized collection of the store's catalogs, organized into areas to facilitate easy browsing. Although its relevance has (ahem) diminished significantly in recent years, Radio Shack was once the place you'd go for all your home electronics needs, whether you wanted to build your own radio or you just wanted some AA batteries. Because the company started in 1921, these catalogs offer fascinating glimpses into the relationship between technology and American culture as well as documentation of how technology was marketed in the 20th century (spoiler alert: the target audience was men and boys).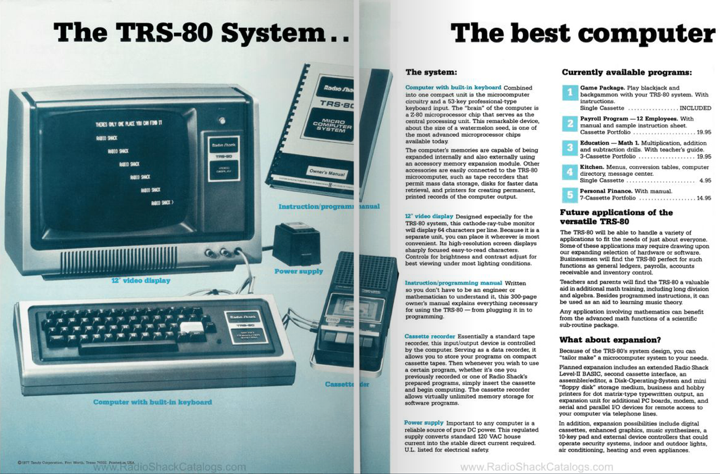 The tape recorder hook-up. I can't.[3]
Hack #4: Internet Archive
I don't think Internet Archive is an unknown resource, but I'm not sure many people comprehend the breadth and depth of stuff to be found here. There's way more than just the Prelinger Archives, though that collection is impressive. Need to look at old versions of a TV network's website? Internet Archive has it. Want to listen to old timey radio shows? Internet Archive has it. Need to see full episodes of the acid-trippy 1970s kids show
Vegetable Soup
, if only to prove to yourself that you didn't just imagine it during a fever dream? Internet Archive is there for you.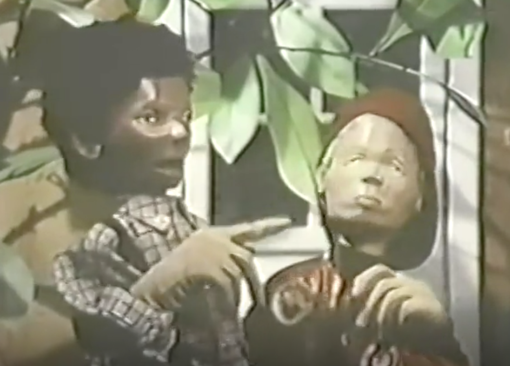 Two of the nightmare-inducing child puppets with freakishly large hands from Vegetable Soup. [4] Good luck sleeping ever again.

Hack #5: Be open.
This isn't really a hack, just general advice for folks heading into a historical research project. I've worked with many students over my 15+ years as a film/media librarian, and the most common source of stress with these projects is caused by formulating a specific question before identifying the collection of primary sources that will be used. Most of the film historians I know approach their work from the other way around: locate a repository of interesting stuff, dig into it, and allow the questions to percolate. Adopting this approach may even reveal research opportunities at local archives that don't seem relevant to film and media studies, but that could be fruitful avenues for research. Talking with archivists and librarians about what your general interests are—without being too limited in scope and not the day before the project proposal is due—is a great way to gain access to materials you might not know exist.
So that's it! Five ideas for historiography projects for people who don't have convenient access to film/media archives and special collections. Do you have other recommendations for primary source resources? (Or perhaps you'd like to discuss further the complete bizarreness of Vegetable Soup?) I look forward to hearing your ideas in the comments!
Image Credits:
1. So many '90s feels. NBC.com December 28, 1996 via the Wayback Machine.
2. Media History Digital Library
3. If you can explain how TV works better than this, let me know. Atlanta Constitution, "Television Issue," October 6, 1948. (Author's photo)
4. "Merry Christmas I'll haunt your dreamsssss"
5. The tape recorder hook-up. I can't. From the 1977 TRS-80 catalog.
6. Two of the nightmare-inducing child puppets with freakishly large hands from Vegetable Soup. (Season 1, Episode 1) Good luck sleeping ever again. (Author's screengrab)