Dispatch from the Inaugural Fan Studies Network – North America Conference
Jenny Keegan / Louisiana State University Press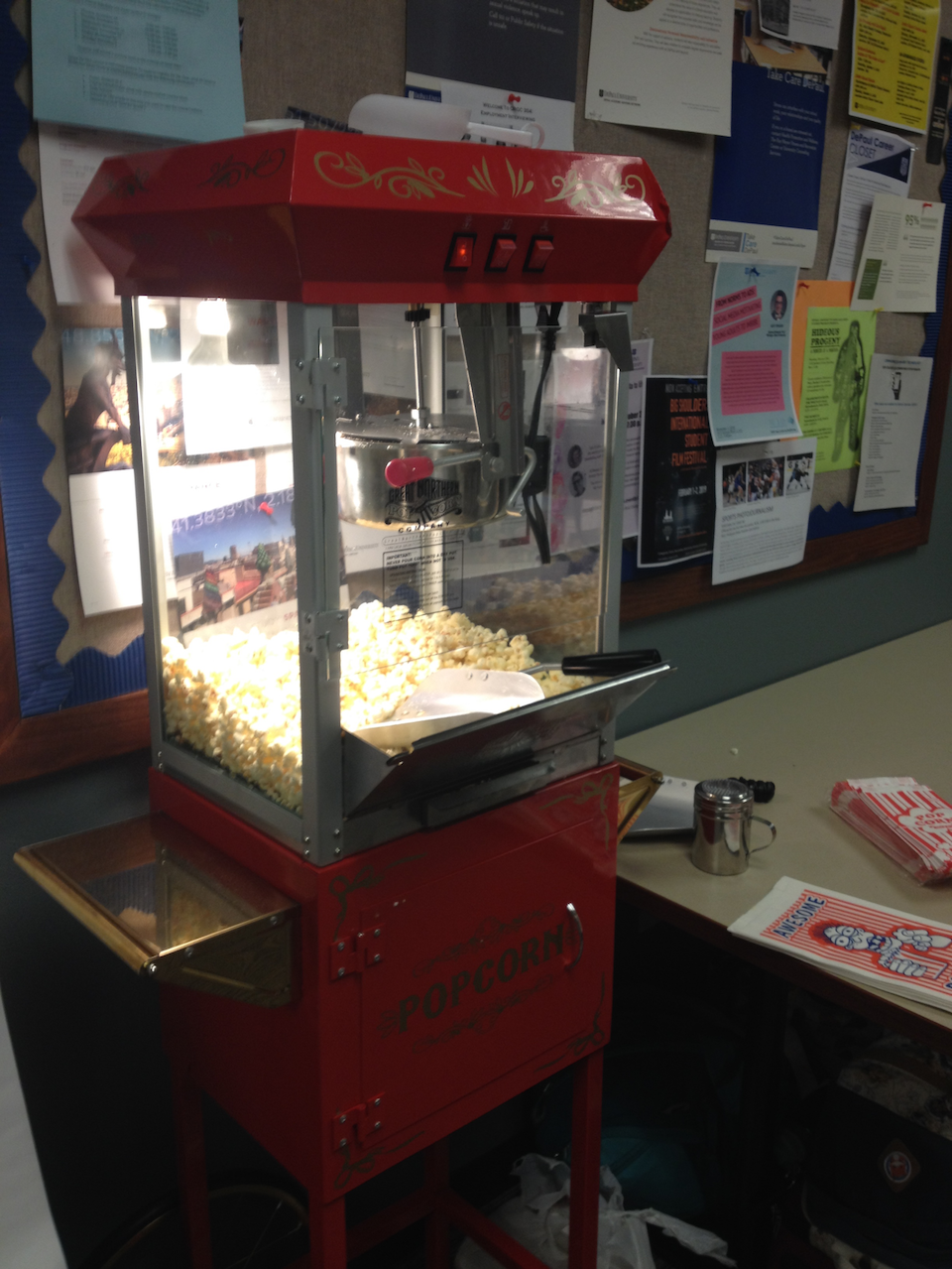 A departmental popcorn machine at the inaugural Fan Studies Network-North America Conference at Depaul University.
"How can we find a way to make an academic conference more like fandom?" FSN-North America organizer Lesley Willard asks me. It is a rhetorical question, but I think the organizing committee have made a good start with their choice of premise. Fandom is infinite and iterative and overwhelming, and the eleventh floor of DePaul University mirrors this. It is organized in a circle (allegedly), yet there are so many doors leading in so many directions that the attendees—including myself, especially myself—are perpetually getting lost. It is so incomprehensible that by the end of the conference, people are still astonished to discover the books 'n' coffee room where I am set up. I require a lot of assistance from the organizer whose home university this is, Dr. Paul Booth. He's a man with a plan—and a popcorn machine.
He tells me, while walking me around in a circle to show me how impossible I will find it to get lost, that he used $200 of refreshment money a few conferences back to buy a department popcorn maker instead. [1] It is visibly his pride and joy. I conceal my intention to eat yellow bell peppers rather than popcorn while schmoozing with my fellow attendees at the opening reception. In the context of a fan studies conference, schmoozing consists of trying to discover what things one's interlocutors are fans of—based on subtle context clues like TARDIS pins and Ravenclaw scarves—and then talking about those things noisily until one has to steal away for wine, more bell peppers, or the restroom.
FSN–North America is the brainchild of the scholarly interest group in Fan and Audience Studies at SCMS 2017. Dr. Paul Booth, Dr. Kristina Busse, Dr. Louisa Stein, Dr. Lori Morimoto, and Lesley Willard began talking about how to find a space for fan studies as its own discipline, rather than a minor offshoot of film studies or cultural studies (or any of the many other departments where fan studies scholars make their homes). Creating a North American chapter of the existing Fan Studies Network seemed like a no-brainer, and FSN–Mothership agreed. [2]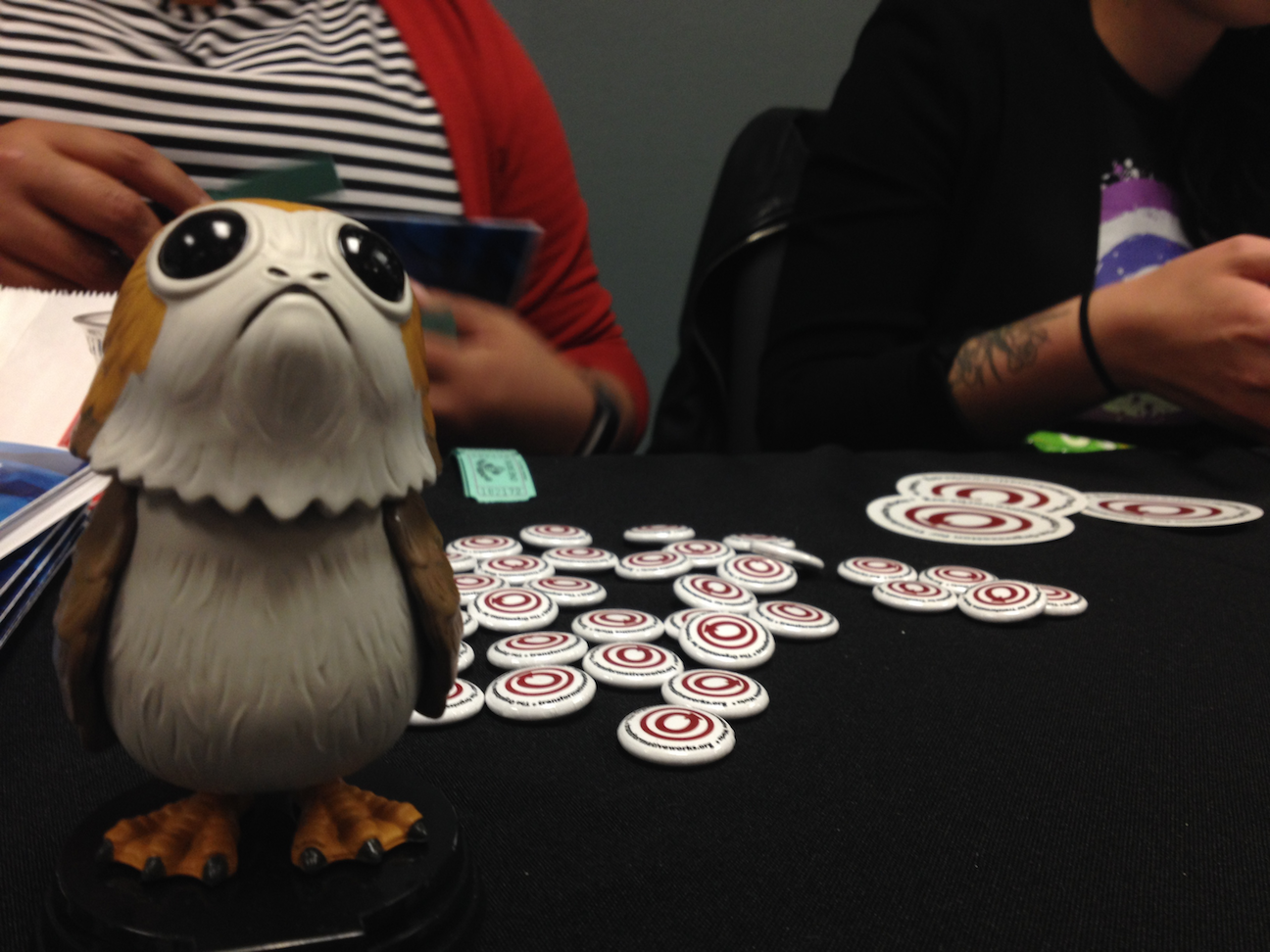 A porg figurine from the popular Star Wars film series.
The inaugural conference begins with a keynote speech from Abigail de Kosnik. As I settle into the basement room where the keynote is to be, I write a tweet that says "nothing is worth how early I must think thoughts today" and then delete it, because Abigail de Kosnik will inevitably be worth it. She opens by saying: "The current US political climate is a fan war. The show is the United States of America."
Everyone is entranced as de Kosnik develops this metaphor; we keep waiting for it to collapse under its own weight, but of course it never does. We badly want her utopian view of "our" side of fandom to be real. When she says, "We've never seen a show like the one we want: A show of versioning, of variance, of infinite points of view," your sleepy, under-caffeinated correspondent dabbed away tears. Despite any reservations the audience may have regarding the capacity of fan studies to reshape the political climate, it is a remarkably energizing start. Virtually nobody I speak to over the course of the conference opens the conversation with anything but "Oh my God, that keynote."
The other constant is the attendees's elation at getting to spend time with other fan studies scholars. Though most folks come from supportive departments, I hear a lot of stories about mentors who advised against pursuing fan studies. FSN-NA brought together all the people who decided to pursue it anyway, and they are delighted to be in a room together. Towards the end of the conference, someone suggests including fanfiction-style tags on papers and panels, to help each other find points of connection across subdisciplines. Infinite diversity in infinite combinations is the order of the day. [3]
The variety of panels is part of the conference's design. From the very beginning, organizers knew they wanted to offer an expansive vision of the discipline. What began in 1992 with a few books about communities of fans of science fiction television has since grown to encompass everything from comics to sports, from politics to early modern literature.
"The fan studies group always crushes everyone else at live-tweeting SCMS panels," I am told, not without pride. Which is no surprise; fannish people are old hands at finding ways to make the experience of watching a thing communal. The hashtag for the conference (#FSNNA18) is so active that it starts trending locally, and we acquire a spammer with opinions about recent political events. My schedule of meetings prevents me from attending most of the panels, but I am able to follow along handily. If I'm not sure of the point one tweet from a given panel is making, there is sure to be another one to fill in the gaps.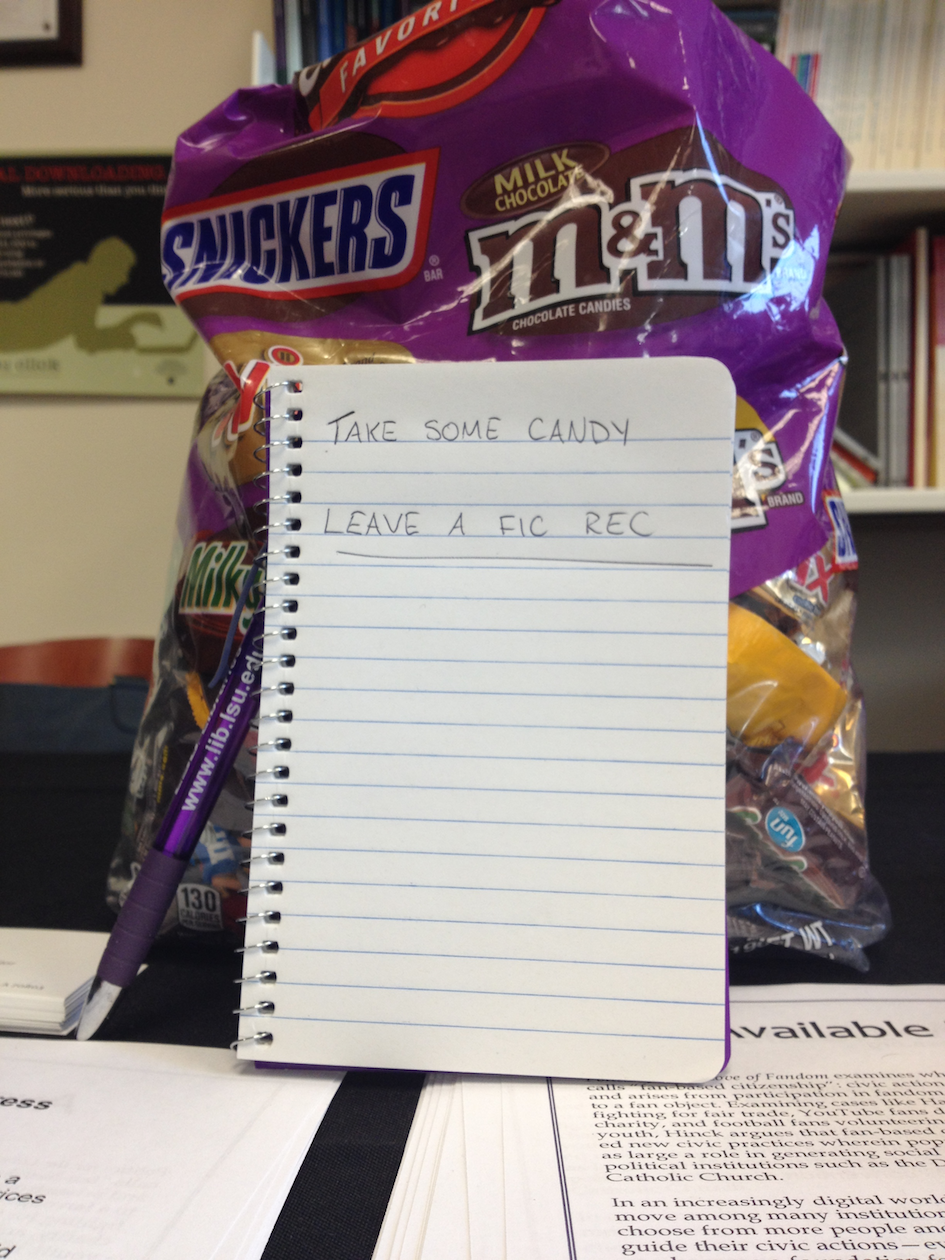 The author encourages attendees to share their fanfiction ("fic") recommendations.
On the second day, I make my own small foray into conference-as-fandom: I set up a bag of Halloween candy with an offer to trade candy for fanfiction recommendations. As a method of getting pooped-out introvert academics to chat with me, it is extremely effective. Someone writes down a fic that I later find out is the most-recommended fic for the fandom newsletter The Rec Center. Folks keep coming by my table and meekly suggesting that I may not want the fic recs they have to offer because maybe I don't care about [insert fandom here]. I show them my iPad, where I have Archive of Our Own open in a browser tab so that I can easily bookmark all the recommendations I am receiving.
"What are you going to do with these?" someone asks me.
I say, "Read them."
(Of course.)
Image Credits:
1. A departmental popcorn machine at the inaugural Fan Studies Network-North America Conference at Depaul University. (author's personal collection)
2. A porg figurine from the popular Star Wars film series. (author's personal collection)
3. The author encourages attendees to share their fanfiction ("fic") recommendations. (author's personal collection)
Please feel free to comment.
I am lost as soon as he leaves my side. [↩]
"FSN-Mothership" is a colloquial name for the international parent organization, Fan Studies Network. [↩]
I had to Google this because I couldn't remember what the exact phrase was. Infinite variety? Infinite versions? Please nobody revoke my fan studies membership card. [↩]