The Future of B.C.: Vancouver as Sci-Fi Television's Ideal Media Capital
Rusty Hatchell / University of Texas at Austin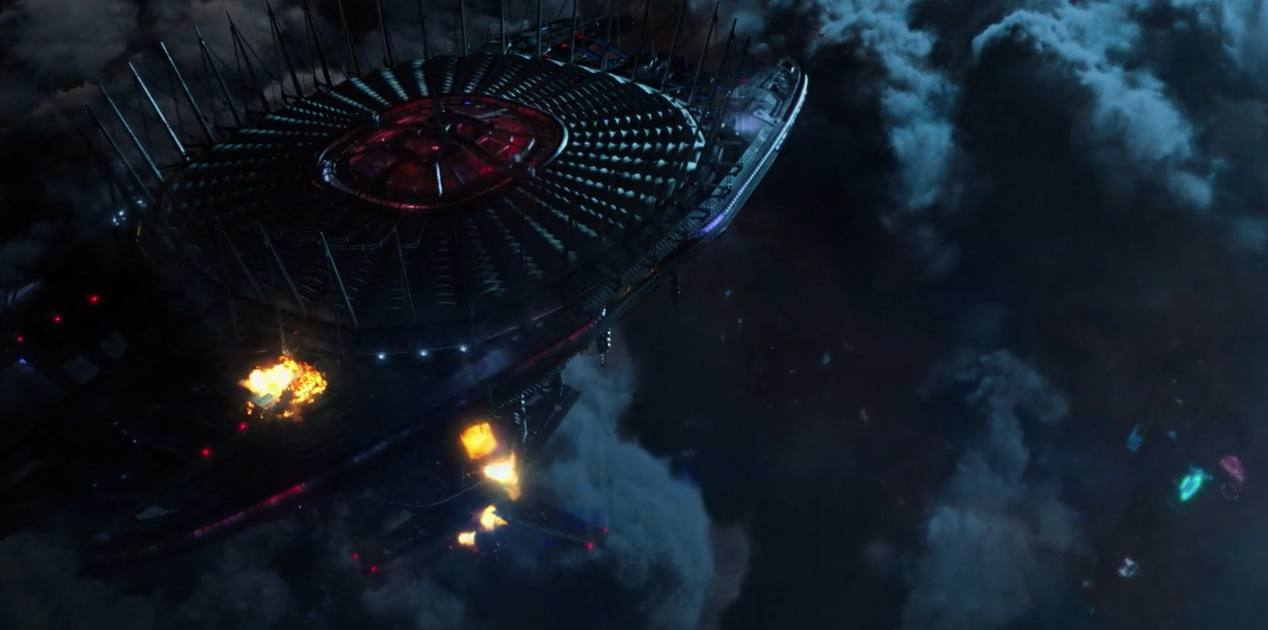 Vancouver's BC Place Stadium in Netflix's Altered Carbon
Earlier this year, television critic Tim Goodman noted that television has been experiencing a renaissance of sci-fi, fantasy, and supernatural programming over the last few years. Indeed, many studios have begun producing more sci-fi and fantasy productions as many cable channels and streaming platforms desire to air the next Game of Thrones (HBO, 2011-present). Last year, Amazon CEO Jeff Bezos reportedly demanded his studios bring him his own Game of Thrones, instigating a major shift in the streaming giant's development slate, including production on at least four new sci-fi series (Lazarus, Snow Crash, Ringworld, Culture) and two new fantasy series (Wheel of Time, The Dark Tower). Additionally, Amazon is positioned to spend an unprecedented $1 billion on its upcoming five-season Lord of the Rings small-screen project by the time series production wraps. Meanwhile, CBS has reportedly spent $8-8.5 million per episode on Star Trek: Discovery (CBS All Access, 2017-present), a show that might be one of the most expensive in TV history yet only reaches the approximately 2 million subscribers of CBS All Access.
However, sci-fi television has not always lavished in high production budgets. As J.P. Telotte notes, "SFTV [sci-fi television] has traditionally had to work at a disadvantage." [1] From the advent of sci-fi television in the 1940s, filming other-worldly and futuristic scenes on limited budgets has typically constrained the narratives of many earlier productions. As efforts concentrated on making sci-fi more visually palatable through visual effects (VFX), studios have found other ways to save money, including relocation of productions to more affordable locations.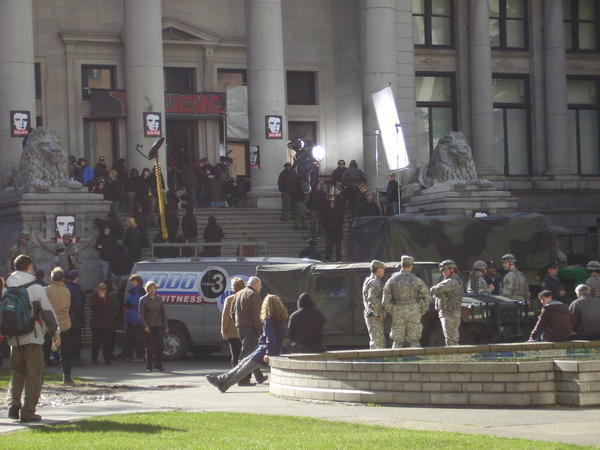 Blogger's photo of the set of USA's The 4400
One such location for many sci-fi productions over the past twenty-five years has been Vancouver, British Columbia. Although there were a few sci-fi productions filmed in Canada during the late 1980s and early 1990s, it was the debut and subsequent early success of The X-Files (FOX, 1993-2002, 2016-18) that sparked a wave of studios flocking to Vancouver to film sci-fi, fantasy and supernatural programs throughout the 1990s and 2000s. Indeed, while a 1980s-developed tourism motto for the province—"Super Natural British Columbia," which is still used today—intended to "promote travel to the province by extolling the beauty and variety of British Columbia's natural landscape … by the mid-1990s, the slogan became more closely associated with the fact that Vancouver was the production home of nine of the top American 'supernatural' television series." [2] Many of these productions—including Poltergeist: The Legacy (Showtime, 1996-98; Sci Fi, 1999), The Sentinel (UPN, 1996-99), Sleepwalkers (NBC, 1997-98), Harsh Realm (FOX, 1999-2000), Dark Angel (FOX, 2000-2002), The 4400 (USA, 2004-07), Battlestar Galactica (Sci Fi, 2004-09), Supernatural (The WB, 2005-06; The CW, 2006-present), and Kyle XY (ABC Family, 2006-09)—filmed in the Canadian city (and the surrounding area) to take advantage of lucrative provincial and federal tax incentives as well as the weak exchange rate on the Canadian dollar.
Shortly after the wave of Hollywood-financed sci-fi television, Canadian creators began to produce and finance their own sci-fi content, quickly catching the attention of executives at Syfy. Thomas Vitale—executive vice-president of programming and original movies—explained, "[w]hether it's shows that are made in Canada for the international marketplace, or some very original shows produced in Canada, the Canadian marketplace is a terrific place for good programming in the sci/fi, fantasy and supernatural genre." [3] Canadian-produced content—as well as co-produced content—showcased Vancouver's shift from a production capital mostly populated with Hollywood runaways to a more diverse hub full of runaways, co-productions, and domestic productions alike. Meanwhile, the number of runaway productions in Vancouver continued to rise through the 2010s, strengthening the city's claim as the third largest production center in North America. In the essence of Michael Curtin's assertion that media capitals "represent centers of media activity that have specific logics of their own," Vancouver has rightfully become a unique production hub for the majority of Hollywood's sci-fi and supernatural programming as well as an emerging destination for Canadian sci-fi production. [4] However, as premium TV and streaming platforms continue to push the budgets of dramas and other hour-long offerings into $10-million-plus territory, it remains a curiosity why Hollywood firms continue to depend on filming their sci-fi projects in Canadian locations rather than relocating to California.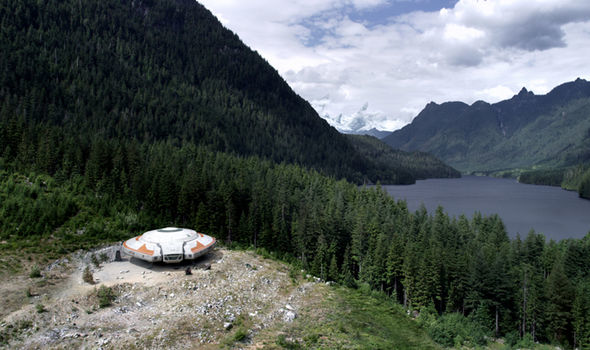 The natural landscape of B.C. stands in as a foreign planet on Netflix's Lost in Space
For the 2016-2017 fiscal year, Canadian production volume reached $8.3 billion, with British Columbia edging out Ontario's provincial share of the figure for the first time ever, in large part due to streaming platforms like Netflix and Amazon Prime. [5] Netflix and Amazon have led the pack of major streaming services investing in higher-end sci-fi filmed in Vancouver, with the former debuting Altered Carbon (2018-present) and Lost in Space (2018-present) earlier this year and the latter's The Man in the High Castle (2015-present) forecasting the platform's aforementioned surge into high-budget development and production of sci-fi and fantasy programming. Additionally, Netflix has co-produced two sci-fi productions: Between (2015-16)—a co-production with Rogers-owned City—filmed in Ontario, while Travelers (2016-present)—a co-production with Corus-owned Showcase—has filmed in British Columbia.
There is no doubt that Canada has become the sci-fi nation. Yet, there has been a silent shift in the role of Vancouver, Toronto, and other production centers, particularly for Hollywood-produced content. Whereas the cultural markers of Vancouver have long been erased to stand in for American (and other non-Canadian) locations in decades past, a modern, economically-forward image of Vancouver has emerged in more recent Vancouver-shot media. Much of this is due to the direct economic impact of the creative industries funding urban revitalization efforts across the Lower Mainland of B.C. In 2016, when Wayward Pines (FOX, 2015-16) filmed in the suburb of Coquitlam, the $100,000 that the city collected in service and permit fees paid for upgrades to one of the city's parks. Surrey—another suburb of Vancouver—has recently implemented a massive economic strategy to position the city as a metropolitan center, which has identified the creative arts industries as one of five key sectors of growth. The city's newly constructed Surrey City Centre Library (pictured below) has already been featured in a number of television series—including Continuum (Syfy, 2012-15), Travelers, and Supergirl (CBS, 2015-16; The CW, 2016-present). Much of the city's more modern architecture—including many of the glass skyscrapers across downtown Vancouver—can easily represent futuristic locations with the help of visual effects.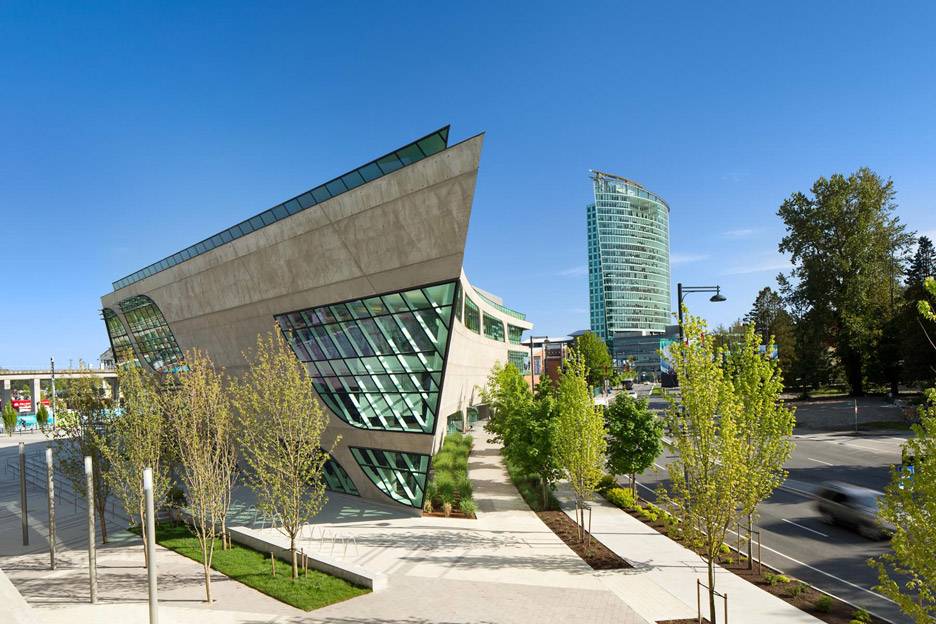 Surrey City Centre Library (with Central City Shopping Centre in the background)
The city boasts a vibrant industry for VFX and other post-production necessities. In 2015, the Digital Animation or Visual Effects tax credit (DAVE) was strengthened to keep post-production activities in the province. This effort to keep all stages of production in Canada helps to continue the industry's growth and, more importantly, the clustering of various sectors in one accessible area. Today, the city claims to be the world's largest cluster of VFX and animation studios. One such studio—Artifex Studios—has played a massively important role in VFX for many Vancouver-filmed sci-fi productions, working on Continuum, Zoo (CBS 2015-17), Almost Human (FOX, 2013-14), Travelers, The Man in the High Castle, and many others. Additionally, ever since the company began operations in the Canadian city in 2013, Industrial Light and Magic—Lucasfilm's post-production company—has expanded many times, most recently opening up a second location in the city to meet growing demands.
Returning to Telotte's comment on the disadvantages of sci-fi production, the influx of streaming platforms producing high-budget content marks a moment in which economic assertions of runaway productions in Vancouver must be reconsidered. First, as reports of Netflix producing 700 series in 2018 and Amazon amping up their own production slate continue to dominate industry headlines, Vancouver's position as an essential site for runaway productions should be revisited as perhaps one of an ideal site for premium cable and streaming platforms. In other words, while some studios with tighter budgets may film in Vancouver primarily for tax incentives that lessen their financial risks—such as Warner Bros. Television, which is Vancouver's biggest TV client—production efforts in the city from premium cable and streaming platforms may consider tax incentives simply as an added perk, packaged with the fully-clustered production hub of Vancouver and its highly-experienced crew in science fiction production. Second, as economic strategies continue to impact the visual identity of the city through urban planning and architectural developments, the city's Vancouverness becomes slightly more recognizable. Websites dedicated to identifying Vancouver landmarks and specific locations have appeared for shows like Altered Carbon, while fans have started sceneframing—the effort of showcasing a location from a media text in the context of its actual location—much of Vancouver in reference to the multitudes of programs that have and continue to film in the city. This latter practice is, in part, a fascinating digital extension of Vancouver's fan tourism and pilgrimage scholarship. [6]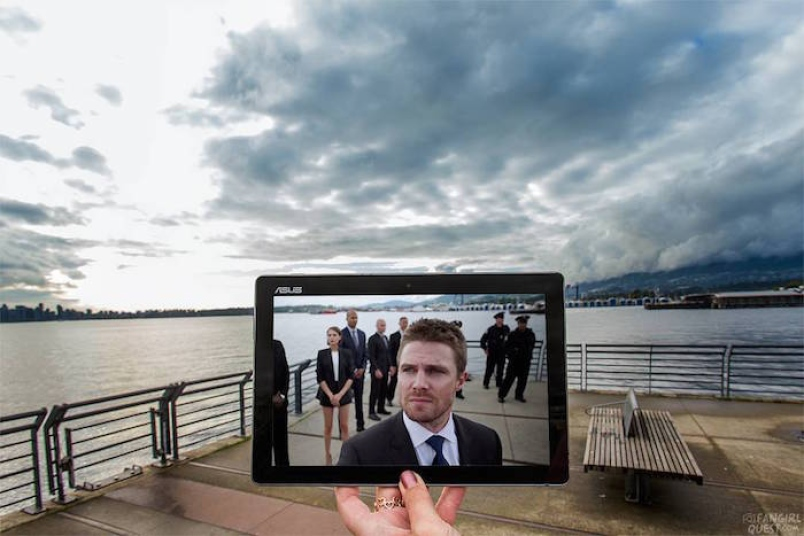 Sceneframing The CW's Arrow in Vancouver
But perhaps the most important consideration is the potential impact of deep-pocketed streaming platforms continuing to film in the Canadian city. As production budgets continue to inflate and streamers attempt to produce the next big genre hit, only time will tell how much of a positive economic impact streaming platforms will have in Canadian production hubs. A recent announcement by the Canadian government that Netflix will invest C$500 million in original productions over the next five years in the country provides a glimpse into the role premium cable outlets and streaming platforms will play not only in global distribution, but also in runaway productions—particularly in Canada.
Image Credits:
1. Vancouver's BC Place Stadium in Netflix's Altered Carbon
2. Blogger's photo of the set of USA's The 4400
3. The natural landscape of B.C. stands in as a foreign planet on Netflix's Lost in Space
4. Surrey City Centre Library (with Central City Shopping Centre in the background)
5. Sceneframing The CW's Arrow in Vancouver
Please feel free to comment.