Into the Glow: Glossier's Emily Weiss and Millennial Entrepreneurism
Elizabeth Affuso / Pitzer College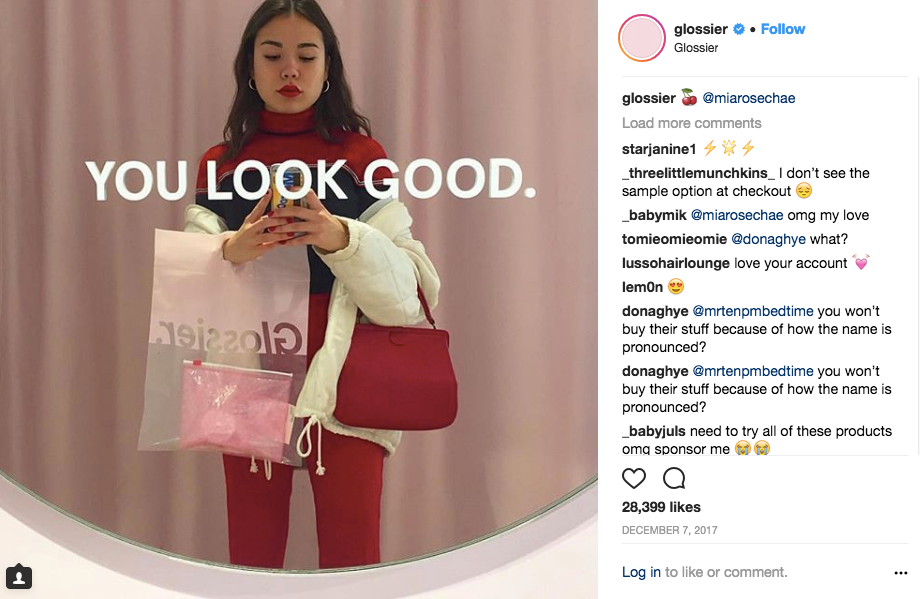 Instagram influencer Mia Chae at the Glossier showroom [1]
Since its launch in 2014, the Glossier makeup and skincare line has been synonymous with a particular type of millennial beauty ideal. With its millennial pink branding — connected to related trends such as #roseallday — Glossier embodies an effortless, dewy sort of beauty seeped in inclusive, commodity feminist logic. The direct-to-consumer brand has grown rapidly with its core millennial base thanks to an arsenal of well-established endorsers in social media spaces producing digital content such as #GetReadyWithMe videos on YouTube and #itgtopshelfie featurettes on Instagram. According to The Cut, "the Glossier aesthetic is sometimes described as makeup for people who are already pretty." [2] This ethos is very much in line with the discourse of flawless and #wokeuplikethis. Though these terms allude to an effortless beauty that just happens, they are also coded as terms that acknowledge work. Of flawless, Parul Seghal has written, "Something interesting happens when a word that suggests action is applied to beauty: It recasts beauty as something that can be done, pulled off — not just possessed. On Instagram, Tumblr and Twitter, when "flawless" is used as praise, it implies a friendly interest in workmanship — in a brow arched just so, in contouring cream ingeniously applied, in effort and experimentation as much as the final effect." [3] Like flawless and #wokeuplikethis, the Glossier buyer is positioned as a young woman who looks dewy, radiant, and effortlessly beautiful, but who also has a deep knowledge of beauty brands and who puts in the work to maintain her face. As founder Emily Weiss explained in her brand intro, "Glossier begins with YOU, which is why our first products are all about letting your personality shine through…glowy, dewy skin." [4] The ideal Glossier consumer is thus constructed as a woman who is pretty and interesting.
Often this buyer is also an avid reader of Into the Gloss, Glossier's sister blog, and has a working knowledge of the important brands and cult products of contemporary beauty culture. In its millennial pitch, Glossier attempts to reproduce at a lower cost an edited collection of products that riff on the cult products aspirationally shilled on Into the Gloss. For example, many celebrities and influencers featured on Into the Gloss tout the benefits of the Biologique Recherche P50 Lotion, an exfoliating product that retails for $67 for 5.1 ounces, while Glossier's The Solution, a comparable facial toning product is $24 for 4.4 ounces, more than half the price per ounce cheaper. Of course, lower-end dupes are not new in the beauty industry, but what Glossier has successfully achieved is a model in which dupes feel special. From the pink bubble pouches to the phone stickers to the celebrity endorsements, Glossier products feel like the ones you want to have, not a substitution for something you can't afford.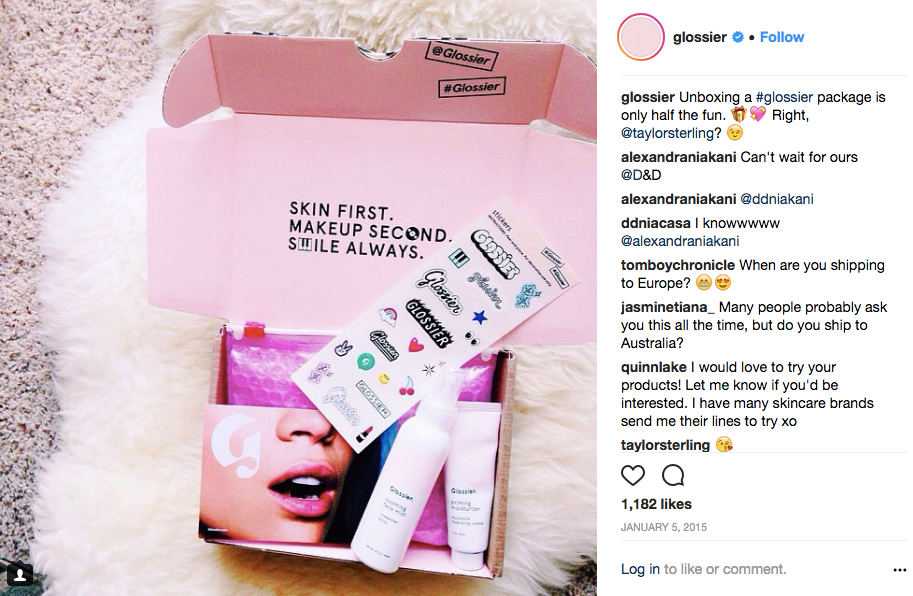 An example of a Glossier package unboxing from @glossier. The pink bubble pouches that come with every order have become a cult item with consumers repurposing them as makeup bags, pencil cases, and handbag organizers [5]
If Into the Gloss provides the location for millennial consumers to learn what types of products they should be using for the most flawless skin—milky cleansers, plumping serums, exfoliating toners—than Glossier comes in to provide these types of products to consumers in a perfectly affordable, Instagram worthy package. The direct-to-consumer branding model thus creates a method whereby if you want to try a product you either have to chance it and order it or rely on your fellow consumers on social networking sites like YouTube or Instagram to review and report back. This structure embraces the crowdsourcing model so prevalent in digital culture, while also modeling a vibrant internet sales strategy for makeup and skincare that has also been pioneered by brands like Kylie Jenner's Kylie Cosmetics, moving further and further away from the department store makeup counter of yore.
A Glossier #GetReadyWithMe video featuring brand CEO Emily Weiss [6]
The mastermind of the Glossier/Into the Gloss empire is 33-year-old CEO Emily Weiss. Weiss started Into the Gloss as a blog while working at Vogue in 2010 and quickly built up a cult following for features such as "The Top Shelf," where celebrities and influencers are photographed in their homes—often their bathrooms—along with their products and a narrative of their beauty routines. Karlie Kloss, Liv Tyler, Naomi Watts, and Tavi Gevinson have been featured among many others since its inception. The routines are always couched in a logic of self-care ritual, and wellness is a big part of how they are imagined, not just by the subjects of "The Top Shelf," but also by the robust community of commentators who provide suggestions and additional resources in the comments. Additionally, part of the appeal of Glossier is that it is a hugely successful direct-to-consumer internet brand borne out of a blog. This is the epitome of the postfeminist entrepreneurial desire that is so prevalent in contemporary culture, especially in a moment that fetishizes the side hustle for millennial workers.
An Into the Gloss "The Top Shelf" featuring actress and Rookie editor Tavi Gevinson [7]
Weiss's first exposure as an entrepreneurial celebrity came several years before her blog in a three-episode arc on season two of MTV's The Hills in 2007. In her introduction in "One Big Interruption," stars Lauren Conrad and Whitney Port are confronted with Weiss, a Vogue intern arrived from New York to embarrass Lauren Conrad with her superior knowledge of flowers and general air of sophistication. Weiss returned in two subsequent episodes, one to model Oscar dresses for a Vogue morning show segment ("Everybody Falls") and the other to greet Whitney when she interviews for a permanent job at Teen Vogue in New York ("Goodbye for Now"). In all three of these episodes, Emily Weiss's brunette hair, natural looking makeup, and air of East Coast sophistication stands in sharp contrast to the California blondeness of The Hills girls. She's the effortless cool girl designed to make Whitney and Lauren seem authentically real in the narrative of reality TV, so that the audience knows that sometimes even reality TV stars feel inferior to their work colleagues. What's striking about Weiss's appearance now is how much she has already perfected the Glossier/Into the Gloss aesthetic even as an undergraduate at NYU and her ongoing success is very much in finding a way to package it into a relatable, achievable ideal for millennial women.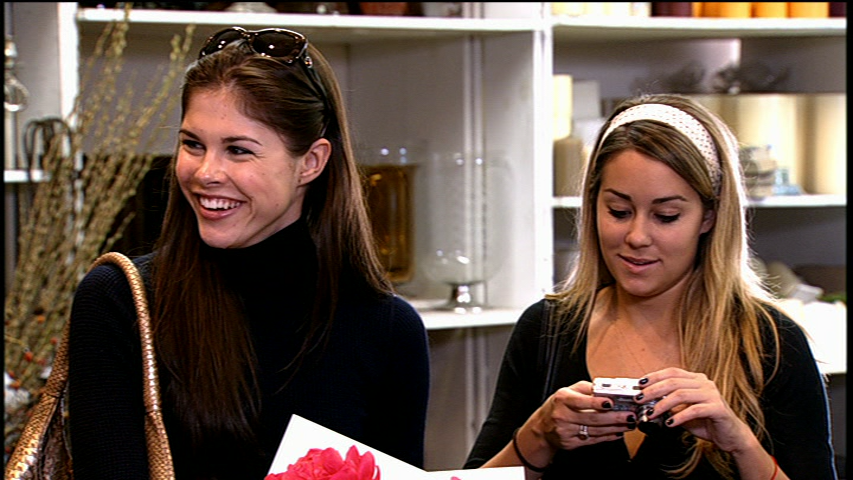 Glossier CEO Emily Weiss (left) with Lauren Conrad on The Hills [8]
Glossier positions its natural, glowy, dewy beauty ideal as part of an empowerment logic for millennial consumers. This labor is part of a postfeminist discourse that Mary Celeste Kearney has noted, "may sound like the effects of straight-up patriarchy, the twist here is, within postfeminist logic, women are doing it for themselves rather than men. That is, we are agentically 'choosing' to participate and find pleasure for ourselves in the same consumer-driven, hyperfeminine, glamorized body projects long used to construct us as passive spectacles for the male gaze." [9] The vision of Emily Weiss, 30-something CEO, helps drive Glossier's commodity feminist message, and its girls doing it for themselves entrepreneurial spirit is a core part of the brand's ideology. Not just in the products, but also in the female influencers and entrepreneurs featured on Into the Gloss and in Glossier's digital content. A key part of the brand's success is in the way it embodies the new discourse of self-care as an essential part of success in a 21st Century, neoliberal, 24/7 environment. In the words of Weiss herself, "happy is cool" and Glossier's success is built on the idea that the best way to project this is via dewy, glowing skin you can purchase. [10]
Image Credits:
1. @glossier (author's screenshot)
2. @glossier (author's screenshot)
3. Into the Gloss (author's screenshot)
4. The Hills: The Complete Second Season (author's screenshot)
Please feel free to comment.