Saving New Sounds: The Sonic Web
Jeremy Wade Morris/ University of Wisconsin-Madison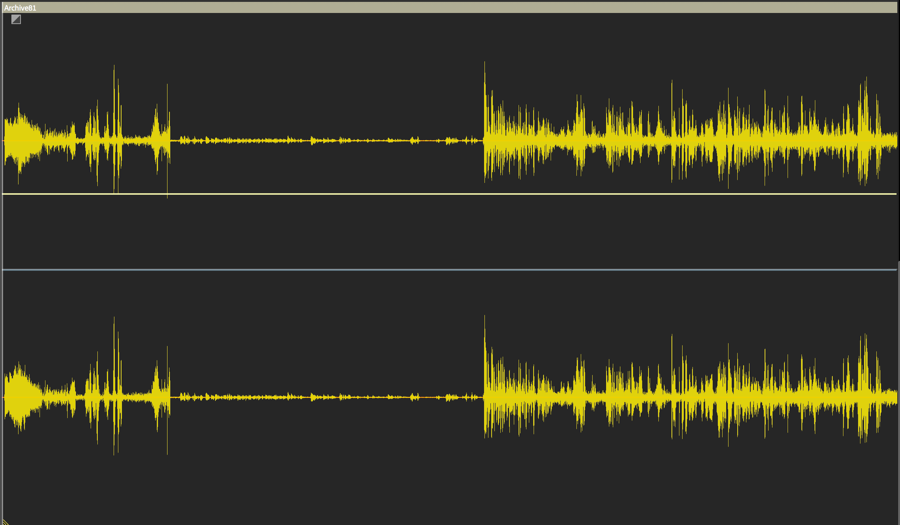 Screenshot of soundwave with absences
All web histories are marked by their absences – by what cannot be captured in a dynamic and often-changing environment of code, objects, pages, sites and spheres.[1] But web sounds are doubly vulnerable. First, most of the web archiving tools available today, like the Internet Archive's Wayback Machine, Archive.Today or Pinboard, are primarily built on visual metaphors and thus neglect, or at least push to the background, the role of audio. Second, preserving audio formats often requires preserving the sounds themselves as well as the technologies on which to play those sounds. Like so many other digital media, web audio is hard to hear not just because it is hard to find and save but because it is hard to know what to save along with it to make it playable in the future. Driscoll and Diaz's claim that 'the role of music, sound, and noise in computer games remains relatively under examined'[2] also applies to web sounds more generally, and even more acutely to attempts to preserve the longer history of the web's soundscapes.
The web has a rich sonic history, from early websites and bulletin board sites where users traded sound-related texts like MIDI files, song lyrics, guitar tablature, to the noises of new technologies and practices like the sound of the dial-up modem or 'You've got Mail!', to higher-bandwidth audio practices like file sharing, mp3 downloads, streaming music and podcasts. But the current tools for archiving and displaying this history are highly visual. The Internet Archive's Wayback machine, for example, can certainly help us to see what Napster's website looked like between 1998 and 2001, or what people were talking about in the forums of the web's popular sonic hangouts (i.e. Winamp, Shoutcast, Mp3.com, MySpace, etc). There's even early screengrabs of the Internet Underground Music Archive (IUMA), one of the earliest large-scale communities for sharing and selling sounds, discovering new music and connecting with independent musicians, dating back to 1996. But trying to access the sounds from website snapshots proves a difficult task.
Take the screenshot below: users can see that in 1996 the IUMA was boasting that the site was 'Now Real Audio Enriched!'. Though the images are missing, users can get a sense of the site's purpose and mission.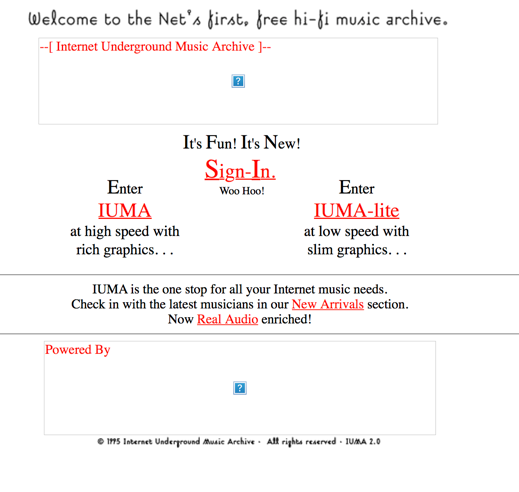 Screenshot of IUMA.com from the Wayback Machine Oct. 25, 1996
Clicking through the Real Audio link redirects users to another snapshot from Dec. 1996, a link which even retains some of the site's images. Users can select music by genre, or find bands by a specific location, by random selection, or by a direct search.
Screenshot of IUMA.com from the Wayback Machine Dec. 19, 1996
Here's where the history stops though…trying to navigate to any of the sonic content in these links returns error pages. At one point, I was promisingly redirected to a more recent page, from May 2003, but the mp3 and Real Audio links did not resolve.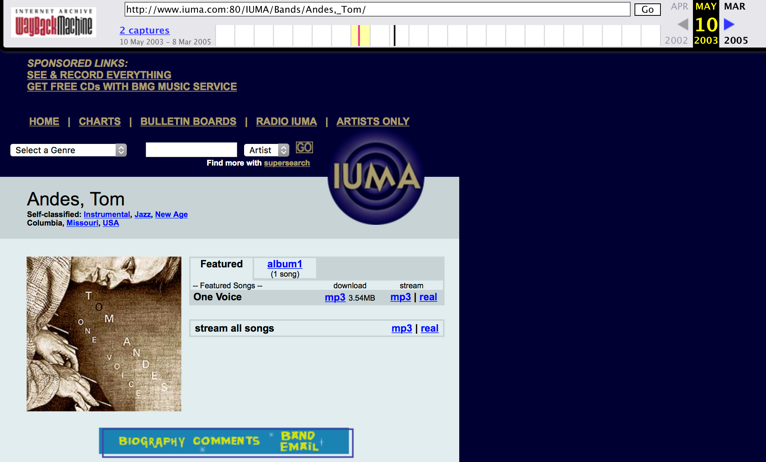 Screenshot of IUMA.com from the Wayback Machine May 10, 2003
Like so many of the other audio and media links in the Wayback Machine's archives, the source audio has either moved or is no longer playable. This snapshot-based approach to web preservation and display is crucial, allowing users to time-hop through various representations of the past, but it foregrounds the visual and ensures a site's text/layout is preserved while capturing less of the other media associated with historical sites. Even if I was somehow able to grab the Real Audio file, the likelihood of being able to play that file on today's technology remains slim. Before .mp3s, .m4as, AACs and wav files became ubiquitous, there were dozens of proprietary formats, like Real Audio, a2b, liquid audio, that never had the staying power of these more popular formats. Still, they hold pieces of the web's sonic past.
The Internet Archive is an amazing resource for scholars and historians, and its Wayback Machine is not the only tool for tracking down the web's sounds. The site has a robust audio collection of old radio, podcasts, community audio, audiobooks and a vast collection of live concerts. Following the thread above, they also have a sizeable collection of audio from the IUMA (over 45,000 files at last check), including one song by Tom Andes, the random artist I was redirected to above. Sounds like these are invaluable and some of the only remaining traces we have of these sonic communities. But they are also stripped of much of their original context. The IUMA sound collection provides access to sounds but doesn't really provide a sense of how these songs and sounds appeared within the original site. If the visual snapshots from the Wayback Machine are silent, the sound collections are hard to visualize.
Schafer's original conception of the soundscape is primarily a sonic one,[3] but the link to landscapes emphasizes how sound is shaped by the structures, bodies and objects that make up any given scene. On the Web, it's often not enough to save the sound of a particular song, technology or web object; the contextual material that helps create that sound must be preserved as well. Preserving the soundscape means preserving much more than just the sounds; it requires a multi-sensorial effort to document the Web in all its multi-mediated complexity. If 'digital sources necessitate a rethinking of the historian's toolkit,'[4] they also require rethinking how the very practices of archiving and historiography take place.
All history is marked by its absences. As Jonathan Sterne notes, the very endeavor of doing media historiography would not be possible without absence: 'It is the absence of the past, the impossibility of finding direct access to it, that makes possible the writing, reading, and contemplation of history. History's condition of impossibility— the irreducible distance of finitude—is thus its condition of possibility.'[5] We can recover sounds from the Web's past but even the most complete archive (like a download of all the IUMA files) is still merely an archive of fragments and gaps.
*Note: This paper expands on an analysis in the forthcoming chapter "Hearing the Past:
The Sonic Web from MIDI to Music."
Image Credits:
1. Screenshot of soundwave with absences (author's screen grab)
2. Screenshot of IUMA.com from the Wayback Machine Oct. 25, 1996 (author's screen grab)
3. Screenshot of IUMA.com from the Wayback Machine Dec. 19, 1996 (author's screen grab)
4. Screenshot of IUMA.com from the Wayback Machine May 10, 2003 (author's screen grab)
Please feel free to comment.