They're Just Like Us: Celebrity Civilianizing on Social Media
Elizabeth Affuso / Pitzer College
Taylor Swift posing with her cat Doctor Meredith Grey named after the character on ABC's Grey's Anatomy
With the proliferation of new media, stars are expected to engage with their fans on a near 24/7 basis via social media spaces like Twitter, Tumblr, and Instagram. These spaces provide a perceived access never before seen in the fan/star relationship. Using social media, stars—or their anonymous assistants—showcase the day-to-day aspects of their lives. These spaces are used to post pictures of their pets, their breakfast, their friends, and their opinions about current events. All of this material is designed to make stars seem relatable to the public, while maintaining the rarified nature of celebrity. This desire for relatability is especially pervasive for young female celebrities who utilize their social media to position themselves within girl culture to emphasize the "stars are just like us" narrative of contemporary celebrity. This column will be invested in interrogating how female stars use iconographies of girlhood to emphasize how normal, and by extension relatable, they are on Instagram. For the sake of space, it will focus on Taylor Swift's Instagram primarily in the era immediately after the release of her album 1989 (2014).
Many of the images circulating Instagram fall into the category that Yasmin Ibrahim has termed "banal imaging."[1] The images are what might previously have been termed candids and represent new forms of digital recording of the banal or quotidian enabled by the pervasiveness of cameras and the quantities of memory on smartphones. These forms of "banal imaging" have been codified around images of healthy meals, vacations, bathroom mirror selfies, cute pets, fun nails, throwback Thursdays, and inspirational quotes as the aspirational goals of a certain specific form of girlfriendship in post-recession era digital culture. Stars utilize these same tropes in order to play into the language of girly-ness and make themselves seem relatable to their followers, while at the same time maintaining a rarefied star-like quality to their images. Of this symbiotic relationship, Alice Marwick has noted, "'regular' selfies often emulate celebrity-related media."[2] This idea can be extended to say that celebrity selfies often also emulate regular selfies. The visual and technological language of these images works from the same vein enabled by the shared functionalities of technology across smartphones.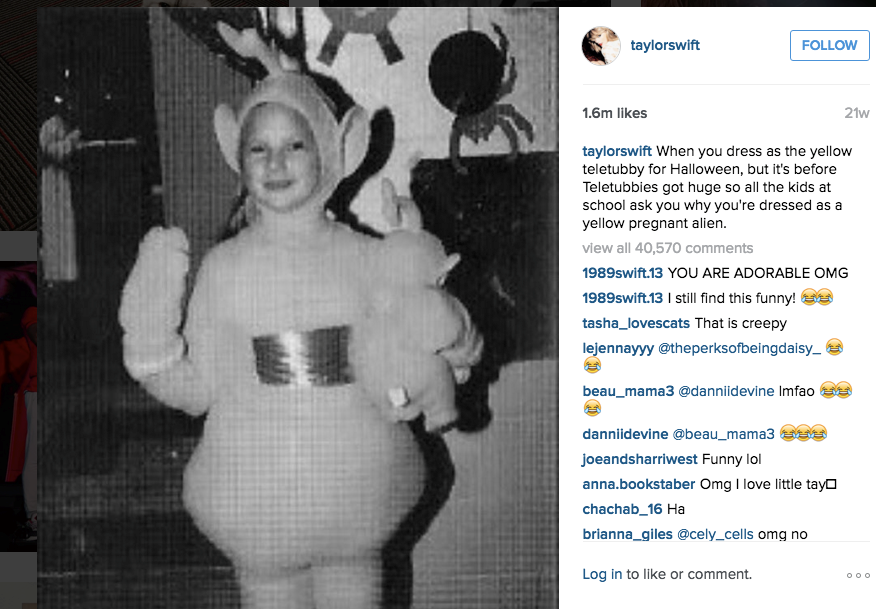 Throwback to Taylor Swift dressed up as a teletubby before they were cool
In recent years, Taylor Swift has been strongly associated with girl fandom and with the popularization of the idea of the girl squad—and its related hashtag #squadgoals. Of Swift, Megan Garber has written, "Swift is a performer not just of music, but of friendship. She takes the clichés of female camaraderie … and commercializes them."[3] The move toward girl friendship relates to Swift's own shift in branding away from the hapless, heartbroken romantic into a star who uses feminism and girl friendship as a tool of branding. This shift was centered on the launch of Swift's well-received 1989 album with its anti-shaming anthem "Shake it off." At the time, her social media was structured to mimic this shift in branding, positioning her best friendships with women such as Karlie Kloss and Selena Gomez front and center. This move towards girl friendship reflects a certain brand of celebrity feminism that is currently popular, with Beyoncé blaring feminism in lights and stars walking around in t-shirts proclaiming "The Future is Female."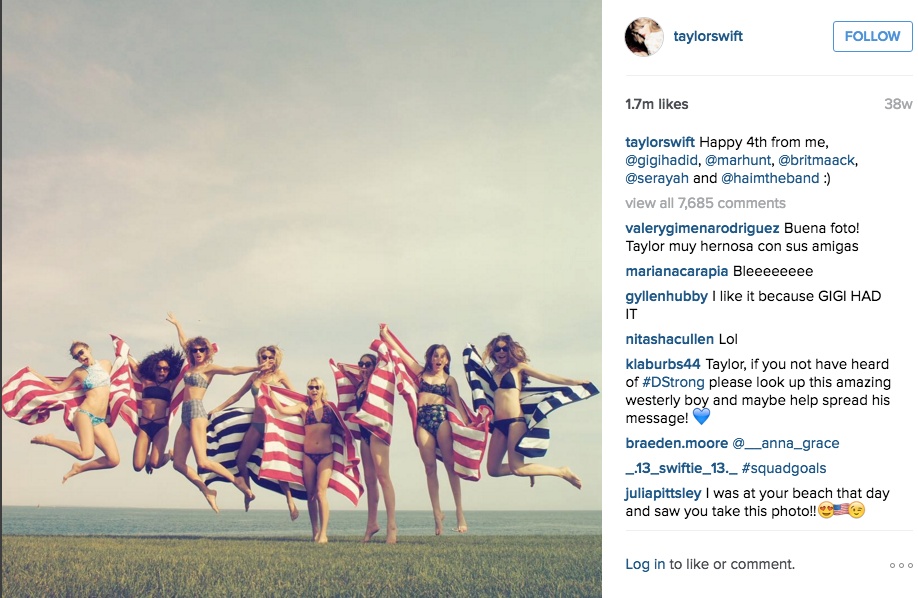 Happy 4th of July from Taylor Swift and her squad
This performance of friendship is not just depicted in images of friendship—though there are plenty of those—but also in the types of images that she chooses to share with her followers. The mixture of celebrity images of Swift performing and doing other labor coded as professional with banal images allows for Swift's photos to circulate seamlessly with those of "regular" users. In the temporality and structure of the Instagram feed, Swift's images integrate seamlessly with those of real friends and give off the impression of Taylor Swift as regular girl, sharing videos of her cats—the ultimate embodiment of the "stars are just like us" discourse of celebrity circa 2018.
We know that cats drive the Internet and Swift's cats are no exception, maintaining their position as stalwarts on her Instagram through her wipe and rebrand in advance of the release of 2017's Reputation. Swift's cats, Det. Olivia Benson and Dr. Meredith Grey, position Swift herself as a fan with the cat's names as references to the female protagonists of Law and Order: SVU and Grey's Anatomy respectively. Swift is deliberately branding herself as a fan or even a super fan, but what sets Swift apart is that her fandom does not require the same distance from the actual object as regular fans are subject to. When regular fans encounter celebrities like Swift, it's primarily at events designed for fan engagement such as concerts or talk shows, but Swift now counts Mariska Hargitay, the actress who plays Det. Olivia Benson, as a member of her girl squad. Images of the feline Olivia Benson and Meredith Grey embody the limitations of the "stars are just like us" narrative in that "stars are just like us," they have cats named after characters that they love, except that their cats fly private and use MTV awards as chew toys.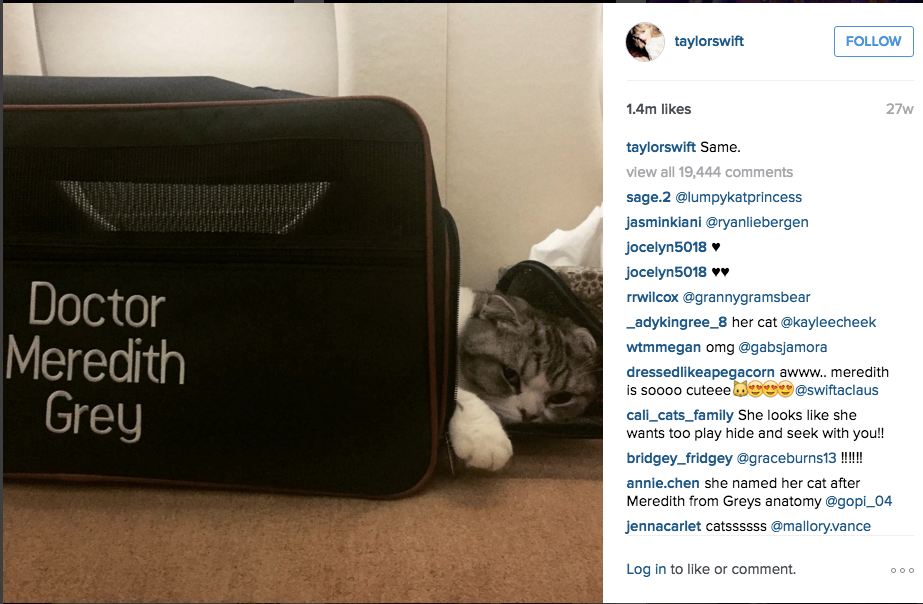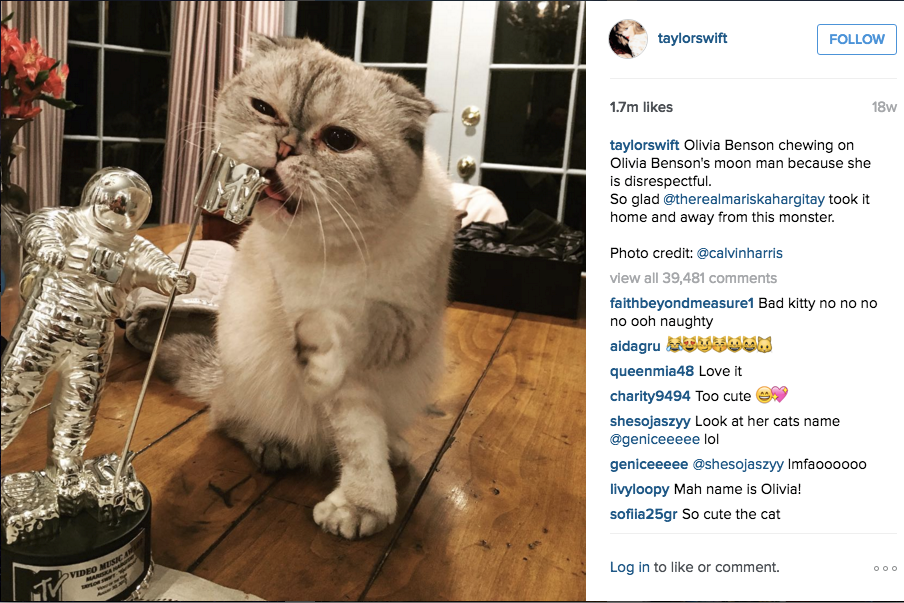 Taylor Swift's cats Doctor Meredith Grey lounging while flying private (top) and Detective Olivia Benson chewing on the real Mariska Hargitay's MTV award (bottom)
This alignment with fandom is something that Swift does again and again in her Instagram and it speaks to the cultural position of fandom in contemporary culture. No longer the province of nerds or geeks, fandom is mainstream enough that the queen bee of the ultimate girl clique, Swift's squad, is happy to identify herself with it and to use it as a tool of relatability and the sanctioning of a certain kind of life. One that includes the markers of a luxurious version of girlhood complete with foodie 4th of July BBQs, Caribbean vacations, nail art, and boutique workouts. These forms of aspirational images pervade Instagram, driving the staging of images to meet these goals and encouraging the aestheticization of everyday life not just for celebrities, but for everyone.
This interest in banal imaging speaks to larger questions about labor and participation in digital culture. As with many banal images, these candids are not positioned as part of Swift's work life, but rather as leisure images. This divide is complicated by Swift's position as a celebrity where every part of public self is essentially work, including the images that are designed to explicitly not seem like work. Contemporary celebrity culture is full of images of celebrities seemingly living their real lives, from the paparazzi images of stars at Starbucks and the gym that fill up tabloids and gossip blogs, to the pet photos, domestic still lifes, and selfies shared on Instagram. Of these social media images, Alice Marwick has written that stars, "provide snapshots of their lives and interactions with followers that give the impression of candid, unfettered access."[4] Thus, the appeal of these images is that they seem to be not part of public life, but rather a glimpse into the private lives of stars in their off work time, as if they are ever off work. And indeed, in the 24/7 affective network of contemporary culture, it raises questions about whether anyone is ever off work, celebrity or otherwise. As critic Rebecca Solnit has written, like TV shows, "life now had ratings."[5] The tools of celebrity are no more rarefied, but rather ordinary tools of making and consumption.
Image Credits:
1. Taylor Swift's Instagram account (author's screengrab)
2. Taylor Swift's Instagram account (author's screengrab)
3. Taylor Swift's Instagram account (author's screengrab)
4. Taylor Swift's Instagram account (author's screengrab)
5. Taylor Swift's Instagram account (author's screengrab)
Please feel free to comment.