The Friction of Digital Markets
Ramon Lobato / RMIT University
Reed Hastings on Stage at CES in Las Vegas, 6 January 2016
In January 2016, Netflix CEO Reed Hastings stood on stage at the Consumer Electronics Show in Las Vegas to announce that the Netflix streaming service had just gone global.
As Hastings read from the teleprompter, Netflix engineers at the company's headquarters in Los Gatos were switching on – effectively 'geo-unblocking' – the service in 130 new countries, bringing the total of official Netflix markets to more than 190. "Whether you are in Sydney or St Petersburg, Singapore or Seoul, Santiago or Saskatoon, you now can be part of the internet TV revolution," Hastings promised. "No more waiting. No more watching on a schedule that's not your own. No more frustration. Just Netflix."
Almost two years later, it is instructive to reflect on this virtual roll-out. What can Netflix's experience tell us about the relationship between over-the-top television, national media policies, and global audiences?
I have been recently researching the international (mis)adventures of Netflix for a forthcoming book, while Amanda Lotz and I have been working with our colleagues in the Global Internet TV Consortium to pool comparative insights on the topic. Below I discuss a few of the ideas that have emerged from this research.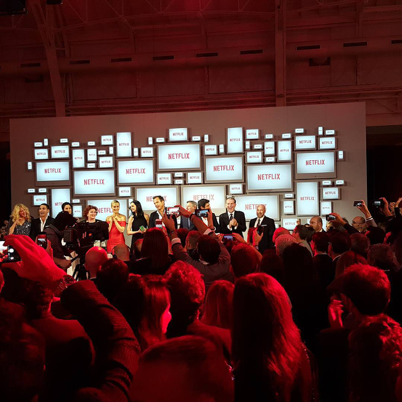 Netflix Arrives in Italy: Launch Event, Oct 2015
Political Blowback
Rather than being a borderless, "flat" space of exchange, digital markets are sites of friction. Netflix's international expansion has been messy, difficult, and controversial, often entangling the company in political debates that are only partly of its own making.
On the cultural policy front, Netflix is facing the prospect of new regulations designed to protect local content production and distribution. The EU has led this charge, proposing a 30% European content quota as part of the revised EU Audiovisual Media Services Directive. This would apply for the first time to foreign streaming services, including Netflix and Amazon Prime Video, and these measures have been justified by European Audiovisual Observatory research showing a very strong Hollywood bias in Netflix catalogs. [1] The EU may also require streaming services to adjust their algorithms so that the recommendation of European content is prominent.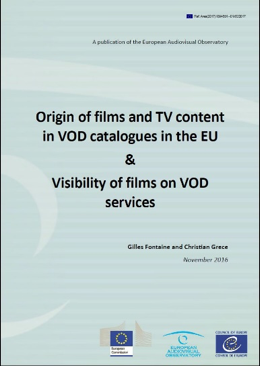 The European Audiovisual Observatory's Crucial Report on VOD Catalogs
Similar debates about local content policy are underway in many Anglophone countries, especially Canada, the United Kingdom and Australia, where the Netflix effect poses a direct challenge to national broadcast and pay-TV services. In these markets, Netflix is generally loved by audiences but also mildly feared as a new vehicle of U.S. cultural domination. Canada and Australia have recently conducted major reviews (AU, CA) of television and local content policy, prompted in part by Netflix's market impact. [2]
Taxation is another contentious issue. Policymakers in Japan, New Zealand, Australia, parts of the EU, and various North American cities and states (including Alabama, Illinois, West Virginia, Maine and Quebec) have recently introduced "Netflix taxes" – consumption-based levies on digital subscriptions – in an attempt to stop revenue leakage. Netflix is also being scrutinized for using the same kind of profit-shifting strategies as other Silicon Valley companies. A recent Financial Times report (paywall) notes that Netflix declared annual revenue of £30 million and negligible profit in the United Kingdom, which has raised eyebrows given the company is estimated to have 6.5 million British subscribers and should therefore be generating approximately £400 million annually in the U.K. alone.
Censorship and content restriction is also a concern for regulators in many Asian markets, especially India, where Netflix faces pressure to modify content to comply with local norms. An age-verification system has recently been introduced for Netflix subscribers in Korea and Singapore, in line with local laws protecting minors from harmful content.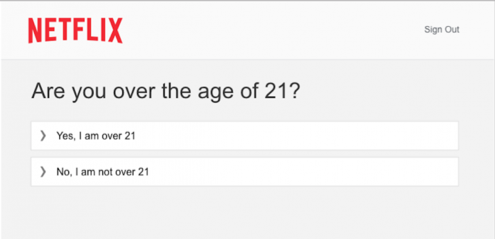 Netflix Age Restriction System for R21 Content in Singapore
Meanwhile, government agencies in Russia, Kenya and Indonesia have all voiced concerns about Netflix's "unlicensed" status. As an over-the-top service, Netflix does not usually require a license to operate, nor does it provide the regulatory compliance and political patronage that is expected in many countries. This inevitably leads to tension. The licensing issue was a major sticking point in Netflix's long-running negotiations with the Chinese government, which were abandoned in April.
Understanding the Geography of Complaint
There are some broad patterns here worth considering. The first pertains to the relationship between market impact and political blowback.
Netflix is most closely scrutinized by regulators in those countries where it attracts significant audiences and actively competes with local television companies for market share – especially in the Anglosphere and Western Europe. In most other parts of the world, governments generally pay less attention to Netflix because it is considered a niche service used by a small group of broadband-connected elites and expats (as seems the case in the Middle East and in most of Africa). Netflix's level of policy blowback tends to correlate to its level of market impact.
The nature of complaint also changes as we move from country to country. In rich Western states, anxieties around Netflix relate to cultural imperialism, local content and taxation. In other parts of the world, policymakers are more likely to be concerned with censorship and state sovereignty. It will be worthwhile to continue tracking these patterns as the global user-base for internet television expands and evolves.
Back to the Future?
As well as tracking these policy debates across space, it is also important to think about how they evolve over time.
Netflix is the first and most important global SVOD service, but its experience in international markets is not unprecedented. The challenge it faces in adapting to local conditions, regulations, and audience expectations has a direct precedent in earlier forms of transnational media.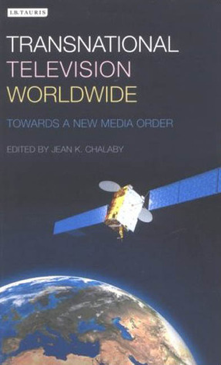 Netflix and Satellite Television: History Repeating?
Satellite television is of particular interest here. Jean Chalaby has studied the challenges faced by U.S.-based transnational channels such as MTV as they tried to enter European markets during the 1980s and 1990s. Many channels were initially "unsure how to transmit across boundaries and were at first oblivious to local culture and market conditions," and had "overestimated audience appetite for foreign [U.S.] programming." [3] Struggling to gain traction in Europe, they underwent an expensive process of localization – including translation into local languages, hiring multilingual presenters, and producing original content for those markets.
These are the precise challenges facing Netflix, which seems to be responding in much the same way as its predecessors — by localizing itself. This is evidenced by its multi-billion dollar original content push and its significant investment in localization and translation infrastructure.
In David Morley and Kevin Robins's Spaces of Identity – another foundational book on satellite television – the authors describe changes in the cultural geography of media distribution in Europe during the satellite age. They emphasise the disconnect between the "enlarged audiovisual spaces and markets" [4] of satellite television and the stubborn locality of taste, language and identity in European nations. They conclude:
The question that we must now consider is how this logic [of market expansion] unfolds as it encounters and negotiates the real world, the world of already existing and established markets and cultures. [5]
Twenty years later, this appears also to be the main issue with Netflix. As Reed Hastings has discovered, the fully-digital global market is a pipedream: the reality of doing business in hundreds of markets simultaneously is messy and difficult, and governments are actively pursuing ways to extend national sovereignty online.
Internet delivery, rather than overcoming space, seems instead to be intensifying existing frictions of global media distribution.
Image Credits:
1. Reed Hastings on Stage at CES in Las Vegas, 6 January 2016
2. Netflix Arrives in Italy: Launch Event, Oct 2015. Image credit: Luca Viscardi
3. The European Audiovisual Observatory's Crucial Report on VOD Catalogs
4. Netflix Age Restriction System for R21 Content in Singapore
5. Netflix and Satellite Television: History Repeating?
Please feel free to comment.