Competition, Economics, and Social Trends: Assessing the Value in Kids Cooking Shows
D. Jordan Davis / Independent Scholar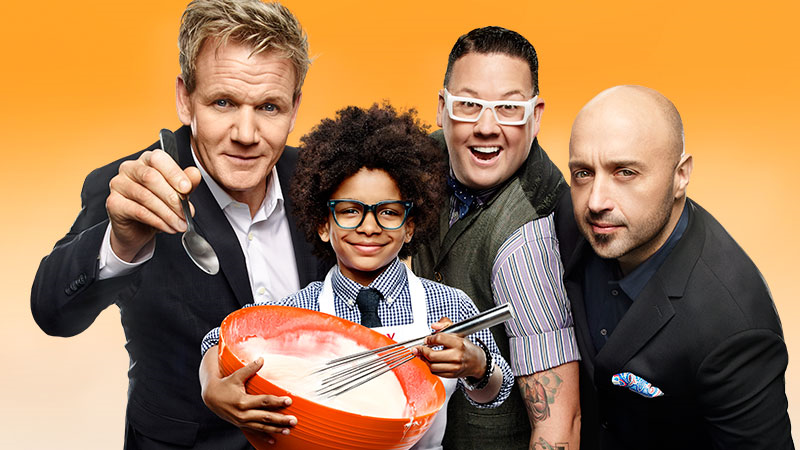 MasterChef Junior's Gordon Ramsay, Season 3 contestant Cory Nieves, and judges Graham Elliot and Joe Bastianich
They barbeque. They deep fry. They sauté. Today's TV kids aren't just cute—they're fierce cooks in the kitchen. And they've become a staple of primetime programming. Food Network produces most kids cooking shows, with popular programs such as Chopped Junior and Kids Baking Championship now mainstays in its evening lineup. FOX is the home of Gordon Ramsay's MasterChef Junior, and Man vs. Child: Chef Showdown airs on FYI. A subset of the reality TV competition genre and patterned after similar shows featuring adult chefs, these programs capture the joy of culinary creation, and the agony of leaving a basket ingredient off the judges' plates. Yet, they also capture the sweet dreams of kids who just want to cook. It's a potent combination that's fueling ratings, business, and debate.
The success of kids cooking programs has been generated by the viewers who watch: kids and their parents. Citing Nielsen data, Food Network Senior VP-National Ad Sales Karen Grinthal said, "Kids love watching Food Network and it's a family event. It's not surprising that 60% of kids age 2-to-17 watch key Food Network shows with their parents."1 Reaping the benefits of audiences and advertising dollars, Food Network looked to expand its foothold on the kids cooking show market by introducing three new shows in 2016: Kids BBQ Championship, Food Network Star Kids and Kids Sweets Showdown.2 MasterChef Junior completed a successful Season 4 in January, solidly performing on Friday nights, and will begin Season 5 on February 9, 2017. These shows are part of a larger trend involving upscale cooking "driven by other, more-adult trends: healthier eating; the desire for more family time; building kids' self-sufficiency; the globalization of food and the emergence of cooking and eating as an American pastime."3 While these shows are a boon to advertisers, they are also a boon to other businesses. Kid-friendly cooking magazines such as Ingredient and Butternut have cropped up, and upscale play kitchens have hit the market featuring dark-wood cabinets and imitation stainless steel appliances.4 Additionally, local culinary schools have seen enrollment spikes for cooking classes. In Richmond, Virginia, for example, Edible Education experienced an increase in 2016 after two of its youngest students were featured on Chopped Junior. One student, Claire Hollingsworth of Moseley, won the competition at just 10 years of age. Sur La Table's Chef Lynne Just sees the connection between the kids who watch these shows and their desire to learn about cooking. "There is definitely a correlation! We hear it from our class participants all the time!" she said.5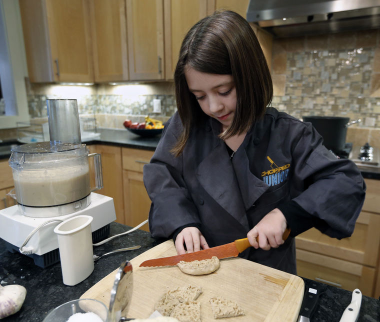 Chopped Junior winner Claire Hollingsworth
But Chef Ann Butler of Edible Education worries about the effect these shows are having on young viewers. "It was exciting to ride out the month's worth of press – but we did not focus on that as we are a cooking school to get kids excited about real food – not to compete. I find it daunting that the only kids cooking shows are about competition."6 Indeed, the hook of these shows is the competitive element, the drama of cooking against a clock. In her essay "On the Line: Format, Cooking and Competition as Television Values," University of Milwaukee-Wisconsin associate professor Tasha Oren outlines how the format of competitive cooking shows differ "from the cooking instructional's closed-form certainty—where the object under preparation is pre-determined—to a form of narrative suspense, conflict, humiliation and failure…Competition cooking shows trade on displacement, confusion and discomfort as important pre-conditions to productivity. As much as beautiful dishes, skillfully made, they also offer stress, discord and reproach."7
Similar to other competition cooking shows featuring adults, kids are shown hurrying around the kitchen in a panicked state. They juggle multiple tasks such as cutting, mixing, frying, and baking to turn their ingredients into something not just edible, but prize-winning. And in order to win, the dishes prepared must demonstrate an advanced level of culinary expertise and creativity. "It is the only depiction of kids cooking," Chef Butler said. "The kids are stressed, and not average ability – they are super culinary kids. Everyone thinks if my kid cannot perform at that level, they should not cook."
Butler's comments further speak to food having taken on the mantle of high art in the 21st century, and the challenges associated with home food preparation being elevated to a competitive level. The importance of learning to cook at any level as well as the joy of cooking may be lost, and the goal of healthy eating at a young age may be subverted by the lure of being a champion. "Now, it's socially acceptable for a kid to be a food phenom comparable to a sports or arts phenom," Karen Grinthal said.8 Similar to excelling in sports or the arts, it takes money to cultivate culinary expertise through quality ingredients, utensils, and cooking classes. Kids without access to these things may be able to watch their peers cook on TV, but the reality of preparing what they see is out of reach.
MasterChef Junior crowns its first winner, Alexander Weiss
However, experts see the positive value of competition and kids cooking shows. "Competition can be good for children," writes Dr. Cynthia E. Johnson, an Extension Human Development Specialist. "It can help children develop healthy attitudes about winning and losing. Competition can encourage growth and push a child to excel."9 Joyce Meagher, a Licensed Professional Counselor, concurs in her assessment of these shows. "Several of the contestants talked about having a passion for cooking since age 3 or so; I think role-modelling a passion for ANYTHING is a great lesson for viewers! Even the losers shared an optimism to continue on their personal journeys, which is what all of us want for our children and grandchildren. Striving for a personal best at anything creates the leaders of tomorrow!"10
There may be other positive elements on display. Kids on cooking shows tend to be…kids. They demonstrate compassion and cooperation more so than their adult counterparts on similar shows: sharing ingredients when possible, high-fiving or hugging when the competitive rounds are over, offering words of encouragement when the losers go home. From a diversity perspective, kids cooking shows feature contestants of various ethnicities and provide exposure to different food cultures. From a gender perspective, they feature young girls in an environment historically dominated by men. In the mid-2000s, Food Network revamped its programming lineup and placed its domestic-themed, female-led cooking shows during morning dayparts, while evening dayparts predominantly featured male "chefs" experiencing food outside the home.11 Seeing young girls in a professional cooking environment during primetime normalizes their presence as future members of the food industry and provides young girls at home with a reinforcement that gender is not a barrier to success.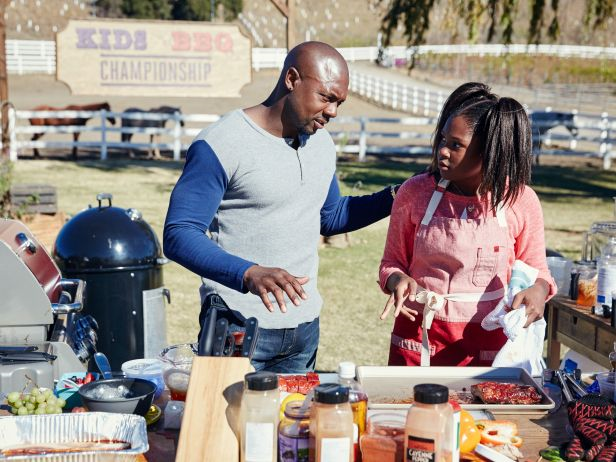 Kids BBQ Championship contestant Paris Hale receives advice from judge Eddie Jackson
In summary, the proliferation of kids cooking programs shows no signs of coming to a slow boil. Their impact reaches across several economic sectors including advertising, toy manufacturing and local culinary schools. There are social and cultural implications as well. Kids cooking on TV exposes young viewers to the possibilities in the kitchen and in life, but due to the competitive program format, the reality of preparing meals at home may be skewed. The door is open for further examination of how these shows affect kids. Will they view competition as healthy? Will they continue the trend of making home-cooked meals? Will they be the Alex Guarnaschellis and Bobby Flays of tomorrow?
Please feel free to comment.
Image Credits:
1. MasterChef Junior
2. Chopped Winner
3. Kids BBQ Championship