Interrogating Female Selfhood, Styled Identity Performance, and Visuality in Gossip Girl
Meg Hansen / Dartmouth College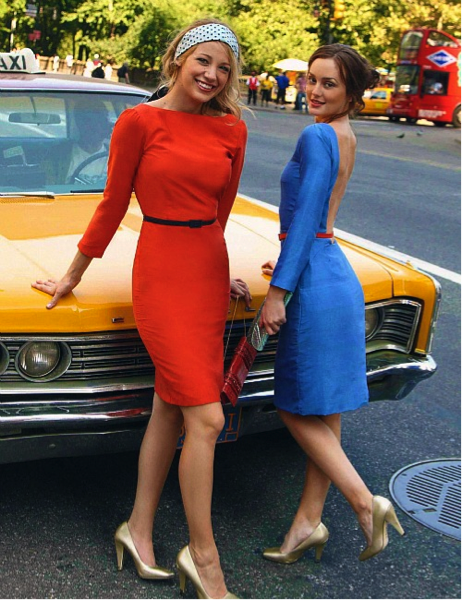 Serena van der Woodsen (Blake Lively) and Blair Waldorf (Leighton Meester) in Gossip Girl.
The postmodern moment, saturated with technologically manipulated and hyperreal images of female beauty, warrants a reevaluation of how female beauty and selfhood are (re)constructed in relation to the aesthetic apparatus. The aesthetic apparatus includes all material elements (clothing, accessories, and beauty products) used to cultivate and present one's self, in what I term, the styled identity. To examine the ways in which the social concepts of beauty and styled identity are informed by materiality, discourse, and textuality, the following essay employs a 'co-productionist' framework, as defined by Sheila Jasanoff in her essay, "The idiom of co-production":
[T]he co-productionist framework is understood as neither a simple reflection of the truth about nature nor an epiphenomenon of social and political interests. Rather, co-production is symmetrical in that it calls attention to the social dimensions of cognitive commitments and understandings, while at the same time underscoring the epistemic and material correlates of social formations. [1]
Josh Schwartz and Stephanie Savage's television show Gossip Girl (2007-2012) [2] is particularly useful to this inquiry, as it provides unique commentary on the female self and body as material and discursive phenomena. The show employs the aesthetic apparatus, not merely as a prop or spectacle to disrupt the narrative flow, but as an integral tool to construct the styled identity and selfhood of the two heroines: Serena van der Woodsen (played by Blake Lively) and Blair Waldorf (Leighton Meester).
While conceptualizing the show, Savage hired acclaimed costume designer Eric Daman to create distinct styled identities for the protagonists, as she wanted narrative and aesthetic elements to play equally significant roles in character development. Savage elaborated, "I find it hard to imagine the characters without thinking of how they express themselves through their clothing". [3] Thus the aesthetic apparatus serves as a language system that attributes various meanings to material objects, inspires discursive reflection on the same, and thereby contributes to creating styled identities that are performative and reproducible in nature.
To establish the performative nature of the styled identity, I turn to Jacques Derrida who argued that iterability, or the "capacity of signs to be repeated in new situations and grafted onto new contexts" [4], forms the true precondition of performativity. Specifically, he discussed the example of the personal signature, which is endlessly reproduced by the individual as a testament to authenticity but can also be recreated as an imitation. [5] Similarly, the styled identity is also reproduced via the 'signature piece' – a fashion item worn so frequently by a character that it comes to signify her very being. In Gossip Girl, Blair's headbands and the color gold for Serena form a material-discursive link that collapses the divide between the object and subject, thus conflating self-presentation and selfhood.
Not only does Blair constantly wear headbands, but she also requires members of her exclusive clique at Constance Billard High School to follow suit as a mark of allegiance. In a sense, the headband serves as a tiara, symbolizing her status as the teenage queen of high society in Manhattan's Upper East Side. When Blair learns that she had not been admitted to Yale University because of Serena's actions, she confronts the latter in a physical altercation. During the fight, Serena grabs Blair's headband, tramples on it angrily and declares, "I hate that stupid headband" ("New Haven Can Wait"), thus treating the accessory as a substitute for Blair the young woman.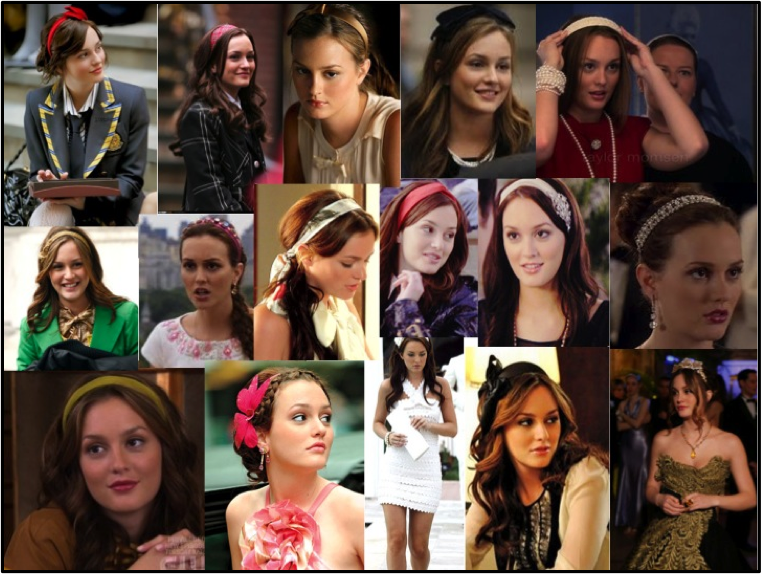 Blair Waldorf's style-signature, the headband, as depicted in Gossip Girl.
In another incident, when Jenny Humphrey (Blair's one-time protégé) finds herself embroiled in an ugly feud with Blair, she proclaims, "Your era is over. And so is that headband" ("They Shoot Humphrey's, Don't They?"). And when Blair graduates, Jenny and the other schoolgirls commemorate the occasion by rejecting Blair's tyrannical social rulebook and announcing, "There is no more hierarchy. The steps of the Met will no longer be restricted to a certain crowd. No more Nairtinis. No more headbands. Let freedom reign" ("Dan de Fleurette;" emphasis added).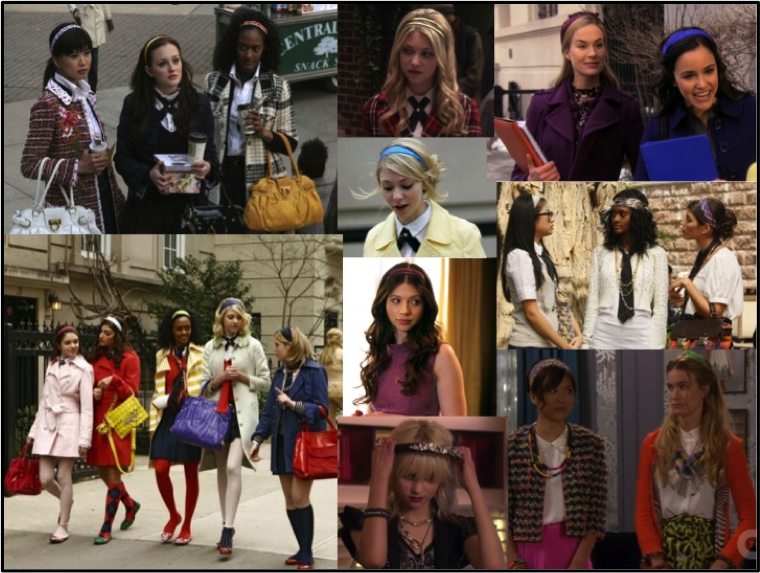 Blair Waldorf's styled identity, symbolized by the headband, reproduced by various female characters in Gossip Girl.
Similarly, the show establishes Serena as its golden girl by portraying her in striking gold-colored apparel during key moments. For example, she wears a gold tunic by Tory Burch on her first date with male protagonist Dan Humphrey; a splendid gold Pamela Dennis gown as a debutante at the Manhattan Cotillion ball; and a sparkling disco-inspired gold sequin dress by Diane von Furstenberg at the Rhodes-van der Woodsen family reunion. In the series finale, she appears in a gold-and-white Georges Chakra couture dress looking, in the words of Daman, like a glorious "Oscar award". [6]
The materiality and discourse related to gold-colored clothing construct Serena the woman as a golden goddess – an identity that can be accessed and reproduced by others. When Ivy Dickens (a charlatan posing as Serena's estranged cousin Charlotte Rhodes) becomes envious of Serena, she borrows her gold debutante dress without asking in order to dress like and therefore, become Serena. It is also interesting to note that Blake Lively began emulating her character's styled identity in real life. Daman observed that Lively began modeling her personal wardrobe after Serena's styled identity, describing the convergence as a "symbiotic relationship" that grew steadily over time. [7]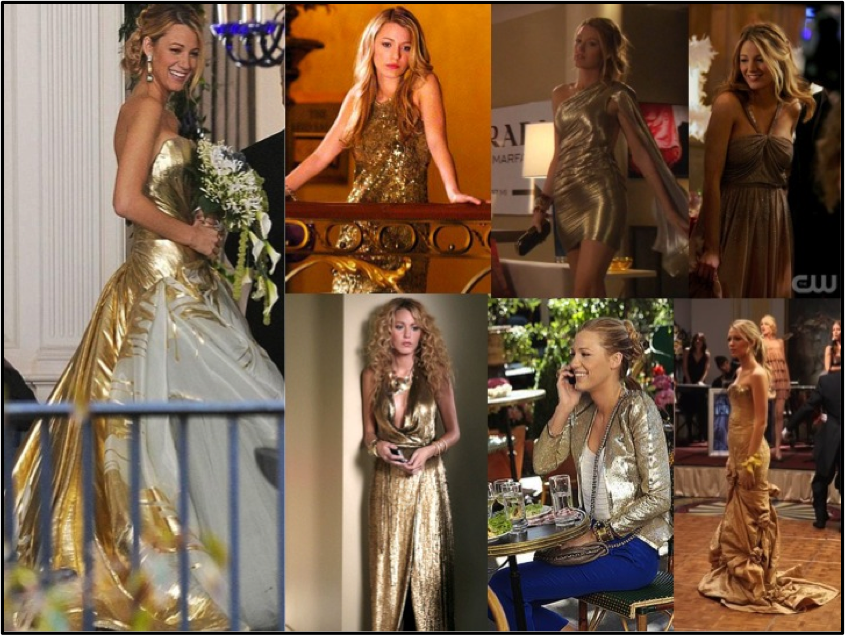 Serena the Golden Goddess. Top left to right: Serena's wedding day (Season 6.10 "New York, I Love You XOXO"); Serena's first date with Dan Humphrey (Season 1.5); Serena's biological father returns (Season 3.21 "Ex-Husbands and Wives); Serena's high school prom dance (Season 2.24 "Valley Girls"). Bottom left to right: The Rhodes-van der Woodsen family reunion (Season 5.9; "Rhodes to Perdition"); Serena in Paris (Season 4.1 "Belles de Jour); The debutante ball (Season 1.10 "Hi, Society").
Understanding the co-productionist dynamic between the styled identity and the construction of female beauty and selfhood in Gossip Girl enables "intimate dimensions of self to be written into dress and fashion," which in turn, facilitates important investigations into the "social nature of subjective experience". [8] Thus by situating interrogations of female identity formation within broader networks of visual and material cultural knowledge, the show establishes a dialogic on visuality and the role of aesthetics as it relates to female identities, and offers fertile ground to interpret femininity and its discontents in the specular economies of postmodern media and culture.
Image Credits (all author's screencaptures and collages, courtesy of The CW Television Network):
1. Serena van der Woodsen (Blake Lively) and Blair Waldorf (Leighton Meester) in Gossip Girl.
2. Blair Waldorf's style-signature, the headband, as depicted in Gossip Girl (author's collage).
3. Blair Waldorf's styled identity, symbolized by the headband, reproduced by various female characters in Gossip Girl (author's collage).
4. Serena the Golden Goddess (author's collage).
Please feel free to comment.