Shady is the New Black
Bambi Haggins / Arizona State University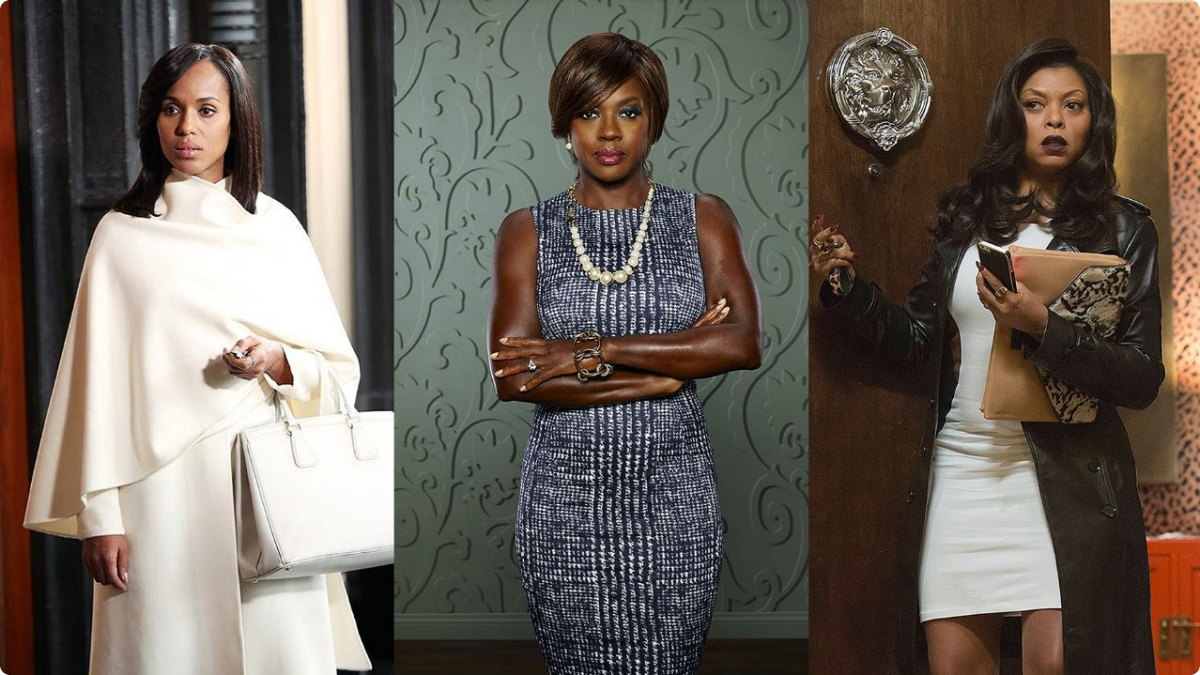 The "Shady" Protagonists
In the Urban Dictionary, there are multiple definitions of the word "shady"— "sly," "corrupt," "sketchy," and "underhanded." Yet, despite the negative tenor of this popular parlance, in terms of protagonists in quality drama on television, shady is the new black—literally and figuratively.
Given that the televisual preeminence of the Super Negro—and, later, African American—has waned over the years, how does the new televisual visibility of Black women change the idealization paradigm, which used to assuage the misgivings of mainstream audiences? By reflecting on notions of taste and quality in television in relation to Olivia Pope (Kerry Washington) in Scandal (ABC 2012-present), Annalise Keating (Viola Davis) in How To Get Away With Murder (ABC 2014-present) and Cookie Lyon (Taranji P. Henson) in Empire (Fox 2015-present), this brief rumination offers thoughts on how and why those who would formerly have been Supers have become progressively more shady.
Pierre Bourdieu states, "[Taste] functions as a sort of social orientation, a 'sense of one's place,' guiding the occupants of a given…social space… towards the practices or goods which befit occupants of [their] position."[1] Thus, for Bourdieu, taste, the ability to make discriminating judgments about the aesthetic and the artistic, is inextricably tied to class. However, race and/or ethnicity and/or gender surely play a role as well. When thinking intersectionally about the ways in which a "sense of one's place" is constructed and enforced, the word "discriminating" takes on a dual meaning. While Mary Douglas and Baron Isherwood state that "Goods are neutral, their uses are social; they can be used as fences or bridges," I can't help wondering whether aesthetic and artistic "goods" (read: television) can ever be seen as neutral or separated from the social.[2] In actuality, television—especially shows lauded as "quality"—are always both "fences and bridges."
Quality and taste are highly subjective. However, what is considered quality is determined by taste, which, in turn, depends upon myriad elements. This brings me to an astute observation from Noah Berlatsky of The Guardian regarding #OscarSoWhite: "Prejudice is solidified, and enforced, through institutions. But it starts out as an aesthetic preference– a dream about who is good and who is bad, who matters and who doesn't."[3] In quality television, more traditional heroes have been replaced by decidedly darker fare, antiheroes such as the neurotic mobster and family man, Tony (James Gandolfini) on The Sopranos (HBO 1999-2007) and Walter White (Bryan Cranston), the science teacher turned meth kingpin on Breaking Bad (A&E 2008-2013). Clearly, Tony and Walter are shady but their reprehensible acts do prevent the audience from having moments of identification and even genuine empathy for them—a sort of narrative white male privilege. Olivia Pope, Annalise Keating and Cookie Lyon are in more precarious positions which require that something, besides the vestiges of Black exemplarism and questionable archetypes of Black womanhood, cut the shadiness: suffering seems to be required in order for them to be redeemable.
Three Shades of Shady
The powerful women leads of Scandal, How to Get Away with Murder, and Empire represent three shades of shady with a healthy side of suffering. Olivia Pope maintains the closest connection to the Supers of the past and is "elegantly shady." Kerry Washington's Olivia exudes exemplarism: the Prada-clad "gladiator in a suit" "handles" crises, wields power for the benefit of the elite and the underdog and embodies privilege as a product of her 1% upbringing. Yet, her "white hat" status is problematic: she stole a presidential election, covered up crimes, condoned torture (for a "good" cause), and had an affair with the President of the United States (Tony Goldwyn), which went legit before going wrong. Olivia's elegantly shady is inflected by Sally Hemmings/Jezebel tropes even though, in the Shondaland spirit of colorblindness, her Blackness is served up more as narrative garnish than a culturally specific entrée. Yet, Olivia's suffering is personal and public: from her "troubled" parental relations (her mom, believed dead, is actually a terrorist; her distant father leads a secret Black Ops organization and is her constant foe) to her relationship with Fitz, which leads to her being held hostage and in danger of being sold to the highest bidder on her way to becoming the de facto First Lady, a constricting role she is ultimately compelled to reject.
Viola Davis portrays the badass version of elegantly shady as Annalise Keating, a brilliant law professor and defense attorney, who inspires both fear and awe. Ethically-challenged and fiercely independent, the designer-clad and coiffed Annalise teaches a class on "How To Get Away With Murder." She is driven to clear her clients, manipulate the legal system, and control her personal relationships, whether with her husband, Sam (Tom Verica), her cop lover, Nate (Billy Brown), or her elite student corps, particularly, Wes (Alfred Enoch), of whom she is uncharacteristically protective. Despite the colorblind ethos that informs the series (also a Shondaland product), Annalise, formerly Anna Mae, and her litany of traumas (including sexual abuse, the loss of a child and the violent and complicated death of a husband) resonates with painful aspects of Black womanhood. HTGAWM survives its outlandish narrative twists more because of what Davis brings to the screen than what is written on the page—as illustrated in the scene that set Black Twitter aflame, when Davis made the choice to remove her wig in a particularly dramatic moment of frustration and vulnerability.
Then, there is Cookie Lyon, played by Taranji P. Henson, the breakout star of Empire. From her first scene, clad in a skintight leopard dress and a fur, when released from a 17-year stint in prison for drug trafficking, Cookie is clearly a force of nature. While arguably, Lee Daniels and Danny Strong's series is essentially Dynasty meets Love and Hip Hop, Cookie is a noble diva: a Black woman who is down with those she loves no matter what, through it all, the good and the bad, she is "ride or die" shady. Cookie is a fierce matriarch, who, having been separated from her children, seeks to win back their love and to protect them from any threat—including their father, and the love of her life, hip hop mogul, Lucious Lyon (Terence Howard), her charming and deadly ex who used her drug money to fund his music career before divorcing her. While Cookie's sassy, sexualized and street construction can be seen as problematic in that it plays into various stereotypes of urban Black femininity, her suffering is taken as matter of fact—it is what it is, which is disheartening for other reasons. Empire's Cookie is not as complex or conflicted as either Scandal's Olivia or HTWAWM's Annalise. Yet, of the three, she is the least damaged and damaging to those around her despite the trauma she has endured (poverty, incarceration, abandonment), and because of her unwavering sense of self. She is also unapologetically Black.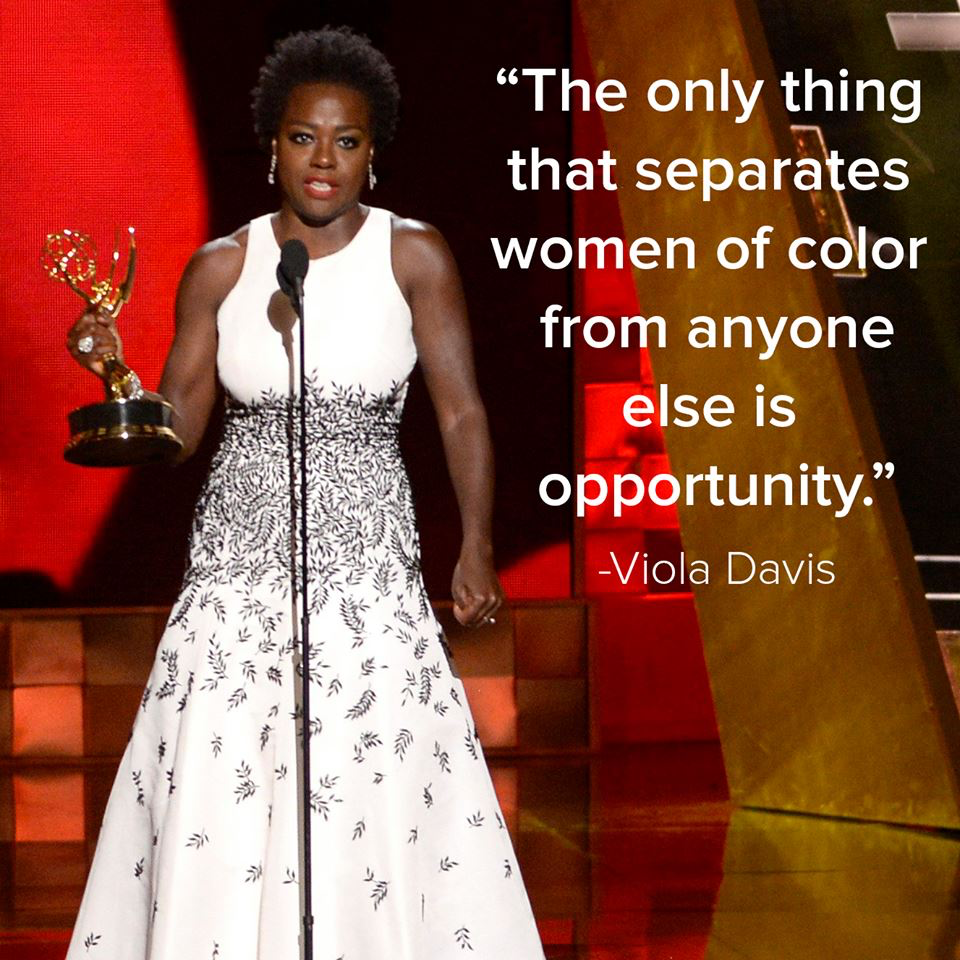 Viola Davis' Emmy Acceptance, 2015
Olivia, Annalise and Cookie may signal more expansiveness in televisual representations of Black women. The passionate assertion about opportunity made by Viola Davis after her historic Emmy win (above) speaks to the continued need for more roles for Black actors and varied representations of Blackness. Nevertheless, these three shades of shady are still in uncomfortable conversation with the always contingent space occupied by Black womanhood on American television.
Image Credits:
1. The Shady Protagonists
2. Three Shades of Shady
3. Viola Davis' Emmy Acceptance Speech
Please feel free to comment.
Pierre Bourdieu, Distinction: A Social Critique of the Judgment of Taste (Cambridge, MA: Harvard University Press, 1984) 20. [↩]
Mary Douglas, Baron Isherwood. The World of Goods: Towards an Anthropology of Consumption. (New York: Basic Books: 1979) 12. [↩]
Noah Bertlansky, "#OscarsSoWhite: how questions of diversity are inextricably linked to taste." The Guardian. 3 February 2016. http://www.theguardian.com/film/2016/feb/03/oscars-diversity-2016-favorite-movies-racism-prejudice-aesthetics-taste?CMP=fb_us Accessed 9 February 2016. [↩]