Pedagogy and Where Sh** Happens in Digital Humanities
Vicki Mayer / Tulane University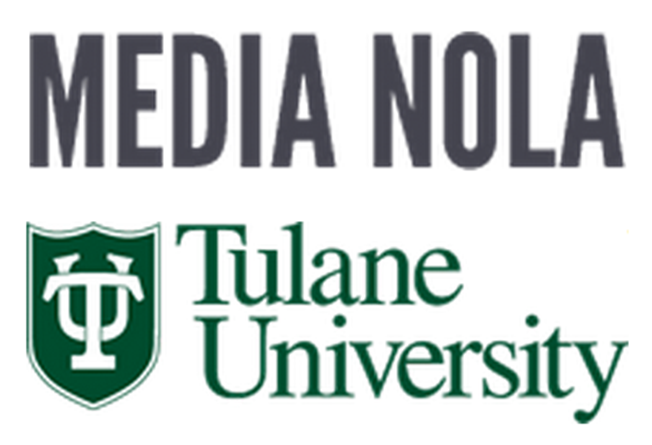 Logo for MediaNOLA: A collaborative project of Tulane University, bringing together students, programmers, and activists
Imagined in the post-Katrina moment as a technology to mediate the authoring and preservation of local cultural memories, MediaNOLA went online in 2008. Although the project had many inspirations and precursors in community media, open access museums and educational portals, as well as crowdsourced preservation projects, it slowly became a tool for online research and classroom pedagogy. [1] Students in university classes who were already doing community-based and regional research composed wikis, shot visuals, conducted interviews, digitized archival materials, and organized them in a massive repository for all things New Orleans. The word "media" took on its Latin etymology in the archive, showing users that a culture is made through its people, places, and objects. Users now have access to an interactive database and map of over 3,000 places in the city connected to over 800 wikis that students research, write, and rewrite. The "sell" for students to do this as part of their educational experience was easy as I show in a TEDx talk at my university.
The author's TEDx talk in November 2012
Anywhere from 50-200 students each year participate through their classes. They learn research and production skills. They publish for the public. In short, they make media.
Making media has long been a driving force within a critical media studies curriculum, [2] but in the digital humanities (DH), making tends to take a backseat. My search through the annals of pedagogic discussions related to digital humanities have revealed mostly discussions of the effectivity of massive open online courses (MOOCs), digital repositories, or interactive learning games or platforms. While these questions about the reception of new media are certainly important to understanding the directions and future of education in a digital era, they are limited to what happens when a user confronts an interface on the front-end: the homepage, the maps, the blogs, and the wikis. They largely ignore the questions of student-centered production that happen on the back-end interfaces. For me, though, that's where sh** really happens.
To probe the crass metaphor a bit further, Paul Dourish and Genevieve Bell write that the ubiquitous computing processes in our daily lives already make a mess, both in terms of labor and property regimes. [3] Indeed MediaNOLA's back-end is available via a no-doubt ironic URL combining "willdoo" with the name of the proprietary owner of the content management system (CMS). This is the interface site visitors do not see, but students, professors, and tech staffers do in order to enter their contents and see what others have entered. MediaNOLA pays the company to maintain and upgrade the software. The fact that there is a firewall between the front and back interfaces was an early choice made to navigate the potentially bigger mess of open crowdsourcing and direct student inputs into the public sphere. So while we might theorize the labor of programmers and users for MediaNOLA, my primary focus has been on what the students are doing — and that is messy enough.
Backend of CMS Located Behind a Firewall at Willdoo
There's a lot to learn about interface literacies through creating MediaNOLA contents. I do this directly in my own classes each semester and indirectly in providing varying levels of support to other classes. That can be by leading workshops or connecting professors with projects I know about, or by managing any number of interns and fellows who get paid or class credit to share their work and show their skills. I each setting, the newbies encounter archiving as a kind of disciplinary practice.
While neither the front- nor back-end work involve major computing knowledge, the various fields for metadata, with their somewhat obscure language, have to be learned. So do the protocols for adding sounds and images. Depending on the field, the aspect ratio is different and the protocol for adding the credits is as well. There are only two bits of code that the wiki requires– one for headers and one for endnotes. These ensure serial numbering in the wiki. But even this small effort involves a new way of reading the interfaces, a process of saving and flipping between the front and back ends of the software. Having worked in video production, I was used to doing this. You edit a bit and then render, then return. But many of my students do not have that familiarity; for them, the simple classifying and coding of stories represents a learning outcome.
From student coding into MediaNOLA content
Or does it? DH pioneer Johanna Drucker once observed, "much of what is currently done in digital humanities has the look of automation." [4] Information scientists Geri Gay and Helene Hembrooke liken the skills acquisition in digital learning to the just-in-time model of factory production. They suggest this without the slightest bit of irony or critique. Indeed once one achieves the digital skills in MediaNOLA, their application becomes a routine, if not rote, as the producer and the tool synchronize their actions. [5] There is some latitude for randomness and play in creating MediaNOLA, but not so much that students mistake the project for fun over an assignment.
I have no such illusions in this project, in part because of the way MediaNOLA gets used in the liberal arts small classroom setting. In most of its classroom applications, small groups are asked to write, share, rewrite, and then get graded as if this was a research assignment. The process ideally moves between stages of cooperation, in which everyone adds their little sections of knowledge separately, and collaboration, in which they actually have to bring the different bits of data together in a unified way. In its best articulation, students achieve a collective cognition, learning something together that they could not have possibly done on their own.
This learning is not a function of the tool but the way the tool is deployed in what social psychologist Lev Vygotsky theorized was a zone of proximal development. [6] In the class projects, students look to their peers, the Internet, and the functionality of the system to advance their project more than they would have on their own. In the zone, the tool is the most instrumental and thus the most inflexible. Students find that they can make map points or slide shows but they have to figure out workarounds because the machine does not know and is not able to actualize what they want. Learning flexibility with technologies is an important learning outcome that is stressed in informal settings but discouraged in classrooms.
It should be noted perhaps the obvious that MediaNOLA is no magic bullet for achieving learning outcomes. The worst students still make the worst entries. The best students still were most conscientious, checking the research, writing and formatting with the most care. Reflecting on the process, it's the students in the middle who benefit the most from the process of doing original research and then actualizing it in a public and collective forum. Students have to balance standard procedures with original findings. Very creative students have to temper their impulses to learn how to enter the simplest bits of code or follow the protocols for mapping. While those who are used to following directions now have to narrate the story of place or a person that does not already exist in Wikipedia. Unfortunately in the era of continuous assessment, my high-achieving students tend to be of the latter category. For them, the MediaNOLA project offers them a safe and guided space to create without the angst around achieving an amorphous outcome.
From cooperative to collaborative learning on MediaNOLA
It's this messier sense of human action as a social process that seems to be missing in understanding what students can do (nay, willdoo) in DH projects. It also means looking at the value of DH through a broader and longer lens, and considering learning beyond a single assignment or the individual student. Seven years in, I'm still learning along with the MediaNOLA students about the potentials and pitfalls of making media and mediating our makings.
Image Credits:
1. Logo for MediaNOLA
2. Backend of CMS Located Behind a Firewall at Willdo (author's screen grab)
3. From student coding into MediaNOLA content (screen grab with author's mark-up)
4. From cooperative to collaborative learning on MediaNOLA (author's screen grab)
Please feel free to comment.