Your Tumblr Makes Me Want To Study: Thoughts about the studyblr community Jacqueline Ryan Vickery / University of North Texas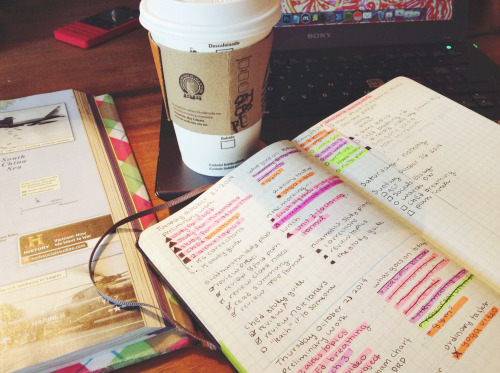 Photo from "My Study Spot"
Crafty images. Elaborately color-coded notes. Artistic mindmaps. Enticing mugs of coffee. Dreamy scenes of picnic blankets, laptops, and books. Image after image of Pinterest-worthy study spaces, notes, office supplies, and books. Welcome to the world of "studyblr" – a genre of Tumblr blogs dedicated to publicly sharing your private study habits and techniques. The blogs appear to be mostly authored by high school girls and college-aged women. It is clear that a lot of effort goes into making notes and study spaces look pretty, as well as the photos themselves, which often have a creative and artistic aspect to them. These blogs have propelled the art of studying to an interesting space and found community in the process. At a time when young people's online practices continue to attract panic, judgment, and concern, it is refreshing to pay attention to the positive ways young people – and particularly girls and young women – also use online tools and spaces.
Admittedly, I have only begun to scratch the surface of the study blog world. In conjunction with Flow's mission of generating "think pieces", I want to offer some initial reactions to the practice of "studyblr" blogs and attempt to contextualize them with other online and youth spaces and discourses. These observations are intended to be conversation starters and hopefully open up spaces for deeper critical and empirical areas of research.
1. Feminized Space
The studyblrs are both feminized and feminist. The creative Pinterest-worthy craftiness of the photos, study notes, and study spaces, serve to feminize the look and feel of the blogs. And indeed, many of the blog names indicate they are authored by female bloggers (i.e. they include words like "girl" and "queen" or include female names in the title). There is a certain aesthetic that is recognized across many of the blogs. As one young woman explained it to me, "I don't believe there is a pressure to post pretty pictures…but I feel there is a self-motivated, unspoken standard for those that post." The photos, as well as the notes and study guides themselves are decorative, creative, and artistic. There are tips on organizing – and decorating – your notes.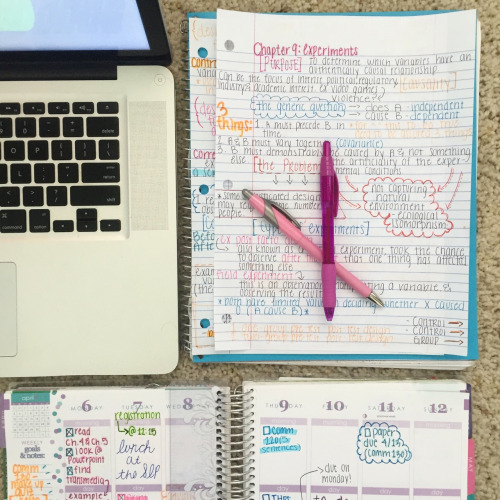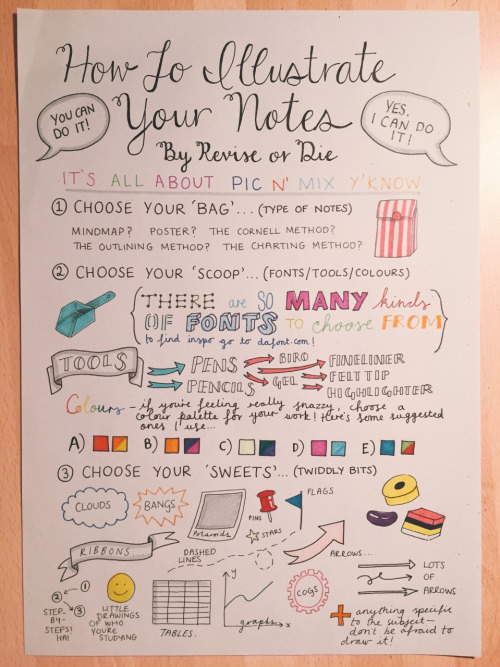 L: Planner from "Let's Study XO" R: Guide to illustrating your study notes by 18 year-old Emily at "Revise or Die"
In fact, it may be surprising the extent to which the bloggers tend to rely on hand-written paper notes, highlighters, physical books, and tangible day planners as opposed to typed notes, digital calendars, and virtual sticky notes. I'm merely speculating here, but much of the appeal of the blogs lies in the tangibility, and therefore craftiness, of their organizational skills. Crafty and tangible notes, planners, and systems afford opportunities for creative photos, which is the basis of the blog posts. While I have no doubt many young people prefer digital organizers and e-books etc., this particular community seemingly attracts crafty and artistic (and talented) individuals. The medium is visual and that becomes part of the appeal and feminization of the space itself.
2. Feminist Space
The questions, advice, and answers are overwhelmingly supportive. When I first started exploring the space, I was concerned that the performative nature of "showing off" your study habits and techniques might be self-serving, rather than function as part of a participatory and motivational community. However, as is often the nature of Tumblr, the space provides a community for support and motivation. As writer Katie Welsh speculated, "Studyblrs are one of the few places online that teenage girls and young women aren't being judged on their appearance. Spend enough time scrolling through the tag and you'll find a community that cares less about grades and more about working hard for an uncertain future." I would add, in addition, the "uncertain future" is about what a young woman can achieve, rather than who a young woman can attain. There exist a plethora of online forums, blogs, magazines, etc. dedicated to helping girls "improve themselves" in order to be "more desirable". However, studyblrs are not about physical appearance, sexuality, or bettering oneself to gain entry into "appropriate" dating rituals and spaces, but about enhancing academic and intellectual goals.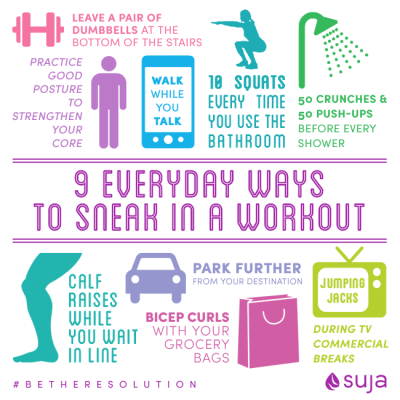 Bella from Aim for the A+ encourages working out even when busy studying
The blogs include tips and advice about studying, planning, and organizing, but are also interspersed with information about self-care – such as getting enough sleep, hotlines for depression and self-harm, tips for combatting insomnia, ways to manage stress, and information about fitness and nutrition. In other words, while the focus is on studying (and hopefully by extension achieving good grades), the blogs provide a space that support students' academic life alongside their overall well-being.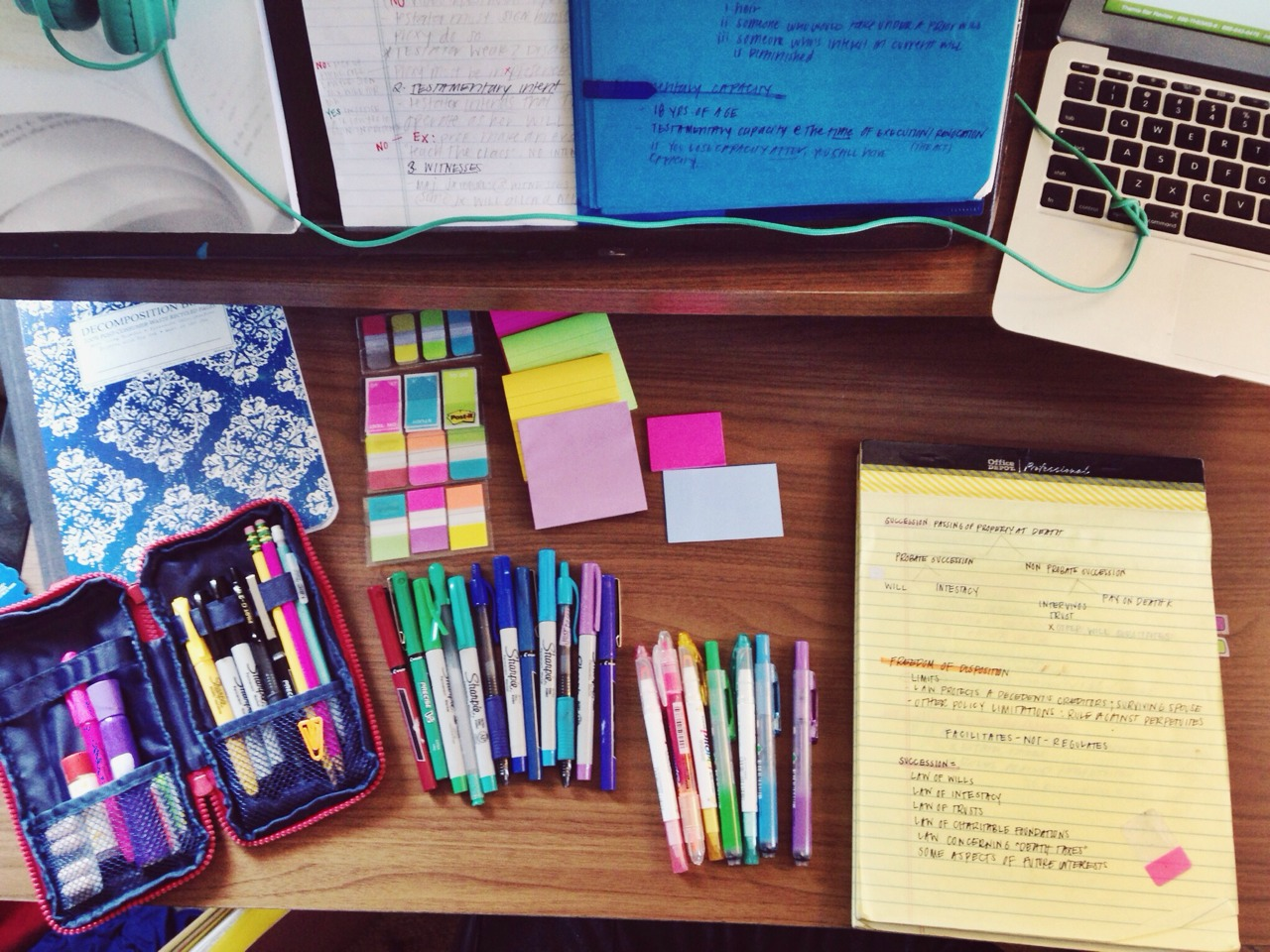 Photo from "The Caffeinated Files"
3. Private/Public Accountability
Studyblrs exist in a networked public that blurs boundaries of public and private. Typically studying is considered a rather private behavior and habit. However, by sharing tips, strategies, and advice online (accompanied with a pretty picture), private practices are made more visible. In a world where girls' selfies are often dismissed or even pathologized as "narcissist" and "vain" and "psychopathic" (as is just about anything made popular by a teenage girl), studyblrs make visible other private aspects of teens' – and more specifically girls' – lives. Studyblrs are agentive spaces in which private practices are made visible and young people find a supportive community and motivation for studying. While the blogs look really pretty, they are also full of actual study advice and tips intended to be helpful.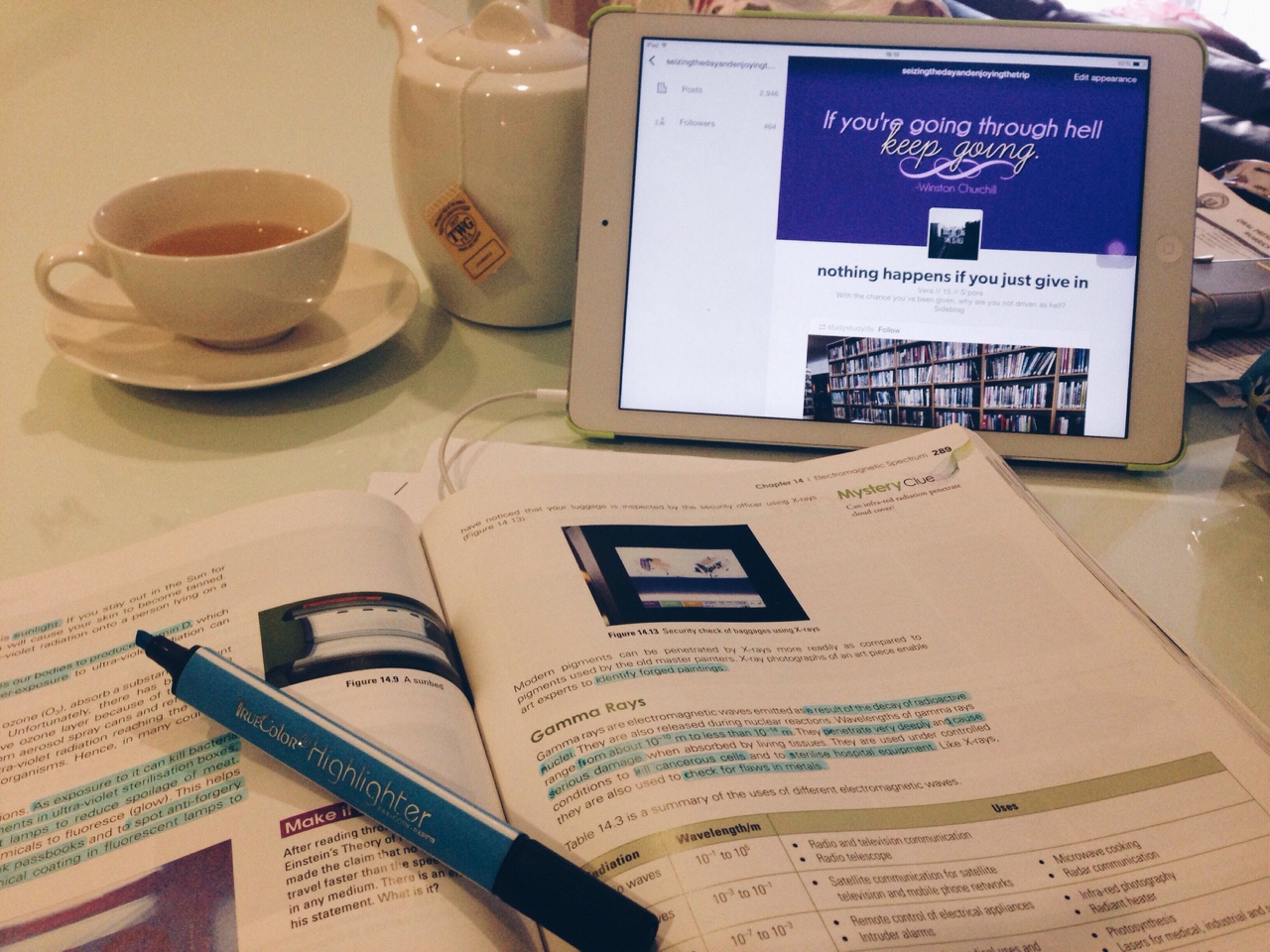 Photo from "Seizing the Day and Enjoying the Trip". The caption reads: "Studying for my physics quiz tomorrow. Physics isn't my best subject, but I will do my best!"
For example, the 21 year-old college student of the studyblr "Student Juggler" shares tools such as the ClearFocus app that helps structure study time and breaks (e.g. work for 20 min, take a 10 minute break, repeat 5 times). She writes, "Working this way helps me keep track of my time…It helped me finish my work quicker than I'm used to. Something to do with a 25 minute countdown timer, and my screen looking down upon me for not doing my work." She encourages others to check it out.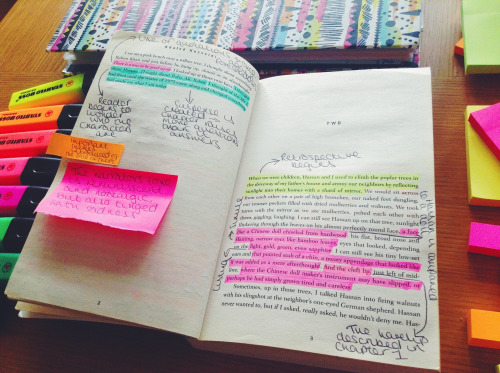 Annotations of the Kite Runner from Rose's studyblr "Studious Brunette"
The visibility of the space provides motivation and accountability for studying, as well as setting and accomplishing goals. As Cindy, a college freshman, explained it to me:
I think it's similar to the idea of telling your friends you want to lose weight or stop smoking before you embark on the challenge so they can keep you accountable. If they announce it to the world, perhaps that serves as a motivation for them to get those grades or work hard on their applications since there is proof out there that they are actively trying. While when you're working towards something without telling others, it's easier to save face when you fail, and as a result, you may fear failing less and may not try as hard.
4. Learning to Learn
Research indicates that out-of-school and informal learning is often out of sync with traditional, formal, in-school learning. This gap can lead to frustration (from teachers, students, and parents), as well as missed opportunities. There is a lot of focus right now on the ways that schools and educational institutions should and can validate and incorporate students' out-of-school interests, identities, and practices into more formal schooling. Research has found that interest-driven and peer-to-peer mentoring can be valuable opportunities for young people to learn. What I find fascinating about this genre of Tumblr, is the extent to which young people are not just "showing off" their study skills as a mechanism for validation (which is certainly part of it), but are actually helping each other foster creative and effective study habits.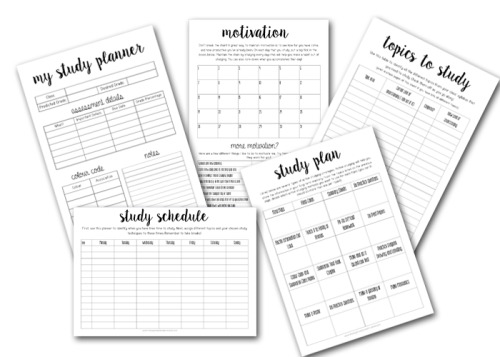 Printable study guides designed by "The Organized Student"
One studyblr, "The Organized Student" run by 20 year-old Ellen, even includes downloadable printable study organizers that she has developed for herself. She shares them on her site as a way to help others get organized. The printables include templates for organizing your day or week, as well as templates for outlining essays and mapping out larger study goals. She has a long Q&A section in which others ask her for tips and her advice is sound. For example, someone asked her how to find motivation to complete homework while on holiday. Ellen responded:
how about setting yourself a schedule? having something to follow will help with your motivation? also, try and study in a new space, because if you're at home and you don't usually associate that place with studying then it will be much harder to do homework there xo.
She also has detailed tips for annotating books, organizing a schedule, revising notes, ways to manage time, and practical tips such as "make sure you know where your professor's office is, just in case you want to have a face-to-face discussion on something you need further help in." She encourages her readers to ask for feedback when they do not get the grade they wanted and reminds them that learning, studying, and organizing are all processes and take time. The advice focuses on organization, study spaces, stress, and practical tips such as, "Don't waste your time making flash cards for something you already know, focus on what you still need to learn."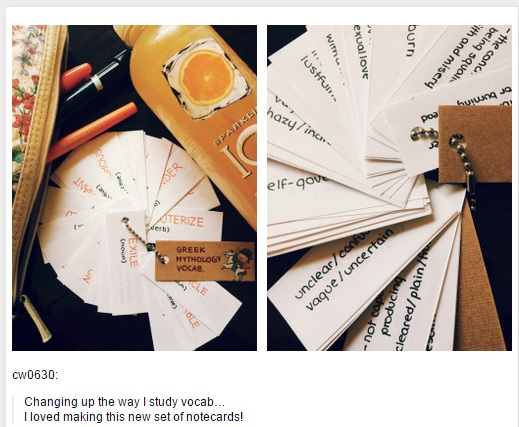 Photo from 17 year-old's studyblr "Black Coffee and Highlighters"
Going back to the point that studying is often considered a private behavior, the publicness helps students teach each other to study – something students need help with. It is often taken for granted that students know how to learn, when in fact, it is a skill (art, craft?) that must be practiced and honed continually. I really appreciate this space for not focusing on particular topics (although those exist), but that the focus is on learning how to learn and study. While schools experiment and struggle to find ways to incorporate peer-to-peer collaborative learning, this community exemplifies the advantages to informal, peer-driven, and out-of-school learning that is facilitated via networked publics. I think there is a lot of potential here for parents and educators to learn from this organic, ground-up, student-driven learning space that bridges formal and informal education in some very interesting and intriguing ways. Informal learning spaces have been studied a lot (and continue to be), but what stands out here is that this practice is both interest-driven and academic/school-driven. It requires us to further question presumed boundaries between in and out of school learning and collaboration.
As noted, I am barely scratching the surface of these spaces, but they offer interesting insight into communities of practice, pedagogy, and discourse of learning. As I continue to read and critically analyze the practice and spaces, I would appreciate insight and thoughts from Flow readers.