Reflections on the New Diversity in Television
Mary Beltrán / University of Texas at Austin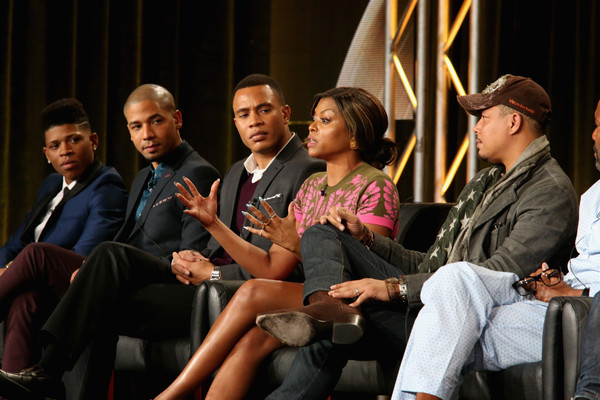 Empire cast members Bryshere Gray, Jussie Smollett, Trai Byers, Taraji P. Henson and Terrence Howard at FOX's 2015 Winter Television Critics Association press tour
It's an exciting time for those of us interested in greater racial diversity in television—not just in the form of background characters that add local color to the stories of the usual white leads, but in series with lead characters of color and narratives about non-white families, work spaces, and cultural communities—with the recent, rising success of such series as Empire (Fox, 2015- ), Fresh off the Boat (ABC, 2015- ), black-ish (ABC, 2014- ), Orange is the New Black (Netflix, 2014- ), and How to Get Away With Murder (ABC, 2014-). As Empire has in the last few months become the most viewed broadcast drama in five years and seen its audience expand substantially each week, journalistic coverage is rife with stories proclaiming "diversity the new watchword in television," as the Los Angeles Times declared earlier this month.1
This is no small development for U.S. network television, which just a few years ago was rejecting series pitches and pilots that did not center on a mostly white or on decidedly multi-ethnic casts. When I interviewed a diversity executive at one of the major networks around the time of their spring 2011 upfronts, a PR event at which networks showcase their new series and potential series to major advertisers, I was told that "ethnic" sitcoms were definitely out; advertisers at the time didn't want to take a chance on them. When I interviewed then-Director of Diversity for the Writer's Guild, Kimberly Myers, a few months later, I heard a similarly pessimistic report, that writers of color were struggling vainly to pitch new series or just to get hired on current show's writing teams. No more than a handful of writers of color were show runners for prime-time series at the time. These writers were Shonda Rhimes (then with Grey's Anatomy [2005- ] and Private Practice [2007-2013] on ABC), Tyler Perry (then executive producing House of Payne, syndication 2006, TBS 2007-2012), Mara Brock Akil (The Game, the CW 2006-2009, BET 2011- ), and Veena Sud (The Killing, AMC 2011-2013, Netflix 2014).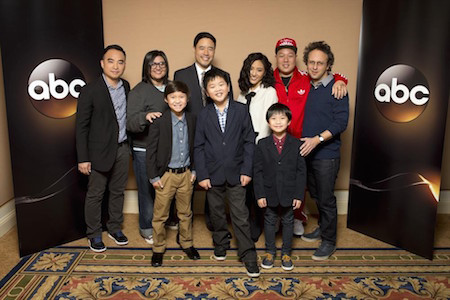 The cast and executive producers of Fresh Off the Boat, inspired by the humorous memoir of chef Eddie Huang, in red, at Disney| ABC Television Group's Winter Press Tour.
So what has happened in the last four years? Shonda Rhimes, for one thing. Her series Scandal, a soapy drama starring Kerry Washington as a hyper-capable PR "fixer" working in the world of DC politics, made a dramatic splash when it began airing in 2012. A quick hit with the first African American female lead in television since Diahann Carroll in Julia (NBC, 1968-1971), it proved that series starring non-white actors in compelling, well-written roles and narratives could in fact be smarts bets. Nielsen's Twitter TV ratings documented when it became the top-tweeted series; most recently, it averages over 300,000 tweets per episode. (Ironically, it lost the Twitter crown to Empire, which soon topped Scandal and has broken all records since. Empire garnered over 2.4 million tweets during its two-hour season finale last week, according to Variety, reporting statistics gathered by Nielsen Social Guide). Show runner Ilene Chaiken, who executive produces Empire alongside series creators Lee Daniels and Danny Strong, has credited the success of Rhimes' series Scandal and How to Get Away with Murder with convincing network executives to try more shows featuring non-white actors in lead roles.2 After Scandal, series such as Empire and Fresh Off the Boat were likely considered smaller gambles to the ever-risk-averse television industry.
And while the ratings juggernaut that is Empire is a Fox series, much of the credit for the relative boom of non-white-led shows belongs to ABC, which airs the Shondaland series Scandal, How To Get Away With Murder, and Grey's Anatomy, in addition to launching the sitcoms black-ish, Cristela (2014- ), and Fresh Off the Boat and the drama American Crime (2015- ) in the last year. Netflix's Orange is the New Black and the CW's Jane the Virgin, while exciting new developments for the streaming media outlet and cable network, don't represent the clear commitment to change evident from ABC. Paul Lee, ABC's entertainment president, promoted the network's decisions at the Television Critics Association's winter press tour in January. He explained that they viewed their greenlighting of diverse series as a matter of choosing "great series" that just happened to be created by nonwhite writer-producers.3 A particular effort to support series creators rather than just actors of color clearly has been a successful new formula for the network.
Regardless of the motivation on the part of the networks, these new series are a sea change for those of us looking for TV characters and narratives to which we can personally relate. The anecdote that sticks out from my research on the new series is one written by Jeff Yang, cultural critic and father of Hudson Yang, who plays the funny and sweet young hiphop wannabe Eddie Huang in Fresh Off the Boat. In his regular column for The Wall Street Journal, under the byline Tao Jones, Jeff Yang describes a small party he helped plan to screen the first episodes of FOTB for their friends and family in a Koreatown bar in Manhattan. Without any effort on their part, the family party mushroomed into a must-see event; ultimately about 1000 people happily crammed into the space, while countless others had to be turned away. As Yang describes, the people who came clearly wanted to share with other Asian Americans as history was being made by Fresh Off The Boat, the buzzed-about, second-ever show about an Asian American family.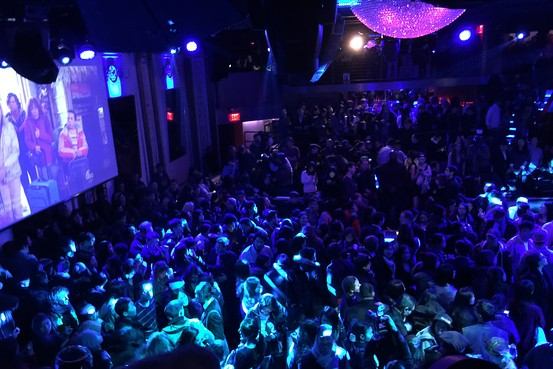 The impromptu Fresh Off the Boat viewing party at a Koreatown bar in Manhattan
"We had to see this together," he notes, "with as many others of us who'd shared these experiences and the twanging hunger for them to finally be explored in the spotlight."4 Similarly, both FOTB and Empire have inspired viewing parties and panel discussions sponsored by cultural organizations around the nation. These celebratory communal viewing events and group discussions underscore how rare it is even now for television narratives to center on non-white American individuals, families, work places, or communities, and how important each rare example (and its success or failure with audiences) can be to future opportunities for representation.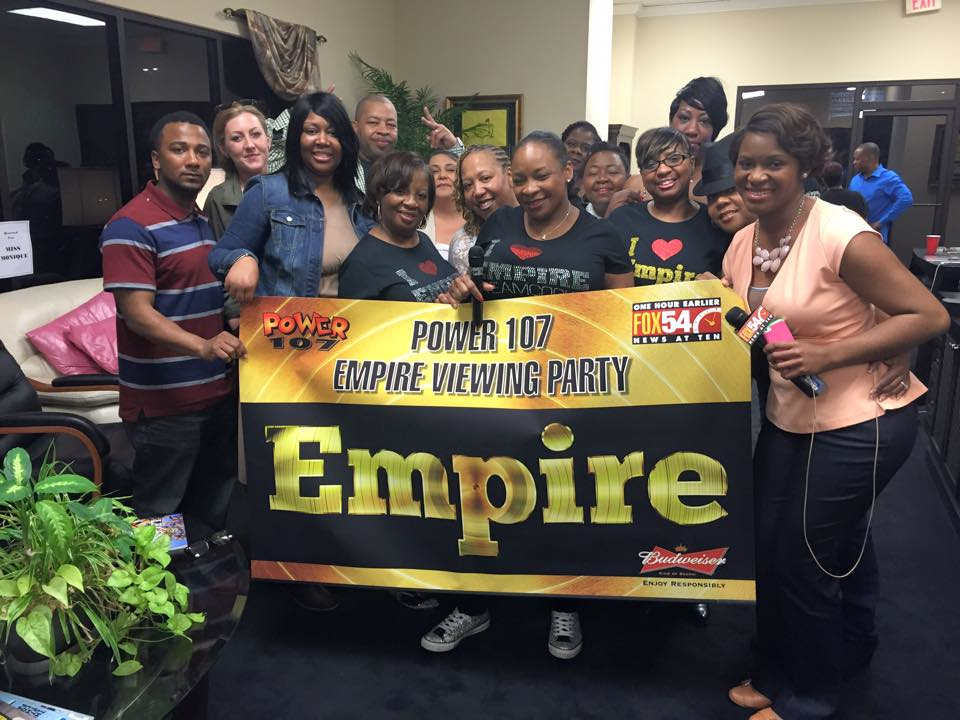 A radio station in Atlanta hosed one of the countless Empire viewing parties around the nation.
We'll need to follow these shows and their successes to see where they take us. However, I believe there are several takeaways for media scholars and fans even at this early stage. First, I believe it proves once again that the lives of ordinary Americans of color (and not just those making hiphop music) are relevant, interesting and eminently watchable. In fact, viewers nowadays are often ordinary Americans of color ourselves. And we want to see ourselves as the heroes in the narratives we're watching, as Gina Rodriguez noted in her acceptance speech when she recently won a Golden Globe for her role in Jane the Virgin.
It makes a difference to have substantially diverse writing teams as well. Fresh Off the Boat, under show runner Nahnatchka Kahn (who is Persian American, and also was creator of the very funny The B- in Apartment 23 [2012-2013]), hired a writing team that includes several Chinese and Asian American writers, among them Kourtney Kang, Sanjay Shah, Jeff Chiang, and Ali Wong. Empire's writing team boasts six writers of color among its writing staff of nine. In contrast, the arguably less inspired series Jane the Virgin and Cristela include only a few Latina/o writers among their writing teams. I believe it takes members of a particular cultural community to know what's compelling, what's important, and what's funny within that community – and also to be knowledgeable of interesting stories that might be drawn from it that would speak to viewers of all backgrounds.
Finally, I hope that the success of these new race-specific shows will clarify once and for all: We're not really post-racial. Our racial, ethnic, and cultural histories and perspectives actually matter to us, and are a large part of what makes us interesting. Given that the ratings are the real news here, I believe viewers are demonstrating that we appreciate programming that respects unique cultural perspectives and shines a light on the fascinating diversity of American lives.
Image Credits:
1. Empire cast members Trai Byers, Bryshere Gray, Jussie Smollett, Taraji P. Henson and Terrance Howard at FOX's 2015 Winter Television Critics Association press tour.
2. The cast and executive producers of Fresh Off the Boat, inspired by the humorous memoir of chef Eddie Huang, in red, at Disney| ABC Television Group's Winter Press Tour.
3. The impromptu Fresh Off the Boat viewing party at a Koreatown bar in Manhattan.
4. A radio station in Atlanta hosed one of the countless Empire viewing parties around the nation.
Please feel free to comment.