The "Comedy of Exasperation" and Satire TV in the Obama Era
Nick Marx / Colorado State University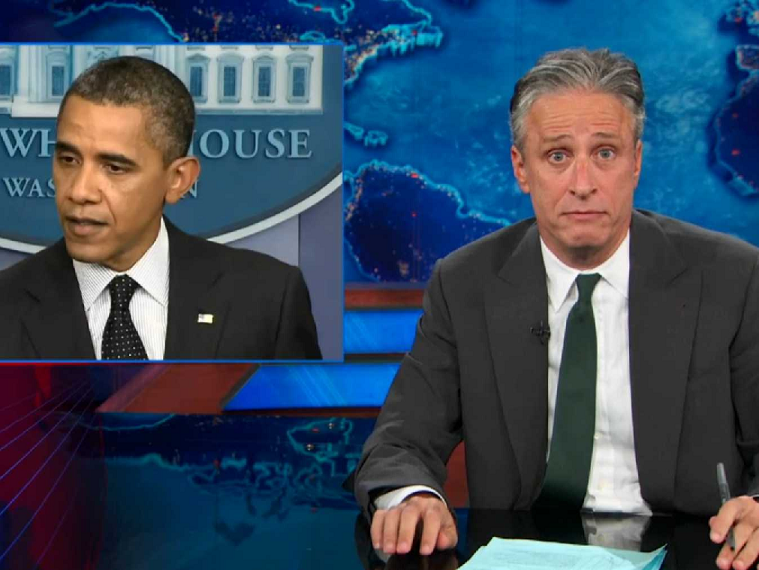 Satire TV: The Daily Show with Jon Stewart
On Election Day earlier this month,
The Daily Show
host Jon Stewart, looking bored and irritated, casually told CNN's Christiane Amanpour that
he hadn't voted
. Stewart's remark prompted predictably put-on outrage among social media outlets and media outlets not strictly defined as social but whose primary news sources are social media outlets. The controversy drew to an end that evening on his show when Stewart apologized for being "flip" and clarifying that he did indeed vote. The entire non-event has since been swallowed up by so many revolutions of the news cycle, but it nonetheless provides a key example through which we can understand contemporary satire TV's relationship to political discourse.
The 2000s rise of comedians like Stewart, Bill Maher, John Oliver, Stephen Colbert, Trey Parker and Matt Stone, Michael Moore, and Sacha Baron Cohen (among others), alongside a generalized opposition to George W. Bush among left-leaning scholars of media and culture, spawned dozens of studies lauding the pro-social aspects of political satire on television.
1
Often, in amending the "low culture" status of what were still putatively understood as late-night comedy programs, these studies sought to highlight satire TV's oppositional potential, clarify its critique of dominant socio-cultural ideologies, and argue for its growing importance alongside more "serious" forms of public deliberation. At the same time, popular (and, to a lesser extent, academic) discourse questioned the real-world efficacy of satire TV and whether or not the commingling of humor and politics translated into quantifiable change or hastened the American polity's cynical reaffirmation of the status quo.
2
It's tempting to read Stewart's quip as evidence of the latter, or, more specifically, as symptomatic of the resentment wrought by Obama's many "failures" to rectify the complex social, financial, and diplomatic sins of his predecessor. Instead, I'd suggest that it comes more from a "comedy of exasperation," what Kyle Stevens calls "a condition of being angry while lacking an object to express one's anger at, [one that] emerges most insistently in a moment distinguished by wireless technologies and global financialization; in a time when we cannot point to the powers that control our daily lives."3 In some ways for dissertation writing, Stewart and company are victims of their own success, having become so adept at clarifying for viewers the myriad power structures governing contemporary American citizenship that their sheer abundance can seem overwhelming. Unfortunately, this line of reasoning recalls the "comedy as cynicism" critique a bit too much and forecloses a productive dialogue about how satire TV, despite the diffusion of its targets, continues to play a vital role in political discourse.
Before outlining that role, however, it is imperative to note here that in order for satire TV to evolve as a megaphone for political dissent, it has to broaden the tent. That every one of the comedians I've named above identifies as white, heterosexual, and male not only reeks of complicity with longstanding assumptions about the belongingness of (straight white) men and comedy, but is also creating some stagnation in the genre. True, The Daily Show has sought diversity in its correspondents, and several notable programs have recently or look like they'll strive for the same (FX's Totally Biased with W. Kamau Bell; Comedy Central's planned The Colbert Report replacement, The Minority Report with Larry Wilmore; and, possibly, Chelsea Handler's 2016 Netflix program), but televised political satire could be much more engaged in supporting the identity politics it so regularly lampoons. Furthermore, satire TV would do well to explore the possibilities of the non-commercial platforms being inexorably vacated by public-interest journalism. Though clearly compromised somewhat by its place on the subscription network HBO, John Oliver's Last Week Tonight stands out as a recent model for how satire TV can explore long-form investigations relatively free of commercial constraints.
After two decades of development, though, it's worth highlighting how satire TV in the Obama era has moved beyond the sound-bitable bumbles of George W. Bush and targeted more broadly the residual social, cultural, and political power structures left in his wake. The most nefarious of these are the various iterations of "post-"ness as they relate to marginalized identity formations. To that end, the work of The Daily Show correspondent Jessica Williams has recently brought refreshing perspective to popular debates about gender and sexuality, particularly as they intersect with constructions of race:
Income inequality is the other issue taken up most trenchantly by many satire TV shows of late, but none better than by Stephen Colbert's buffoonish blowhard character. For as forgettable or self-serving as many of the interviews on Stewart's or Maher's programs are, the segments provide Colbert with his primary performative space. His baiting of interviewees who are "in" on the act often allows them to articulate their positions more cogently than they would in other mediated discussion spaces, as in last summer's interview with
Capital
author Thomas Piketty:
If satire TV in the Obama era has shifted focus to the everyday lived experiences of social and economic inequality, one parallel development worth monitoring is the extent to which political satire is no longer the sole domain of liberal Comedy Central-types. The spread of nasty television "satire" in programs like
Family Guy
and
Tosh.0
that operate under the guise of "equal-opportunity offenders" indicates that much contention remains about who and what are considered appropriate targets of comedic ire. If satirists can't always clearly identify or agree on "an object to express one's anger at," this thinking goes, better to simply attack everything and see what sticks, especially if, given the narrowcasting strategies of cable networks, it draws well with 18-34 year-old males. In the meantime, exasperation might continue to be the best televisual option we have for expressing truth to power.
Image Credits:
1. Daily Show
Please feel free to comment.
See Gray, Jones and Thompson, Satire TV, New York: New York University Press, 2009; Gournelos, Popular Culture and the Future of Politics: Cultural Studies and the Tao of South Park, Lanham, MD: Lexington Books, 2009; and Day, Satire & Dissent, Bloomington IN: Indiana University Press, 2011. [↩]
See Baumgartner and Morris, "The Daily Show Effect: Candidate Evaluations, Efficacy, and American Youth" and Rottinghaus, Bird, Ridout, and Self, "It's Better Than Being Informed: College-Aged Viewers of The Daily Show." [↩]
Kyle Stevens, "Where Vanity Meets Volition: Technicity, Self-Monitoring, and the Comedy of Exasperation." World Picture 9, summer 2014. http://www.worldpicturejournal.com/WP_9/Stevens.html [↩]