When Sleepers Wake and Yet Still Dream
Melinda Barlow / University of Colorado at Boulder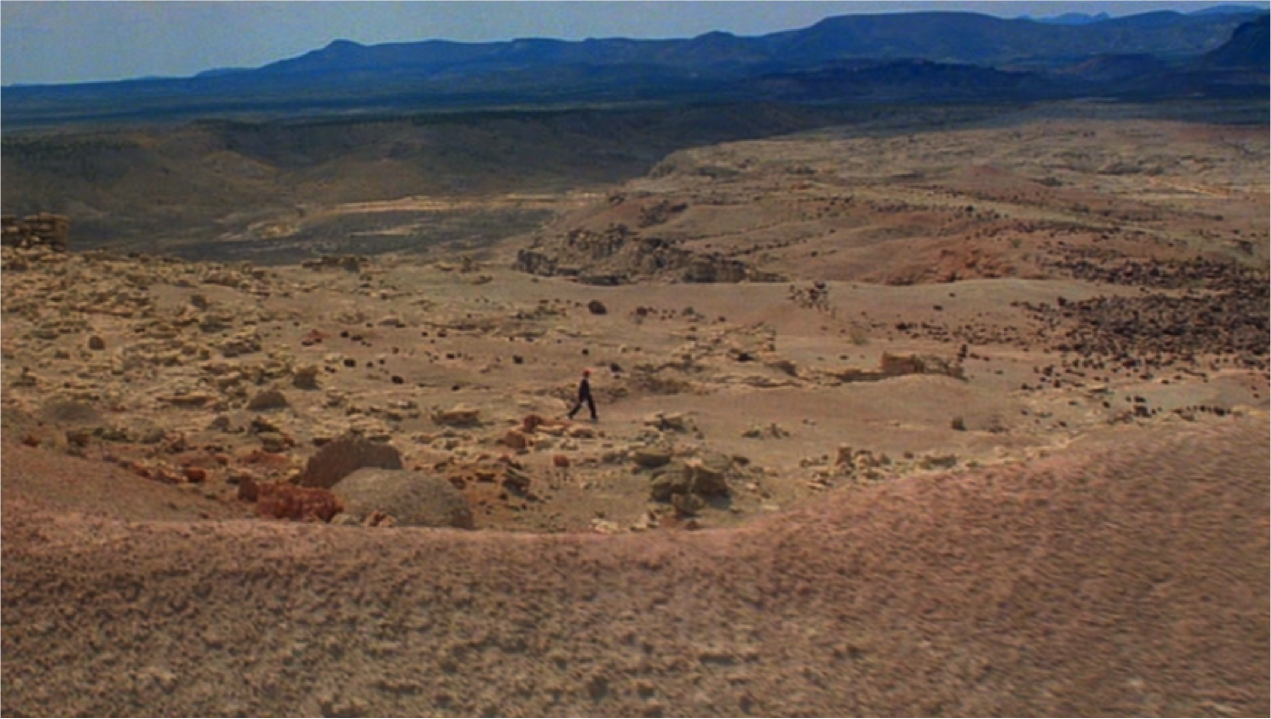 Paris, Texas (Wim Wenders, 1984)
I pray for a break
from all thought
a clean break
in blank space
-Sam Shepard,
Motel Chronicles
(1982)
Neither cowboy nor oilman, hardly a giant and more like a ghost, Travis Henderson dreams his way into West Texas oblivion, then runs from dawn to dusk to get there. A haunted man on the lam from his own memory, he wanders in a desert as vast as the hole in his heart, armed with a tattered photograph of a vacant lot he bought in the town where he may have been conceived and hoped to raise his son. But when the wife he shackled with a cowbell and belted to the stove finally managed to flee, he left fatherhood behind, burying it inside. Only after his brother retrieves him four years later following a collapse in the blinding light of Terlingua does he begin to see what being a father really means.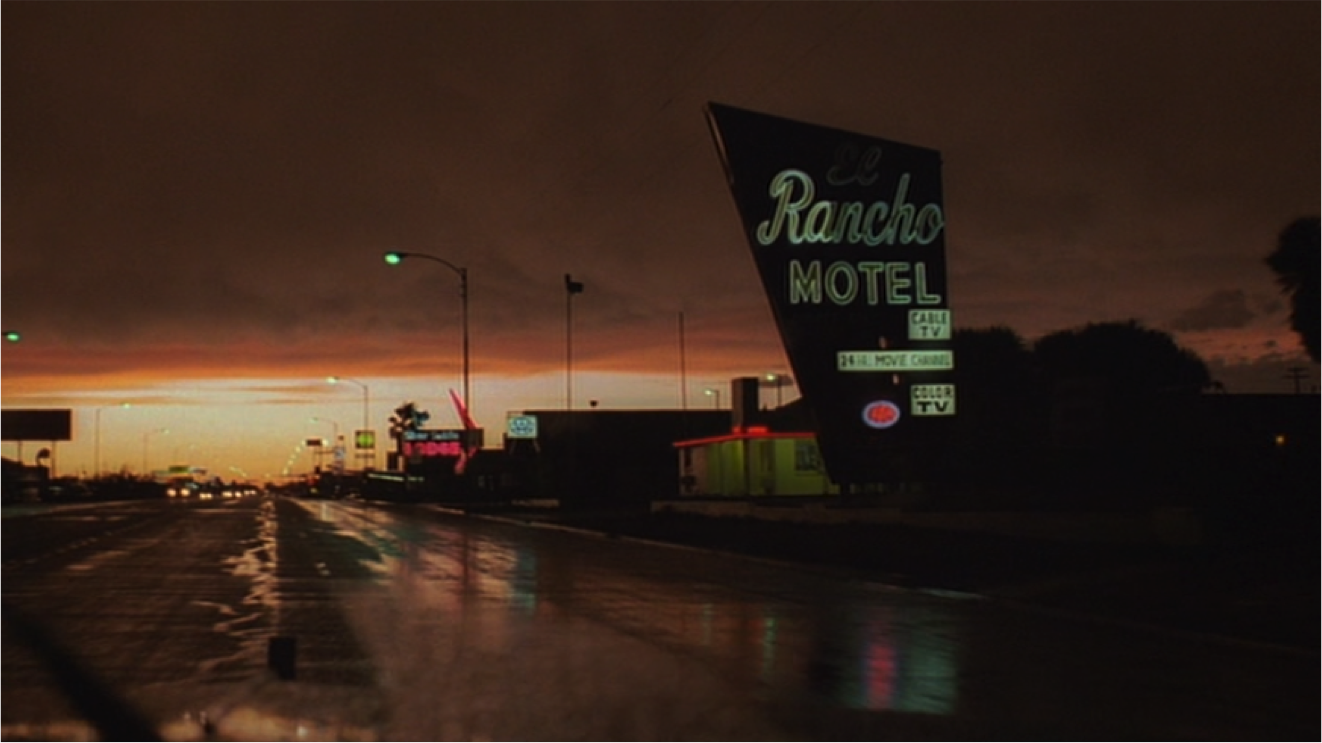 Paris, Texas (Wim Wenders, 1984)
The road is long and the journey, slow, and desert glare is not the only kind of annihilation. Driving is another "spectacular form of amnesia," one in which every new discovery is quickly obliterated.
1
When Travis and Walt pull into a motel in Fort Stockton, the sky is flushed; the highway slick with rain, and the neon gleam of each sign is strangely subdued. "Bet it feels good to be in new clothes, huh?" asks Walt, in the bald fluorescence of their modest red, white and blue room, pleased that his brother has donned a clean shirt and jeans. Travis, still shell-shocked, does not say a word.
Mute and melancholy, Travis is the antithesis of Texan flamboyance. No swagger or slang; uninterested in style; incapable of telling tall tales and devoid of sweeping ambition, his is not a larger-than-life personality but rather a diminished late 20th-century masculinity—in the opening shots of Paris, Texas, he is but a speck within the frame. Anxious, uncertain, and shorn of vanity; unsure how to bear the mantle of paternity, deal with loss of potency and pending mortality, and definitely not in assignment service any condition to fight, Travis, and the fellow troubled men who precede and succeed him in many mid-20th through early 21st century American films, nonetheless does battle, and, in the quiet epic of his own life, as it unfolds in the elegy for the American West which is Wim Wenders' film, ultimately makes a single monumental gesture. He restores an estranged mother (his former wife) and son. Until then, as with his equally apprehensive onscreen counterparts, his duel lies deep within.
What is the appeal of the pose that Travis eschews, and that a relatively unconflicted man like Bick Benedict (Giant, 1956) adopts so effortlessly? That Hud Bannon (Hud, 1963) appears to embody? That Jack Burns (Lonely Are the Brave, 1962) clings to with tenacity, while fending off modern technology? That Joe Buck knows is intimately bound up with his clothes (Midnight Cowboy, 1969), and that revisionist westerns routinely dismantle? What pleasures and paradoxes are expressed through the image of the cowboy and his costume? What are the ideological stakes of this form of male masquerade?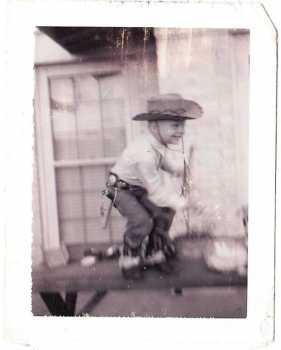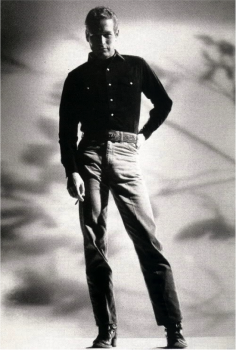 From left: Found photograph, Austin, Texas. Paul Newman in production still for Hud (Martin Ritt, 1963)
According to Robert Warshow in his insightful essay on "The Westerner" (1954), the point of the genre is a "certain image of man, a style," which although tied to violence is in fact about something else.
2
"Watch a child with toy guns," he continues, and you will see that the goal is to "work out how a man might look when he shoots or is shot. A hero is one who looks like a hero."
3
Art Spiegelman, in his two-page autobiographical comic "Mein Kampf" (1996), agrees. Next to a double self-portrait in which he sports the same costume in 1956 and 1995, he writes, "Man. I loved my Cisco Kid Outfit. I wanted to be a cowboy because I liked the way they dressed."
4
Clothes, as they say, make the man; they also allow boys to envision themselves as potent masculine images: as stylish, heroic fighters of custom dissertation headed straight for the OK Corral. But images may be deceiving, and by 1960 American westerns know this. Says an extra playing one of Davy Crockett's men in John Wayne's The Alamo when he first sees dashing General Santa Anna, "Fancy clothes don't make a fightin' man," and even Colonel Travis (Laurence Harvey), tired of The Duke-as-Crockett's hokey adages and exaggerated vernacular, quips "All that bad grammar is a pose."
No image is more striking or more deceptive than that cut by tough as a boot Hud Bannon, a cowhand as mean and unprincipled as his father Homer is venerable and hardworking. Instead of shooting their entire herd of cattle when it is infected with foot-and-mouth disease—any rancher's worst nightmare—Hud wants to sell it, before it's too late. Homer can hardly believe such an unscrupulous man is his son, and warns nephew Lonnie that Hud's charm is nothing but a sham, and one with national implications: "You think he's a real man. But you've been taken in our service at http://samedayessays.org/case-studies-online/…Little by little the look of the country changes because of the men we admire."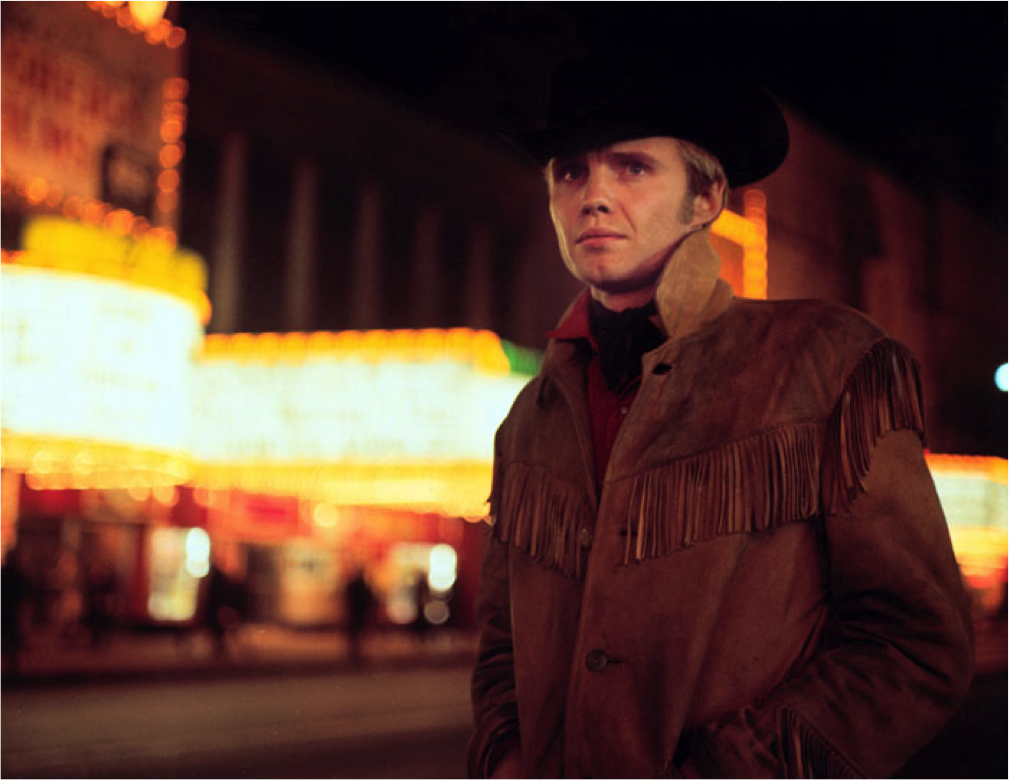 Jon Voight as Joe Buck in Midnight Cowboy (John Schlesinger, 1969)
Homer despises Hud to such an extent that he doesn't carry his picture; but Joe Buck reveres the rugged ladies man so much he takes the poster of the film bearing his iconic image all the way from Texas to New York and tacks it on the wall of his hotel room, right next to the mirror. This towering Texan, all hat and no cattle, knows he's not the real thing: "I ain't a for real cowboy," he tells a prospective pimp, "but I sure am one helluva stud!" What Joe didn't know is that after insisting, "John Wayne is no fag!" he would end up hustling men in Times Square equally enamored of the cowboy's sexy image. As Vito Russo famously noted, "If there's no real difference between the cowboy hero and the faggot on 42nd street, then what remains of an American masculinity?…The costume is only an image, as much a lie as all the other ways in which we force the movies to serve our dreams of an America that never really existed."
5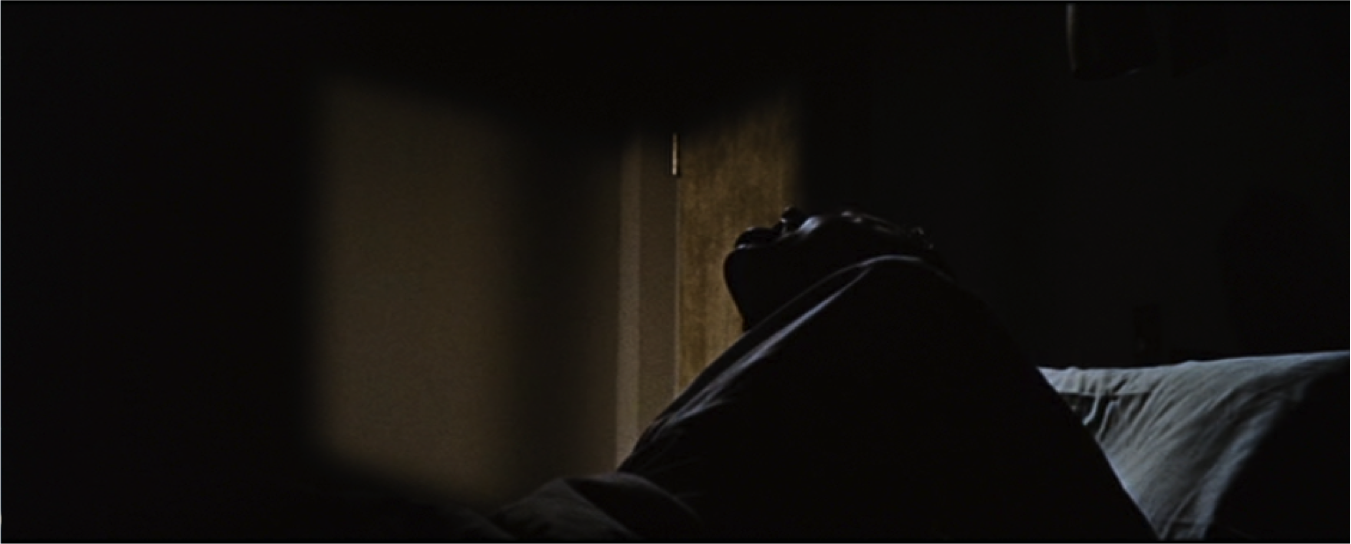 James Mason as Ed Avery in Bigger Than Life (Nicholas Ray, 1956)
For the ailing and anxious men tormented by fantasies of grandiosity and dreams of inadequacy attesting to the fear that they will never fill their father's shoes, two from melodramas, both released in 1956—Ed Avery in
Bigger Than Life
and Kyle Hadley in
Written on the Wind
—give the haunted western anti-hero a run for his money. Addicted to cortisone prescribed to treat a rare inflammatory disease, "male schoolmarm" Ed Avery leaves the hospital thrilled not to be in pain, feeling "10 feet tall." But soon he suffers a bout of delusional megalomania and tries to kill his son. At the end of the film, he wakes up after dreaming that he walked with Lincoln, whose imposing height—"he was as big and ugly and beautiful as he was in life"—registers the trace of Avery's former feelings of grandeur.
When Kyle Hadley, alcoholic heir to the Texas oil company run by his father Jasper, a successful "big man," is told by his doctor that his test results show a "certain weakness," a classic moment of Sirkian mise-en-scène expresses his humiliation at the possibility of impotence, as Hadley walks by a young boy vigorously bouncing up and down on a mechanical horse. Even more significant is the fear he describes to wife Lucy upon awakening from a fevered dream: "It's like I was deep in a mountain pass, snowcaps hanging over my head. If I make a sound, snow might all come tumbling down. Bury me—alive."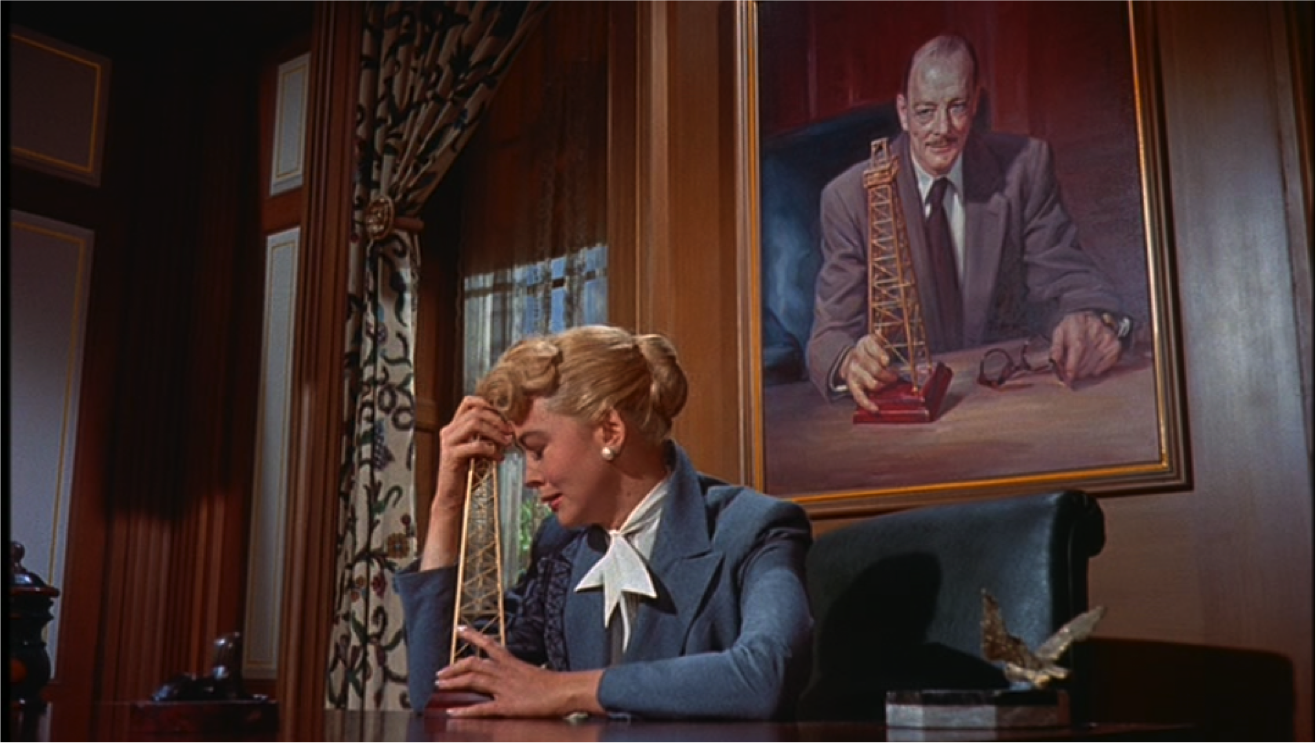 Dorothy Malone as Marylee Hadley in Written on the Wind (Douglas Sirk, 1956)
But what of grieving Marylee Hadley—here in that laughably phallic image from the end of Sirk's film, after both her father and brother have died—what of her, and all the other daughters who have had to bury their fathers and various next of kin? What are our demons? What haunts our dreams? How do we handle the mantle of paternity, question its authority, and challenge its monumentality—personally, politically, professionally and creatively? Work recently made in Texas by women artists and filmmakers tackles these questions in interesting ways.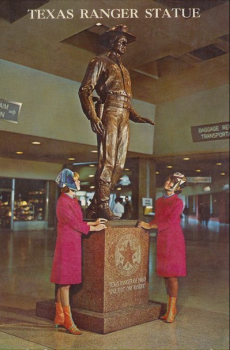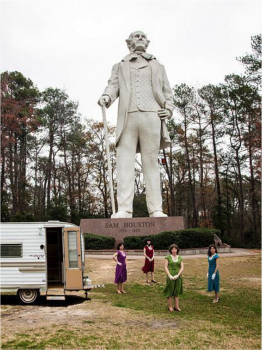 From left: Postcard of The Texas Ranger of 1960. Postcard for The Trailer (2013-ongoing) by The Bridge Club.
Standing in demure 1950s day dresses near their refurbished vintage trailer at the base of the 67-foot, 25-ton steel and concrete statue of Sam Houston gracing Highway 45 just outside of Huntsville, Texas, the members of the art and performance collaborative
The Bridge Club
(Emily Bivens, Christen Owen, Annie Strader and Julie Wills) look strangely out of place, like time travelers from another era. A postcard created for their mobile installation and live performance series,
The Trailer
, which debuted in Houston in 2013, this image serves as an ironic commentary on the reverential tone of souvenir postcards like the one of "Two attractive Braniff Airways Hostesses" at Dallas Love Field, who gaze admiringly in their matching fuschia coats and orange boots at the 12-foot bronze statue of "The Immortal Texas Ranger"—their hands on the base of the pedestal an eerie echo of the 19th century Cult of True Womanhood's call for women to "uphold the pillars of the temple with her frail white hand."
6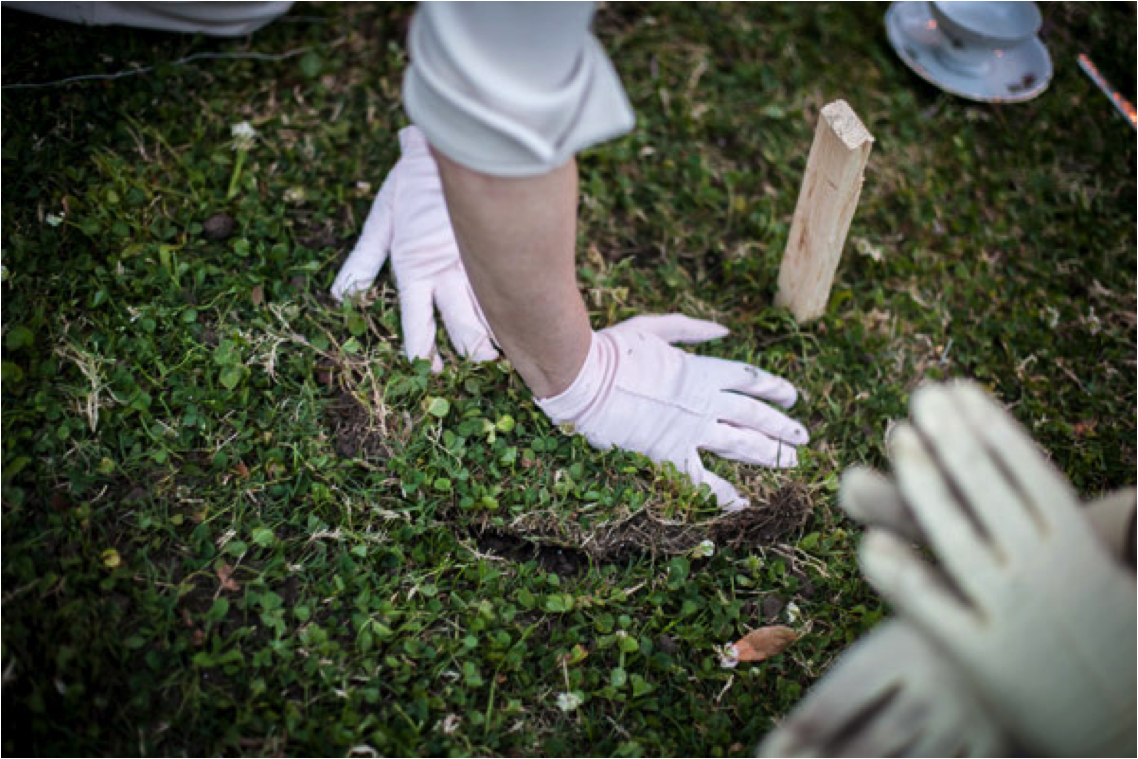 "What Remains," (The Bridge Club, 2013), detail
In "
What Remains
,"
The Bridge Club
's first performance with the trailer, members used their own delicately day-gloved hands to bury the remains of broken porcelain birds and other cherished artifacts that were nestled in ruffled sheaths before being smashed with a shovel and placed in shallow graves. Repeated with a ritualistic degree of precision over the course of two hours, these subtle yet significant gestures transformed the deliberate destruction of collected thrift-store curios into a series of ceremonial deaths offering an unexpectedly visceral sensation of the experience of losing something—or someone—and letting it go.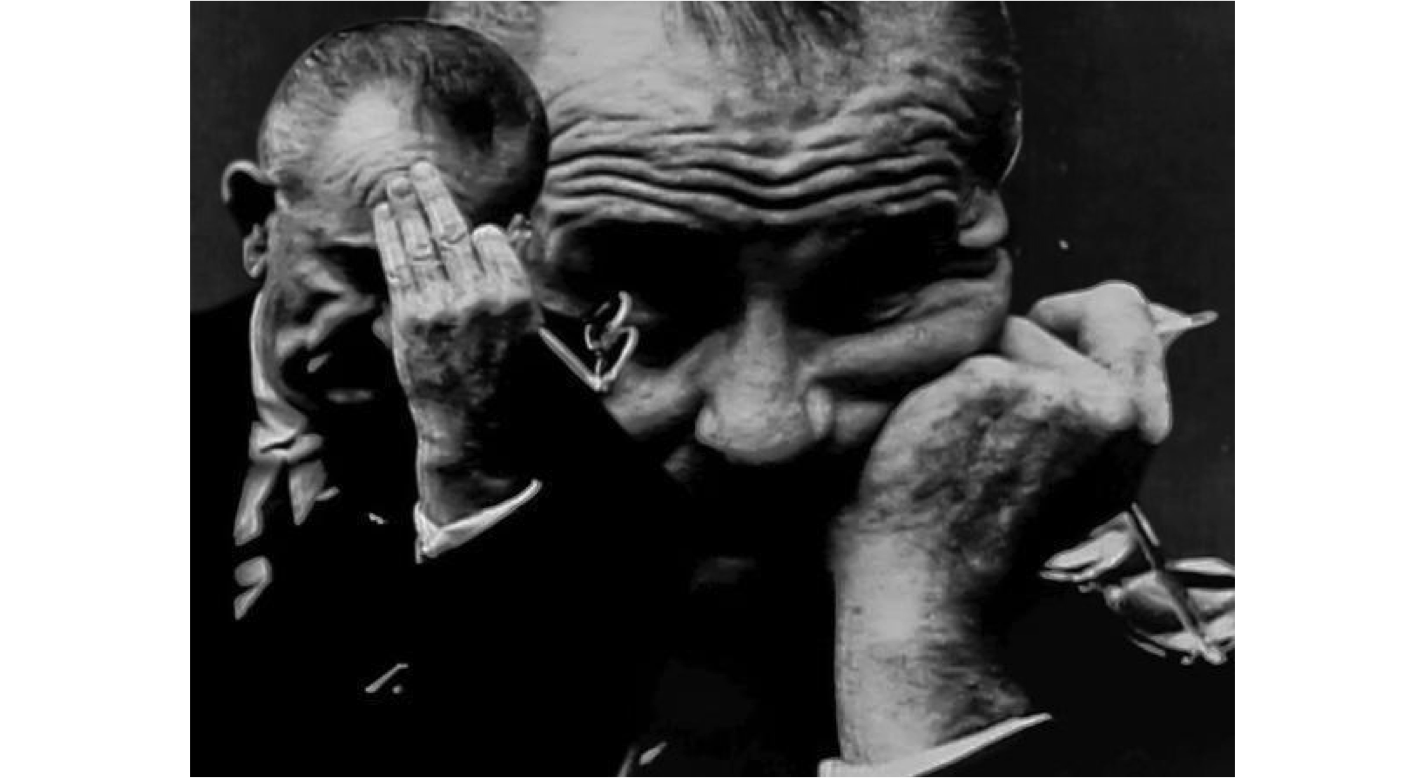 The Rancher (Kelly Sears, 2012)
Another important challenge to the culture of paternal monumentality, Kelly Sears' animated film
The Rancher
(2012) creates a compelling portrait of a president out of synch with himself, in a state of perpetual but secret disintegration because of a series of disturbing dreams. Combining black-and-white and color archival footage and photographs of Lyndon B. Johnson brooding, working at his desk in the Oval Office, and addressing the nation in the carefully scripted public speeches for which he was well-known, Sears' film counters Johnson's meticulously crafted public image with an expertly paced voice over whose authoritative omniscience challenges Johnson's favored mode of self-presentation.
In the President's dreams, we are told, his words become "distorted and undefined," his sentences barely trip off his "swollen and uncooperative tongue," and his talk becomes incomprehensible—mushy and doughy. When he finally loses his voice and compensates aggressively, imagining an imposter who delivers his speeches with the utmost eloquence, he also dreams of a stampede of cattle charging him at great speed, rendered in the film as a blank screen onto which we project our most terrifying visions of what such an assault might be like. An anxious big talker who was a product of the poverty of the Hill Country— afraid of ending up penniless, just like his father—in The Rancher, Johnson becomes a man unhinged, the "credibility gap" associated with his late presidency a function of the distinction between his public persona and his unconscious private life.7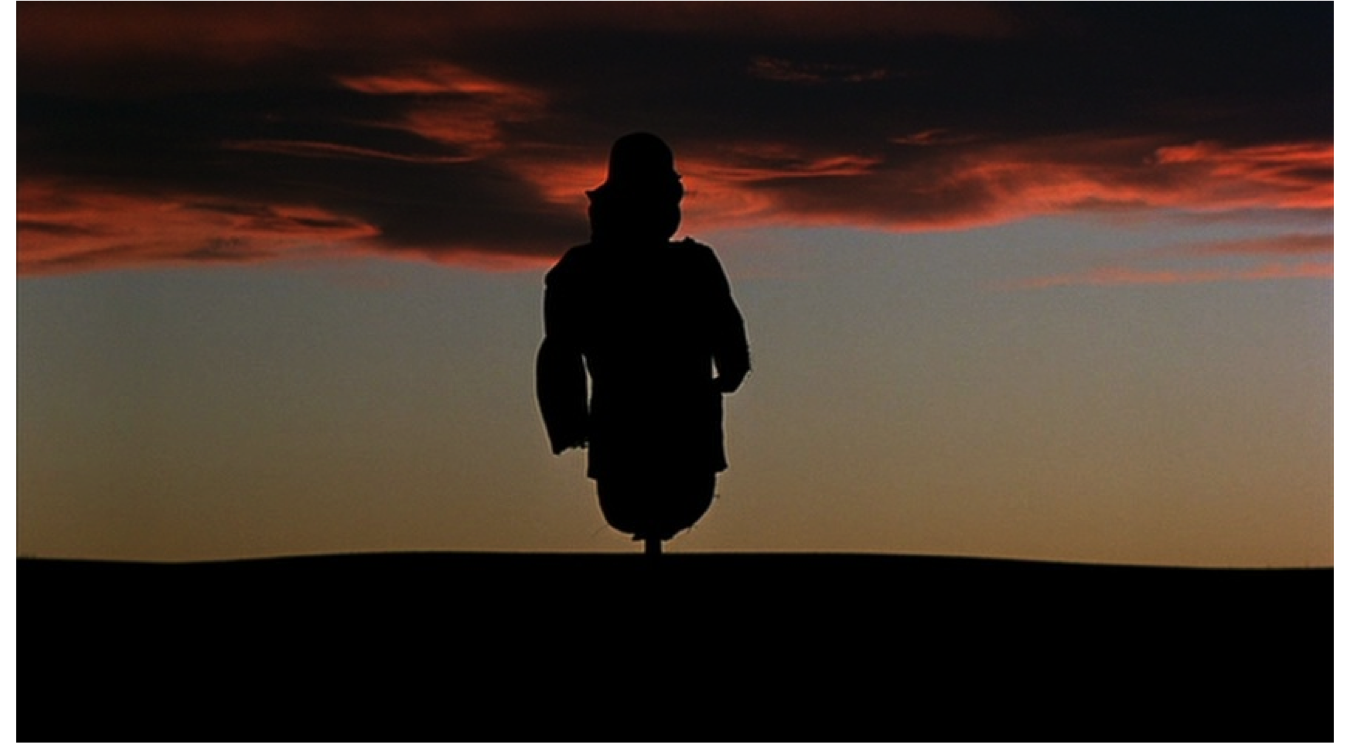 Days of Heaven (Terrence Malick, 1978)

An aged man is a paltry thing,
A tattered coat upon a stick, unless
Soul clap its hands and sing, and louder sing
For every tatter in its mortal dress
-William Butler Yeats, "Sailing to Byzantium" (1927)
At the end of
No Country for Old Men
(Joel and Ethan Coen, 2007), retiring Sheriff Ed Tom Bell recounts a dream he had about his father after he died: in it, he was going through a pass in the mountains, it was cold and there was snow on the ground and his father rode past him without saying a word. He could see that his father was carrying fire in a horn and knew that he was "fixin to make a fire somewhere out there in all that dark and all that cold" and also knew that whenever he got there his father would be waiting. And then he woke up.
There are things we don't know. We yet still dream.
In memory of Jon C. Barlow, who wasn't born in Texas, but got there as fast as he could.
Image Credits:
1. Paris, Texas (Wim Wenders, 1984).
2.Paris, Texas (Wim Wenders, 1984).
3. From left: Found photograph, Austin, Texas. Collection of Melinda Barlow. Paul Newman in production still for Hud (Martin Ritt, 1963).
4. Jon Voight as Joe Buck in Midnight Cowboy (John Schlesinger, 1969).
5. James Mason as Ed Avery in Bigger Than Life (Nicholas Ray, 1956).
6.Dorothy Malone as Marylee Hadley in Written on the Wind (Douglas Sirk, 1956).
7.From left: Postcard of The Texas Ranger of 1960. Collection of Melinda Barlow. Postcard for The Trailer (2013-ongoing) by The Bridge Club. Photo credit: Matthew Weedman/Artisan Photo.
8."What Remains," (The Bridge Club, 2013), detail. Photo credit: Matthew Weedman/Artisan Photo.
9. The Rancher (Kelly Sears, 2012).
10. Days of Heaven (Terrence Malick, 1978).
Please feel free to comment.