A Flow Column feat. Hans Zimmer and Pharrell Williams
Michael W. Harris / University of Colorado Boulder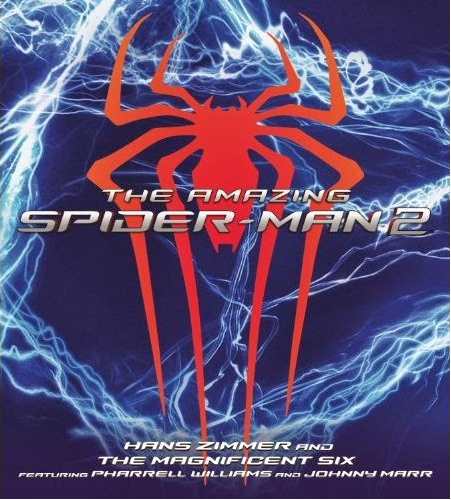 Amazing Spider Man 2 Soundtrack
Hans Zimmer has never been one to shy away from bringing in top flight musicians to play on his film scores. Amidst the horn blasts of Inception (Christopher Nolan, 2010) were the haunting guitar strains of Smiths guitarist Johnny Marr. For his score to Man of Steel (Zack Snyder, 2013), Zimmer brought in a who's who of drummers to create the pounding, bombastic music for the Superman reboot. He has also been a trend setter for the Hollywood blockbuster, establishing his company, Remote Control Productions, as the almost de facto sound of the modern summer popcorn film, and helping to launch or further the careers of numerous composers, many of whom, like Zimmer, began in the world of pop music.1 What he has done on his latest score for Marc Webb's The Amazing Spider-Man 2, though, is to truly bring the world of film music collaboration into the modern world of pop music and the trend of guest vocalists and musicians.
[youtube]http://www.youtube.com/watch?v=ukL0Pp1DYvs&feature=kp[/youtube]
Beginning in the world of hip-hop, in which rappers would frequently guest on other artists albums, this trend has slowly spread to the rest of pop music. In 2013, eight of the top twenty biggest hits of 2013 featured guest vocalists, and the trend is only getting stronger. As I write this, in the current Billboard Hot 100 (for the week of June 14), four of the top ten tracks have a "featuring" credit on them, and two more songs have multiple artists listed. And while this trend is still strongest within hip-hop, as the genres of pop music continue to merge, fragment, and recombine, it is increasingly found elsewhere. And crossing this boundary between all these worlds is one of the biggest names from 2013: Pharrell Williams.
[youtube]http://www.youtube.com/watch?v=yzsXrdLnN94[/youtube]
When Zimmer was tapped to score Amazing Spider-Man 2 by Marc Webb, replacing James Horner from the first film, he decided that instead of just bringing on musicians to play for him, he would fully integrate them into the process, forming a supergroup of past collaborators, billed on the soundtrack as Hans Zimmer and the Magnificent Six. This group included film composer Junkie XL (one of the composers who works at Remote Control), Johnny Marr, Michael Einziger (of the band Incubus), Andrew Kawczynzki, Steve Mazzaro, and Pharrell Williams. Zimmer and Pharrell first worked together when Zimmer produced the soundtrack for Despicable Me (2010), which was written by Pharrell and Heitor Pereira. Zimmer would continue to work with Williams on the music for the 84th Academy Awards in 2012 and also as one of the many drummers on the score for Man of Steel. What marks The Amazing Spider-Man 2 as different from these past collaborations is the equal billing, following the rise of "featuring" credits in pop.
[youtube]http://www.youtube.com/watch?v=QTOMIyynBPE[/youtube]
While it is hard to say exactly when the "featuring" credit entered into the mainstream of culture, 2013 could be seen as a watershed moment if only for the ubiquity of Pharrell Williams. Appearing as a featured guest on two of the year's biggest hits: Robin Thicke's "Blurred Lines" and Daft Punk's "Get Lucky." He continued the success in 2014 with the hit song "Happy" from Despicable Me 2 and included on his album G I R L, which also featured string arrangement by Zimmer along with guest vocals by Justin Timberlake, Alicia Keys, Daft Punk, and Miley Cyrus. With his recent notoriety, including a parody Twitter account for the hat he wore at the 2014 Grammy awards, Pharrell could be the poster child for the "featuring" credit, and his work on The Amazing Spider-Man 2 is just the latest example.
The equal billing of Zimmer and the Magnificent Six, which on the album cover also says "featuring Pharrell Williams and Johnny Marr," also brings to the fore something that has existed within film music for a while.2 For years, especially at Remote Control, numerous composers would actually work on films, but usually compose isolated tracks when time constraints would not allow Zimmer or someone else to physically write all of the music. And, of course, for decades film composers have been using orchestrators to cut down on the work load when they had only a few weeks to score a two hour feature. And it goes without saying that co-composers on songs have existed since the days of Tin Pan Alley and the early music publishing industry.
However, since film scores have always been perceived more as "classical" music (i.e. the creation of a single author), and separated from the rock/pop song soundtracks (i.e. more a group effort of musicians, engineers, songwriters, etc.), this trend of collaboration seems to be at the forefront of a possible attitude change among musicians. As the lines between musical genres (traditional, pop, and classical) continue to weaken, composers collaborate between genres, and how we think about the primary author has to change along with it. And to see these changing attitudes one must not look any further than the film institution that is always the slowest to change: the Academy of Motion Picture Arts and Sciences.
In 2008, Zimmer and James Newton Howard's score for The Dark Knight (Nolan) was initially denied the chance for a nomination because five total people were listed as composers on the cue sheets for the film, and an overall majority of the score could not be attributed to a sole composer.3 However, just two years later, the score for The Social Network (2010, David Fincher) was not only nominated for the Best Original Score Oscar, but also won. It was a surprising moment given the fate of The Dark Knight. Social Network was a collaborative score, written by two composers—Trent Reznor and Atticus Ross—best known for their work in rock music, and it was also a blend of acoustic and electronic sounds in an ambient musical setting. In short, it was everything that the Academy had traditionally shied away from recognizing.
But do these trends mark a true change in attitudes? Is "Hans Zimmer and the Magnificent Six" the shape of things to come in film music? It is hard to say, though given Zimmer's roots in pop music, and his status as one of the true leaders in new film music, it could very well be. However, the classical style film score survived the collapse of the studio system in the '50s, the rise of the pop song score in the '60s, only to reemerge more powerfully in the '70s with John Williams and others. Further, as a generation raised on what can only be termed "remix culture"—a trendier way of saying "postmodernism," in which all of culture is open for appropriation and remixing—comes of age, it could be that we will see more film scores written in such ways. Regardless, it seems that the trend of collaborative scores, and featuring guest artists, is at least here for now.
Image Credits:
1. Amazing Spider Man 2 Soundtrack
Please feel free to comment.
A short list notable composers to come from Remote Control would include: Ramin Djawadi, Harry Gregson-Williams, Henry Jackman, Steve Jablonsky, and Trevor Rabin. He also worked with James Newton Howard, who was already well established, on the first two Nolan Batman films. [↩]
A similar featuring credit was seen in 2013 with the score to Pacific Rim, composed by Djawadi, which included many tracks with guitarist Tom Morello. Though not credited on the cover, in the track listings for the album, four of the twenty-five tracks have a "featuring" credit for the Rage Against the Machine founder and guitarist. [↩]
The additional names were music editor Alex Gibson, music designer Mel Wesson, and additional composer Lorne Balfe. This decision was eventually reversed, though the score still failed to garner a nomination. [↩]