Pantelion Films and the New Wave of Global Latino Cinema
Kerry Hegarty / Miami University, Ohio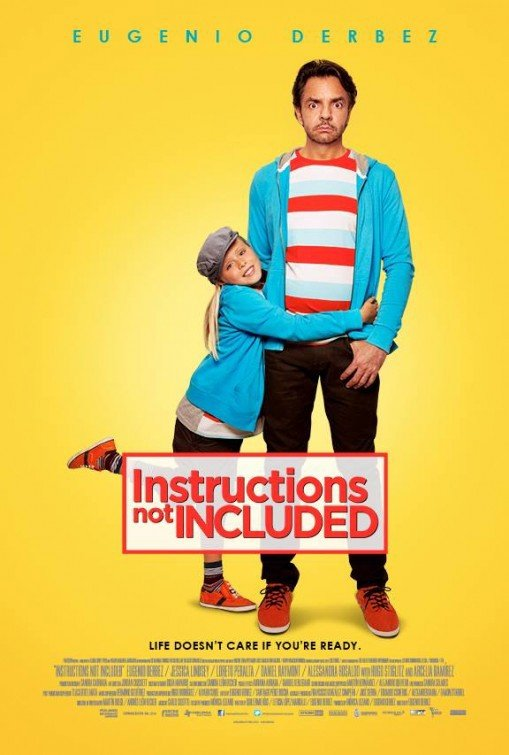 Lobby card for Instructions Not Included
In the 1940s and 50s, Mexico had one of the most important film industries in the world. Its defining genres, such as the ranchera comedy and the family melodrama, and its pantheon of world-class stars, which included María Felix and Cantinflas, among others, were hugely popular not just in Mexico but with Spanish-speaking audiences throughout both North and South America. The industry's domination was due in large part to a combination of Mexican talent and star power and financial and technical support from the U.S., who had a vested interest in maintaining Mexico as an ally, and in influencing the ideological content of Mexican film, especially during the war years. Once the war was over, however, the U.S. withdrew its support, which led to the decline of what had come to be known as Mexican film's "Golden Age" (1930s-1950s).
Hollywood's interest in the Mexican film industry was reawakened with the signing of NAFTA into law in 1994, in which Mexico, unlike Canada, did not take protectionist measures to secure its culture industries, thus opening its filmic production to classification as a commodity under the new laws. The film Like Water for Chocolate (1993, Dir. Arau) reflects this new era of Mexican-U.S collaboration, in that it was produced in part by the Mexican tourist board as a way of encouraging trade between the two countries, and was a huge crossover success (between both national borders and arthouse-multiplex circuits) for indie distributor Miramax. Mexican film once more proved to be an industry beneficial to U.S. interests. The earliest attempts by Hollywood to extrapolate some kind of formula to be able to market to Latino audiences however- films like Tortilla Soup and Chasing Papi– were commercial failures, and led many large studios- like 20th Century Fox, Sam Goldwyn Films, and Universal- to scrap distribution agreements with smaller Latino film labels. In 2006, Christy Haubegger, film producer and founder of Latina magazine said, referring to the marketing of Latino films: "Hollywood has not cracked that code yet."1
It was a code that Hollywood was anxious to crack, however, given the size of the market. Latinos comprise 17% of the U.S. population, and, according to the Motion Picture Association of America, they have the highest rate per-capita of movie ticket and DVD purchases of any ethnic group. They are also faithful consumers of Spanish language TV and radio. Many Spanish radio stations surpass English-speaking ones in listenership in large cities, and Spanish language television network Univisión currently captures more viewers in the U.S. than English language network NBC.2
Pantelion Films, formed in 2010, seems to be the first company to have hit upon a successful formula in recent years for creating Spanish-language films with broad appeal. This formula, as in the era of the Golden Age, involves direct collaboration between the U.S. and Mexican industries. Pantelion is a joint venture between North American distributor Lionsgate Films and Mexican multimedia conglomerate Televisa. With Lionsgate responsible for the Tyler Perry films (the Medea series, Why Did I Get Married?), they have experience in marketing "ethnic cinema" that appeals to a broad audience base. And Televisa is tapped into the Latin American demographic in its capacity as the largest mass media company in the Spanish-speaking world.
Pantelion's most successful film thus far has been 2013's Instructions Not Included, starring Mexican TV superstar Eugenio Derbez, which recently became the U.S.'s highest grossing Spanish language film of all time. It was followed by Pulling Strings, starring another Mexican TV star- Jamie Camil, which was also a crossover success, earning $5.8 million at the box office. The success of these films is in their star power, to be certain, though equally important is Pantelion's marketing strategy. The lobby cards for these films appeared in U.S. multiplex theaters with their titles in English alongside other mainstream Hollywood fare. The Mexican actors appear next to blonde-haired, blue-eyed females, making the films appear to be in English, and convincing Latino multiplex goers, who generally ignore Spanish-language releases, that the films have Hollywood sensibilities. In my first-hand experience, this marketing tactic has even "tricked" English-speaking audiences into seeing these films by making them think they were actually in English.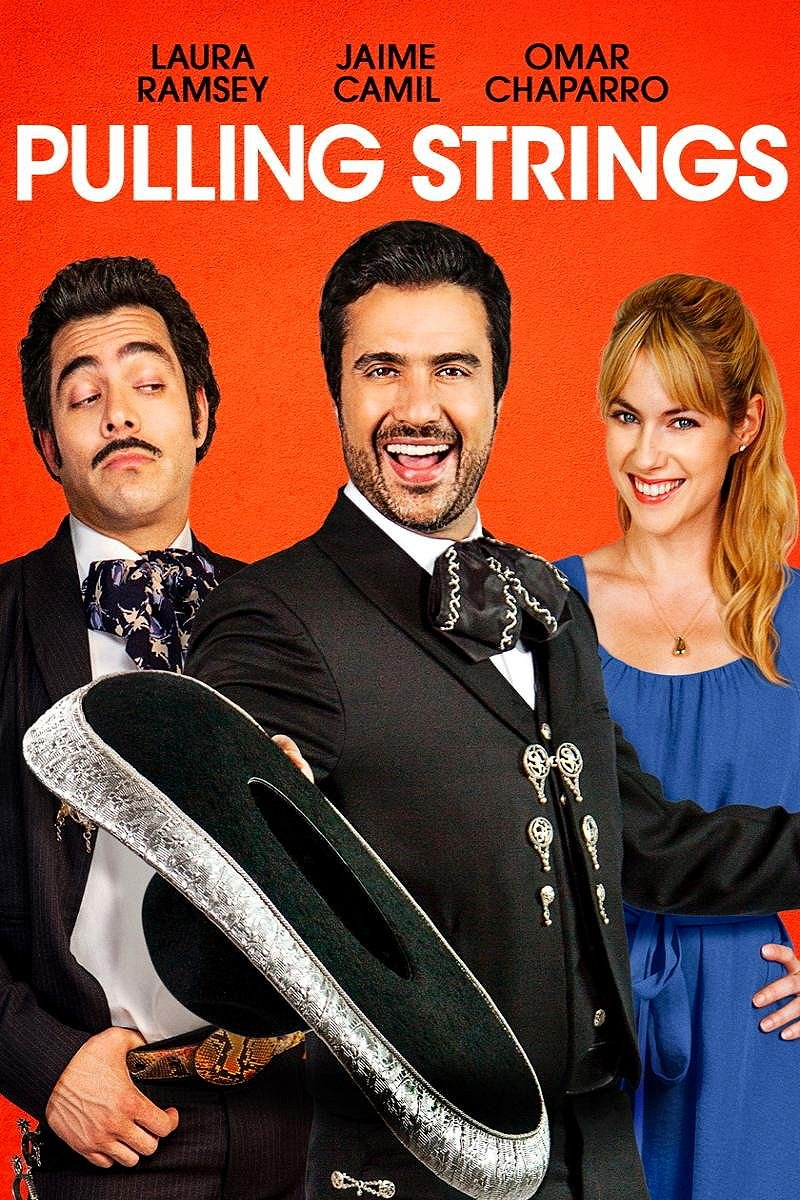 Lobby card for Pulling Strings
Another element of Pantelion's marketing success is its agreement with AMC Entertainment, North America's second-largest movie theater chain, who agreed in advance to dedicate at least 2% of its screens to Pantelion films, and who has theaters in neighborhoods where more than a third of the population is Hispanic- a business tactic reminiscent of the vertical integration fundamental to Hollywood's success during its own classical studio era.
As well, for the first time, these films were released in the U.S. before they were released in Mexico and other Latin American markets, with the aim of giving them the "stamp of approval" by U.S. audiences first, which has proven to be a successful marketing tactic. In my own recent travels to Cartagena, Colombia I saw a screening of the film Instructions Not Included (which does not reference Colombian culture at all) that drew large late-night crowds to a public plaza; everyone from young children to senior citizens to hipsters were drawn in equally by the film's broad appeal.
In narrative terms, the success of these films can be explained by the fact that they are essentially comedic fairy-tales about border crossing and cultural assimilation between Anglo and Latino cultures. In Instructions Not Included, the journey towards the border is portrayed in a comedic, light-hearted way, sprinkled with one-liners, while the actually crossing of the border from Mexico into the U.S. is not portrayed. The main character played by Derbez does not speak English but manages to communicate and become financially successful in the U.S. (in Hollywood, no less). The language barrier is treated comedically throughout the film. In Pulling Strings, the notion of being denied a visa, which is a serious reality for many Mexicans, is treated as an obstacle that might be overcome through the use of screwball antics, though in the end these are rendered unnecessary thanks to the forces of true love. In both films, U.S. culture is shown to be friendly though subordinate to Mexican culture, and disempowered in a sense (being represented mostly by female characters who are romantically linked to the Mexican male leads).
At the same time, these films have universal elements as well: adorable children, familial bonding, physical comedy, romantic endings, fish-out-of-water single-father zaniness, all of which appeal to global audiences, and which keep those English speakers, who unassumingly purchase tickets, staying to the end of the films and enjoying them.
Lobby card for Under the Same Moon
Prior to the success of these Pantelion films, two of the most successful crossover Mexican films were Like Water for Chocolate, as mentioned earlier, and the Weinstein Company's Under the Same Moon (2007, Dir. Riggen), also starring Eugenio Derbez, and headlined by Mexican television royalty Kate del Castillo. The lobby card for Under the Same Moon features similar elements to those of Pantelion's films, revealing a similar marketing strategy on the part of the Weinstein Company. As with Pantelion's films, both of these earlier films feature border narratives that either erase politics or have happy endings, which would seem to point to elements of a successful narrative formula for a new genre of global Latino film. The fact that all of these films are successful not just in the U.S. but in all of the Spanish-speaking Americas, leads me to wonder: does this broad-ranging success reveal the potential for a new "Golden Age" of Mexican popular cinema? Or is it merely the case of the very long arm of Hollywood reaching over the border to exploit the real-world political situation with targeted, escapist narratives in search of increasingly global markets?
Image Credits:
1. Lobby card for Instructions Not Included
2. Lobby card for Pulling Strings
3. Lobby card for Under the Same Moon
Please feel free to comment.
Muñoz, Lorenza. "Searching for Movies That Speak to Latinos." Los Angeles Times, March 30, 2006. < http://articles.latimes.com/2006/mar/30/business/fi-latinomovies30> [↩]
Edwards, Jim. "How Bad is TV Right Now? Univision Routinely Gets More Viewers Than NBC." Business Insider, May 15, 2013. [↩]