Why Don't I Like Breaking Bad?
Kate Warner / University of Queensland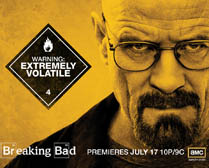 AMC's Breaking Bad
I have a confession to make—I don't like Breaking Bad. It's shocking but true. I have a PhD in TV studies, I really like watching television, I have thoroughly enjoyed the increase in well-made television over the last 15 years but I do not like Breaking Bad. I feel as though I am out of step with my culture. So I have decided to dedicate this column to working out why I do not like the show.
For those who have missed the hype Breaking Bad (2008-2013) is a critically acclaimed AMC serial. The main character is Walter White, a chemistry teacher who, on discovering that he has cancer, decides to make money by manufacturing methamphetamine. Eventually, after many travails and learning how to be effectively violent and murderous in the drug industry, Walter declares that he is in the 'empire' business. The plot follows how the increasing violence affects Walt, his drug-making partner Jesse, and his family—his wife Skyler, son Walt Jr., brother-in-law Hank Schrader and sister-in-law Marie.
A reason that I am confused about why I dislike the show is because I can see that the show is 'good'. It is brilliantly acted, wonderfully scripted and the cinematography is amazing. It's not that I dislike 'anti-hero' shows. I liked The Wire and Deadwood. I wrote a significant part of my PhD on Oz. When Breaking Bad first aired I found it fascinating and enjoyed the dark humor. But as it went on I grew to like it less and less. My problems seem to fall into four categories. 1, I don't like the gender issues. 2, I don't like the characters. 3, I don't like the lack of community. 4, I don't like the racism. These are issues of taste, issues of structure and issues of society.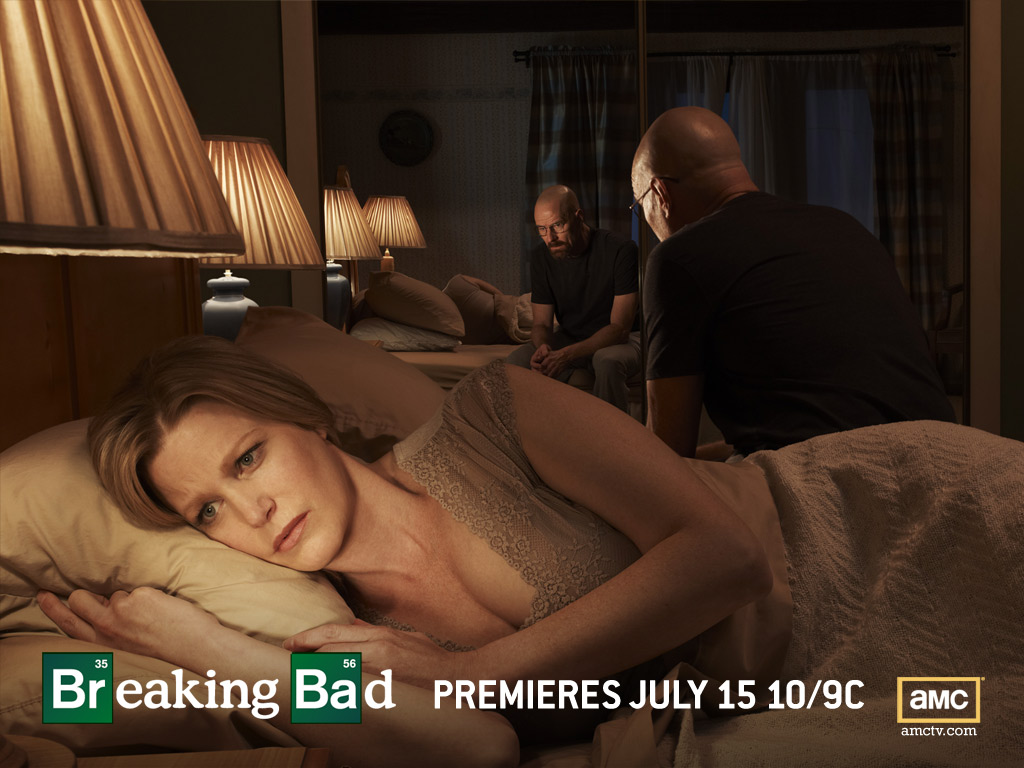 Walt's wife Skyler White, played by Anna Gunn
Gender Issues
Problematic representations of gender are one of the more discussed reasons for disliking Breaking Bad (Hudson 20131; Kovvali 20132). Even Anna Gunn, who played Skyler White, entered the debate by publishing an article about the vitriol she had suffered because of her character's unpopularity (Gunn 2013).3 Skyler had been the subject of a great deal of hate and there were many Internet forums devoted to this. Anna Gunn attributed this to society's conflicted attitudes about "women and wives" and that the hate of Skyler was because parts of society could not cope with women who thought for themselves (Gunn 2013). Skyler is one of only a very few female characters4 and this limited number of women means that their representation is also limited.
One of the show's obvious and central concerns is masculinity; it is clear that issues of what it is to be a man are at the center of Walt's problems and are what make Hank such an unattractive person. In response to this kind of masculinity the women are not much better—they are not able to be. I can see and acknowledge the skill that has gone into representing these social and personal problems but at this point in time I have consumed enough stories about how hard it is to be a man. I don't care anymore. Hundreds of years of literature have explored this and I have seen it too many times. Bored now.
Character
The issue of gender does lead on to the issue of character. The show is at least partly about the horrors of current American models of masculinity. The show's characters demonstrate how unlikeable these dysfunctional models make people. However, this unlikeability is often seen by critics as a positive. Breaking Bad is seen as a brave and artistic show because it dares to have characters that no one likes. I do understand the artistic bravery of this decision. I just don't want to spend time with these people. They annoy me.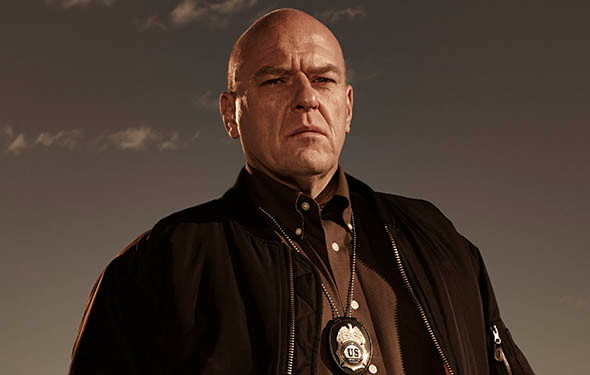 Walt's brother-in-law Hank Schrader, played by Dean Morris
A clear example of an unlikeable character is Hank, who I disliked from the beginning. I understand that I was supposed to grow to respect him towards the end of the series as the stalwart defender of the law. I didn't. Hank's character is bullish, macho, rude and condescending. This representation of masculinity was unpleasant. The excuse of toxic masculinity does not actually make the character forgivable.
Interestingly, I don't think that Walt is unlikeable because he cooks meth or even because he murders people. There are aspects of the character that are fun: he has a sense of humor, he's the underdog, he is clever and inventive in surprising ways. However, he keeps stuffing up. He does things for reasons of pride and greed that he would have been wiser not to do. Walt isn't an unlikeable character because he is bad. He is unlikeable because it is disheartening to watch someone make the same mistakes over and over again.
Community
Breaking Bad has an unusually small central cast and—in my opinion, annoyingly—the characters do not get to interact with one another. The White and Schrader families interact but beyond that characters only interact with Walt. It is telling that Marie does not even meet Jesse until the 58th (out of 62) episode. I am sure that this depiction of social isolation was a deliberate choice but it resulted in a show that I had a hard time being interested in.
Historically, television has been great at showing the creation of communities because the same characters return again and again to the same spaces but this does not happen in Breaking Bad. Breaking Bad is, in many ways, about the failure of community. The lack of interaction that the central characters have with people outside their specific worlds is indicative of a lack of community.
Admittedly, there are representations of how people's actions affect others. For example, the plane crash over Walt's home, resulting in the death of hundreds of people, is shown to be a direct result of his actions. But this plot strand is largely forgotten by most of the characters after the start of season three and while dramatic it does not show actual people's grief. Even when the show represents the community's hurt about the crash, as in the high school assembly, it then mocks this grief by presenting its most facile aspects and by using it to embarrass Walt.
Racism
I argue that the show is quite racist in its depiction of Mexicans.5 It was this issue that caused me to give up the show in anger halfway through season three.6 Since the beginning of season three a pair of Mexican hit men have been stalking Walt. They are represented as silent, stylish, frightening and mystical. They seemed to me to be potentially very interesting characters. I had, at this point, a level of faith in the show that it could develop characters from these stereotypes and they would become more than mere colorful sketches. But this does not happen—they were killed by Hank in self-defense and in order to further Hank's character development.
[youtube]http://www.youtube.com/watch?v=qM-rwAZCZJk[/youtube]
There is a tendency on Breaking Bad for Mexican characters to be other worldly—to be exotic and odd and not normal. Alternatively they are vicious criminals or hapless peasants. In seasons three and four some of the action takes place in Mexico but Mexico is always either a place of violence or magic, not a place where ordinary people live. The undeniably beautiful cold open of season three in particular needs some analysis. Not from an aesthetic perspective but from a social one. Mexicans in this section are alien and inexplicable. They practice strange religions and are inscrutable. They actually fit almost perfectly with Edward Said's description of 'Orientalism' though referring of course in this case to Mexicans rather than Arabs (Said 1995).7
Overall I am not arguing that people who love Breaking Bad are wrong or mistaken. I appreciate the quality and complexity of the show, but there are good reasons for not liking it that are not only matters of taste. Many of my objections are rooted in how I understand the world—not just what I like but what I want to like. It is political. It's not a knee-jerk reaction to violence; I don't have a huge problem with that. It's a reaction to how the society is represented and also to the meaning of entertainment. I don't want to watch horrible people doing horrible things to one another unless there is some underlying theme that I can relate to or at least some charm. I just don't find that here.
Breaking Bad is about the failure of society. It represents a society that creates only people who are evil or stupid or uncaring. There are no good people in Breaking Bad. I am capable of watching and enjoying shows about the dystopia of the current world but I need some hope. I am not entirely cynical—I think the world can be improved. Because I think that while people can act badly there is still a hope that they can act well. Breaking Bad does not.
Image Credits:
1. AMC's Breaking Bad
2. Walt's wife Skyler White, played by Anna Gunn
3. Walt's brother-in-law Hank Schrader, played by Dean Morris
Please feel free to comment.