HBO and Netflix – Getting Back to the Future
Thomas Schatz / University of Texas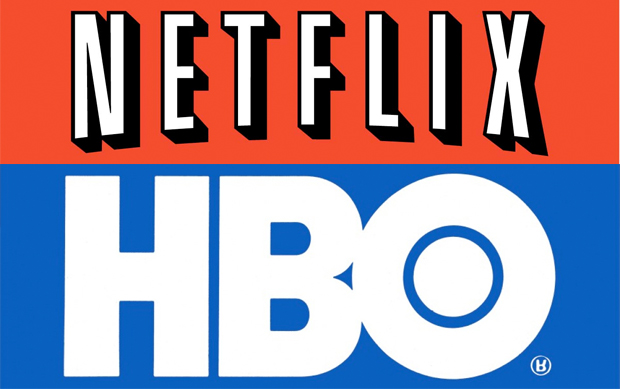 Media Companies Netflix and HBO
One of the most significant and disruptive forces in contemporary television is of course Netflix, which steadily pivoted from "flix" to TV series as its primary online product in recent years, changing the ways we access and watch TV, and then barged into the high-stakes original series programming derby in 2013 with House of Cards and Orange Is the New Black. In the wake of those series hits, Netflix' co-founder and CEO Reed Hastings began referring to it as a "web-based TV network," while television critics and media pundits are heralding it as "the next HBO." The fact that Netflix could be mentioned in the same breath – and the same context – as HBO is not all that unreasonable. The entertainment providers boast roughly the same number of subscribers in the U.S., just under 30 million each, with the Netflix numbers continuing to climb while HBO's have long since leveled off. And Netflix' revenues (if not its profits) are approaching HBO's as well. "If Netflix were a cable channel," The Economist recently reported, "its subscriber revenues in 2013 would put it third in America behind ESPN and HBO."1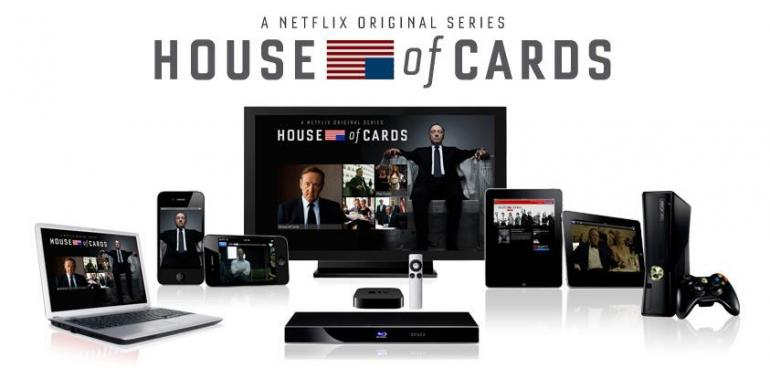 Viewing Versatility of Netflix Original Series House of Cards

Netflix Original Series Orange is the New Black
A delicious irony here is that HBO spent all those years (and marketing dollars) insisting that "It's not TV," while Netflix has been equally insistent that indeed it is a TV network. The fact is that both HBO and Netflix represent significant variations on the ancient broadcast television model – and especially the business model of conventional commercial television – but both are also staking their futures on that most traditional of television products: series programming. Thus the success of both HBO and Netflix speaks volumes about where "television" seems to be headed in the new millennium, while signaling the persistence of the medium's most fundamental characteristics. And while there's some validity to the notion of Netflix as the next HBO, the differences between the two dominant "new networks" are illuminating as well.
One key difference, of course, is the relationship of each company to conglomerate Hollywood and the mainstream movie industry. HBO began, like Netflix, as a movie delivery service (owned by Time, Inc.), launching the first nationwide pay-cable movie channel in 1976. That wildly successful was a key factor in the 1989 Time-Warner merger, although it would be another decade before HBO really came into its own – in 1999, to be precise, with its breakout success of its original series, The Sopranos. That was not HBO's first original series, but it was its first bona fide hit (on DVD as well as cable), prompting the network's rapid, aggressive shift to original series as its principal and defining product. That move transformed HBO and assured its eventual stature as the crown jewel in the Time Warner empire. It is now far more profitable than Warner Bros., despite the studio's leading market share in the movie industry, and HBO is far more profitable than the major television networks as well.
So HBO did provide a template of sorts for Netflix, both in its shift from movies to TV series as a programming staple and its venture into original series production. The two share another key characteristic as well, in that both operate as "premium" subscription services. The two companies reinforces the well-established equation in commercial television between quality programming and quality demographics, but in this case the key concern is not CPMs (cost-per-thousand viewers) – i.e., how much sponsors are willing to pay a network for the audiences delivered to its commercials – but rather how much money discerning, upmarket viewers are willing to pay for content (minus those pesky commercials). It's worth noting that nearly all TV viewers (86%) are subscribers in the form of cable fees, but less than a third are paying premium prices for HBO or Netflix. An intriguing question is the extent to which the two audiences overlap; I assume that I'm one of millions who subscribe to both services, which I consider distinct, complementary, and indispensable.
An obvious difference between the two companies of course is Netflix' online streaming operation, which is proving to be better suited to TV series than movie content. As Tim Wu aptly notes in a recent article on Netflix in the New Republic, "Nearly all scripted shows become streaming shows, whether they are produced or aggregated by Netflix or Amazon, CBS or a (finally unbundled) HBO – or even on unexpected entrants such as Target, which recently launched a Netflix competitor." Wu argues that the key to success for these "new networks" is their ability to "make the right original programming decisions and secure the best old shows." These two objectives go hand-in-hand for HBO and Netflix – indeed, they are one and the same for HBO, which is precisely why it is not likely to "unbundle" its service anytime soon. And it also explains why the two stand alone atop the throng of new networks in the digital age. HBO and Netflix have staked out the high ground with their original series, and both have cultivated a reputation for "prestige programming" that is essential to their network identities and their popular and commercial success. HBO's original series track record has been astonishing, at it remains to be seen whether Netflix can sustain the momentum created by House of Cards and Orange Is the New Black.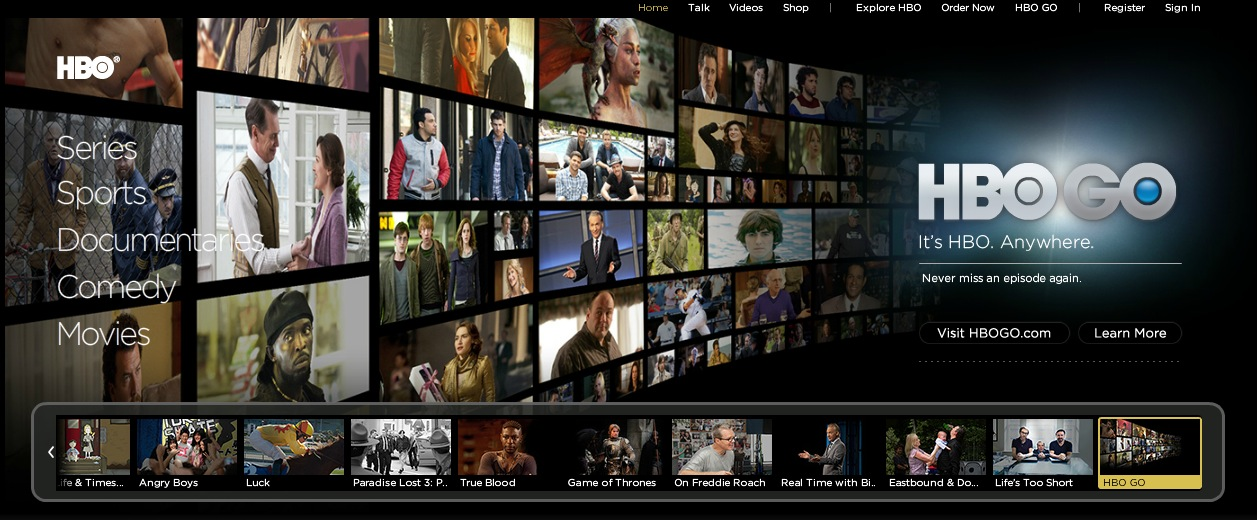 HBO GO, Streaming Service from HBO
HBO did move into streaming in 2011 with HBO GO, although its library holdings are limited – and are dominated by its own original series – while the service is available through cable providers rather than online. Thus HBO GO seems designed primarily to accommodate series late-comers and binge viewers, two other qualities heavily associated with Netflix. But one could argue that HBO really started both trends back in December 2000, when it released the first season of The Sopranos as a DVD box set just weeks before the rollout of season two. The full-season DVD set was a phenomenal success, intensifying HBO's commitment to original series and encouraging its programming executives to rethink their assumptions about both series scheduling and patterns of television viewing. Netflix, in turn, has taken binge-viewing practices to another level – and has pushed the term into the popular discourse – in its promotion of series like Breaking Bad and Mad Men, and in the strategic coordination of its full-season streaming releases with AMC's rollout of new seasons.
The veritable partnership with AMC in the marketing and dual launch (on cable and the Internet) of its hit series has been crucial to Netflix' climb in recent years. In fact its streaming of Breaking Bad may have been even more important to Netflix' recent surge than its original series. This also points to a decided advantage that Netflix enjoys over HBO, in that it can acquire programming from literally scores of other networks. The tradeoff for HBO is that it owns its series and its increasingly estimable library, and thus along with AMC is one of Netflix' most important upscale suppliers. Both HBO and Netflix are buyers of talent as well, in that both are paying top dollar for original programming – a new twist on the "deficit financing" strategies that fueled of the major networks in their heyday. And more than any other networks, HBO and Netflix are cultivating new talent while hastening the migration of established filmmaking talent from movies, particularly the fading indie-film sector, to TV series production.
Filmmakers are migrating to television for the same reasons audiences are: better product and more of it. Hollywood's ever-intensifying commitment to mindless blockbusters and global movie franchises is steadily disenfranchising both discriminating filmmakers and discriminating viewers, who are finding one another on HBO and Netflix. And both constituencies are hooking up on their own terms – top talent freed from the constraints of high-stakes motion picture (and major network) production, and viewers freed from the constraints of regular programming and commercial interruptions.
This latter point is perhaps the single most disruptive innovation of both HBO and Netflix, and one that may well signal a fundamentally new direction for the medium of commercial television. Each has developed a business model that blatantly rejects the principle of ad-supported programming – along with the obvious assumption that television is first and foremost and by its very nature an advertising medium. The irony here is that Netflix as an online service has developed a more efficient means of measuring its clientele than any other television ratings outfit, and that its routine collection and assessment of "big data" is something that the traditional networks (and ratings services) would pay dearly for. So far Netflix has eschewed the ad-driven paradigm, and thus perhaps comes closer than any other network to giving viewers what they have always been promised but have never been given: what they actually want to watch.
Image Credits:
1. HBO/Netflix
2. Orange is the New Black
3. House of Cards
4. HBO GO
Please feel free to comment.
"Thinking outside the set-top box," The Economist, December 14, 2013, p. 69. [↩]