Immigration advocacy from the anchor's desk
Viviana Rojas / University of Texas at San Antonio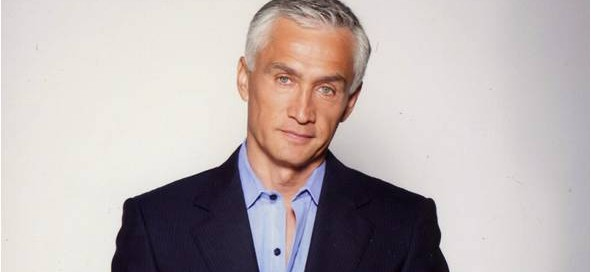 Jorge Ramos transfers immigration agenda from Univision to Fusion, the new English-language TV network launched by the Hispanic broadcaster
The growth of the Latino population in the past two decades has spurred the emergence of several television networks targeting second and later generations of Latinos in English, Spanish, or Spanglish. LATV, MTV Tr3s, mun2, Nuvo TV, and more recently, Fusion and El Rey are some of the networks offering programming for young Latinos 12-34 years old. News and public affair shows in English are not common in these new cable networks. However, Fusion, launched last October, came out with a different mission in its flagship news program "America with Jorge Ramos" : to be a "very loud voice" for immigration reform (Calderone, 2013). This type of open political advocacy is rare among the emergent bicultural and bilingual networks. Univision and Fusion's pro-immigration agenda which is also shared by Telemundo, the second largest Hispanic network, goes to compete with an anti-immigration agenda voiced by several mainstream networks in a largely politically polarized broadcasting environment.
[youtube]http://www.youtube.com/watch?v=M2fCERPSRbg[/youtube]
America with Jorge Ramos in Fusion
Ramos , a veteran anchor of Univision and the host of America with Jorge Ramos, is breaking news barriers with his interviews and questions on immigration issues which have permeated to the national agenda. Mainstream media as well as cable networks have commented on his work. His journalistic style and his accent have been subjects of praise and criticism. Ramos' accountability journalism has placed some legislators and public officers in uncomfortable situations regarding their actions toward immigration reform and the situation of millions of undocumented immigrants. In recent interviews with Senator Rafel Edward "Ted" Cruz, Arizona Sheriff Joe Arpaio, and Chicago Mayor Rahm Emanuel (see links below), he unrelentingly asked questions about the prospects for immigration reform. In some cases, the interviews have emotional undertones when he confronts his interviewees' broken promises on immigration reform or when he addresses their personal immigration stories. After telling Senator Cruz that he was born in Canada and that his Cuban-born father became a U.S. citizen in 2005, he asked him: "Why don't you let other immigrants to have the same possibilities, the same opportunities your father had. You don't want a path to citizenship and you had the opportunity" (see video below). Similarly, he asked Sheriff Arpaio questions like "Why are you doing this; why are you racially profiling Hispanics…where is that hatred coming from?" Or "So you never gave the order to stop someone simply because they have an accent, simply because they speak Spanish, not because of the color of the skin?" Some of these interviews have been reproduced and discussed on English networks with strong praises for his interview style centered on tough and direct questions (see The Young Turks in references). Several inquiries emerge out of his journalistic crossover towards American mainstream television. Whose agenda is he developing on his English and Spanish language networks? Is it his personal agenda or Univision's agenda? Or, is this a commercial ethnicity agenda1 that is tied to the conception the network has of their market audiences? And more important, who is watching these shows? Are second or later generation Hispanics –or more acculturated Latinos–as interested in immigration issues as their parents, grandparents, or great-grandparents?
[youtube]http://www.youtube.com/watch?v=FrUzQ9NgV7I[/youtube]
Interview with Senator Ted Cruz
Interview with Sheriff Arpaio
Media Crossover
Jorge Ramos is 55 years old and has been in the United States for over 30 years. He is the most popular news anchor at Univision, the fifth largest TV network in the United States. Every night, more than 2 million viewers tune in to Noticiero Univision which he co-hosts with Maria Elena Salinas, making it the first-ranked newscast on the U.S. television. The show has three times the audience of CNN's "The Situation Room with Wolf Blitzer" (James, 2013). First and second generation Latinos are familiar with his work as he has anchored Univision's prime time news since 1986. Besides Noticiero Univision, Ramos also hosts Al Punto, a weekly news show which attracts almost a million viewers. Additionally, he is the author of 10 books, a syndicated columnist, and a radio host and is frequently invited to comment on issues related to Hispanics on mainstream shows. Ben Sherwood, president of ABC news has described him as "Walter Cronkite and Edward R. Murrow wrapped into one" (Rohter, 2013). The Wall Street Journal and Newsweek consider him among the top most influential media and political figures.
Ramos is an "unapologetic proponent of immigration reform" (James, 2013). He states that immigration is a personal issue for him on many fronts: "Despite the fact that I have been in this country for more than 30 years, I'm still an immigrant. I still have an accent. When I go to Mexico they think I am from the States and here they think I'm from another country. As an immigrant you are always looking for home" (Battaglio, 2013). IIn spite of all this visibility in the Latino community, he still feels invisible to the rest of the United States. He believes that the White House, Congress, and mainstream media "see us only before the elections and then they forget about us for three years" (Battaglio, 2013). Ramos expects that Fusion will help to establish a connection with the millennials and more specifically with young Latinos who do not speak Spanish. He thinks that the switch to English will ensure that "[n]othing will get lost in translation" (Battaglio, 2013) and that the immigrant perspective as well as the Hispanic perspective will not get lost on the major networks. Ramos has reinvented himself to reach a wider English-dominant market, but at the same time, he wants to maintain his status as news leader among the Spanish dominant Latinos. The project is amb itious and success is not guaranteed. We still need to see how this immigration agenda fits with the millennial audience. Other emergent networks such as LATV and Nuvo TV have changed strategies along the way and their programming and focus have been adapted to the new goals. In a multichannel environment, it is difficult to attract the attention of young viewers who don't watch television. Fusion will start small with about 20 million cable subscribers and will increase to 60 million in five years. In comparison, CNN and FOX News each reach around 100 million households.
Advocacy and Moral Frames
Immigration is a divisive and emotional issue across the board in the U.S. society and Ramos knows that he is a powerful voice on behalf of immigrants' rights. Commitment over distant neutrality is what guides his presentations of the news. From the anchor's desk, he voices his opinions on immigration as well as on other issues such as the scandals inside the Roman Catholic Church. His approach follows more of a Latin American style of commitment with the events as compared with the neutral stance of his English-language counterparts. Conflict is a central theme in his interviews, in which he says the question is "my only weapon" (James, 2013). This style has brought him criticism and a label of a confrontational and aggressive interviewer, particularly after he interviewed President Obama and Governor Romney during the last presidential campaign. Ramos defends himself saying "that's the kind of interview we do [at Univision] all the time. The reality is that we had to take advantage of this opportunity to let them know what the Hispanic community really wanted" (Battaglio, 2013).
Conclusion
The media agenda and the political agenda cannot be separated here. Fusion started with a motto of transforming the media game, which has far reaching implications beyond immigration reform. Jorge Ramos said recently on The Daily Show that without immigration reform, the GOP "can say adios to the White House" (see link below). In several other venues he has insisted that "[y]ou can't win the White House without the Latino vote and you can't win the ratings war without Latinos anymore" (Calderone, 2013). Having a well-informed audience on immigration issues is not a problem for Ramos' detractors, but having a "biased role" might "spell a big trouble for the Republican Party" (Fulgencio, 2013). On the day of its launching, some critics pointed to the "Fusion amnesty agenda" and expressed their hopes that Fusion management, Ramos and the production staff "will not resort to a default 'legalization and unlimited immigration is the answer' to America's raging immigration crisis"(King, 2013). The debate over Fusion's stance on immigration and Hispanic issues is indicative of the changes in the media environment and the importance of the political capital these new bilingual and bicultural networks can bring to the political arena. There is no certainty that one anchor can determine an election as the Washington Monthly magazine said of Ramos in the 2012 election, but surely he can make enough noise from his desk until he gets heard by the big media, Congress and the White House. And maybe the balanced approach proposed by some of Ramos' critics, in which the audience can have a fair chance to listen "both left-leaning and right-leaning commentary" (Fulgencio, 2013) would work well not only for Fusion but also for all other mainstream English language networks.
Jorge Ramos interviewed in The Daily Show
Image Credits:
1. Jorge Ramos transfers immigration agenda from Univision to Fusion, the new English-language TV network launched by the Hispanic broadcaster.
Please feel free to comment.
Rodriguez, A. (1997). Commercial ethnicity: Language, class and race in the marketing of the Hispanic audience. The Communication Review, 2(3), 283-309. [↩]