Making Television and Collaborative Authorship: Interview with Jim Piddock, Co-Creator of HBO's Family Tree
Stefania Marghitu / King's College London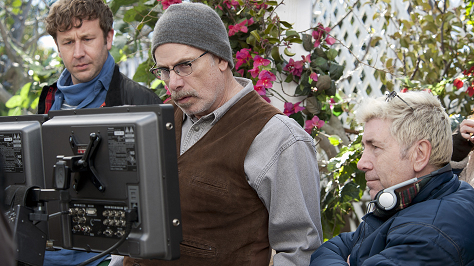 Piddock, Guest and O'Dowd Behind the Camera
Family Tree contains all of the makings of a signature Christopher Guest production. Like his previous major films This Is Spinal Tap, Waiting for Guffman, Best in Show, A Mighty Wind, and For Your Consideration, the set up is in an improvisational mockumentary with familiar actors such as Michael McKean from Spinal Tap, Show, and Mighty Wind; Ed Begley Jr. and Bob Balaban of Show, Mighty Wind, and Consideration; and Fred Willard, who has become something of a Guest staple as he's appeared in all of these films.
[youtube]http://www.youtube.com/watch?v=0BeY3Y7WgQ0[/youtube]
HBO "Family Tree Season 1: Invitation to the Set"
Yet instead of making another movie, Guest and Co-creator Jim Piddock established early on that the premise of Family Tree would make for a television series. In a July 2013 e-mail interview with Piddock, he said this was a clear decision:
From our first meeting where we discussed Family Tree in July, 2011, we knew it was a TV series and not a film. The very nature of a family tree is not linear or containable in a traditional 3 or 4 act movie structure. There are branches going in all different directions that you want to explore beyond the central premise.
Piddock began his stage acting career in the UK, further pursued it with a move to the US in the 1980s, and not long after expanded to a number of roles in both film and television. His first film appearance was as a South African consulate in Lethal Weapon 2, released in 1989. In TV, his most well known role so far is likely on NBC sitcom Mad About You, which aired from 1992 to 1999. Most significantly, he's also played in Guest's Best in Show, A Mighty Wind, and For Your Consideration and holds previous writer and producer experience, such as the 2000 BBC series he created, Too Much Sun.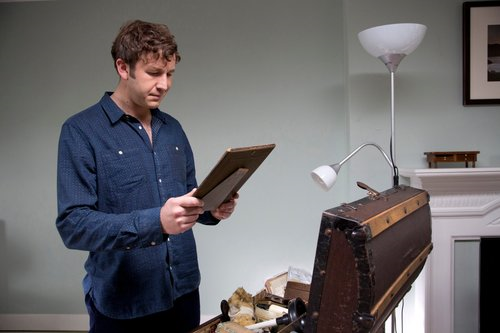 Chris O'Dowd as Tom Chadwick
Family Tree centers on freshly heartbroken Londoner Tom Chadwick, played by Chris O'Dowd (The IT Crowd, Bridesmaids, Girls) who becomes consumed by the trunk of family heirlooms he inherited from his recently deceased great-aunt Victoria. Each episode revolves around an artifact Tom procures that leads him to information about his heritage. Piddock's character Mr. Pfister, Tom's neighbor and owner of antiques collectible shop "Mr. Pfister's Bits & Bobs," assists him along the process by unraveling historical clues, from Tom's visit to the theatre where his great-grandfather performed to meeting his redhead cousins in rural Derbyshire.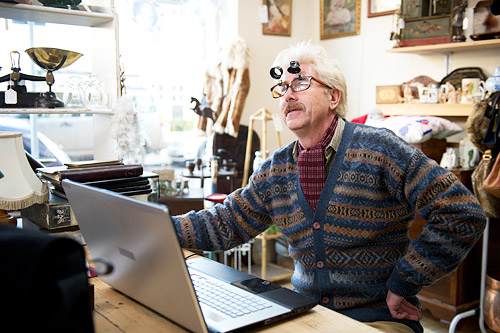 Jim Piddock as Mr. Pfister
By the end Episode 4, "Country Life," at the halfway mark of the 8-episode series, Tom is invited to visit his American relatives in Los Angeles, the setting that subsequently takes up the remainder of the first season. Indeed, the single-camera 30-minute series provided more than double the airtime, allowing the inclusion of several more characters, arcs and story lines, in its first season than a standard film two-hour film could. Family Tree also falls with other established mockumentary shows such as the UK and US Office incarnations, Parks and Recreation and Modern Family. With the HBO format of TV series, the amount of episodes in a season is also much shorter than a standard network program. The improvisational acting and wry comedy, especially in an LA setting, is often reminiscent of its HBO peer Curb Your Enthusiasm.
Family Tree can serve as both a serial, with recurring cast members, intermittent themes, threads and narratives, but also often as a series, in that the end of an episode frequently concludes an individual branch of the family tree.1 This component works as an almost genealogical procedural in which Tom uncovers details about his extended relatives in various ways, engaging with his own family as well as experts on anything from the Olympics in Britain to Native Americans and Jewish silent cowboy stars in California.
Piddock noted Family Tree was shot very much like a movie in contrast to a traditional 4-camera sitcom. He also said he and Guest formed a much closer and much longer working relationship beyond the director-actor style from their film partnership.
When I asked if Piddock felt that he and Guest were showrunners in the same sense as directors or producers on a film project, he said that they were "showrunners in the TV sense, which means the buck stopped with us for pretty much everything." I quite liked this answer myself as it suggests the comparison between film and TV in the way I implied is not as much needed, in contrast to establishing TV production vocabulary for a distinct new form of 21st century authorship in a constantly evolving medium. The two co-created and co-wrote the series, and shared executive producing duties with Karen Murphy.
Guest worked in TV only prior to his predominant film career, so I was curious to ask about his consistent role as the director of every episode of Family Tree, whereas the TV standard is to incorporate several guest directors throughout the course of one season. Piddock stated it was agreed upon early on that Guest would direct all the episodes, while he and Murphy were more involved in the day-to-day producing responsibilities. Piddock and Guest were jointly immersed in the "creative decision making at the monitor" and Murphy was focused on "practical crew and staff management."
Piddock also acknowledges the rise of quality television today:
There's no question that there's a far wider and deeper quality of television available now. With the demise of the independent film market and the emergence of cable channels — and now other outlets in addition to your traditional TV screen — we're in something of a golden age in television. Particularly in drama. And it's no coincidence that some talented writers and directors are now migrating to TV.
Piddock stated his gratitude towards HBO, BBC (where the series will air in the UK as well), and NBC Universal (who he said actually makes the show) in terms of creative control and freedom. He said this was implicit in the initial deals, but that it isn't uncommon to stumble upon outside interference. "We had nothing but support and appreciation for what we were doing from everyone. Which enabled us to make the show we wanted to make," Piddock wrote.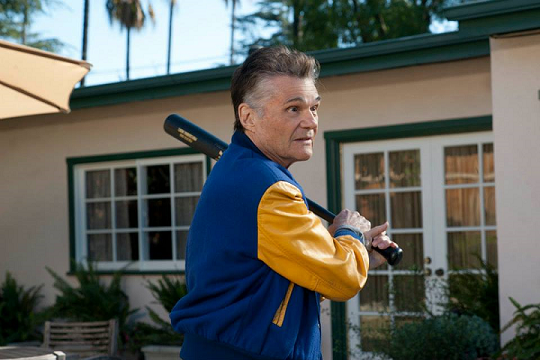 Fred Willard as Mike Morton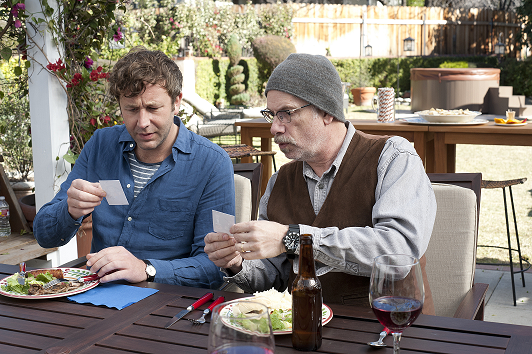 O'Dowd and Guest as David Chadwick, a relative from North Carolina
Piddock and Guests acting duties were also interestingly split, where Piddock played in all of the 4 initial London episodes, and one episode in LA when he rang Tom, while Guest served as a trifecta in three episode with his role as a relative visiting from North Carolina. Guest has also frequently had minor roles in his films.
One of the most excellent facets of the series is the incorporation of fictional television series the characters watch. Tom's father, played by McKean, watches a Brit multi-cam sitcom centered around an Anglo-Indian family, as well as a cop comedy in an otherwise strained encounter with his country cousin. Tom is invested in mostly the romantic relations of a Game of Thrones-like series, and his friend as well as a group of Native Americans on a reservation are fans of the Sherlock Holmes meets Star Trek hybrid spoof called Sherlock Holmes: The New Frontier.
All in all, Piddock believes in the changing times of television:
Obviously, things will change a lot in the next few years, in terms of how we watch TV and how shows are put together. There's also not only opportunities for new types of shows to emerge, but lots of ways of shows having an extended life. We've seen that with Arrested Development being picked up by Netflix.
TV critics such as Mike Hale, Robert Lloyd, Alan Sepinwall, and Tim Goodman have already explored how Guest's signature style transcends to contemporary television, but the production side of Family Tree, and how it fosters our understanding of authorship as a collaborative process, is equally important. Without his co-showrunner and co-executive producers Guest would likely not have the time to direct every episode, a feat even young TV auteurs like Lena Dunham of Girls has not achieved, even with co-showrunner Jenni Konner and guidance from the likes of Judd Apatow.
Image Credits:
1. NPR.org
2. Chris O'Dowd
3. Jim Piddock
4. Fred Willard
5. O'Dowd and Guest
Please feel free to comment.
Kozloff, Sarah, 'Narrative Theory and Television,' Channels of Discourse, Reassembled: Television and Contemporary Criticism, Ed. Robert C. Allen, London: Routledge, 1992, pp.67-100. [↩]