Baseball's Steroids Era and its Dominican Scapegoats
Nelson Santana / CUNY Dominican Studies Institute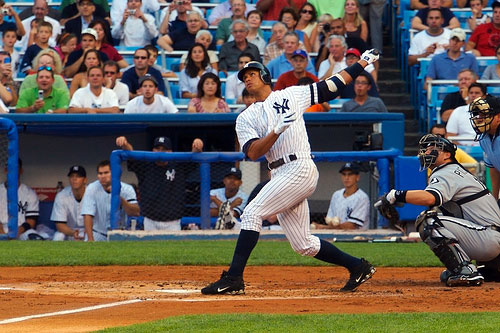 Alex Rodriguez
Every generation witnesses its fair share of scapegoating at the cost of a specific group. During the McCarthy era, specifically in the fifties, many U.S. Americans – especially artists – were targeted and accused of being communists or communist sympathizers; in Hitler's Nazi Germany approximately six million people of Jewish ancestry became victims of a genocide resultant of Hitler's belief that Jewish people were the cause of Germany's economic woes; and today in America some conservatives blame immigrants – especially those who are undocumented – for the current state of the economy. In the 21st century Dominicans in baseball have become this era's Salem witches – the scapegoats of the steroid era, with Alex Rodriguez serving as the principal scapegoat.
U.S. American Media's Inferiority Complex: Vilification of Players of Color
Barry Bonds is the only player in Major League Baseball to be awarded more than three Most Valuable Player Awards (MVP) – he finished his career with seven. The only other players to come within reach all have won three: Yogi Berra (1951, 1954 and 1955), Roy Campanella (1951, 1953 and 1955), Jimmie Fox (1932, 1933 and 1938), Joe DiMaggio (1939, 1941 and 147), Mickey Mantle (1956, 1957 and 1962), Stan Musial (1943, 1946 and 1948), Albert Pujols (2005, 2008 and 2009), Alex Rodriguez (2003, 2005 and 2007) and Mike Schmidt (1980, 1981 and 1986). It could be argued that Bonds is the greatest baseball player of all time due to his many accomplishments of three MVP awards and single-season and all-time homerun leader. However, the more feats Bonds accomplished, the more the media raised speculation about alleged steroids use. Bonds is African American.
At the start of the 2013 season, 89 of the 856 players listed on the opening day rosters were born in the Dominican Republic – the most for any country with players who play in Major League Baseball.1 In baseball it has become customary for the steroids boogieman to be someone of Dominican ancestry. After White Americans, Dominicans comprise the second largest group of baseball players – and the world is taking note. This year the Dominican Republic won the 2013 World Baseball Classic (WBC). Japan won the previous two tournaments while the mightily powerful United States has yet to reach the quarterfinals in the WBC.
Biogenesis Scandal and Latino Culprits
In August 2013, Major League Baseball suspended 13 professional and minor league baseball players for allegedly obtaining performance-enhancing drugs (PEDs) through the Florida-based clinic, Biogenesis of America. With the exception of Alex Rodriguez, every ballplayer was born in Latin America – eight in the Dominican Republic alone: Antonio Bastardo (Dominican Republic), Francisco Cervelli (Venezuela), Nelson Cruz (Dominican Republic), Everth Cabrera (Nicaragua), Faustino de los Santos (Dominican Republic), Sergio Escalona (Venezuela), Fernando Martinez (Dominican Republic), Jesus Montero (Venezuela), Jordan Norberto (Dominican Republic), Jhonny Peralta (Dominican Republic), Cesar Puello (Dominican Republic) and Jordany Valdespin (Dominican Republic). Each player accepted a 50-game suspension. Rodriguez, on the other hand, was handed a 211-game suspension, which he decided to appeal.
Though the media and Major League Baseball are very cautious about using the words "Dominican" and "steroids" in the same sentence, Dominican ballplayers have almost become synonymous with steroids use. High profile Dominicans who have previously been suspended include former All-Stars Bartolo Colon and Melky Cabrera. In fact, though names of White ballplayers such as Roger Clemens have been linked to steroids, it is usually the players of color who are handed the actual suspensions, as is the case with the Biogenesis scandal. In 2012, the 2011 American League Most Valuable Player, Ryan Braun, held a press conference where he addressed the public and refuted the results of a urine sample in which he allegedly tested positive for PEDS. Perhaps because he is White, America, especially the media, believed his story and supported his claim. Upon breaking news of the Biogenesis scandal, Braun halfheartedly stepped up to the plate and admitted his guilt, afterward he was served with a 65-game suspension.
[youtube]http://www.youtube.com/watch?v=rZw26t27mWQ[/youtube]
Ryan Braun Proclaims Innocence (2012) / Admits to Mistakes (2013)
Irrational Hatred toward A-Rod
Alex Rodriguez is seldom addressed by his name by the media. Instead he is referenced as A-Rod. It is almost as though the media does not deem him human enough to address him properly by his name. Everyone seems to hate Rodriguez. The media and baseball fans seem to have forgotten that Rodriguez never signed himself to the largest contracts in the history of baseball – it was the New York Yankees and before them Texas Rangers management, not Rodriguez. People need to be held accountable, not Rodriguez. Part of this steroids bias stems from this irrational hatred toward Rodriguez.
Alex Rodriguez is perhaps the most misunderstood and vilified athlete on the planet. On one side are the Dominicans who vilify him for snubbing the Dominican baseball team in the 2006 World Baseball Classic (WBC). On the other side of the spectrum are those who repudiate him for having signed the two richest contracts in the history of Major League Baseball. In the aftermath of this witch-hunt against him, Rodriguez has been defiant in not accepting the 211-game suspension, going as far as voicing his concern that some in Major League Baseball would benefit from him not playing another game, since it would release him of his multi-deal contract.
[youtube]http://www.youtube.com/watch?v=NEk1s1vrF3I[/youtube]
Alex Rodriguez Addresses Press at Press Conference After Minor League Rehab Game
Quite often in Major League Baseball when a superstar baseball player signs a multi-deal contract, his performance after the deal subsides, thus posting substandard numbers when compared to his performance during the years prior to the signing. Ideal examples would be Prince Fielder (nine years, $214 million), Ryan Howard (five years, $125 million), Barry Zito (seven years, $126 million, Josh Hamilton (five year, $125 million) and Albert Pujols (10 years, $240 million), just to name a few. With the exception of Fielder, all players on the list have been plagued by injuries, including former three-time Most Valuable Player (MVP) Pujols, whom since signing with the Los Angeles Angels of Anaheim, has been a major disappointment. Another three-time MVP has been vilified by the U.S. American media, yet interestingly enough, unlike any of the aforementioned baseball players, Rodriguez actually delivered after landing his first multi-deal contract with the Texas Rangers.
Rodriguez was awarded a MVP award and produced three of the greatest seasons in the history of baseball as a member of the Texas Rangers. Baseball is a team sport in which a team wins collectively through team effort. This is why there will never be a Michael Jordan-type player in baseball. As great basketball players such as Michael Jordan, Kobe Bryant, Shaquille O'Neil and Lebron James have demonstrated, one player can carry a team throughout the regular season and into the postseason. The same cannot be said about baseball, where even the efforts of the most gifted player cannot guarantee a playoff run. Baseball is a sport predicated on team effort. Rodriguez may have been the best baseball player 2001-2003, yet his team finished in last place each season. After winning the MVP award in 2003, Rodriguez made history by being traded to the New York Yankees; the only player ever to be traded after winning baseball's highest hitting honor. During the tenure of his first mega-contract he continued to produce as a New York Yankee, garnering two MVP awards in 2005 and 2007, respectively.
Conclusion
Mark McGwire and Sammy Sosa are often credited for saving baseball and once more making it America's pastime through their historic 1998 homerun chase. Years later in the 2000s allegations were made that both men were among a slew of players who used performance-enhancing drugs (PEDs) in order to have an edge over their contemporaries. Since their epic battle, Major League Baseball has established stricter guidelines to avoid the use of PEDs. Although it is important to seek out the names of the players who are currently violating Major League Baseball's policy, it is also worth exploring the history of PEDs and whether or not team owners, administrators and other parties currently have knowledge or in the past have had knowledge about players who used PEDs. If such people were involved: what was their role? Were they active participants? This is a matter that should be explored more in-depth. One need not forget that Major League Baseball was not as quick to ban performance-enhancing drugs as other professional sports, most notably basketball and football.
Image Credits:
1. Alex Rodriguez
Please feel free to comment.
Berry, Adam. "More than One Quarter of Players Born Outside US: DR Most Common forForeign Born,  Brewers Lead All Teams with 14 Non-US Players."  MLB.com. Major League Baseball, 1 Apr. 2013. Web. 5 Aug. 2013. http://mlb.mlb.com/news/article.jsp?ymd=20130401&content_id=43619160&vkey=news_mlb&c_id=mlb [↩]