Naked and Afraid: (Wo)man Survives Reality
Rebecca Provost / Utica College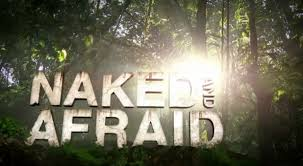 Naked and Afraid Promotional Photo
The idea of reality TV has always been a controversial one. What is reality and how can it be depicted through the recording and editing of actual events? I do not have the answer to this question and do not attempt to answer this question through this article. I do, however, contend that I have found a reality show that reflects more honest human-ness than any other reality show. (Does this in turn make it more real?) Naked and Afraid on Discovery Channel seemed a ridiculous notion when I first engaged with an episode recently. The name alone was almost too much to handle. I was concerned about embarking on a journey into a porn genre that I was not ready for. Instead, it quickly became clear that the nudity in this show was not purely for audience pleasure. While I am sure that this element helped in advertising, ultimately, this made the show that much more extreme – a more honest reflection of how early humans had to survive and an element that pushes contestants further into survival mode than others of its kind.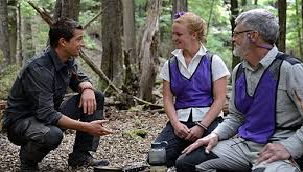 Bear Grylls with Get Out Alive Contestants
Extreme circumstances are not unique to this particular reality show. In fact, extreme situations are the basis for a significant amount of reality programming. People being thrust into uncharted living situations has been the premise for many reality programs in a genre I like to call the (Wo)Man Survives Reality genre (for lack of a better name). From The Real World, to Big Brother, and closer relatives of Naked and Afraid like Get Out Alive (or even, Man vs. Wild), it is the extreme nature of the living environment that initially entices audiences to watch reality shows like these. Human nature is tested in each of these shows. The results are varied and represent a spectrum of "extreme" situations, but the drama is based on how humans react to the new, foreign living. Naked and Afraid epitomizes this genre of reality TV by trekking to the most primitive of environments, giving the challengers only one tool of his/her choice as an advantage in the wild and leaving them in their birthday suits.
Each episode begins with a man and a woman introducing themselves and explaining why they are especially equipped for this type of situation – most explaining that they wilderness experts in one form or another. They are complete strangers and soon they are dropped off, required to strip and sent off into one of the harshest environments on the planet from a Louisiana swamp to a jungle in Borneo. The challengers are allowed to bring along one tool and expected to stay for 21 days. They must immediately provide shelter, fire, food, and water for themselves. Mental and physical strength are tested constantly as floods, wild animals, and health problems press the pair to the brink. Some contestants make it the full 21 days but those that do not are often rushed off to intensive medical care. This show is nothing if not extreme.
One question comes up over and over again as I sit down and watch each episode – could I survive that if I had no option? While it is clear the contestants can call off their participation and be flown home at any point, it is not always immediately possible given the treachery of the environments. Even in a medical emergency, care is delayed due to weather. In another circumstance a tree falls 15 feet from the shelter where contestants are sleeping. The video recording of the events does not isolate them from the danger of nature. At any point a tragedy could befall the participants. No producer or videographer is going to save them.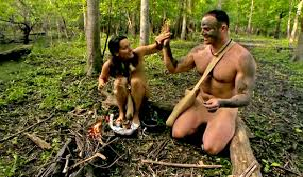 Two Contestants on Naked and Afraid Successfully Make Fire
Each pair of participants runs into situation after situation testing their most basic human instincts and skills. For some, mental, physical, and/or intellectual weakness become a major obstacle in the drive to survive the situation. It is hard to suggest that many (or any) truly thrive in these challenges. Every person struggles; every participant is pushed to the brink. There is no easy route to day 21 and unlike many reality shows, the drama is not brought on by the frivolity of our lavish modern society. By the end of the show each player looks primal – covered in mud, sores, insect bites and gaunt from weeks of barely nourishing their bodies. We see the transformation of modern woman and man into the cave-like people who rush to the safety of their technologically advanced source of transport.
My heart races through each episode. I feel actual fear for the players as they continuously breakdown and attempt to rebuild each other. The fear the audience and the contestants share is not just for outside elements like weather and wild animals of which humans in this situation know they cannot control, but also for their mental state. Controlling the mind in these circumstances becomes many participants biggest challenge. When her partner is sent home on day eight with a waterborne illness, one contestant manages to survive ten more days by herself. The mental wear and tear become too much; however, and she leaves on day 18 – a mere three days short of her goal. Three days alone was too great an obstacle for a woman who survived 18 naked and alone in the wilderness.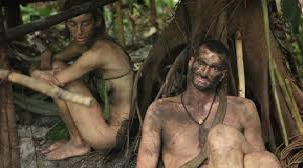 Naked and Afraid Contestants Rest Under a Tree
The question comes back again – could you survive that? I pride myself in being mentally, physically, and intellectually strong, but this show made me reassess my understanding of my reality. Am I am a strong modern person? Yes. Am I a strong human on the most basic level? If there is an apocalypse and I survive it – could I provide my own food, shelter, fire, water in the harsh earth environment like my distant ancestors did? My modern skill set is highly evolved, but Naked and Afraid proves that my college education and athleticism would still leave me vulnerable in this world without modern tools. Naked and Afraid is a needed reminder for audiences of today, many of which consider the edited reality of rich bickering housewives to be honest, that being a modern human on earth should be a humbling experience. We have weaknesses and vulnerability – we need each other. The earliest humans survived despite their individual wants and needs as they worked together in the most extreme conditions and landscapes to create the lavish world that many humans live in today. Naked and Afraid was not always a reality show. First, it was reality. No, not the reality of dance moms, housewives, and master chefs, but reality in the REAL sense.
Image Credits:
1. Naked and Afraid Promotional Photo
2. Bear Grylls with Get Out Alive Contestants
3. Two Contestants on Naked and Afraid Successfully Make Fire
4. Naked and Afraid Contestants Rest Under a Tree
Please feel free to comment.