I Prefer My Beefcakes with Fangs: Sexploitation in HBO's True Blood
Lauren Kusnierz / University of Texas – Austin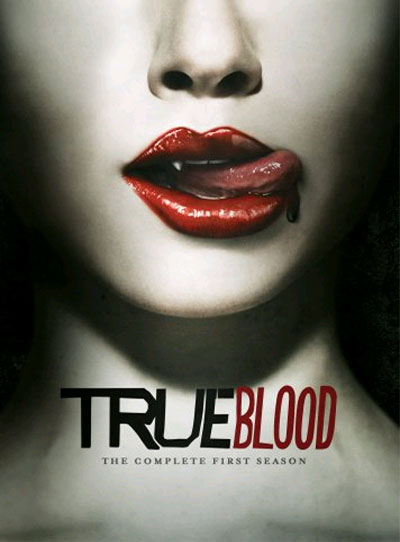 Iconic and sexploitative imagery for True Blood
As an intern at the American Genre Film Archive I work primarily with a collection that is comprised mostly of sexploitation films from the late 1960s, 70s, and early 80s. These films have titles that barely conceal the titillation within such as: Nun's Bad Habit or The Filthiest Show in Town (1973).  When trying to preserve a particular history within film naturally the arguments come to mind of why does this particular genre, era, or subject matter? What any form of genre study teaches us is that a genre or style can ebb and flow in popularity and change forms over time and knowing that history allows us to see continued trends and themes – I believe this is true for sexploitation.For the most part, sexploitation films are viewed as trashy, kitschy, and from a bygone era. When rolling over the idea of what constitutes as a sexploitation films it can be a bit tricky to come up with an exact definition. For instance, when does a film cross from being a sexplotative "nudie-cutie" film and when does it become pornography. The general definition of sexploitative piece of media is that the main appeal of the piece comes from the sexual performance and the sensationalism that sort of performance creates, not from the stars or actors performing within it. This definition also asserts that there is some performance beyond the sexual acts on display – for example, the poster film of sexploitation Faster, Pussycat! Kill! Kill! (1965) is ostensibly not just about Tura Satana's large breasts being put on display but about killer go-go dancers out to rob and cause mayhem. Under the terms of definition for sexploitation that I have outlined above, the sexploitation genre has been revived by the ongoing HBO series True Blood which utilizes sex as a means of storytelling but with a new subversive twist of overtly placing the male body, as opposed to the female body, on display.
True Blood began its sixth season on June 16th with 5.6 million viewers over the two showings on its premier night. Although a dip from previous seasons it exceeds the number of viewers for another HBO big hitter, Game of Thrones1. For those unfamiliar with the show, True Blood revolves around Sookie Stackhouse (a telepathic waitress played by Anna Paquin), her friends, family, and assorted supernatural beings in the fictional town of Bon Temps, Louisiana. The show has its own mythology and has featured a myriad of mythical creatures from vampires to fairies to werewolves (and were-anything else). The casting of the show has never been a particularly strong draw to it – the only "star" when the show debuted in 2008 was Anna Paquin who had largely been absent from leading roles since her teen years. Most of the cast was made famous by this program and the exploits their characters engaged in. The show focuses heavily on the romances of Sookie and the central cast of characters, allowing these sexual liaisons to operate as major plot devices rather than an extension of a romantic relationship established in the show. For example, bonds are made through a vampire drinking a partner's blood – although it does not have to happen in a sexual context – the connection between Bill and Sookie is established in this way in a sexual manner and plays a role in their connection to each other through out the series. On the other end of the spectrum, Sookie uses her sexuality to (possibly) trap her lifelong nemesis Warlow in a season six episode. Using sex as a distraction to get her enemy close enough to her for her to use her unique talents against him.  In True Blood sex is the draw to the show but also the catalyst that moves the plot forward.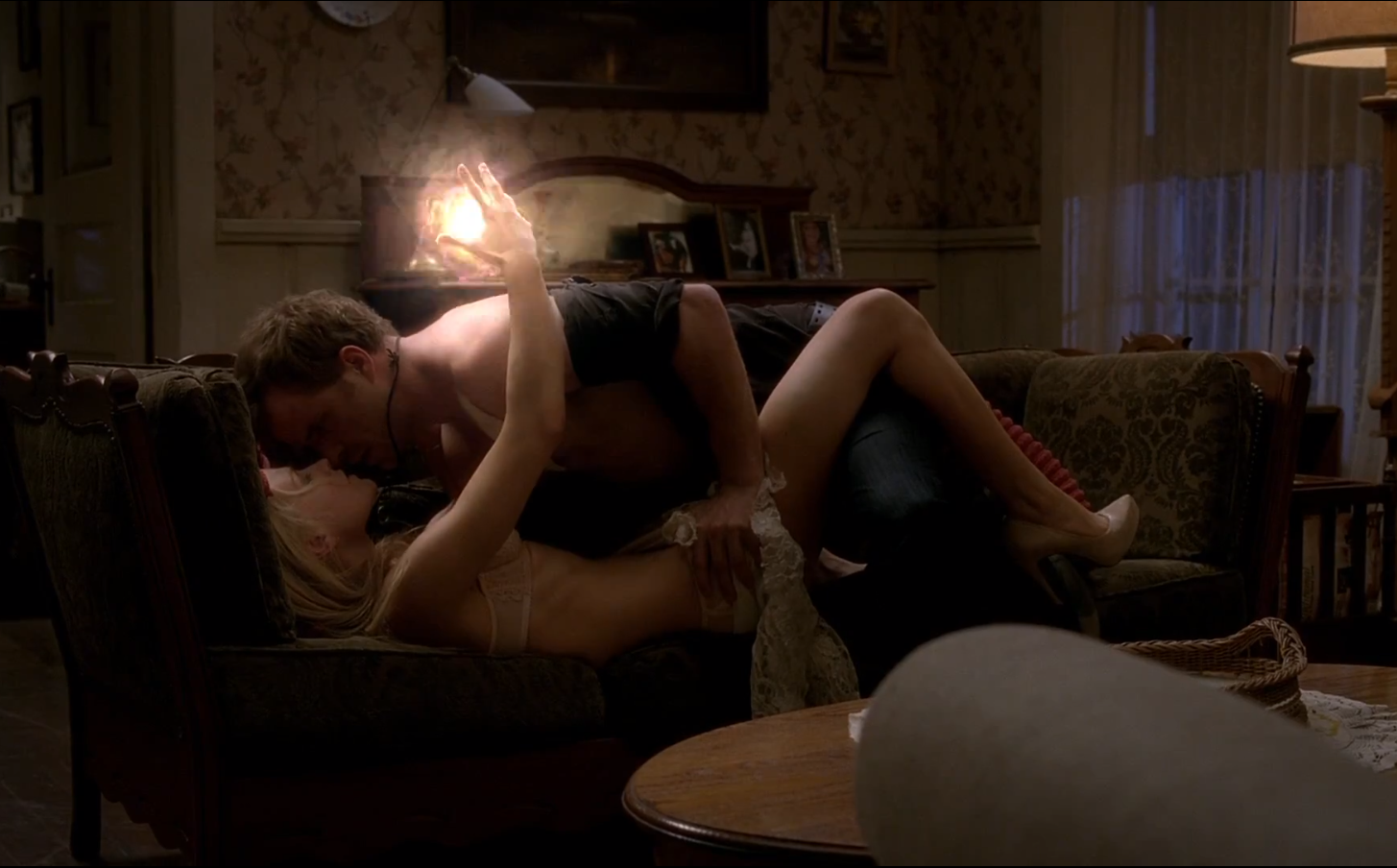 Entrapment True Blood style
Fan centered Tumblrs abound with GIFs and images of the male characters undressing and demonstrating their physicality2. A popular image online of images of the male cast with the subheading "I watch for the plot" illustrates this particular mode of viewing the show.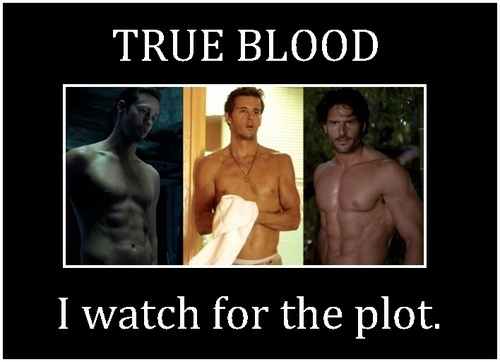 More than plot draws fans to True Blood
The fans have attached to one of the very prominent features of True Blood – a wealth of Olympian ideal male bodies on display. This type of display is subversive because in the past sexploitative works have focused on presenting a sexualized female form to the viewer. Episodes regularly have these male ideals (especially thanks to the "were" characters) seen stripping down and their bodies put on display. Sookie's muscle bound brother Jason can be regularly seen simply exercising or working shirtless presumably for the audience's pleasure. This sexualized imagery extends into the promotion of the show. Promotional material ranges from the subtly sexual such as the promotional images of the feminized pouting lips licking blood off the corner of its mouth or the Rolling Stone cover featuring the three leads nude and covered in blood.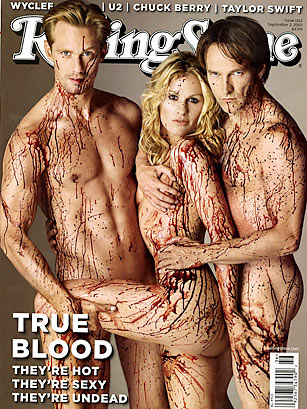 They're Hot, Sexy, Undead and not necessarily plot driven
These images promote the main appeal of the program – its sensationalism. The plot of the show is wrapped up in a mythology so expansive it can become absurd but it holds a loyal audience because of this sensationalism of a hyper imaginative world coupled with the sensational nature of eagerly presented male nudity.
There is a subversive nature to this new sexploitation at work in True Blood that needs to be explored. The type of exploitation on display is directed at those who want to be voyeuristic of an idealized male form and True Blood is not alone in these efforts in the last several years with the popularity of films like Magic Mike (2012) and the rumored film adaptation of Fifty Shades of Grey. I believe these films and television shows make up a new era of sexploitation in which the male body is held aloft as the object of sexual desire. Although there has been previous work pointing toward female involvement in the creation of sexploitation and those creators acknowledging the female audience's desire to be included in the voyeurism inherent in sexual themed films they are largely targeted at films featuring the female body on display. As Moya Luckett's article on Doris Wishman's nudist films argues there is a feminism to Wishman's films that invites the female viewer to be included in the enjoyment of nudity and sexuality that seemed initially only for male viewers3. What True Blood seems to be doing, with its focus on the male form, is make this version of sexploitation a feminized realm that is not  initially catering to the male audience of an older generation of sexploitation. With this subversion of the roles of gender in sexploitation there are further questions to be asked. What does it mean to subvert the male gaze and focus on the objects of non-heterosexual male desire and see the male body put on display and used as exploitation to get viewers to tune in each week. Are we headed to a time of the "female gaze" where more pieces, or even the majority, of sexually focused material will focus on the objectification of the male form? Although sexploitation as a genre can appear outdated and passe its stylistic elements live on and demand exploration into the way bodies and sex are displayed and exploited in the present and future of programming.
Image Credits:
1. Iconic and sexploitative imagery for True Blood
2. Entrapment True Blood style, Author collected Screen Capture from True Blood Season Six, episode 4
3.More than plot draws fans to True Blood
4. They're Hot, Sexy, Undead and not necessarily plot driven
Please feel free to comment.
Hollywood Reporter. Last modified June 17, 2013. Accessed June 28, 2013.http://www.hollywoodreporter.com/live-feed/tv-ratings-true-blood-dips-569969 [↩]
For quick primer on fan created GIFs for this show visit, http://www.buzzfeed.com/mattbellassai/very-compelling-reasons-you-should-keep-watching-true-blo [↩]
Luckett, Moya. "Sexploitation as Feminine Territory: the films of Doris Wishman." In Defining Cult Movies: The Cultural Politics of Oppositional Taste, by Mark Jancovich, 142-56. Manchester: Manchester University Press, 2003. [↩]