In the absence of technology
J. Macgregor Wise/Arizona State University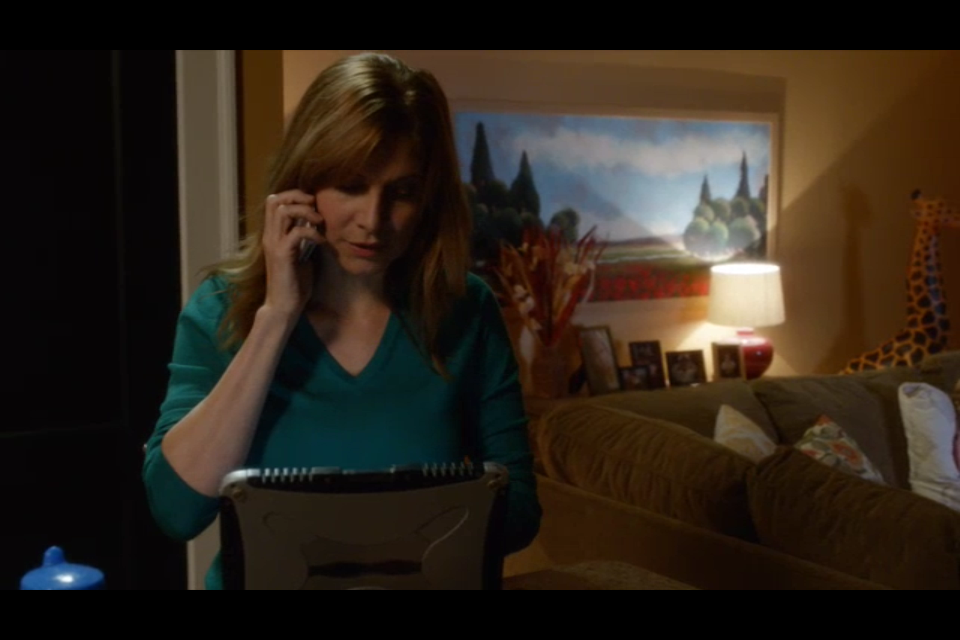 Rachel in Revolution
Revolution, this past Fall's new JJ Abrams-produced NBC television series, opens with a scene in a contemporary Chicago apartment. Rachel (Elizabeth Mitchell) is talking on a mobile phone with her mother. Rachel's young daughter sits glassy-eyed on the couch watching cartoons refusing to even blink when her mother tries to get her to talk to her grandmother on the phone.1 The even younger son is playing with a tablet computer. And as Rachel talks, she walks over and starts checking things on her laptop, as distracted as her children. This short scene represents, for the show, contemporary daily life. In Revolution, much of this goes away. The power then goes out, all electronic devices cease functioning, planes fall from the sky, and the city descends into chaos. The narrative quickly move 15 years into the future to a small rural community where these children, now young adults, live. The show itself is more about the struggles to survive in the post-apocalyptic future against a violent militia which controls that area of the country, and about exploring the mystery about why the technology failed. The opening scene caught my eye for its depiction (and vague critique) of contemporary media culture. I began looking for other such moments in the show, but there were few that explicitly dealt with media technologies or their absence. CD players show up in a scene or two (briefly and mysteriously turning on, filling characters with longing for the loss of popular music), and a mobile phone shows up in another. This latter scene in the second episode (Sept. 24, 2012) involves the character of Maggie (Anna Lise Phillips), a member of that community, who still carries her iPhone with her, though it hasn't worked in 15 years. It is finally revealed that Maggie, a British national, was in the United States on business when the power went out, and has been unable to return. She carries around her phone because it holds the only pictures she has of her children, though she cannot access them.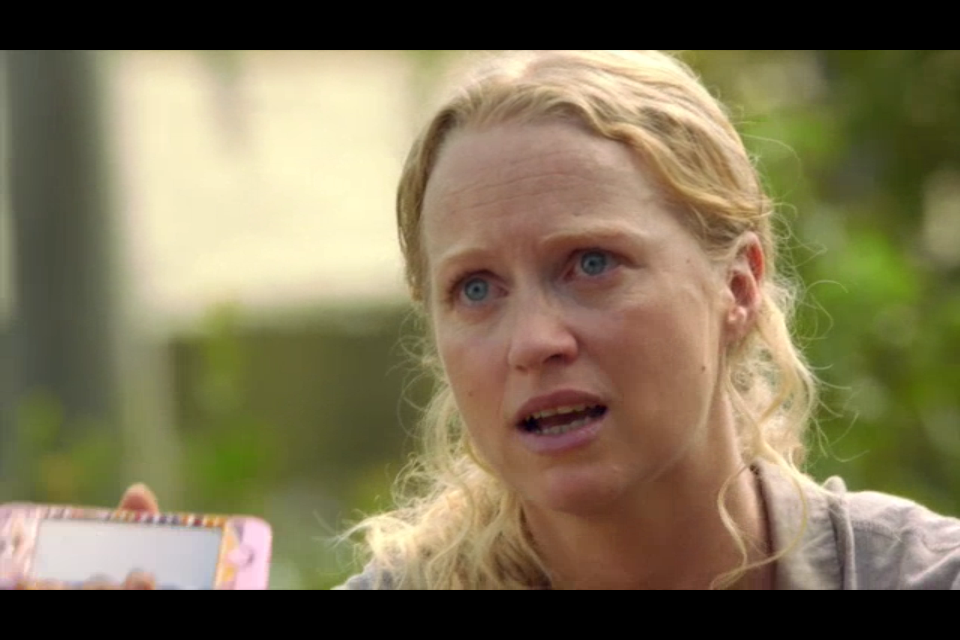 Maggie in Revolution
The image of Maggie clutching her mobile phone later resonated for me with an image of a character from a very different show. That was an episode of the tween comedy Victorious entitled, "Cell Block." Victorious is a program on Nickelodeon, set in a performing arts High School in Los Angeles. The opening scene for the Nov. 24, 2012 episode, "Cell Block," has the students in their drama class barely paying attention to the teacher. All attention is on mobile phones and iPads and a flurry of texting and social media updating. Frustrated, the teacher accuses them of being addicted to their devices and presents them with a challenge: a week without any technology invented since the teacher was born. They accept. As the week goes on the challenge becomes one of girls versus boys as to who will cave in first .2 Despite a couple of jokes regarding other technologies (a record player and a typewriter), the focus is on the mobile phone. It is only the mobile phone that they truly desire, and the phone stands in for a whole regime of technologies (including laptops, televisions, and so on). A key figure in this episode is Cat (Ariana Grande), who seems the most desperate to use her phone (having to be bodily restrained) and who purchases a dog toy in the shape of a mobile phone to carry around with her pretending to text. In the end, mobile phones finally back in hand, the students return to their previous practices without a hitch or hesitation. The show doesn't even serve up platitudes about moderation.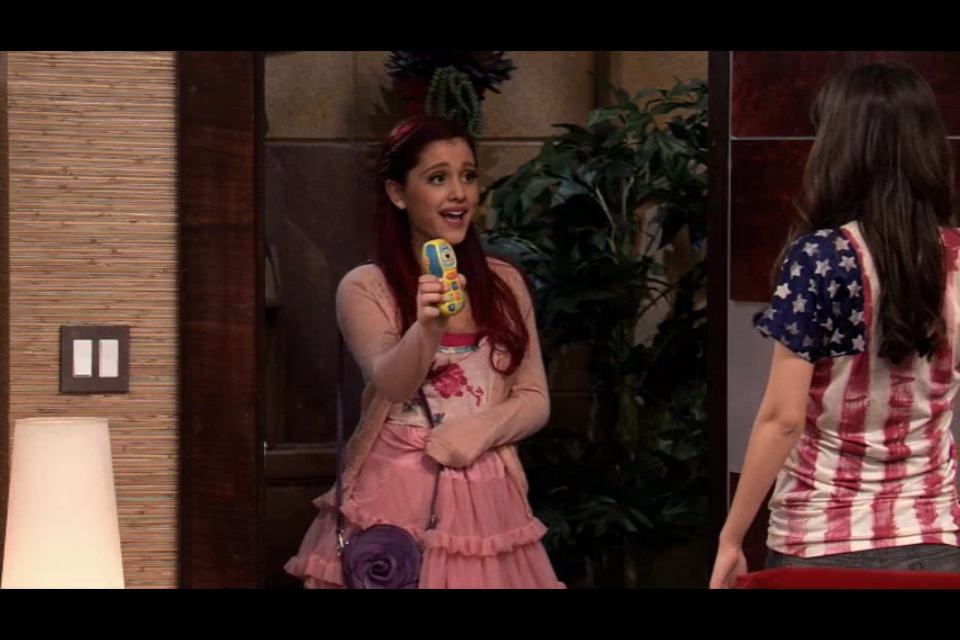 Cat in Victorious
I am interested in moments when technologies, especially ones that are part of daily habit, stop, break, or are refused or banned. If we carefully examine the debates and issues (and consequences) that arise when a technology goes away, we learn quite a bit about cultural values and generally the shape of technological culture. I have been influenced in this regard by the final chapter of Jerry Mander's 1977 book, Four Arguments for the Elimination of Television (a chapter ultimately more about technology than just television), where he discusses the flabbergasted reactions he would get to his proposal to ban television. That is, the question of the outright rejection of television was so inconceivable, that it wasn't even on the agenda of questions that could be asked. Why not, at least, ask and explore? Otherwise a technology becomes such a part of the woodwork that we cannot even see it anymore.
But rather than argue for or against banning TV or cell phones, I'm interested today in thinking about what insights we gain when a technology goes away, or is refused. I have an assignment that I give students in my media studies classes from time to time. The full assignment has students swearing off all mass media for a week (unless required for class or work). This leads to interesting debates about what constitutes mass media, of course, but also reflections on their own habits and relationships. They have to deal with silence, and boredom, and the need to converse with other people. I always tell students that I have no presumptions about what their experience will be like; for some it will be easy, for some it will be difficult, and most will be in-between (somewhat irritated at the inconvenience). In the end, I'm not telling students to reject the media, just giving them a space to step back and think about it.
The figures of Maggie and Cat show us not just the banal and commonplace notions that our mobile phones are becoming the site of convergence for all our media uses and that they are a significant part of our social and affective scaffolding (to borrow a term from philosopher Andy Clark) literally becoming our social connections. They show us, with some poignancy, that sometimes the removal of a technology reveals (if not reinforces) our at times deeply affective attachment to them and that all technologies are social through and through. For Maggie, her phone is her children. And for Cat, her phone is a constant stream of connection and (implicit or explicit) affirmation of self; perhaps a transitional object as she negotiates adolescence. Technologies are us, they are not attachments. They are part of how we think and act in the world. In the absence of technology, we find out who we are by discovering who we were.
Three questions, by way of conclusion:
Do you have assignments where students take a media break or go off the grid for a while? What sorts of insights do they tend to gain? Is it becoming more difficult to assign such projects?
What other examples of giving up media or communication technologies have we seen in recent fiction programs? For example, I'm reminded of the moment when the batteries in Hurley's CD player finally die, in Lost.
Does anyone read or reference Mander's book anymore? Ultimately, his book is about technological and social determinism, not just television.
Image Credits:
1: Rachel in Revolution (Author's screengrab)
2: Maggie in Revolution (Author's screengrab)
3: Cat in Victorious (Author's screengrab)
Please feel free to comment.
This stereotypical portrayal of a child as couch potato is obviously a relatively ham-handed critique on the part of the show about our dependence on or addiction to media, but I should point out that even without televisual distractions, many young kids don't want to talk to grandma on the phone anyway. [↩]
I am bracketing here issues in the program such as race-related jokes and problematic gender politics. [↩]