Breaking Dad
Brad Gyori / Tribeca Flashpoint Media Arts Academy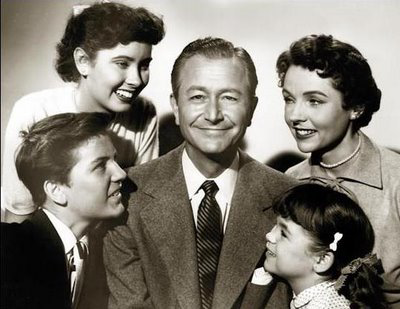 Father Knows Best – NBC, 1954-1960
Remember when TV dads were strong, intelligent and wise? Programs such as Father Knows Best (1954-1960), The Donna Reed Show (1958-1966), Leave it to Beaver (1957-1963), Bachelor Father (1957-1962), Make Room for Daddy/The Danny Thomas Show (1953-1965) and The Andy Griffith Show (1960-1968) featured father figures that elicited the admiration, identification and emulation of young male viewers. These squeaky clean, all-knowing patriarchs were whitewashed caricatures of paternal poise. Unfortunately, such uncritical celebrations of fatherhood came at the expense of maternal figures. Early television represented women in a manner that was often condescending, if not openly sexist.
By the 1970s, the rise of the counterculture and second wave feminism challenged patriarchal commonplaces. Within a decade, these social forces had altered the root assumptions of televisual discourse. Today, young men and women are portrayed in a slightly modified way. While young female characters remain sex objects, young males are increasingly objectified as well. A far more striking change is the radical inversion of traditional gender roles regarding older male and female characters. For the last five decades, negative maternal stereotypes have been rejected and positive maternal stereotypes have been championed. Meanwhile, the once flawless patriarch has become TV's buffoon of choice, culminating in the character of Homer Simpson, a simple-minded locus of appetites and self-involvement who makes Falstaff look like Prince Hal in comparison.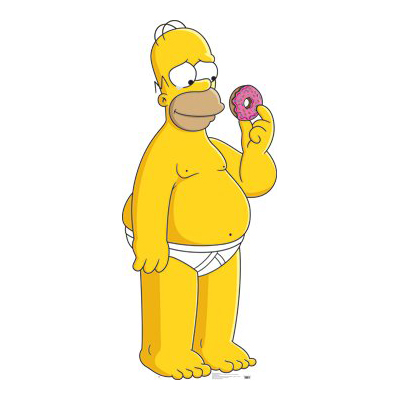 Father Knows Nothing: Homer Simpson
For decades, TV dads have been the ultimate "fair game," targets deserving mockery and willing and able to accept it. This may have helped to level the playing field and create more equality and opportunities for female workers, who have certainly made remarkable strides since the 1970s. Yet along with many powerful socioeconomic forces, popular representations of fictional patriarchs have likely contributed to the current crisis of masculinity with many real world and televisual repercussions.
Enter "Walter White." Even the name is as bland as boiled celery. So how can this middle-of-the-road, middle class father figure possibly be transformed into a badass super villain? The idea sounded improbable at first, even ludicrous, yet that is exactly the challenge Breaking Bad creator Vince Gilligan set for himself when initially conceptualizing AMC's critically lauded series. In 2011, Gilligan told the New York Times that the original goal was to turn "Mr. Chips into Scarface."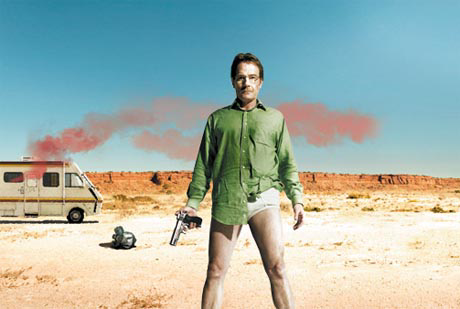 Breaking Bad: Pants Optional
In the show's debut episode, viewers are introduced to a familiar image of the television patriarch: a bumbling doofus, incapable of properly providing for this family, weak, ineffectual, comically inadequate, married to a feisty intelligent, attractive wife, who can be a bit overbearing at times, but hey, someone has to wear the pants! Actor Brian Cranston had played a similar role in the Fox series Malcolm in the Middle. By casting him in Breaking Bad, Gilligan provided an intertextual-shorthand for viewers, allowing them to instantly recognize this sweet but foolish figure. The portrait is quickly skewed, however, when in the same episode, Walt is diagnosed with cancer and something inside of him snaps. Soon, this underachieving high school chemistry teacher begins manufacturing crystal methamphetamine and his alter ego, "Heisenberg," is born. The name is an allusion to the German physicist, but it is also a nod to his famous "uncertainty principal," a theory about the fickle nature of perception. Werner Heisenberg famously asserted that the closer we observe one aspect of a quantum phenomenon, the less we can know about its other characteristics. In other words, the very act of focusing on a single characteristic prevents us from seeing the whole picture. In a similar sense, the more Breaking Bad's narrative pins down Walter White as silly and ineffectual, the more the nature of his reckless outlaw bravado seems to elude us, and yet…from another perspective, it all seems perfectly inevitable.
In 2010, two years after Breaking Bad's debut, the Atlantic reported that the recent "Great Recession" had cost Americans eight million jobs and that over 3/4ths of the newly unemployed were men. That same year—for the first time in U.S. history—more women were employed than men. The Atlantic additionally projected that the trend was likely to continue because for every two men who receive a B.A. annually, three women do the same. What's more, of the fifteen U.S. job categories projected to grow the most in the next decade, women primarily occupy all but two. The postindustrial economy appears to value traits traditionally associated with women, including social intelligence, open communication, and multi-tasking.
Nonetheless, in some quarters, male privilege is as entrenched as ever. Above the glass ceiling, the immense wealth of the billionaire boys club radically skews income statistics. Male executives continue to horde power and thwart the advancement of female executives. The imbalance is so great that the average woman is told that she makes 30% less than the "average man." Via this number crunching slight of hand, wealthy males share all of the blame but very little cash with the vast majority of working men who inhabit a very different landscape below the glass ceiling.
As familiar gender roles continue to turn upside down, the American patriarch has good reason to identify with his bumbling television counterpart. He too is a failure on many fronts. He fails to support his family with a single income. He fails to increase his wages apace with the skyrocketing cost of living. If he loses his job and becomes "Mr. Mom," he will be stigmatized as less than masculine. And if he is fair-minded enough to care about gender equality, he is expected to call himself a "feminist." Still, he is unlikely to complain about any of this because that would seem "unmanly."
[youtube]http://www.youtube.com/watch?v=F7v1DyjezT4&feature=related[/youtube]
Breaking Bad Trailer
So what is the appropriate response? Retreating to one's "man cave" and accepting the Neanderthal-like male caricatures served up by reruns of Home Improvement and The Man Show? Lashing back with the reactionary zeal of Rush Limbaugh? Rejecting fatherhood altogether and joining the deadbeat dad epidemic? Clinging to adolescence, like the Peter Panish man-boys cleverly lampooned by the films of Judd Apatow? Or maybe it's better to simply dive into the heart of darkness and accept the role of ultimate evil personified? Given a choice between feckless fool and criminal kingpin, Walter White increasingly opts for the latter.
This is certainly not "your father's father figure." In fact, it is hard to imagine early television viewers identifying with Walter White in any respect. The undisputed head of a single income household would not know what to make of this patriarchal anti-hero's slide into darkest villainy. He would likely view Walt as nothing more than a freakish aberration, a creature whose manhood is easily threatened and whose pride is constantly injured, clearly suffering from terrible self-esteem issues. So why are contemporary male viewers so fascinated by this character?
Breaking Bad's narrative structure centers on two opposing trajectories: Walt's descent into hell and Heisnberg's rise to power. This central paradox is a key ingredient of the show's addictive appeal. Male viewers who've been downsized, marginalized, laid off and underemployed may experience more than moral indignation when watching the show. Consider a key moment from episode six, season four. Walt's criminal life and domestic life are beginning to converge, and his wife, Skyler, fearing the threat of eminent violence, begs him to consider the safety of his family. Walt responds by asking: "Who are you talking to right now? Who is it you think you see?" These are ontological questions, cutting to the very core of his being. They speak to, and perhaps for, a generation of American males searching for some type of renewed social significance. Walter continues, "Do you know how much I make a year? Even if I told you, you wouldn't believe it. Do you know what would happen if I suddenly decided to stop going into work, a business big enough that it could be listed on the NASDAQ goes belly up, disappears. It ceases to exist without me." Walter isn't exaggerating. He actually has become a significant economic force, albeit through illicit means. Next comes a staggering revelation that resonates with the shows central paradox, equal parts shameful confession and prideful boast. "No, you clearly don't know who you are talking to, so let me clue you in. I am not in danger, Skyler. I am the danger." When Walter White, the disempowered, disrespected high school chemistry teacher, speaks these words, he is, in some respects speaking for a largely male audience eager to reclaim some notion of self-respect by any means necessary.
Breaking Bad's high ratings, multiple Emmy wins and critical plaudits indicate that this gangster-patriarch strongly resonates with today's audience, especially the men (like AMC's other top series, Mad Men, Breaking Bad has a primarily male demographic). Thus, long after Walter White has imploded into a fireball of inglorious self-loathing, characters like him will surely continue to colonize the popular—and the private—imagination.
[youtube]http://www.youtube.com/watch?v=DT1gtOldpAo&feature=related[/youtube]
Bryan Cranston Predicts Fate of Breaking Bad's Walter White
Image Credits:
1. Father Knows Best
2. Homer Simpson
3. Walter White
Please feel free to comment.