Real: Older Gay Men in Popular Culture
Gerald Butters/ Aurora University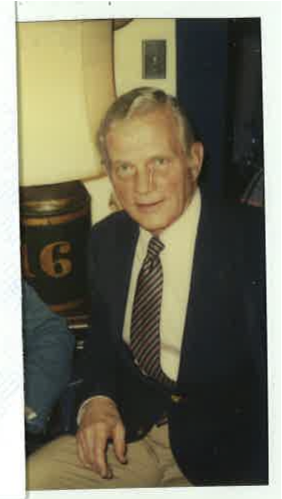 Ernie: Uncle of Friend of the Author
My good friend, Jim, recently lost his uncle Ernie. Ernie and his partner Sal had been together since 1947. Yes, 1947! That is a sixty-five year relationship. As a media critic, my immediate thought was, why have I never seen this type of story before? Sixty-five year relationships are celebrated and praised in straight culture. There are scores of films and Hallmark television movies that show young couples falling for each and then later depict them as an elderly pair, deeply in love. I can't think of one fictional television or cinematic depiction of a gay couple that stayed together that long.
Ernie and Sal had a fascinating story. Ernie was a Navy chaplain in World War II before the two met in a large lecture hall class at Columbia University after the war. Sal was of a large Italian immigrant family of 11; Ernie was a dyed in the wool Wasp. They both held executive corporate positions later in their lives and navigated the tricky contours of 1950's and 1960's career-killing homophobia. This successful hardworking pair ended up living quite comfortably. Yet no screenwriter has been able to have this type of life experience depicted in popular culture on the screen.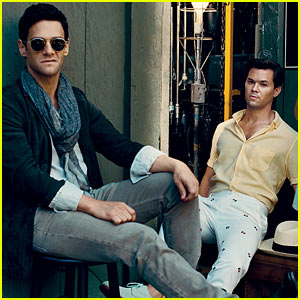 The Young Gay Men of The New Normal
One may consider this a result of both ageism and homophobia. Certainly, there are more depictions of gay men in American television than ever before. But television writers usually succumb to cookie cutter imagery of gay men – white, in their 30's or 40's, upperwardly mobile with readily available disposable income. The New Normal and Partners are both examples of this phenomenon. Gay men, like the vast majority of characters on television, are to be young and good looking. This trend extends into motion pictures; with the exception of high profile biographical films such as Milk, gay men in films are young and usually depicted in coming-of-age or coming out stories. Ezra Miller's scene stealing performance in Perks of Being a Wallflower continues this trend.
Perhaps this is what is so remarkable about Christopher Plummer's Academy Award-winning role as Hal Fields in Beginners.  [youtube]http://www.youtube.com/watch?v=sqfcViBhzaQ&feature=fvwrel[/youtube]
Christopher Plummer Winning an Academy Award for Beginners
The film bucked every stereotype of what older gay men in motion pictures were supposed to experience, feel and look like. Hal Fields was a groundbreaking character. Beginners is based on writer and director Mike Mill's own life. [youtube]http://www.youtube.com/watch?v=VU6c3lmJzxw[/youtube]
His parents were married for forty-four years before his mother died. Six months later, his father announced that he was gay. Christopher Plummer, as Hal, looks directly into the camera minutes into the film and plainly says, "I'm gay." Our establishing shot of Hal is him with a homemade fireworks display. After his announcement, Hal continues telling his son Oliver, "I loved your mother. I don't want to just be theoretically gay. I want to do something about it." Oliver explains that Hal changed all of his clothes, got a boyfriend and a personal trainer who was studying for his professional pyrotechnics license. The fireworks, thus, are symbolic. Hal, it is revealed, has been a faithful father and husband and a respected museum director. But he has lived in the shadows and his coming out releases his inner fireworks. Hal Fields is not the obsessive older man clamoring for a teenager (Death in Venice) or the cranky old queen The Browning Version.[youtube]http://www.youtube.com/watch?v=fSqvtspQonw[/youtube]
Hal is a vibrant and alive 75 year old man, surrounded by friends and actively engaged in his community (movie club, political work). He may not be hip to all of the contours of gay culture (Oliver has to explain that the thump, thump, thump music he is listening to is called house) but Hal is never, ever, a subject of ridicule or pity. He finds an out gay priest to guide him spiritually and sees a therapist for the first time in his life.  
Beginners abandons clear chronological progression; it alternates between Hal's enjoyment of his openly gay life, his battle with cancer and eventual death, and Oliver's attempt to cope with the loss of his father and his relationship with his girlfriend Anna. Even when Hal is dying from cancer, he is not a person to be pitied; he is purposeful and fully alive.
Numerous scenes throughout Beginners demonstrate Hal's abandonment of pretense and his willingness to experiment with his life. It is perhaps this lack of control that is so attractive and makes him such a sympathetic character. While in the hospital, Hal kisses his much younger boyfriend Andy on the lips in front of the nurse. In another scene, shortly after he comes out, Hal explains to Oliver that younger men don't go for older gay men. Hal sits by himself in a gay bar but he is not lonely; he is fully open for whatever may happen. And we know what happens – he meets his boyfriend Andy.
One may argue that Hal is in denial when his oncologist explains that that further surgery is impossible and that radiation treatment will only make him weaker. When Oliver pleads with his father that he has Stage IV cancer and must tell his friends, Hal just explains that this is simply the stage after Stage III. Even as he is dying, Hal is a remarkable combination of vitality, dignity, hope and wonder. It is perfectly fitting that in perhaps the most touching scene in the film, Andy and Hal romantically slow dance, and then Hal dances with his son, while Oliver recites a passage from the Velveteen Rabbit:
What is Real?  
Does it hurt?
Generally by the time you are Real, most of your hair has been loved off,
And your eyes drop out, and you get loose in the joints.  
But these things don't matter at all because once you are Real,
You can't be ugly . . . except to people who don't understand.
When Brokeback Mountain was released, critics argued that the character of Ennis Del Mar was a breakthrough role. If this is true, than Beginners Hal Fields is downright radical.  Screenwriters of the world – it is now time for a story like that of Ernie and Sal.
Image Credits:
1. Ernie: Uncle of Friend of the Author, Author's Personal Collection
2. The New Normal
Please feel free to comment.