The Ambiguously Gay Duo of Sherlock: Sexual Aesthetics and the Limits of Cinematic Language
Camille DeBose / DePaul University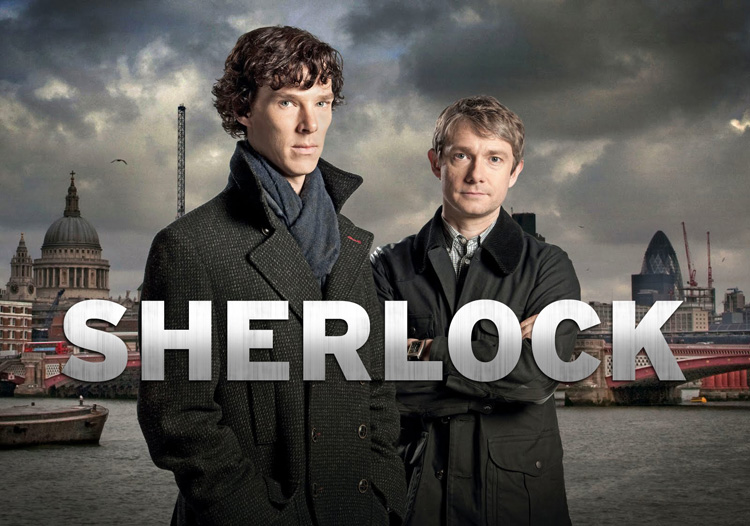 Sherlock and Watson
Season two of BBC America's series Sherlock opens with a bomb, snipers, Moriarty's awkward falsetto and a BeeGees ringtone. The cinematography is lovely and engaging. Watson and Sherlock are pulled from their efforts to solve the mysterious demise of an outdoorsman when representatives of Buckingham snap up the duo who soon find themselves sitting in the palace (Sherlock sans clothing). It is during this meeting with his brother Mycroft that we are introduced to not just the plot of episode one but also the subplot which will run, thickly, through each episode of the series. There is a well-known dominatrix referred to as The Woman who is in possession of compromising photos1. This is the plot. During the meeting this exchange occurs between the brothers.
Sherlock: "Dominatrix?"
Mycroft: "Don't be alarmed, it's to do with sex."
Sherlock: "Sex doesn't alarm me."
Mycroft: "How would you know?"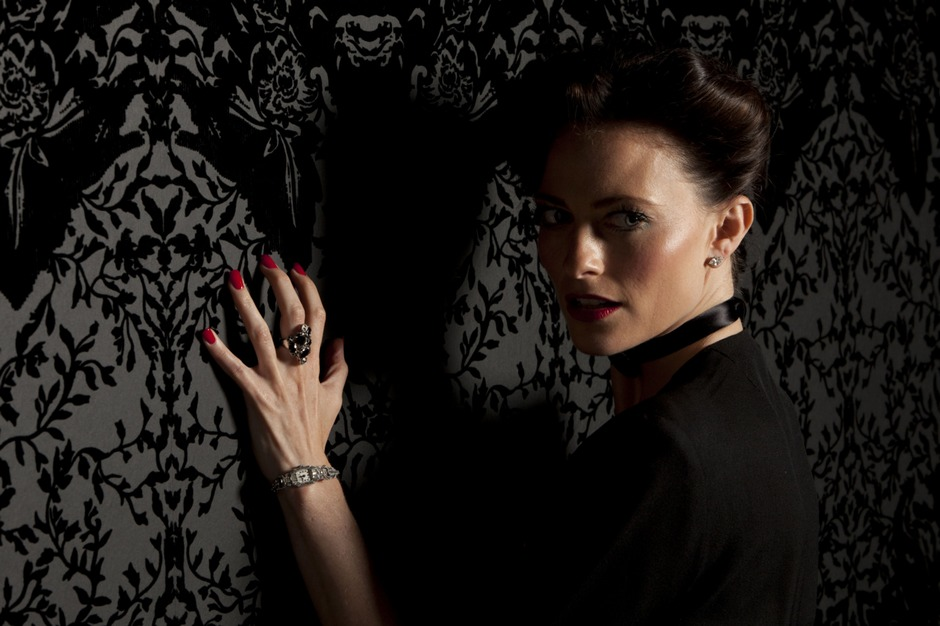 The Woman
This exchange is odd but not necessarily out of place in the manner in which Sherlock and Mycroft routinely trade barbs. As the show progressed I realized the question of Sherlock's sexuality is the dominant (if not only) subplot. The viewer wants to know, as do almost the entire cast of characters, what Sherlock "is." What follows this initial scene is a series of fascinating performances and exchanges that require everyone to "come out" as something. Everyone except Sherlock. Stranger still is the way in which his consistent adherence to asexuality becomes "read" or "told" as ambiguously gay which, for me, begs a discussion of the current limitations of cinematic language. Much of this homo-ambiguity is asserted through the relationship between Sherlock and Watson.
The Woman: "Somebody loves you. If I had to punch that face I'd avoid your eyes and nose too." (Referring to Watson)
Watson's Ex-Girlfriend: "My friends were wrong about you. You're a great boyfriend. Sherlock Holmes is a very lucky man."
To counter these assertions Watson is constantly declaring that he is "not gay." I don't mean to suggest the series is in any way homophobic because I don't find it so. I find it strangely declarative. Watson is regularly declaring he's not gay. Later a male couple in the "Hound of Baskerville" declare they are. The Woman in a pivotal scene declares she is lesbian. Everybody's coming out (in word or deed) when the question being posed is "What is Sherlock?" The "problem" of Sherlock's asexuality presents us with an interesting opportunity to slice into the signs and symbols of cinematic language and assess whether it has become overburdened with sexual signifiers. We can then go further and interrogate whether this load works to restrict how we "show" a story. The absence of sexual situations in Sherlock withholds from its viewers the answer to the question- "what is he?" Well… He is a "virgin" who "is not afraid of sex" and friend to Watson who is emphatically "not gay!" I was tremendously amused recently when my eleven year old declared he'd deciphered the adult conversation between me and my husband by using "context clues." Sherlock offers no contexualizing morsels which makes me wonder if we (producers of visual media) do not yet know how to "show" asexuality. In his asexuality he becomes gay. Sort of. Sherlock is aggressive. Well dressed and dapper though he may be he is also prone to fits of rage. During one scene in the Hound of Baskerville, Watson refers to Holmes as "Spock" but he is not "Spock." Sherlock is sincerely emotive and quite passionate. While he is not a sexual creature he is certainly an emotional one2. In Kim et al's discussion of the "Heterosexual script" they assert the existence of, what they identify as, a "sex as masculinity" code which "positions sexuality as a defining component of masculinity and encompasses notions that men are sexual initiators who are preoccupied with sex and…will go to great lengths to have intercourse."3 Sherlock decouples masculinity from sex through displays of aggression and dominance while simultaneously creating ambiguity by his sexual disinterest.
We are offered The Woman as a red herring when it is revealed that naughty Sherlock did in fact, during their introduction, peek at her naked body long enough to memorize her measurements (which **spoiler alert** later prove to be the combination to her safe). But what does it mean that his mind observed and calculated the measurements of her body just as his mind observes and calculates everything else. Nothing? Something? She was naked! It must mean something! Maybe it means nothing.
Watson: "We're not a couple."
The Woman: "Yes you are."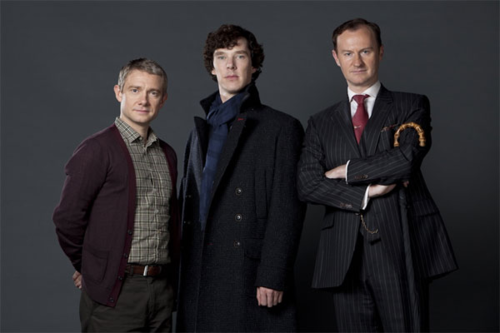 Sherlock, Watson, and Mycroft
Sherlock is the asexual in a hypersexual world. He is desired, in some way, by everyone. Throughout episode one his phone moans its alert each time he receives a text message. All of the characters (Mrs. Hudson most hilariously) but Sherlock respond to the connotative meaning of the sound. In one scene The Woman inquires:
The Woman: "Have you had anyone?"
She sinks to the floor on her knees before him. Later she will reveal that Moriarty has christened the brothers The Iceman (Mycroft) and The Virgin (Sherlock). In the same episode Watson inquires:
Watson: "…has he ever had any kind of girlfriend, boyfriend, anything?"
Watson undertakes most of the emotional labor in the series patiently caring for, literally and figuratively, Sherlock. This makes the anxious assertions by Watson of "not gay!" troubling on their face, but doubly so if they are meant as a humorous release valve designed to comfort the disquiet of the viewer who so desperately wants to know "What… is… Sherlock?" Has visual language become so hetero or homo- descriptive that we are left unable to visibly render any other expression of sexuality and as such we must make anxious assertion in the dialogue to "tell" what we can't "show?" I must confess after writing this piece I find myself disappointed in a series of which I am most assuredly fond. A subplot centered on Sherlock's sexuality which serves no greater purpose but to exist as a punch line seems too low for this beautifully constructed show. It seems undeserving of this excellent cinematic shell.
Or.
In a sociocultural era where many viewers demand all "good" protagonists possess a love interest the writers have delivered just that while simultaneously assuring the rest of us that this protagonist never will. In the story universe of Sherlock Holmes they are all and none his lovers and that, perhaps, reveals the show's brilliance in spite of the current restrictions on visual language.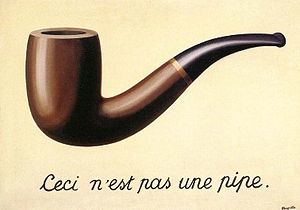 Magritte's "The Treachery of Images"
At the end of the day there will be some viewers out there who just want Sherlock to pick a side. Kiss the girl. Grope Watson. Something! By "showing" them he is gay or straight he will "tell" them how to feel about him. To those wanting viewers I can only offer this: Ceci n'est pas une pipe.
Image Credits:
1. Sherlock and Watson
2. The Woman
3. Sherlock, Watson, and Mycroft
4. Magritte's "The Treachery of Images"
Please feel free to comment.
It is made clear the photos are problematic due to their sexual nature. However, we are also informed the photos are of a young "female" person, as if this adds another layer of urgency to their recovery. [↩]
In Chasin's review of the literature Bogaert "…argued specifically that lacking sexual attraction, even according to Storms' model, does not entail also lacking romantic or affectional attraction." (Chasin, CJ DeLuzio, "Theoretical Issues in the Study of Asexuality," Archives of Sexual Behavior (2011) 40: 713–723). [↩]
Kim, Sorsoli, Collins, Zylbergold, Schooler, and Toman, "From Sex to Sexuality: Exposing the Heterosexual Script on Primetime Network Television," Journal of Sex Research
2007, Vol, 44, No, 2, 145-157. [↩]