Being Guy Fieri: The "chef-dude" and the geography of a bro kitchen
Irina Mihalache / American University of Paris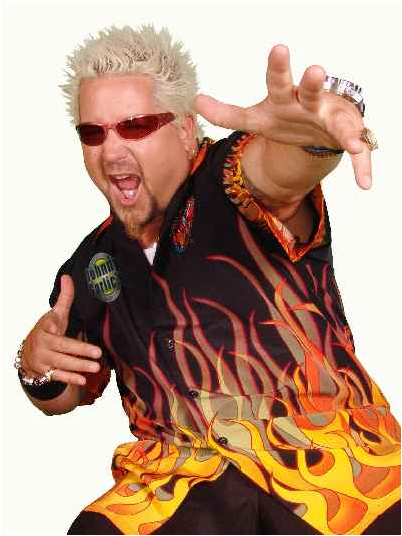 The "chef dude" Guy Fieri
If Graham Kerr, the hero of my previous FlowTV article, pieced together his on stage identity borrowing from bourgeois British masculinity, spy culture and Ivy League/"boys club" style, Guy Fieri tells a different story about masculinity, playfulness and cooking. I argued previously that the acts of cooking and being in the kitchen were made safe for men through different narratives about play. As early as the 1970s, when cooking television was in its early stages, Graham Kerr entertained North American audiences with his playful casualness, suggesting the directions which contemporary male celebrity chefs would take in their performances: entertainment, experimentation and education. Kerr's play on playfulness in the kitchen was manifested through his culinary vocabulary, cooking gadgets and overall informality vis-à-vis the rigors of cookery. In his cooking shows, Fieri takes play to a whole new level, mixing up stories about food with a genre of masculinity based on a few basic ingredients: "rebel, clown, frat boy, chef.". In this second article about men in the kitchen, I will enter Guy Fieri's kitchen and show how the geography of the space and the objects in the kitchen transform a space for cooking into a space for play where even men with tattoos, 1960s red convertibles and electric guitars can feel at ease.
Guy Fieri: The dude who became a chef
Guy Fieri joined Food Network in 2007 after winning the Next Food Network Star competition. Currently, he hosts two of the most popular shows on Food Network, Guy's Big Bite and Diners, Drive-Ins and Dives. Guy's Big Bite is a cooking show where Fieri teaches his male and female audiences to cook without effort while having fun at the same time. Diners, Drive-Ins and Dives, also known as Triple D, is a road show which takes Fieri to the underbelly of American food culture, to "greasy spoon" type whole in the wall food locales all across the United States.
In 2010, the New York Times called Fieri "the chef-dude" for his ability to bring in more male viewers than any other show on the network1. The word "dude" describes quite well Fieri's performance in his kitchen, as "dude" connotes, according to Scott Kiesling, a "cool solidarity" which allows men to be close without endangering requirements for heterosexism2. Bonds of brotherhood are formed and reinforced in Fieri's kitchen, which has been void of most signs of domesticity. In this interpretation, Fieri's unpretentious and rowdy masculinity differs greatly from Kerr's performance, which, while casual, was rooted in high class British-ness and displayed notes of food snobbery. On the contrary, Fieri brought the man in its most sport-cheering, meat-loving pure and raw masculinity back into the kitchen. But the man in Fieri's kitchen, despite being purely masculine, is also friendly, playful and family-oriented. Fieri often invites some of his "bros", with names like Gorilla, Mustard and Dirty P. to cook with him but he also cooks with his two sons and refers often to his wife. The roughness of Fieri's style is tamed by his gentler, family-oriented side. This duality reflects the possibility that cooking can be both masculine and domestic without posing a threat to the male lifestyle.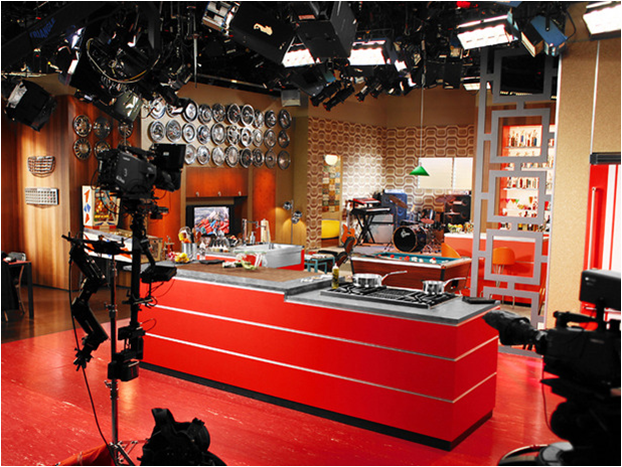 Guy's kitchen: The bro emporium
The dude culture performed in Fieri's kitchen is dominated by a discourse of "play" which is translated in the geography of the kitchen. Fieri's kitchen in Guy's Big Bite has been un-domesticized through a geography which brings in elements of highly masculine spaces, where dudes usually hang out: the road, the bar, the arcade and the indie band stage. Fieri often starts his shows from his musical corner, set up as a mini-stage with drums, electric guitars, amps and speakers and makes his way towards the cooking area. Along the way, Fieri encounters a few other spaces which solidify the image of his kitchen as a place for playing. Throughout the show, Fieri often moves from the stove to the bar, where he prepares drinks to go along with the food or plays a quick round of bumper pool before retrieving his ingredients from the pantry. Not unlike Graham Kerr, Fieri circulates casually from one space to another, displaying ownership over his kitchen and inviting his audience to have fun while cooking. Fieri's kitchen is a mosaic of different zones, each associated with a leisure activity such as playing music, playing bumper pool or just "chilling". In this context, cooking, despite being the focus of the show, becomes just another playful activity to be enjoyed while hanging out with the bros.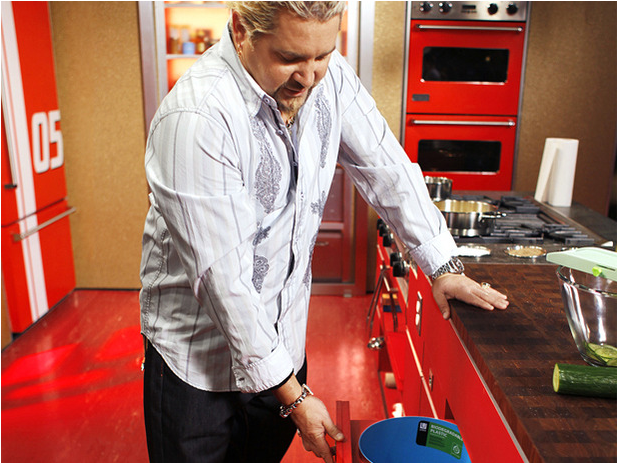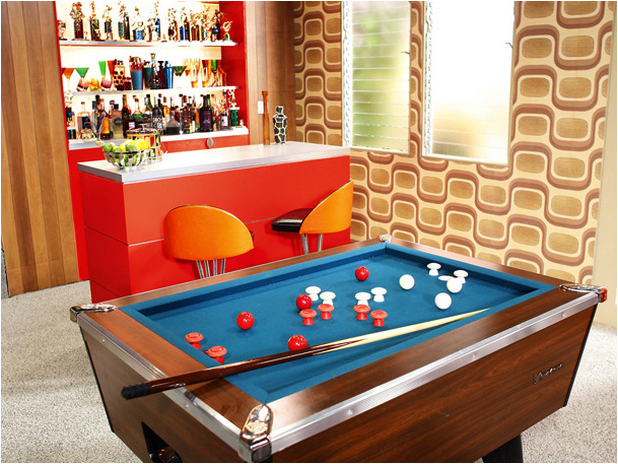 Guy's objects: Toys for boys
The kitchen is full of objects which reflect the identity of the host as the representative of a solid type of hegemonic masculinity rooted in "cool solidarity", Americana and ideals of community life. On one wall, Fieri displays his collection of vintage license plates, hubcaps and grilles, an homage to American car culture. This collection of memorabilia is a signifier of Fieri's sense of adventure and discovery, manifested in his other show, "Triple D", where Fieri is on the road in his red convertible – a 1967 Chevy Camaro SS. The presence of car culture objects in the kitchen as reminders of Fieri's road trips across the US further constructs the kitchen as a de-domesticized space where cooking is both a challenge or adventure and a form of recreation. Along the same lines, one of the most famous objects in Fieri's kitchen is his refrigerator, decorated with a racing stripe vinyl sticker and autographed by the chef himself. Around the room, there are a series of grown-up toys such as a Drop-a-card pinball machine from the seventies and a bumper pool table. Even the cooking and eating gear is decorated with skulls, snake skin and flames. Regardless of such reminders of a rugged, on the road and raw masculinity, Fieri's kitchen is a place for community and family building. Even when he cooks alone, the chef tells stories about his "bros", which is his favorite appellative for his friends, and reminds his viewers that cooking is a social activity best shared with others.
The playful masculinity with hints of rock'n roll, bro-ness and vintage culture performed by Fieri in his shows is marked by a series of visual elements which make up the Guy Fieri brand: spiky bleached hair and goatee; tattoos, of which Fieri has 19, some of them being reproduced on his line of aprons and potholders; black sunglasses; heavy silver jewelry and wrist bands which Fieri also sells; and his heavily graphic-ed shirts.
[youtube]http://www.youtube.com/watch?v=TKbKoXIASW8[/youtube]
Guy's cooking: Food for fun
In the area designated for cooking, the act of cooking is framed as a game, as the chef plays around with the food and cooks dishes playfully named "Mac-Daddi-Roni Salad", "No can beato this Taquito" or "Killer Inside out Burger". In the episode titled "Pizza! Pizza!", Fieri and his guest Stretch cook together the "le hog" pizza which contains the following ingredients: creamy garlic parmesan white sauce, beef and sausage meatballs, smoky bacon, Canadian bacon and slice ham. Cooking is made fun not only by the mixing of all sorts of meats with no concern for calorie count or fat but also by the tossing around of ingredients, the lack of accurate measuring and the discussion among the two cooks spiced up by expressions such as "Alright, Stretchanator, what's it gonna be?", "swine & dine meat fest", "it's whatever you got in the fridge" or "busting that down" in reference to chopping an onion. The casualness and lack of culinary jargon of the speech is complemented by the actions of the two cooks, such as joggling with the vegetables, piling up ingredients, dropping them on the floor, and performing hi-fives.
Guy's Big Bite is a show which transforms the kitchen into a playground for grownups where "bros" can hang out, play music, mix cocktails and also cook, of course. The geography of the kitchen and framing of cooking as a game solidify a traditional form of casual masculinity based on the solid values of comradeship and brotherhood. At the same time, Guy Fieri is proud to reveal his domestic side. However, domesticity is not a symbol of femininity but of a new kind of masculinity which is complex and flexible. I argue that this type of masculinity is made legitimate through the discourse of play.
Moskin, J. (2010, August 10). Guy Fieri, chef-dude, is in the house. The New York Times. Retrieved from http://www.nytimes.com/2010/08/11/dining/11Fieri.html?pagewanted=all [↩]
Kiesling, S.F. (2004). Dude. American Speech, 79(3): 280-305, p. 283. [↩]