Satellite TV Smackdown: Viacom vs. DirecTV
Stephen Tropiano / Ithaca College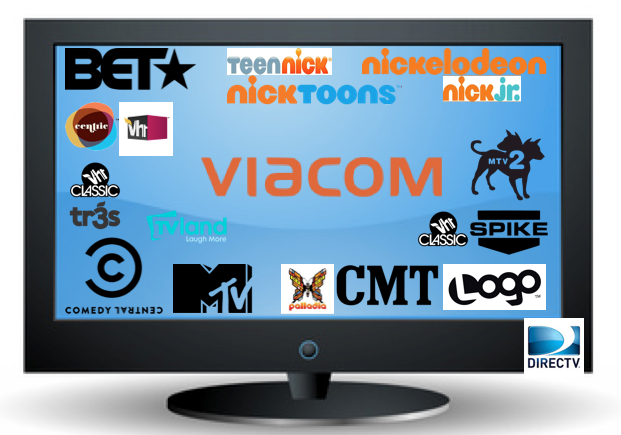 Viacom channels
On Tuesday, July 10, 2012, at approximately 11:45pm (ET), something unexpected happened in 20 million living rooms across America. DirecTV customers (myself included) no longer had access to 17 Viacom channels, including such favorites as Comedy Central, MTV, and the #1 most watched cable channel on DirecTV, Nickelodeon. A single flick of a switch–and it was so long Stewart & Colbert, au revoir Spongebob & Dora, and good riddance Snooki and JWOWW.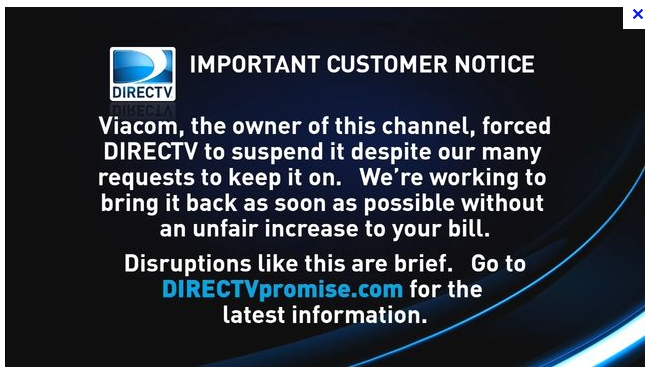 DirecTV's notice to customers
The blackout was due to a financial dispute over an increase in the subscription fees Viacom was charging DirecTV to carry their channels, a list that also includes VH1, BET, TVLand, Spike and Nickelodeon's siblings, NickToons, Nick Jr., and Teen Nick. According to an online video message from DirecTV CEO Mike White, Viacom was demanding DirecTV "pay over 30% more. That's an extra billion dollars for the exact same channels you already receive."1 Viacom accused DirecTV of misleading their customers and set the record straight: "Here's the truth: Viacom is asking DirecTV for an increase of a couple of pennies per day per subscriber. That's far less than DirecTV pays other programmers with fewer viewers than Viacom."2
The phrase "a couple of pennies a day" makes me nervous. Exactly how many pennies are we talking about? Let's do the math: $1 billion dollars (the additional cost per year) divided by 20 million subscribers = 5,000 pennies or $50 dollars per year per subscriber. In this economy, that's a substantial increase, especially when, as White points out, we will be receiving the same channels.
Channel blackouts are no longer a rare occurrence. Over the past two years they have risen significantly in number, from 4 in 2010, to 15 in 2011, to 22 in the first half of 2012. According to the Associated Press, cable and satellite providers are less willing to pay higher fees because their profits have decreased due to the decline in the number new households in the current economic climate. At the same time, entertainment companies like Disney, Time Warner, News Corp, AMC, and Viacom "have kept expanding their profit share."3 On July 20, 2012, the same day DirecTV and Viacom reached an agreement, Time Warner Cable and the Hearst Corporation ended their financial standoff, restoring nearly half of Hearst's twenty-nine local television stations.4 A heated contract dispute over licensing fees between AMC Networks and the DISH Network resulted in the second-largest satellite TV provider eventually dropping American Movie Classics, WEtv, and Independent Film Channel (IFC) from its line-up on July 1, 2012.5 Knowing DISH customers were outraged over missing the highly anticipated season premiere of Breaking Bad, AMC decided to live stream the episode (which they never do) in order to give Dish customers "an extra week to switch providers so they can enjoy the rest of the season."6
In the case of DirecTV vs. Viacom, their seven-year contract was up on June 30th but Viacom allowed DirecTV to continue to air their channels until negotiations stalled. Then a mini-modern day Game of Thrones (minus the sexposition) erupted with both sides engaging in some very intense finger pointing via on-screen messages, TV commercials, and social media (Twitter, Facebook, YouTube, and Tumblr). DirecTV's campaign was more corporate and subdued compared to Viacom's, which, like the programming on MTV and Nickelodeon, was overstated, in-your-face, and a tad cartoonish.
The more adult of the two companies, DirecTV appealed to their customers by presenting "the facts" (or at least their version of them). An on-screen message on the blacked out channels and on their website, DIRECTVpromise.com, made it clear that Viacom is the guilty party. On their website, DirecTV also explained the correct number of blacked out channels is 17, not 26, the number Viacom was using in their campaign: "Viacom's double-counting both high definition and standard definition versions of the same service to overly inflate its totals and add more unnecessary drama to what should have always remained private business discussions."7
There was plenty of "unnecessary drama" in Viacom's campaign urging customers to call DirecTV to stop them from "taking away 26 of your channels." Their website, whendirectvdrops.com, featured a search engine DirecTV customers could use to find another cable or satellite service provider that carries Viacom's channels and make the switch. DirecTV explained on their website that changing providers would not matter because "no TV provider is immune to unfair fee increases" (to prove their point they even provide a list of "current and recent industry disputes"). Still, DirecTV was no doubt concerned about losing customers (who would be charged a pro-rated early cancellation fee of up to $20 a month!)8.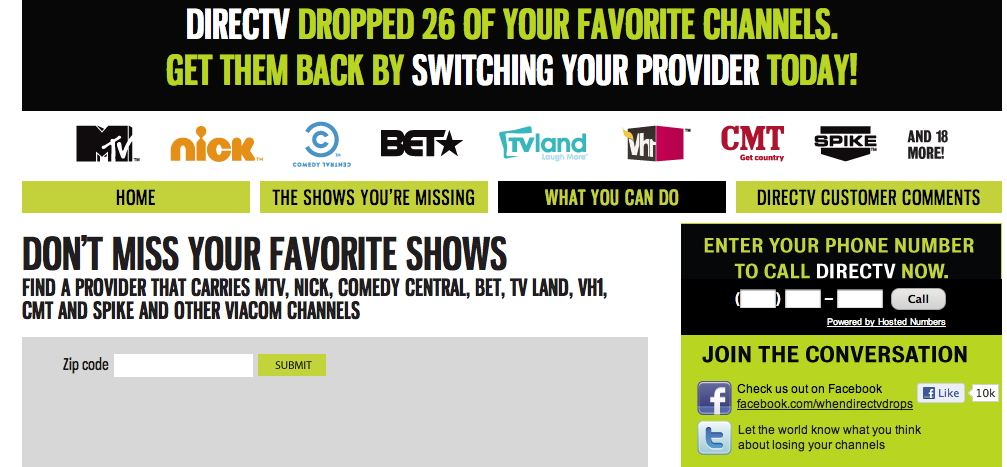 Viacom's notice to DirecTV customers
Team Viacom also encouraged customers to participate in the fun via Twitter (#whendirectvdrops.com), which also sent tweets from MTV and reality star Nicole "Snooki" Polizzi encouraging their fans to call DirecTV and demand their channels back. DirecTV also had their own Twitter account that encouraged customers to express their support, though some chose to express their anger at both sides, accusing them of caring more about profits than their customers.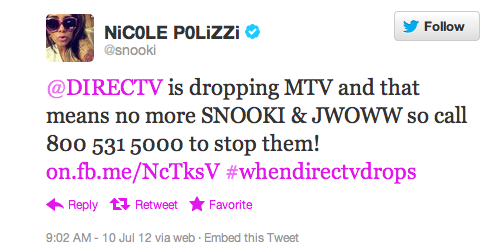 Twitter message from Nicole Polizzi "Snooki"
Viacom even attempted to scare DirecTV customers with a shameless video montage that incorporated clips from popular shows on Comedy Central, MTV and Nickelodeon shows that give the impression that Jersey Shore's The Situation, Stephen Colbert, Daniel Tosh, iCarly's Miranda Cosgrove, the South Park kids, and Spongebob Squarepants are reacting to DirecTV's decision to get rid of "26 of your favorite channels" (Viacom's name is, of course, never mentioned). The final image is a definite low point: Dora the Explorer saying, "We need your help!" (a request she often makes to her young fans). DirecTV was no doubt aware that the loss of Nickelodeon was devastating for many kids, so they added Disney Junior to their line-up.  9 In fact, the Disney Channel's viewership rose during the blackout while Nickelodeon's steadily dropped.10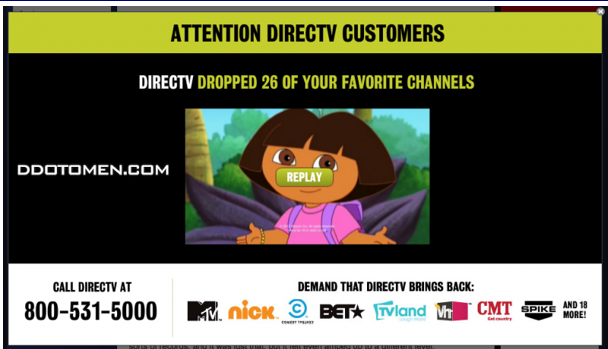 Viacom's video message to DirecTV customers
Viacom also tried to show whose boss by stopping the online streaming of complete episodes of popular shows like The Daily Show and The Colbert Report. Viacom restored the public's access within a week after being lambasted by critics, including their own Jon Stewart, who asked, "Viacom, where are you, China?"
On July 10, 2012, an agreement was reached and order was restored in ViacomLand. A seven-year agreement was reached to the tune of $5 billion (a 20% increase instead of the initial 30% Viacom was demanding).11
As for DirecTV's subscribers, it's still not clear what if anything we got out of this deal. Viacom and DirecTV had no qualms about sending their customers into battle, yet it is only a matter of time before we will be footing the bill for their war. In the meantime, all I know is I had access to 17 (or 26) Viacom channels, suddenly I didn't, and then I got them back. And I am not expecting to get a rebate anytime soon from DirecTV for those Snooki-less summer days of 2012.
Image Credits
1. Collage by author.
2. Screen shot by author
3. whendirectvdrops.com, screen shot by author
4. Screen shot by author
5. Screen shot by author