Flow Remembers the Work of Alexander Doty:
Modern Family, Glee, and the Limits of Television Liberalism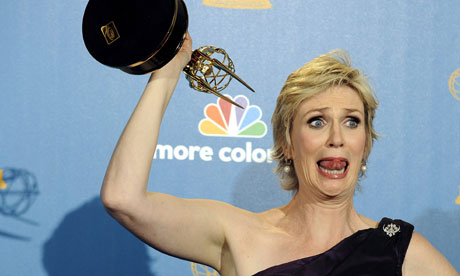 Jane Lynch holds up her Best Supporting Actress Emmy for Glee
The 2009-2010 Emmy Awards ceremony made it official: Arrivederci, Mad Men! Sayonara, 30 Rock! The new King and Queen of the American television hill are Glee and Modern Family—and not because they are two of the five shows with the most Emmy wins this year. If winning the most Emmys mattered at all, we'd all be wetting our pants about The Pacific. This Emmy show crowned Glee and Modern Family by devoting its two most elaborate set pieces to them. Jimmy Fallon may have been the host, but the casts of these series were the honored guest stars. They really didn't need to win Emmys, because the industry canonized their shows that night.
The opening number made it clear that, as far as the industry is concerned, Mad Men and 30 Rock are not the hot young things anymore. Satire and moral ambiguity would need to make way for a less biting liberalism. Rushing into the show, Fallon meets four of the younger cast members of Glee (Lea Michele, Cory Monteith, Chris Colfer, and Amber Riley) outside the Kodak Theatre. They don't have enough money for tickets to the Emmys. A flyer announcing a regional glee club competition with a cash prize inspires the group to look for potential club members backstage. Among those picked up along the way to a "Born to Run" onstage performance are—wait for it—Tina Fey (30 Rock) and John Hamm (Mad Men), who finally blend in as backup singers with the Glee cast (now including Jane Lynch) and folks from once-hot shows like Lost and never-hot shows like Community. Glee, it seems, has the power to pull everything and everyone else on television into its orbit—even this year's Emmy broadcast, whose title graphics were an imitation of Glee's.
[youtube]http://www.youtube.com/watch?v=WPkDFPmRSqU[/youtube]
The Glee-inspired opening number at the Emmys
Later in the ceremony, we are treated to a filmed segment in which Modern Family's co-creator and co-executive producer Steven Levitan meets with the cast about ways to improve the show. Picking up where the tribute to Glee leaves off, Levitan's first idea is something he calls "inter-network cross-pollen synergism," which is represented by a scene in which gay couple Mitchell and Cameron announce they have adopted another child—Stewie from the animated series Family Guy. The cast rejects this idea, implying that their new hit "family" series doesn't need the dubious help of the older "family" show. If anything, an appearance on Modern Family can boost shows and careers. The series has enough "It" clout for someone like George Clooney to appear as the possible new love interest for Claire, Gloria, and, finally, Mitchell and Cameron. Sitting in bed (in his suit) between the couple, Clooney has a punch line that ends Emmy's Modern Family tribute with a lame joke: "I gotta get a film." One suggestion here being, I guess, that for someone to play the lover in a homosexual ménage-a-trois on television would be to sink about as low as you could go, career-wise. And I thought Clooney was a liberal. Oh, maybe that's just the problem.
[youtube]http://www.youtube.com/watch?v=Ye46Pb7u6I4[/youtube]
Modern Family's "inter-network cross-pollen synergism" at the Emmys
In the liberal world of shows like Modern Family—and, I might as well add here, Glee—a non-homonormative, open relationship between gay men like Mitchell and Cameron would be nothing to laugh about, actually. Part of what is meant to be so humorously preposterous about Clooney's ménage with Cameron and Mitchell is that on the show these characters are "good" gays who keep their "place at the table" by striving to be just like their straight middle class counterparts, living in a monogamous relationship and building up a (mildly dysfunctional) family with children, a stay-at-home "mom," and a working "dad." It is in negotiating the roles of husband/dad and wife/mom for Cameron and Mitchell that Modern Family reveals its most interesting ideological tensions, because both men are represented through a mixed bag of traditional gender codes. Cameron is both an ex-football player and a trained clown; he is also the more emotional and expressive of the two men. Red-haired Mitchell is shorter and has a much-slighter build, but he is also the more practical and serious partner, though he is also prone to worried over-protectiveness. What's a liberal narrative like Modern Family to do with gay characters like this? For a while, the solution was to have Cameron and Mitchell take turns being the husband/dad and the wife/mom, which promised a challenging alternative to the depressingly old-school heterosexual couples. By the end of the first season, however, the show had put the normative back into their homo(s), with Mitchell admitting his lack of interest in domestic work and Cameron confessing that he wants Mitchell to "get a job so I can go back to being a stay-at-home dad and trophy wife"—in other words, the gay counterpart to Claire and Gloria.
Well, the "gay counterpart" to these straight wives and mothers in every way except for showing physical affection and desire for his partner (oh, and except for being married). I guess "same as everyone else" homonormative liberalism does have its limits. One of the few times I have been thankful for Facebook was when a campaign was started to insist that Cameron and Mitchell kiss. Levitan responded by saying that season two would deal with Mitchell's aversion to public displays of affection. Darn clever using the show's mockumentary format to get out of having two men kiss. But why aren't the straight men uncomfortable about a PDA in front of the camera? To add insult to injury, Levitan blamed the protesters, saying it was "unfortunate" that the controversy had happened because he was planning to have Mitchell and Cameron kiss "as part of the natural development of the show." Wait. I'm getting a sense of déjà vu. Didn't we go through this with Will and Grace?
I don't know if the show's producers and writers realize this, but Cameron and Mitchell's namesake is John Cameron Mitchell (Hedwig and the Angry Inch, Shortbus), someone who doesn't know the meaning of "one of us" liberalism or homonormativity. And speaking of naming characters and the limits of television liberalism, how about that Glee? Here's a quiz that even those of you who have never watched the show should be able to ace. Match the Glee character with their description:
| | |
| --- | --- |
| 1. Kurt | a. white, blonde cheerleader |
| 2. Rachel | b. paraplegic male in a wheelchair with glasses |
| 3. Mercedes | c. ample black diva |
| 4. Artie | d. slight, stylish gay diva |
| 5. Tina | e. intense, dark-haired, white young woman |
| 6. Quinn | f. shy Asian American young woman |
To make matters more predictable, black diva Mercedes (last name Jones) teams up with gay diva Kurt (last name Hummel, like those cute, kitschy Sound of Music-esque figurines), while offering wise advice, sympathy, and a place to stay to knocked-up blonde cheerleader Quinn. Why she's Jennifer Holliday and Hattie McDaniel all rolled into one!
Before I get hate mail from Gleeks, I should say that the show is getting better. I found it difficult to watch the first season because it trafficked in the worst kind of United Colors of Benetton liberalism. Kurt, Mercedes, and Artie were consistently used to create a colorfully diverse narrative and musical background for the straight, white, able-bodied characters. Sure, they occasionally got a "big scene" or a solo, but these stood out because of their scarcity. Then, in a brilliant meta-narrative move, the second season gave these three "othered" characters—as well as Tina—more musical and narrative space once Kurt and Mercedes joined the cheerleading squad because of the glee club's (and Glee's) lack of appreciation for their talents.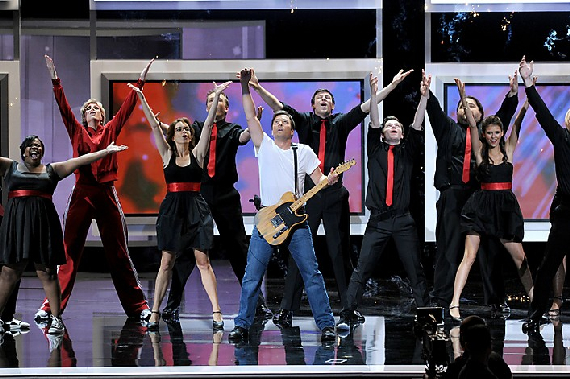 Jimmy Fallon, born to run with the Glee cast
While Glee's easy liberalism is not a thing of the past, the series' second season coup has kept me a regular viewer, if not made me a Gleek. As for Modern Family, I will check in on Cameron and Mitchell every so often, as well as on Gloria to see if she becomes more, or less, like Charo. But I am haunted by something creator-producer Levitan said to the actors who play Cameron and Mitchell during the Modern Family Emmy segment: "Most viewers like 'gay,' but nobody doesn't like 'not gay.'" Having seen the series' first season, and considering his response to those "let them kiss" Facebook critics, Levitan's remark seems less like a joke and more like a preview of things to come.
Image Credits:
1. Jane Lynch holds up her Best Supporting Actress Emmy for Glee.
2. Jimmy Fallon, born to run with the Glee cast.
Please feel free to comment.