Robbing Opportunities: Stereotyped Portrayals Put Latino Actors out of Action
Mary Vanderlinden / Averett University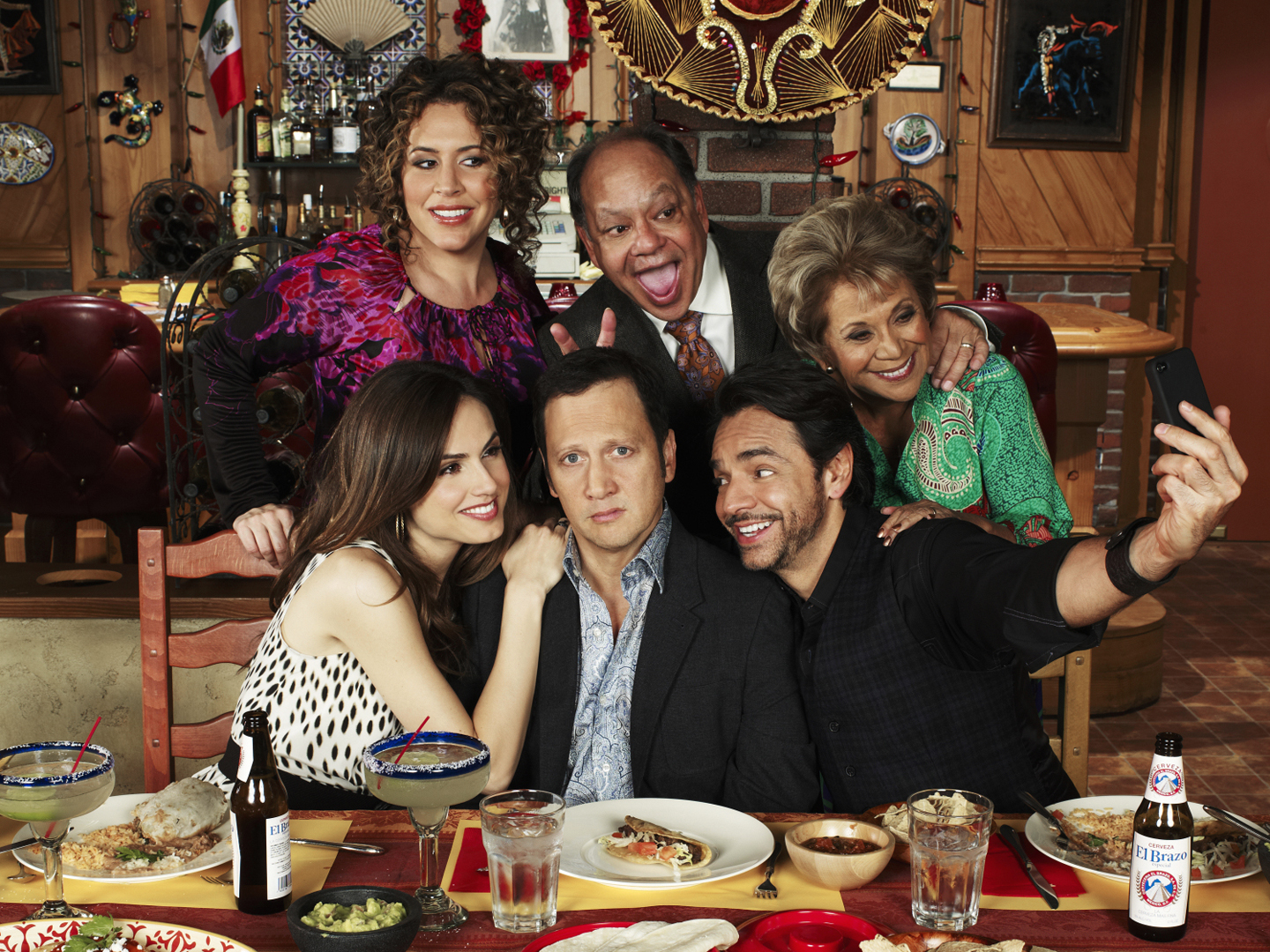 A Missed Opportunity
Despite the fact that the Latino population is one of the fastest growing minority groups in America, character portrayals reflecting this segment have never been truly prevalent on prime time television. The lack of such depictions is indeed a curiosity for two important reasons, (1) according to the most recent Census Bureau demographic report, the U.S. Latino population has increased to 16.3 percent, approximately four percentage points more than that of African Americans, and (2) Nielsen Media states that this segment of the viewing audience is growing at a rapid clip, faster than the television viewing audience for the entire U.S. population. Given these two cogent points, a logical conclusion would be that a leading television network such as ABC, CBS, NBC, or FOX, would develop more viable programs to both capture and capitalize on this surging portion of the population.
[youtube]http://www.youtube.com/watch?v=nFAGXKgTBI8&feature=related[/youtube]
An Attempt to Capture and Capitalize a Growing Latino Audience
It appears that CBS tried to do just that with the situational comedy Rob!. The show, however, was an abject failure and station executives cancelled it after only eight episodes. Alas Rob! had no lasting affect on improving the number of Latino portrayals on television: today such characters make up a mere five percent of depictions found on the primary networks. Rob! was potentially an opportunity to facilitate a unique portrayal of a Mexican-American family in a situation comedy. As criticized, however, Rob! did little to improve the representation of this minority group and seemingly served to affirm stereotypical concepts. Even the photos used to promote Rob! were filled with trite ideas of Mexican-American life and included a conga line, piñata, sombrero, and maracas [Image 2].
The show was the brainchild of comedian Rob Schneider, who played the lead role and whose name was given to the program. The premise was that Rob, a Caucasian and totally ignorant of the structure of a Mexican-American family, married Maggie after a six week relationship. Rob's quest was to win over Maggie's extended Latino family by trying to assimilate into their culture. The show was comprised of a well-known slate of actors including Cheech Marin who was cast as the cynical father Fernando, Diana Maria Riva as Rosa the overly sarcastic mother, Eugenio Derbez as Hector, and Lupe Ontiveros as Abuelita the grandmother. The character Maggie was played by Claudia Bassols.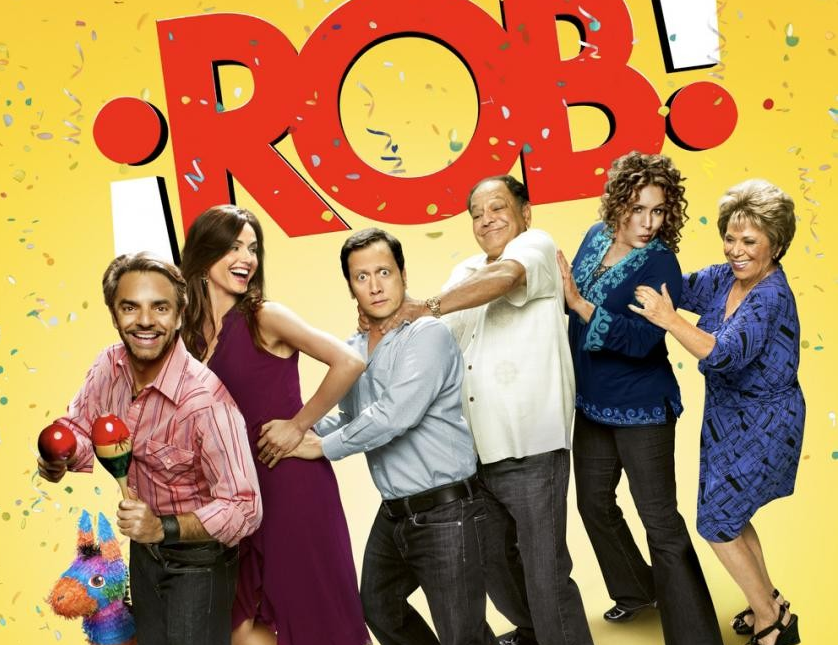 Stereotypical Concepts of Mexican-American Life
Clichéd Images Kept Intact
Though there have been a number of exceptions, Latino men have often been depicted as weak, clumsy fools, vagrants, bandits, and thieves. Rob! kept the typecast intact with the character named Hector, an illegal alien scheming to stay in America and essentially line his own pockets. When Uncle Hector meets Rob for the first time, Hector asks for a $7,200 loan and remarks that his weekend stay will actually last a lifetime. In this clip [Clip 2], the obtuse Hector is a bumbling buffoon when learning to cook enchiladas with Rosa. Latin women are often portrayed as highly seductive, sexual women scantily dressed or wearing tight tops and pants. The objectification of the female character Maggie is evident in this still shot
[Image 3]. An interesting point is that the show went beyond the clichéd image of Maggie by affixing another stereotype of women and infantilizing the character. Maggie, Rob's much younger wife, seeks constant validation. In this short clip, Rob provides firm and somewhat fatherly guidance to Maggie as both characters seek validation of their new marriage.
[youtube]http://www.youtube.com/watch?v=50wOkuq91W8[/youtube]
Hector the Bumbling Illegal Alien
There were a few counter-stereotypical aspects displayed in Rob!. For example, the family is depicted as successful and living in a more than modest modern home. Further, the Latino characters enjoyed improved work roles over those typically depicted, such as car washers, waiters, handymen, and construction workers. Yet, it is interesting to note that Rob! did not necessarily abolish the perceived work field but improved the position for the story line. For example the father, Fernando, worked his way up in the carwash business to develop a successful chain.
Latinos Losing Ground on Television
A recent study by Monk-Turner, Heiserman, Johnson, Cotton, and Jackson (2010)1 indicates that Latino characters have lost considerable ground in positive depictions over the past 10 years. This study was a replication of a review of minority portrayals on television and a content analysis conducted by Mastro and Greenberg in 2000.2 In their original research, Mastro and Greenberg found that Latino characters were generally more respected and less negatively stereotyped than African American television characters. A decade later, however, the landscape for Latino actors on television has changed dramatically. Monk-Turner et al. found that Latino characters are more likely to (a) have heavy accents with poor articulation skills, (b) exhibit immoral behavior, (c) be ridiculed in comparison to other characters, and (d) be less respected in comparison to African American or Caucasian characters.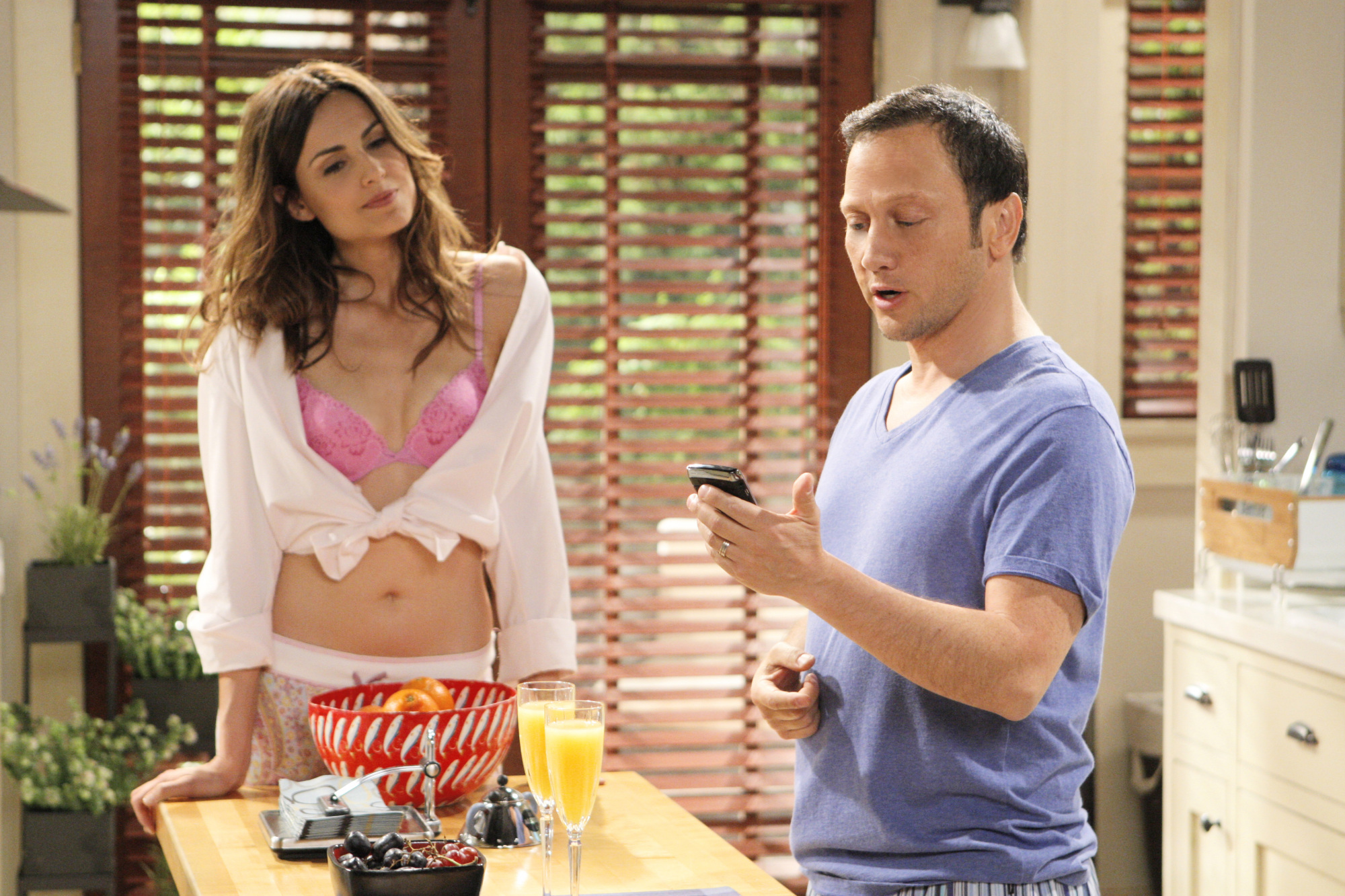 The Latina as Highly Sexual, Seductive Woman
Perhaps one can argue the justification of using typecast images. Television producers need to establish shows quickly in an effort to gain an audience. Sometimes the use of commonly held perceptions about a class of people can allow for fast construction of characters that may be accepted by the viewing public. Conversely, it must be noted that the use of counter stereotypes has its benefits. For example, the The Cosby Show and its spinoff A Different World broke the common depictions of African Americans on television. Though highly criticized for being 'too white' Cosby and his television wife and children helped many viewers see a different side of an African American family, thus providing a break in generally held beliefs about this minority group.
The question remains regarding the inclusive role of media. Are programs such as Rob! created solely for entertainment value or do creators have an obligation to lesson labels and reduce trite racial depictions. In other words, what responsibility should show producers accept regarding the perpetuation of negative racial stereotypes? If one believes that television adds to the cultivation of the viewing public and is a cognitive filter that shapes our perceptions, then show creators possess a powerful position in our world, literally holding the ability to showcase characters in a different light, in alternate environments, with varying social ranks, and in turn reflecting new realities of a particular population.
Image Credits:
1. The Cast of Rob!
2. Trailer for Rob!
3. Image 2: Promo Photo for Rob!
4. The Wrong Way to Cook
5. Claudia Bassols and Rob Schneider in Rob!
Monk-Turner, E., Heiserman, M., Johnson, C., Votton, V., & Jackson, M. (2010). The portrayal of racial minorities on prime time television: A replication of the Mastro and Greenberg study a decade later. Studies in Popular Culture (32)2, 101-114.
[↩]
Mastro, D. & Greenberg, B. (2000). The portrayal of racial minorities on prime time
television. Journal of Broadcasting and Electronic Media, Fall, 690-703.
[↩]