Loose Women – Women's talk and ideological restriction
Faye Davies / Birmingham City University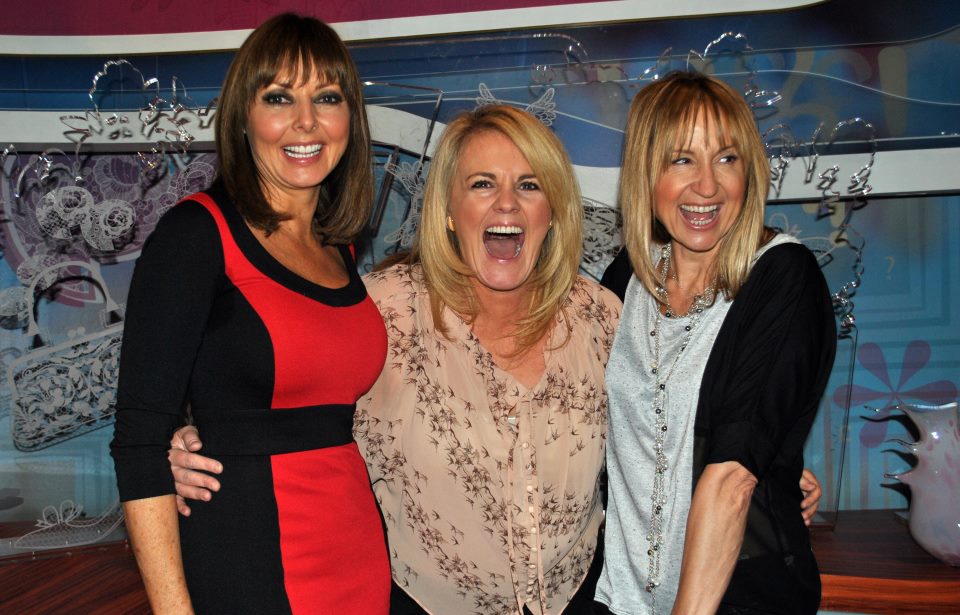 A Trio of Loose Women
All female talk TV shows are still quite a rarity on the UK televisual landscape, but they do exist. Loose Women is such a show talk show; shown each weekday lunch time, it combines general gossip with celebrity promotional appearances (either masquerading as interviews or song performances). In essence, Loose Women is a UK version of the US show The Talk – women talk about typically feminine issues in these shows. There is discussion about relationships, children, sex, sexuality, age, beauty, celebrity news stories and very personal aspects of the hosts' lives.
Discursively, both of these programmes raise interesting questions, especially with regards to their popularity with female viewers. They are also both a reflection and construction of the contemporary ideological understanding of what it means to be a woman between the ages of 35-55 (the approximate ages of the participants). Such shows fuel and construct distinct expectations in a world which has seen vast changes with regard to fragmenting feminine identity and our wider understanding of who women 'should be' in an ideological sense.
Unsurprisingly, Loose Women focuses on what can be termed 'women's issues' from its opening content. Often news stories are flagged for discussion on the panel and viewers are inviting to offer their commentary via email, Twitter and Facebook.
[youtube]http://www.youtube.com/watch?v=LalpVxe67lY[/youtube]

Opening Titles and invitation to the audience to the feminine community
In actual fact, few viewer insights are discussed and mentioned during the course of the show, but there is no doubt that this invitation encourages and supports the notion that women have an emotionally-based community discourse where women's issues and concerns are celebrated and given attention. In some sense, then, such talk shows exemplify and celebrate 'gossip' as a feminine trait.
Gossip has long been considered a key part of feminine discourse, especially in relation to television. It can be claimed that gossip in this sense can be ideologically positive and liberating for female participants, and in this case viewers of the show. In Loose Women, a positive factor is that women's issues are given space and time for discussion and are not defined by a masculine, patriarchal or dominant discourse which defines women an object to be looked at or role to be played in relation to the masculine.
In this sense the gossip in Loose Women is, "…talking between women in their roles as women, intimate in style, personal and domestic in topic and setting, a female cultural event which springs from and perpetuates the restrictions of the female role, but also gives the comfort of validation."1
Loose Women achieves its status as a validating cultural event in a number of ways. The show maintains a core of presenters who drop in and out of the community constructed for viewers. The very fact that these women are placed around a table with mugs of tea or coffee reflects a representation which is domesticated in nature; a reconstruction of literally being around the kitchen table at lunchtime. These presenters appear on 'the side' of women and the show's community atmosphere is constructed 'for us'; essentially providing a social sphere for female viewers and their issues.
Loose Women generates 'gossip' about women's issues both inside and outside the show and space is given to issues which concern women and impact on their lives. Arguably, then, Loose Women and the related feminine discourses which are present in the wider mass media acknowledge the existing cultural position of women in society. This cultural construction occurs when the studio audience and viewers at home are invited into personalised moments via the inclusion of stories and admittances from the panel. At the heart of this construction is discussion of presenters talk about their lives, relationships, children – whatever is occurring in their personal life appears to be available on screen, many 'stories' have also made the tabloid press, the discourse expanding into the wider UK mass media. Earlier this year, lead host Andrea Mclean announced her divorce on the show, soon followed by fellow presenter Denise Welch:
[youtube]http://www.youtube.com/watch?v=cFHOx6ATYJI[/youtube]

Andrea Mclean announces split from her husband
[youtube]http://www.youtube.com/watch?v=7OKvrPiAOEk[/youtube]

Denise Welch announces split from husband following tabloid pressure
Personalisation also appears to also be a factor in the US equivalent of 'female' talk shows and is perhaps one of the key popularity factors in relation to the all-female talk show genre. But Loose Women is also ideologically restrictive in its 'perpetuation of the restrictions of the female role'. It's often constructed that women's independence from family life or male-female relationships is something to be concerned about, derided or pitied and sympathised with. The discursive space is a heterosexual one in terms of feminine sexuality and is usually a majority white show in terms of hosting choices. This is actually something which isn't shared by The Talk which is hosted and exec produced by the out Sara Gilbert and has a variety of black and Asian hosts.
So, in essence, the participants of Loose Women appear compelled to take part in discussion around distinct issues which are traditionally female and ideologically restrictive such as care issues, emotional issues and relationship issues in order to be part of the feminine discursive realm. This could be said to only encourages a sense of self-governmentality where discussion, nurturing and care are a key part of being female and traditionally male issues such as business, entrepreneurship and politics/hard news are not discussed in any serious depth, if at all.
In conclusion, Loose Women treads a fine hegemonic line. In some senses it is asserting the feminine traits of women in a community situation which is constructed to feel independent of masculine discourse and definition. Whilst constructing this positive space, it also fulfils the ideological gender divide, fulfilling a long held stereotype of women's issues as less worthy, less serious and certainly less important as those dealt with in masculine genres.
Image Credits:
1. Trio of Loose Women
Please feel free to comment.
Jones, D., (1980) 'Gossip: Notes on Women's Oral Culture.' Women's Studies International Quarterly, 3, 193-198 [↩]