Shades Of Grey: Interracial Couples On TV
Erica Chito Childs / Hunter College and CUNY Graduate Center

left: Grey's Anatomy's pregnancy love triangle; right: Meredith Grey with adopted baby and friend, Cristina Yang
Showing interracial couples on television is not necessarily something new. In 1968, Star Trek aired what is widely regarded as the first black-white interracial kiss on television between William Shatner's character, Captain Kirk, a white man and a black woman, Lt. Uhura, when the two were forced to kiss against their will by a galactic enemy.
[youtube]http://www.youtube.com/watch?v=cDp1sAx09pg&feature=youtu.be[/youtube]
Now, over thirty years later, media reports play up the idea that the numbers of interracial couples, both on-screen and off, are skyrocketing, and push the idea that these unions are so common that interracial relationships barely raise an eyebrow. Yet according to 2010 Census data, only eight percent of all marriages are interracial. While real-life interracial marriage remains low, interracial couples may be cropping up more frequently on television. Do the growing numbers of interracial couples on television signify increased racial acceptance and color-blindness or do these depictions overwhelmingly reproduce long-standing societal notions about the deviant nature of interracial sex and the location of these relationships in the margins of society?
Looking at the contemporary representations on television, interracial relationships are most often found as temporary relationships (lasting just a few episodes), in side-storylines or otherwise marginalized. These relationships are almost exclusively depicted as comical misadventures, introduced as part of a criminal case, used as symbolic of the different worlds that are being portrayed, or play on perceptions of difference, highlighting that racially matched characters are the norm.
Even among newer shows that are heralded for their diverse casts or cutting-edge approach, interracial representations are arguably problematic. There may be a trend to present interracial couples without mentioning race but that does not mean that these representations do not carry familiar racial messages. Still a number of television show producers maintain that they have adopted a colorblind strategy, which they argue transcends race. For example, on New Adventures of Old Christine, Christine is a divorced white woman who becomes interested in a black teacher at her daughter's private school.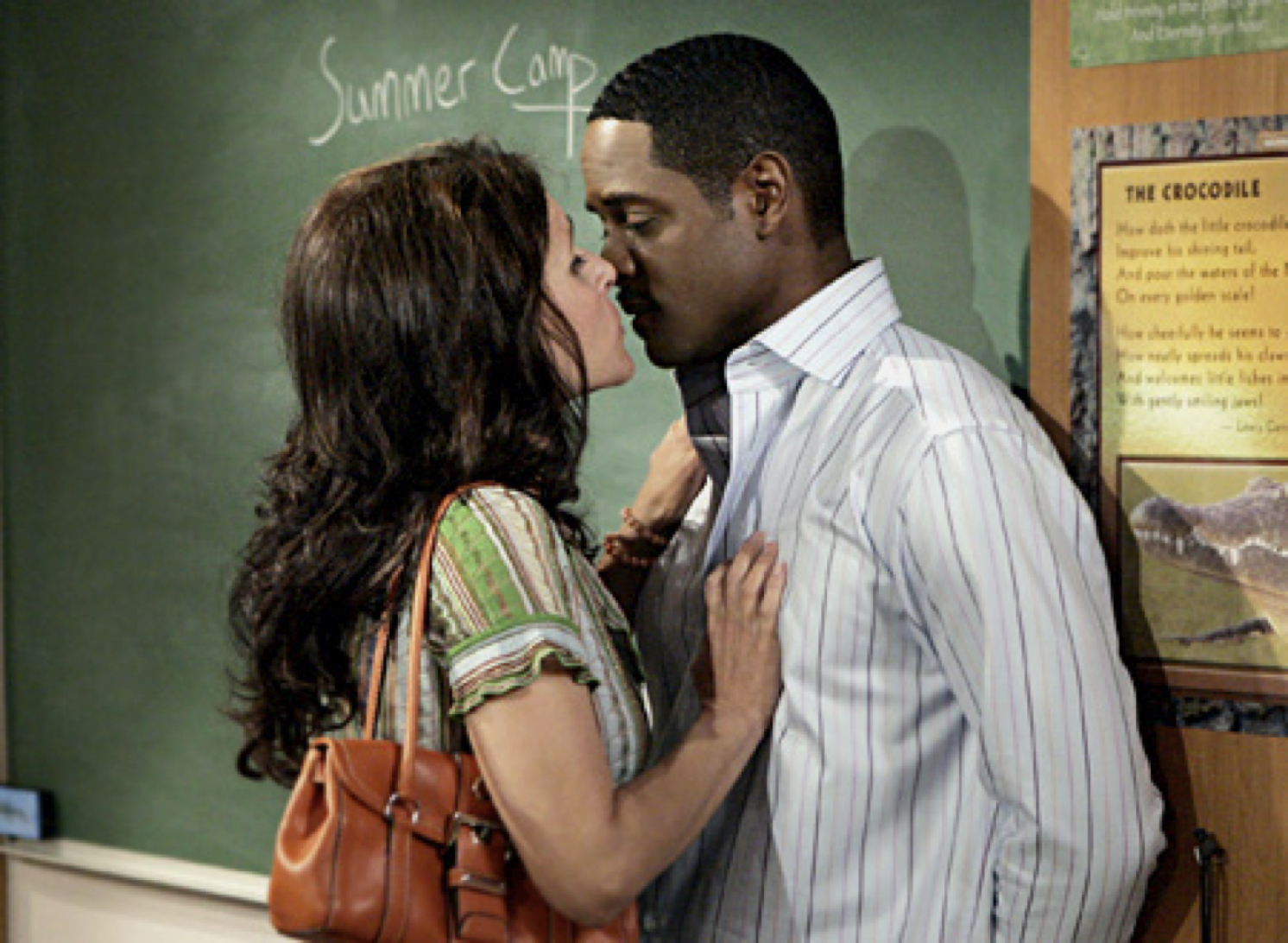 Christine dates a teacher, New Adventures of Old Christine
Initially they can not date because of a school policy which forbids dating between teachers and parents. The creator Kara Lizer stated,
It's shocking to see how segregated comedies are…I don't see (race) entering their personal relationship. It's not a factor and there are enough factors for them to deal with. It's not a fresh area and I would love it to be a non-issue.1
Race is rarely discussed other than in flippant comments about the black teacher like "Who knew diversity could be so gorgeous?" Similarly on the popular new show Parenthood, Jasmine is engaged to Crosby.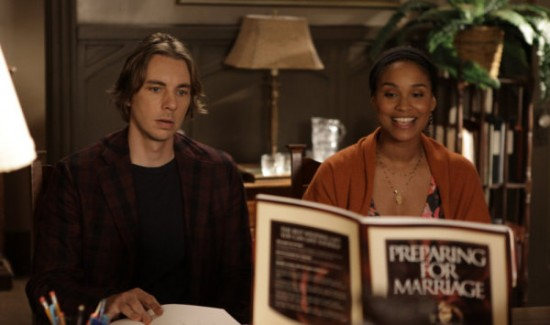 Jasmine and Crosby, Parenthood
Much of the comedy centers on their differences: Jasmine is organized and prepared while Crosby is scattered and non-committal. While racial and cultural issues are never discussed, portraying the couple as complete opposites reinforces the idea of racial differences. The racialized message is still received yet in a color-blind package like contemporary racism and promotes an assimilationist perspective that encourages the view that race does not matter.
Putting characters of different races together is also used for comedic or shock value, where the two are clearly mismatched and the "Otherness" of the minority character is emphasized. On the NBC comedy Modern Family, Gloria, a beautiful Colombian woman is married to Jay, an older white man.
[youtube]http://www.youtube.com/watch?v=R6OhjpyveNw&feature=youtu.be[/youtube]
[youtube]http://www.youtube.com/watch?v=QH53FJ4yOr0&feature=youtu.be[/youtube]
The interracial relationship makes for many laughs, based on the "cultural" differences between Gloria and Jay. Also Gloria's character is always sexually clad with an exaggerated Spanish accent, and fiery temper, which is reminiscent of the racialized "Hot Latina" image that Hollywood has produced for decades, Rather than challenging racialized stereotypes, these depictions play with racial and ethnic differences, leaving us with virtually the same stereotypical images.
On television, when we do see an interracial relationship, it tends to involve a white man and a woman of color. The representation of a woman of color dating a string of white men, sometimes at the same time and often to the exclusion of men of their own race appears throughout a number of shows. Nip/Tuck, a popular primetime cable network show on FX, featured a multi-episode guest appearance by the African American actress Sanaa Lathan, who played a woman torn between her "rich tycoon husband and the plastic surgeon Christian Troy treating him," both of whom are white.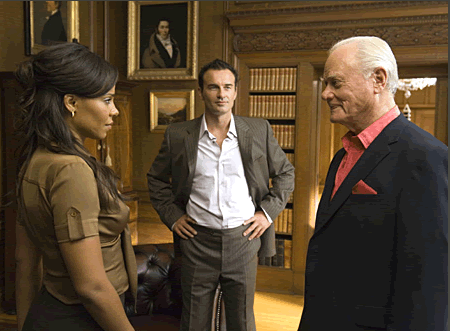 Sanaa Lathan's guest appearance on Nip/Tuck
The actress, Sanaa Lathan described the relationships, "I have so much respect for [Nip/Tuck
creator] Ryan Murphy, because my character could have been any race. But race never came into it, and I love that."2 Unfortunately looking at patterns of representation, casting choices are not as race-less as this actress may believe.
What about a show like Grey's Anatomy, which features many different interracial pairings and even multiracial families, which are particularly rare on television? Like the color-blind approach of shows like Parenthood, issues of race and ethnicity are not discussed on Grey's Anatomy. The creator/executive producer Shonda Rimes espoused this color-blind approach, stating that they simply "cast(ing) whoever we thought was best for the part."3
Despite this philosophy, the show doesn't stray too far from the patterns identified. For example, Dr. Lexie Grey, who is white, is dating Dr. Jackson Avery, who is biracial.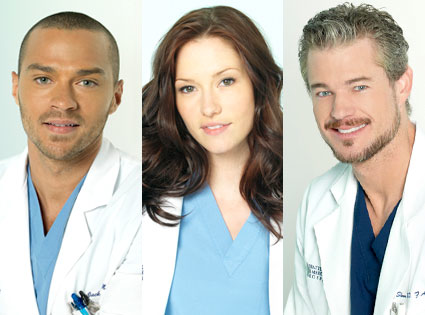 Jackson Avery, Lexie Grey, and Mark Sloan, Grey's Anatomy
Yet this relationship will be short-lived because Lexie really wants to be with Dr. Mark Sloan, which even Jackson's mother could see. The other two main interracial relationships involve women of color. Dr. Cristina Yang, an Asian American, first dated Dr. Preston Burke, an African American, where their relationship was depicted similar to Parenthood's Jasmine and Crosby as complete opposites, though race was never addressed. Now Cristina is married to Dr. Owen Hunt, who is white. The other serial interracial dater, Dr. Callie Torres, a Latina, first married a white intern George in the 2007 season, then had sexual relations with a string of other white men before realizing she was a lesbian and settling down with a white pediatric surgeon Arizona Robbins.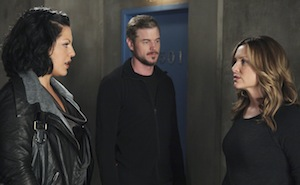 Callie Torres, Mark Sloan, and Arizona Robbins, Grey's Anatomy
While separated from her partner Arizona, Callie becomes pregnant by Dr. Mark Sloan. Callie, Arizona and Mark decide to raise the baby together, becoming one of the few multiracial families on television raising their biological child. While this may be cutting edge, it still places the idea of interracial unions and multiracial families, outside the margins of mainstream society. In contrast, at the same time, the main characters Meredith Grey and Derek Shepherd (both white) are attempting to adopt an African baby girl, who was brought into the hospital for surgery. Intricately wrapped in the representations of interracial unions are the ways that whiteness, blackness, and racial Others are represented. When interracial relationships occur, if it is not shadowed in a world of deviance, the person of color involved is presented as an exceptional person, usually removed from their racial community and the "goodness" of the white person is explicitly confirmed through the relationship.
The question remains, if interracial coupes are portrayed in these problematic ways, then why do television shows feature interracial relationships at all? I argue that by showing interracial relationships yet parodying or fetishizing them at the same time, the shows can maximize their audience without alienating others. Difference sells, yet the presentation must be constantly adjusted to fit the contemporary discourses on race.4 Using interracial sex to push boundaries is widely recognized. Dana Wade, the president of advertising agency, Spike DDB, discussed this idea with television ads, arguing "certain brands might use interracial couples to convey a hip image" adding that "the whole personae of the brand is kind of risky, or on the edge."5 Ironically these "hip" and "cutting-edge" depictions are actually just barely repackaged stereotypes.
On-screen interracial relationships, particularly between whites and blacks, are either alienating (not even shown), taboo and shown as problematic, or a fantasy, fetish that allows the viewer to dabble in difference, living vicariously through the TV characters, yet still existing as marginal storylines rather than centered. Multiracialism and consuming color as exotic may be tolerated, even purposefully marketed, yet this fits in with the historical pattern where whites have been simultaneously appalled and intrigued, offended and attracted to racial Others sexually, while monitoring, disciplining and indulging. As Stuart Hall argued, "there's nothing that global postmodernism loves better than a certain kind of difference: a touch of ethnicity, a taste of the exotic…'a bit of the other.'"
The particular patterns of representations reflect the stories we know and the stories we want to continue to see. While journalists like Ann Oldenburg and Carmen Van Kerchove, co-director of New Demographic, a diversity training company argue, "the more people see positive and normal representations, that will lessen the fear and taboo,"6 referring to many of the television relationships discussed here, I argue that these representations are not normalizing interracial relationships or lessening the novelty. Rather than represent a color-blind multiracial utopia, these depictions of interracial couples overwhelmingly reproduce our long-standing notions about the deviant nature of interracial sex, and the location of these relationships in the margins of society. Just because race is not discussed does not mean it does not exist, rather in its deliberate denial it can be ever more present. As Henry Giroux argues about the sexually suggestive interracial Benetton clothing advertisements, these depictions do not increase racial tolerance and awareness, because they are "decontextualiz[ed], dehistoriciz[ed], and recontextualiz[ed]" and reproduce the dominant social relations rather than challenge them.

United Colors of Benetton advertisements
The fantasy of interracial relationships can not be bogged down with the unpleasantness of racism, inequality, and discrimination, so it erases these structural and institutional realities that shape everyday social interaction. Interracial relationships may be popping up more frequently on television but they do more to reinforce the current racial situation rather than challenge us to move beyond it. Still in contemporary television the fascination with interracial sexuality may be more acceptable than the reality.
Image Credits:
1. Grey's Anatomy
2. Grey's Anatomy
3. New Adventures of Old Christine
4. Parenthood
5. Nip/Tuck
6. Grey's Anatomy
7. Grey's Anatomy
8. United Colors of Benetton
9. United Colors of Benetton

Please feel free to comment.